The Booker Prize longlist 2021 is announced, but is your favorite in line for the prestigious award?
The Booker Prize longlist 2021 contains 13 'engrossing stories' in the running for the ultimate honor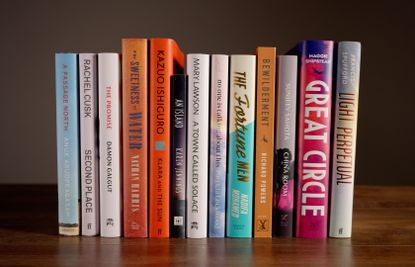 (Image credit: The Booker Prize for Fiction)
woman&home newsletter
Sign up to our free daily email for the latest royal and entertainment news, interesting opinion, expert advice on styling and beauty trends, and no-nonsense guides to the health and wellness questions you want answered.
Thank you for signing up to . You will receive a verification email shortly.
There was a problem. Please refresh the page and try again.
The Booker Prize longlist 2021 has now been announced, much to the delight of book lovers around the world as the esteemed judging panel reveal their 13 choices in the running for this prestigious award.
The Booker Prize for Fiction has long been perceived as one of the highest honors in the literary world, celebrating the stand-out books released each year, many of whom are now considered to be some of the best books of all time. The award is open to works by authors of any nationality that are written in English and published in the UK or Ireland.
First awarded in 1969, The Booker Prize is recognised as the leading prize for literary fiction written in English, with former winners including acclaimed writers Salman Rushdie, V.S. Naipaul and Hilary Mantel. At the end of 2013, the prize was opened up to writers beyond the UK and Commonwealth, celebrating the English language 'in all its vigour, its vitality, its versatility and its glory'.
Now the esteemed judges have reached their decision on this year's Booker Prize longlist - and these 13 books are seriously worth adding to your reading list!
---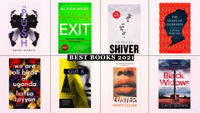 (opens in new tab)
You might also like...
These are the best books of 2021—destined to become modern classics
Who judged the Booker Prize longlist 2021?
This year's 13 longlisted titles, known as a "Booker Dozen" have now been selected by the Booker Prize 2021 judging panel. Chaired by historian Maya Jasanoff, she was joined by writer and editor Horatia Harrod; actor Natascha McElhone; twice Booker-shortlisted novelist and professor Chigozie Obioma and writer and former Archbishop of Canterbury, Rowan Williams.
Discussing the powerful stories included in the Booker Prize longlist 2021, Maya declared, "Reading in lockdown fostered a powerful sense of connection with the books, and of shared enterprise among the judges."
She continued, "Though we didn't always respond in the same way to an author's choices, every book on this list sparked long discussions amongst ourselves that led in unexpected and enlightening directions.
"We are excited to share a list that will appeal to many tastes, and, we hope, generate many more conversations as readers dig in."
Maya's sentiments were echoed by Gaby Wood, Director of the Booker Prize Foundation, who praised the "engrossing stories" for their "range".
"This year's list is more notable for the engrossing stories within it, for the geographical range of its points of view and for its recognition of writers who have been working at an exceptionally high standard for many years," she shared.
The Booker Prize longlist 2021
1. A Passage North by Anuk Arudpragasam (Granta Books)
Sri Lankan Tamil novelist Anuk Arudpragasam's first novel, The Story of a Brief Marriage, won the DSC Prize for South Asian Literature and now his latest work of fiction, A Passage North could be set to bring him Booker Prize success. The novel begins with an unexpected telephone call informing the protagonist Krishan that his grandmother's caretaker has died in suspicious circumstances in her village in the north. This poignant story of attempting to come to terms with life in the wake of devastation has been described by the judges as having "a simple conceit which revolves around the philosophy of the present as a disease of the past".
"It is in subverting our sense of time and even of how a story should be told that this novel achieves its strongest effect and strikes an indelible mark on the reader's soul," they declared.
---
2. Second Place by Rachel Cusk (Faber)
The premise of Guggenheim fellow and experienced writer of fiction and non-fiction, Rachel Cusk's, longlisted book is certainly an intriguing one, as a woman invites a famed artist to visit the remote coastal region where she lives. She does so in the belief that his vision will penetrate the mystery of her life and landscape. Whether he will or not, remains to be seen…
The judges were full of particular praise for the narrative itself, explaining, "We were astounded by Cusk's slim volume, which teems with questions about art, love and what it takes to live a free life, told in exquisite prose and with a forensic eye for social observation."
---
3. The Promise by Damon Galgut (Chatto & Windus)
"The standard narrative logic of an omniscient narrator is here expanded and reinvented to create an eye so intrusive its gaze is totally untrammelled," the judges stated of Damon Galgut's longlisted novel.
"It is through these eyes that the fate of a white South African family burdened with old lives, old wounds, crimes against humanity, dark history, and misreckonings, becomes, cumulatively, the fate of South Africa itself."
Twice shortlisted for the Man Booker Prize, South Africa-based writer Damon's The Promise is as poignant as it is powerful and it might well see him scoop the ultimate prize later this year.
---
4. The Sweetness of Water by Nathan Harris (Tinder Press)
Set in the Civil War Era, this debut novel from American writer Nathan Harris poses the question of what the true price of freedom really is. Following newly-freed brothers Prentiss and Landry, the alliances that begin to grow between them and landowner George Walker are met with increasing fury by the local townspeople, as the balance of peace threatens to tip towards violence.
"We were incredibly impressed by the way [The Sweetness of Water] probes themes of trans-historical importance—about race, sexuality, violence, and grief—through meticulously-drawn characters and a patient examination of their relationships," the judges stated.
---
5. Klara and the Sun by Kazuo Ishiguro (Faber)
"What stays with you in Klara and the Sun is the haunting narrative voice—a genuinely innocent, ego-less perspective on the strange behaviour of humans obsessed and wounded by power, status and fear," the judges reflected as they chose acclaimed writer Kazuo Ishiguro's latest spellbinding read for The Booker Prize longlist 2021.
The Klara in question in the title is none other than an Artificial Friend, forced to look out at the world from her place in a store, hoping against hope a customer will choose to take her home. Viewing the rapidly modernizing world world through her unbiased eyes will forever change your perspective as you too start to wonder—what *is* love anyway?
---
6. An Island by Karen Jennings (Holland House Books)
South African author Karen Jennings' An Island brings to life the challenges posed by guilt and fear as old lighthouse keeper Samuel comes to terms with a new arrival on his isolated island. Waking up one day to find a young refugee washed up on the beach, he begins to reflect on his past and the journey that took him to claim the island as his own.
Describing An Island as concerning itself with the "lives lived on the margins", the judges believed that Karen perfectly used this as a basis to "construct a moving, transfixing novel of loss, political upheaval, history, identity, all rendered in majestic and extraordinary prose."
---
7. A Town Called Solace by Mary Lawson (Chatto & Windus)
"This deftly-structured novel draws together the stories of three people at three different stages in life, each of whom is grappling with loss," the judges said of Canadian writer Mary Lawson's moving tale. "We were captivated by A Town Called Solace's beautifully paced, compassionate, sometimes wry examination of small-town lives."
Set in Northern Ontario in 1972, A Town Called Solace delves into the relationships of Liam, Clara and Elizabeth, all brought together by fate and the mistakes of the past. At once both darkly humorous and gripping, Mary Lawson uncovers the layers of grief and remorse and love that connect us, whilst showing that a new life is possible.
---
8. No One is Talking About This by Patricia Lockwood (Bloomsbury Circus)
Patricia Lockwood wonderfully explores the concept of true human connections and goodness, as a woman whose entire life revolves around social media posts suddenly finds her entire existence overwhelmed by the internet. Coining the term, The Portal, for the phenomenon, she is faced with the conflicting idea that there is at once both true empathy in this world and evidence of a distinct lack of empathy.
The judges shared their belief that the "brilliantly funny book" is not one to take itself too seriously.
"[I]t never takes seriously its own lack of seriousness either," they explained. "A very uncomfortable book, which makes its fundamental and simple compassion all the more powerful.'
---
9. The Fortune Men by Nadifa Mohamed (Viking)
"The Fortune Men is a wonderful evocation of a particularly rich diversity, the many-faceted life of dockland Cardiff in the 1950s," the judges said. "Each cultural voice is drawn out richly and sympathetically. But the story is rightly dominated by a single, shocking instance of legal violence against an individual. A reminder that the scars of the murderous effects of routine and unquestioned racism are not quickly healed, and shouldn't be."
Nadifa Mohamed was named as one of Granta's Best of Young British Novelists in 2013 and now The Fortune Men has won The Booker Prize 2021 judges' hearts. Telling a heartbreaking tale of accusations, prejudice and fighting for the truth to be heard, Nadifa brings to life the story of Mahmood Mattan, who finds himself accused of murder when he always thought justice would prevail.
---
10. Bewilderment by Richard Powers (William Heinemann)
Pulitzer Prize winning author Richard Powers knows how to weave an engrossing tale and Bewilderment is no exception, hitting all the emotional notes that make this read unforgettable. Widowed father Theo Byrne is a young and promising astrobiologist determined to help his son find the right path in a world that views young Robin as an outsider.
"Powers thrills us with intricate scientific ideas even as he inhabits the consciousness of the grieving, non-neurotypical child — and shows us the loneliness and complexity involved in parenting him," the judges said of this multi-layered read.
---
11. China Room by Sunjeev Sahota (Harvill Secker)
Young bride-to-be Mehar is desperate to uncover the identity of her future husband, as she and her sisters-in-law await the single ceremony that will see them tied in matrimony to three brothers. Spending their days hard at work in the family's 'china room', Mehar theorizes she might just have found her man, igniting a passion that could prove dangerous...Meanwhile 70 years later a young man travels from England to the now deserted Punjab farm, only to find the 'china room' locked and barred as he begins a summer of contemplation.
Selecting Sunjeev Sahota's compelling novel for The Booker Prize longlist 2021, the judges especially enjoyed the blend of the two distinct timelines. They revealed, "Weaving together two timelines and two continents, China Room struck us as a brilliant twist on the novel of immigrant experience, considering in subtle and moving ways the trauma handed down from one generation to the next."
---
12. Great Circle by Maggie Shipstead (Doubleday)
The judges were "blown away by the ambition and epic sweep" of New York Times bestselling author Maggie Shipstead's Great Circle, which follows orphan Marian Graves as she leaves her rural Montana lifestyle behind her after being inspired to become a pilot. Eager to travel the world, Marian takes to the skies for her adventurous voyage, never to be seen again. With the mystery never solved, Hollywood star Hadley Baxter can't help delving into Marian's life as she prepares to play her in an exciting new biopic.
"We felt that we knew these people and found ourselves comparing the experience of reading it to that of reading some of the great novels of the 19th century," the judges continued. "Yet, Great Circle is fresh and utterly unusual.'
---
13. Light Perpetual by Francis Spufford (Faber)
It's 1944 and a German rocket has struck a Woolworths in South London in 1944, killing five children instantly. Heartbreaking though the premise of Francis Spufford's novel is, Light Perpetual then asks the question we'd all be asking ourselves: what if? Presenting alternative futures, the story takes readers on a radically different path as they see all five characters go on to experience all the highs and lows the 20th century has to offer.
"An absorbing chronicle of the five's possible trajectories into old age, the novel made us reflect on the contingencies in every human life, and the purpose of fiction itself," the judges powerfully declared.
Emma is a Senior Lifestyle Writer with six years of experience working in digital publishing. Her specialist areas including literature, the British Royal Family and knowing all there is to know about the latest TV shows on the BBC, ITV, Channel 4 and every streaming service out there. When she's not writing about the next unmissable show to add to your to-watch list or delving into royal protocol, you can find Emma cooking and watching yet more crime dramas.