Print books vs eReaders: what's really the best way to consume the latest and greatest page-turners?
On paper or on screen - what's really the best way to consume the latest and greatest page-turners?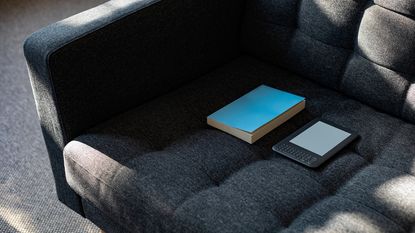 (Image credit: Getty)
Shortly after Amazon released its Kindle eReader in late 2007, it seemed like the era of the printed book was coming to an end.
More than a decade later, that prediction has been proven wrong, since print sales are still going strong. In 2019, print books recorded a whopping £3.5 billion in sales – hardly the sales volume of a dying market - compared to e-book sales of just £653 million. So, it appears that print books can happily coexist with e-books and you can have the best of both worlds.
Print advocates point to the book-buying experience as part of the pleasure of reading books. They enjoy browsing the store or reading a few chapters before buying. With e-books, using the best eReader for your needs, the experience isn't quite the same - although you can browse virtual aisles and download a sample chapter or two before you buy.
Knowing the best option for you comes down to understanding the benefits of both experiences and choosing the one that resonates most with your reading habits. Take a look at the advantages of print books versus eReaders, to help you make your decision.
The pros of print books
For print book lovers, a big part of the experience is simply holding a book, turning the pages and enjoying the soft scent of paper. If your decision-making criteria is on the more practical side, however, here are a few more reasons to love print:
On the downside, print books are heavy and take up room. If storage space is limited at home, or if you're travelling and hoping to take a good book to keep you company, print books might create a few challenges that eReaders won't.
Reasons to opt for eReaders
Having a digital library may be the choice for you and, given the number of eReaders on the market, you should find one that meets your specific needs. Whether you want the best Kindles or one of the best eReader brands, here are five features to consider if you're looking to replace the printed book, or at least invest in a device to use alongside your print book collection.
Before enjoying an e-book, you'll have to invest in an eReader, and an eReader may or may not be a cost-effective purchase, depending on your reading habits. While this up-front cost doesn't exist with print books, if you are an avid bookworm an eReader can pay for itself in the long run, as you'll have access to some of the best books of 2021. If you read more than ten hardcover books in a year, a £200 eReader would pay for itself in the first year, assuming a cost of £20 per book.
While your default preference may lean towards print books or eReaders, we think there is a place in everyone's library for both. Unlike many other products that have completely changed with the introduction of digital technology, most readers seem to appreciate the benefits of both print and eReaders to suit their various needs. Some of our favorites include the Amazon Paperwhite, the Amazon Oasis, the Kobo Clara HD, and more.
Amy Hunt is an experienced digital journalist specialising in homes, interiors and hobbies. She began her career working as the features assistant at woman&home magazine, before moving over to the digital side of the brand where she eventually became the Lifestyle Editor up until January 2022. Amy won the Digital Journalist of the Year award at the AOP Awards in 2019 for her work on womanandhome.com.