Bestselling books from the past decade that have stood the test of time
These bestselling books range from romance to thrillers to real-life stories and so much more...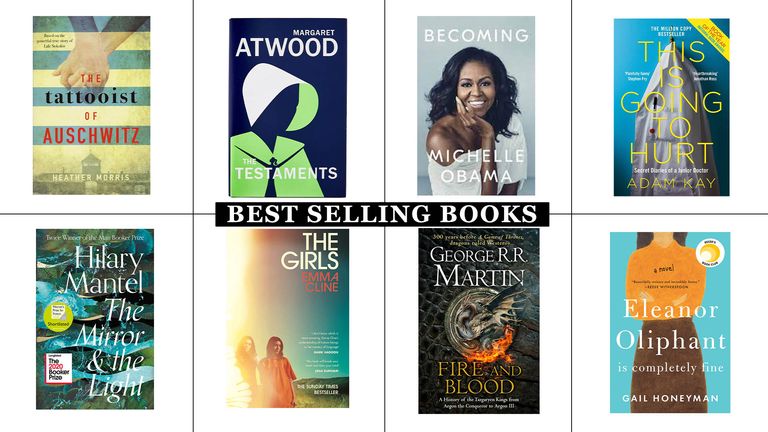 (Image credit: Future)
Bestselling books retain their popularity for good reason. But as many authors are painfully aware, there is no secret formula when it comes to longevity. The ingredients that give any book—from the best science fiction books to the best mystery books—a chance at big success, however, are great characters, engaging storylines, nifty twists, original ideas, fabulous covers, clever titles and beautiful, readable prose. 
Bestselling books don't need to be lofty or life-changing. In fact, the bestselling book of the last decade was the ever-so-slightly controversial Fifty Shades of Grey, from writer E.L. James. The sexy fiction book centered around BDSM enthusiast Christian Grey has sold 15.2 million copies worldwide since its release in 2011—while the entire series (including Fifty Shades Darker and Fifty Shades Freed) sold 35 million print and eBook copies between 2011-2019.
Bestselling books can be from any genre, on any subject—whether it's a tale about a troubled commuter swigging vodka from a water bottle, the escapades of teenage wizards, a junior doctor documenting the wonderment and agony of life within the NHS, or a gang of OAPs solving a whodunnit. As long as a book resonates, the readers will follow—and follow the 30 titles below they certainly did. Our edit is comprised of books released over the last decade that have all made bestseller lists, selling into the hundreds of thousands—some even into the millions. The below books have been hugely popular in print, but many have also soared in the eBook and audiobook charts too. Curl up with your kindle or a trusty paperback and delve into one of these addictive reads, safe in the knowledge that they
Bestselling thriller books
The best thrillers leave you desperate to turn the page—and these bestselling books from over the last few years do this expertly. With twists and turns aplenty, the below books have been huge hits over the past decade—with some delving into the foggy underbelly of crime, while others see their protagonists attempt to solve mysterious murders.
---
---
---
---
---
---
Best selling literary/classic books
The bestselling books in the literature genre from the past couple of years have become cult favorites and must-reads—and for good reason. Covering a huge assortment of topics, from the magical worlds of witchcraft and wizardry to the life of a 29-year-old social misfit, there's something for almost everyone here. 
---
---
---
---
---
---
Bestselling feel-good books
Sometimes, a feel-good book is the perfect tonic for those days when you're not sure what to read. In the below list, you'll find everything from the best romance books that will have your heart bursting and tears falling in equal measure, to poignant, meaningful books discussing the important issues in life. We defy you not to read these and smile.
---
---
---
---
Bestselling real-life books
While fiction is no doubt utterly compelling, real-life stories will always pack a heavy punch when we know that the words on the page are reflecting reality rather than an imagined world. These bestselling books in the non-fiction genre from the last decade reflect some of the most interesting parts of society—from life and death stories from inside the NHS, to tales from the White House and, on a lighter note, the reality of love in your 30s.
---
---
---
---
---
---
---
---
Bestselling historical fiction books
These books, set decades ago, do an incredible job of painting a picture of a world we'd find it difficult to recognize nowadays. The best historical fiction books shine a light on society as it once was, and the realities of life at that time—and these bestselling books do it the best.
---
---
Bestselling dystopian/fantasy books
These dystopian/fantasy bestselling books might detail lands and worlds that are foreign to us all, but many of them, at their core, provide valuable lessons about the world around us now—and how we should be interacting with one another. The following novels are some of the most popular of the past decade, and well worth your time. 
---
---
---
Isabelle Broom is the author of eight escapist fiction novels. She won the Romantic Novelist's Association Best Contemporary Romance Novel award in 2019 and The Great British Write Off short story competition in 2015, with her winning entry, The Wedding Speech, later being adapted into a short film. 
Following a degree in Media Arts from the University of West London, she spent an eventful summer working in a bar on a Greek island, became an avid traveller, and vowed to one day write stories set in all her favourite locations around the world. Before this dream became a reality, Isabelle spent a gloriously fun 11 years working at heat magazine, 
As well as heading off on adventures abroad—a pastime she now gets to call 'research'—Isabelle is lucky enough to write book reviews and travel features on a freelance basis. To find out more about her novels—and her mildly chaotic Suffolk-based life—you can visit isabellebroom.com, follow her on Twitter and Instagram (@isabelle_broom) or search for Isabelle Broom Author on Facebook.