Author Bernardine Evaristo on her award wins, activism, and what inspires her writing
Bernardine Evaristo, the Booker Prize winning author, reveals how optimism and determination have led to her runaway success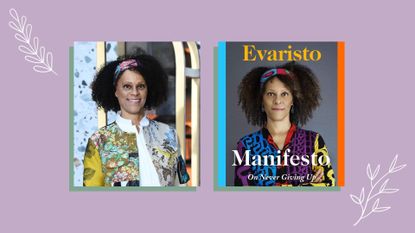 (Image credit: Future/Bernardine Evaristo)
Each month we bring you the author of the book everybody is talking about, not only to inspire our guide of the best books of 2021, but also to pick writers' brains on what's on their own reading list.
---
Bernardine Evaristo is a British author and academic. In 2019, she became the first black woman to win the Booker Prize for her eighth book, Girl, Woman, Other. She is a professor of creative writing at Brunel University London and a fellow of the Royal Society of Literature. Her new book, Manifesto on Never Giving Up, is an intimate and inspirational memoir about her journey as a writer. She was Chair of the 2021 Women's Prize for Fiction. Bernardine lives in London with her husband.
Not a lot of things faze me anymore—I feel I can handle whatever comes my way. When I was a young woman, people thought I was very much in control because I acted like an exhibitionist. And though I always felt strong, there was a part of me that was very shy inside. But now I know who I am and I'm confident in myself. Often, situations arise where that confidence is tested. I was scared of the exposure you get going on television, but I did it for the first time recently and it was completely fine.
I never really planned to write a memoir, but since winning the Booker Prize I wanted to share how I developed myself as a creative person and how my experiences influenced my writing. I don't think in terms of setbacks. The calamity of my earlier life—turbulent relationships, moving around constantly, the racism growing up in a white neighborhood—it was all part of my character formation. I see it in a positive light, in that it's given me the drive to succeed and a deeper appreciation for all that I have now. If I'd lived a conventional life, where would the source material for my writing be? Even awful, abusive relationships can inspire great characters later on.
But I cut that out—otherwise I doubt I'd still be here! Now I write in my study, making time for a cycle ride and a siesta, and often I'll edit my work outside the house. I like the buzz of coffee shops, the chance to observe people. From the corner of a room I'll make up in my mind what people are doing, creating characters from individuals or from a composite of people I've known throughout my life. My imagination fills in the gaps. I like to convey something about human psychology with my characters, helping readers deepen their understanding of how we behave. It's a fascinating subject.
I started writing affirmations in 1994, envisioning the future I wanted for myself and writing it down as if it had already happened. Twenty odd years ago, I wrote something like, 'I'm so delighted I've just won the Booker Prize.' Some people say it's crazy, but actually you're just setting yourself up for success and staying on track. I also use creative visualisations to heal relationships. Say I'm not getting on with someone at work, I'll get into a meditative state and envision myself bonding with them. It diminishes the problem because something inside me changes and the conflict melts away.
For me, the most important thing is to push jealous thoughts aside and transform them into acts of generosity. Because without this approach, I would probably have given up long ago. I've spent years working on positive self-talk, and I don't put myself down in front of other people. I don't want to diminish who I am, or give others ammunition to criticize me.
My novel, Girl, Woman, Other, follows the lives of 12 characters, who are mostly women, black and British. If I could go back in time I'd love to give my younger self a copy. One of the characters, Amma, is loosely based on myself. Reading it would have been so reassuring, and it would have deepened my understanding of how black women can navigate different spaces. Growing up, seeing examples of other ways of living just wasn't part of the culture. We're just about getting there now.
They were the first comedians I watched who spoke to me as people who had been through the British education system. Watching their sketches, I began to realize how comedy could be really powerful when telling important stories. You're entertaining people while conveying serious subject matters. I love writing funny characters, full of contradictions and idiosyncrasies. When I was younger, everyone had to be perfect in whatever way I expected them to be. But these days I'm a lot more compassionate and accepting of foibles, which we all have.
It's only recently that the mainstream media are the slightest bit interested, but it's great that serious issues are getting more attention. One of my main focuses has been to get writers of color recognized and networked into the literary scene— mixing with other people in the arts feeds creativity.
I set up a very productive mentorship scheme called The Complete Works to boost the work of young poets of color, as well as the Brunel International African Poetry Prize, which is still going strong. One of our past winners, Warsan Shire, went on to collaborate with Beyoncé on her album, Lemonade.
YOU MIGHT ALSO LIKE
● The best eReaders to buy—from Kindles to Kobo devices
● Best thriller books of 2021 for readers who love a psychological page-turner
● Richard Osman on his new book, Spielberg buying the rights, and breaking hardback sales records
The decisions I made towards leading a creative existence have made my life very rewarding. So many people I know gave up or lost their creative flair.
I kept on going; I've never gone more than a week without writing. And now I have the rewards at this stage in my life. I've wanted this success for a very long time and I'm absolutely ready for it.
---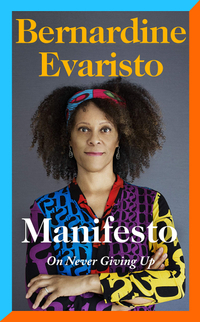 (opens in new tab)
Manifesto by Bernardine Evaristo
Booker prize-winning author Bernardine Evaristo explores her growth as a creative person and the surprising life experiences which made her who she is today—an unstoppable, world-renowned writer. She explains, "If I'd lived a conventional life, where would the source material for my writing be?"
Read it because... It's a moving, funny and engaging read about pursuing passions and embracing life, no matter what it throws at you. And her take on 'positive self-talk' is inspirational.
A line we love: "I don't want to diminish who I am, or give others ammunition to criticise me."
---
Bernardine's top three recommended reads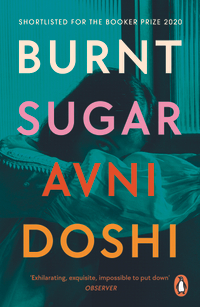 (opens in new tab)
Burnt Sugar by Avni Doshi
This is Avni Doshi's debut novel. It's a razor-sharp tale of love and betrayal, focusing on the dysfunctional relationship between a grown-up daughter and her troubled mother.
Read it because..."It's the kind of story that will have you totally gripped. It was also shortlisted for the Booker Prize in 2020."
A line we love: "Reality is something that is co-authored,"
---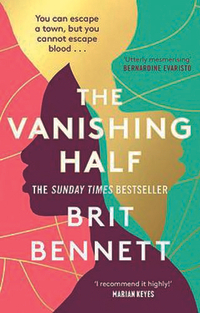 (opens in new tab)
The Vanishing Half by Brit Bennett
Twins Desiree and Stella are desperate to leave their small, southern black community, and subsequently, run away at age 16. But their lives diverge as they get older, with one returning to the town they left and the other, secretly passing for white a world away. One of our best book club books (opens in new tab) with so much discuss.
Read it because..."It's a fantastic, touching novel about the bonds of sisters."
A line we love: "Her death hit in waves. Not a flood, but water lapping steadily at her ankles. You could drown in two inches of water. Maybe grief was the same."
---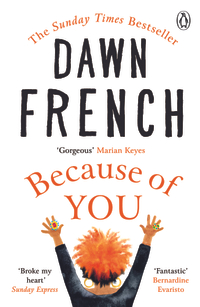 (opens in new tab)
Because of You by Dawn French
At the turn of the millenium, two women—Hope and Anna—are at the same hospital, giving birth to two daughters. Except one will leave with their beautiful baby girl, while the other walks out with empty arms...
Read it because... "I read this novel because I was interviewing Dawn French at the South Bank—she's a wonderful storyteller. In her new book, a child is stolen from her mother at birth. The story delves into family bonds with wit and warmth."
A line we love: "Florence was immediately an astonishing bright light and she utterly eclipsed Julius from the very first moment. He mattered oh so much less all of a sudden. Florence was all. Instantly. All."
---
A keen wildlife enthusiast, Annabel has written about everything from the animals of the Amazon rainforest and penguins of Antarctica, to the birds that visit our back gardens.
Reading is one of her favourite pastimes. Having studied English Literature, she now writes a weekly review of newly published books for Woman's Own magazine and has interviewed authors including Bernardine Evaristo and Isabel Allende.
Her love of languages and travel has taken her all over the world, from a year teaching English at a Colombian university, to helping organise an international arts festival in the mountains of northern Vietnam.