3 women who tried DIY eye cream for a month tell us what happened
Can a month switching it up to DIY eye cream tear our testers away from their cherished high-end eye creams?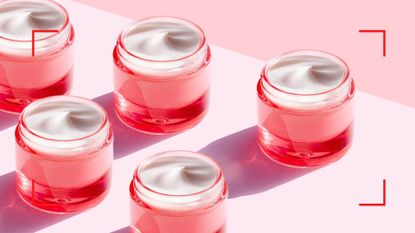 (Image credit: Future / Getty Images )
woman&home newsletter
Sign up to our free daily email for the latest royal and entertainment news, interesting opinion, expert advice on styling and beauty trends, and no-nonsense guides to the health and wellness questions you want answered.
Thank you for signing up to . You will receive a verification email shortly.
There was a problem. Please refresh the page and try again.
Eye cream is a staple part of any skincare routine, but finding the right one can be an arduous task thanks to the countless options on the market and often complex lists of ingredients. A DIY eye cream provides an all-natural solution that's tailored to your own needs, and, with the cost of living on the rise, it's an affordable skincare alternative.
Creating your own DIY eye cream—that will rival even the best eye creams—is simpler than it sounds, mixing a natural base such as shea or coconut butter with essential oils and antioxidants, like pure vitamin E. "Making your own skincare, otherwise known as formulation, is one of the most fun, easy and empowering skills you can learn," says Lorraine Dallmeier, a biologist and CEO of online skincare formulation school Formula Botanica. "After all, you can grow your own food, you can make your own clothes, why shouldn't you formulate your own skincare? The reality is that you can become a formulator in your own home with just a few ingredients and tools."
But can a homemade version measure up to its skin care rivals? We asked three women to make and put a DIY eye cream to the test for a month and report back on the results, as well as speaking to skin care experts on hoe to approach making your own eye cream at home.
DIY eye cream—the results
After a month of switching up their usual cosmetic eye cream for a DIY alternative, the results are in. This is what our testers had to say.
*Original results recorded in 2020
Katherine Tilling, 46
---
Eye cream is the one skincare step I never skip. I work early mornings as a teacher and I feel like applying eye cream instantly perks up my complexion. I usually pay quite a lot for my eye cream, but was happy to try something new—and have to say I was pleasantly surprised.
The texture was light and felt very moisturizing, plus the scent reminded me of Elemis Superfood Facial Oil (opens in new tab). The product disappeared into my skin easily and I did notice I had less puffy eyes after a few weeks. I wouldn't say I saw a noticeable change in comparison with my usual eye cream, but that suits me if I can get the same effect at a fraction of the price. Whether or not the long-term impact would be compromised by the replacement, I'm not sure. But after using the product for a month, I didn't see any real change due to the switch, which was encouraging.
The verdict: I'm impressed with the results and would continue to use this over my usual eye cream, at least in the short term.
One year later: While I've dabbled in DIY skin care over the past year, I use it alongside my favorite products, as I like to often switch up what I'm using on my skin.
Bronia Burlinska, 32
I've been thinking more and more about sustainability and how my choices are impacting the environment. I don't eat meat, I recycle, and am a fan of buying vintage and sustainable clothing—but I'm willing to admit my dedication falls short when it comes to my skincare routine. I'd be lying if I said all my products are purchased with sustainability at the forefront of my mind. So, for me, using a DIY eye cream is one way to reduce my carbon footprint when it comes to beauty.
I kept the cream in the fridge, as the consistency doesn't hold up too well with the central heating on, or on hot days if the weather is warmer. Plus, popping the cream on chilled is a really refreshing step during my skincare routine and great for reducing puffiness. I enjoyed the natural fragrance of this eye cream, as it reminded me of a spa or a botanical brand like Aesop. I imagine this cream could also work well as a balm for pressure points when feeling a little stressed. A month on and I'd say it doesn't have quite the same brightening properties as my usual Liz Earle eye cream, but it's great for reducing puffy eyes and my skin continues to feel hydrated and smooth.
The verdict: I'm keen to experiment with more DIY beauty, especially when thinking about the positive impact on the environment. I'm not quite ready to fully give up my favorite skincare brands just yet—but would like to try and incorporate some more homemade creams into my routine.
One year later: I'm counting to try and do my bit for the environment by making my own products from time to time and shopping second-hand when I can. However, that's not to say I've entirely cut out buying skin care!
3. Lynne Hughes, 60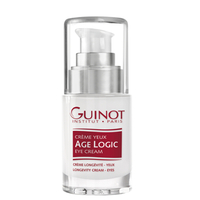 (opens in new tab)
Favorite eye cream: Guinot Age Logic Eye Cream | $124.38 / £95
"It's expensive, but it really works! My undereye area feels instantly firmer after application and I've noticed a visible reduction to frown lines and wrinkles around my eyes after using this cream."
The eye cream was very easy to source and put together. Virtually all the ingredients were available in Holland & Barrett and I already had aloe vera gel and shea butter from The Body Shop at home. I halved the ingredients and it filled two pots, which I would imagine would last for several months.
I've tried lots of different eye creams, as I have sensitive skin and am allergic to quite a lot of products. This cream was light and fresh, went on smoothly, and gave me no adverse reactions—perhaps because it was all-natural ingredients. I did think the cream was quite greasy at first, but I experimented and realized I only needed a small amount, patted lightly around the eyes. The formula works best if you use it sparingly.
After a month's use, I definitely found it kept the skin around my eyes very hydrated and soft. The cream stopped my eyes from feeling dry and wrinkly after removing my eye makeup, which is always a winner. I think the product works best in the evening when you don't mind using a little more and feeling a little greasier, so it has time to fully sink in overnight.
The verdict: I'd switch to DIY eye cream for short periods of time, as the effects are good and homemade creams have lots of benefits, but I do like to try different products—and, at my age, I want something a little more firming.
One year later: While I've switched back to my usual eye cream, I wouldn't be averse to trying DIY skin care again. When life is busy, it's hard to find the time, but I did enjoy experimenting with making my own formula and might try whipping up another batch when things calm down.
How to make DIY eye cream
The easiest way to lay this out if you would like to recreate the experience for yourself at home is like a recipe. There are just five natural ingredients in this cream, which are recommended by our experts.
It's important to blend the right ingredients to create your eye cream, and there are certain (even natural) skin care favorites you should steer clear of when dealing with the delicate eye area. "The skin around the eye is extremely thin and delicate, so any topical product you want to use must be suitable for this sensitive area," says Dallmeier. "For this reason, you will need to leave out any essential oils from your homemade serum.
"Examples of ingredients that could be suitable for an eye cream include aloe vera, rose hydrosol (rose water), or witch hazel for the cream's base. All of these ingredients are very gentle and are sold in liquid form, which makes them excellent for formulations that are to be applied around the eye.
If using a water-based formula such as aloe vera or rosewater you may also want to use a preservative, such as Willow Bark Extract or Amticide Coconut to ward off bacteria and mold. It's also important to remember that your homemade creams will have a shorter shelf life. Our recipe should be used within the month and kept refrigerated. "When you make beauty products that contain water or that have a shelf life longer than a few days, you will need to use a preservative. There are dozens of innovative natural preservatives on the market that you can easily get hold of to add to your formulation" says Dallmeier.
DIY eye cream ingredients
---
1oz pure aloe vera gel
1oz unrefined shea butter
½ tsp vitamin E
A few drops of rosehip oil
A natural preservative, such as Willow Bark Extract or Amticide Coconut
DIY eye cream method
---
Mix all of the ingredients together in a bowl, using a spatula or spoon.
If the coconut oil or shea butter is solid, you can gently heat them in a small pan, then add the rest of the ingredients so that the mixture blends easier.
Once blended, transfer the DIY eye cream into a glass jar.
Keep refrigerated and use within a month before whipping up a new batch.
Equipment for DIY eye cream
"You don't need a lot of tools, particularly not when you're starting out as a formulator. You just need a small kit with the basics and that way you also save money when you make your first formulations," Dallmeier told us. She recommends that when starting out with DIY eye cream, you invest in the following:
Your formulation book—set up a small 'lab' book in which you write down all of your recipes and experiments. Not only will this be a fun book to set up with all of your recipes, but it will also give you the opportunity to buy some fun stationery!
Glass beakers—you can get glass beakers all over the world. They're easy to use and easy to clean, and the best part of all is that you can get them in a whole range of sizes.
Glass rods—you'll use a glass rod to stir the liquid in your beakers. It's really simple to use and simple to clean and you can get these anywhere in the world.
Mini whisk—super useful, so cheap to buy, and really simple to work with.
Small scales for weighing your ingredients—jewelry scales will be sufficient when you first start out, just make sure that they go to 2 decimal points. These scales are small, lightweight, and inexpensive—they don't tend to cost more than about $10 / £10 on Amazon.
How to apply DIY eye cream
Like most steps of your skincare routine (bar SPF), eye cream should be applied morning and night. It's been proven that when it comes to our skin, consistency is key. In fact, studies (opens in new tab) have shown that sticking to a strict skincare routine is more important than the ingredients of products, so we asked our testers to stick to their new eye care routine religiously.
Contrary to the popular consensus that it should be the last step of your routine, eye cream should be applied before serum and moisturizer. "Do not apply your eye product last," says Caroline Hirons, straight-talking skincare expert and author of Skin Care. "No matter how carefully you apply your serums and moisturizers, you will always get some in the eye area, and then your eye product won't be absorbed where you want it to be."
The delicate eye area is very sensitive, therefore we need to handle it with extreme care. That's where a gentle application technique comes in—under no circumstances should you ever pull, drag or rub. Instead, dot your eye cream—about a pea-sized amount—around the hollow section of your lower eye socket and pat the product in gently.
Key things to remember when making eye cream at home
"Formulating at home is perfectly safe, as long as you adhere to some basic hygiene practices that ensure you make, store and preserve your skincare formulations cleanly, hygienically, and safely—much as you would with your food," Dallmeier told us. She recommends:
Keep your working area clean, tidy, well ventilated—and free of food, drink, smoke, and any illnesses. Very similar to cooking, make sure you check, clean, and maintain your equipment before and after every time you formulate, and always wash your hands.
Wear some basic protective equipment—such as an apron and lab gloves (easy to get on Amazon) and remember that natural ingredients, however wonderful they are, should still be treated with care. For instance, essential oils should never be used neat on the skin.
Maintain good storage for your ingredients—as well as your finished products. Keep your finished products stored in a sealed and safe environment away from direct heat and light and labeled properly.
In short: 5 very valid reasons to try DIY eye cream
You'll save money—eye creams can be expensive—and whether we're paying through the nose for a clever marketing spiel or not isn't always obvious. The ingredients in the above DIY eye cream recipe will set you back around £20 and will last you throughout multiple top-ups.
You'll know exactly what's in it—it can feel as if you need a degree in cosmetic chemistry to decipher some eye-cream labels. Making your own gives you complete control over what's going on your face.
It will be toxin-free—on that note, thanks to the use of all-natural ingredients, you won't have to worry about putting something on your skin that could be potentially damaging in the long run.
It's more sustainable—invest in one glass jar and keep topping up, rather than needlessly consuming more and more plastic, which often features in the packaging of high-street skincare.
It's fun—making your own skin care is a popular hobby for women, as it's creative, easy to set up and you're left with a useful finished product.
---
woman&home thanks Caroline Hirons, skincare expert and author of Skin Care (opens in new tab), dermatologist Fayne L Frey (opens in new tab), and Lorraine Dallmeier, a biologist and CEO of online formulation school Formula Botanica (opens in new tab) for their time and expertise.
Lorraine Dallmeier is a Chartered Environmentalist, Biologist, the host of the Green Beauty Conversations podcast, and the award-winning CEO of Formula Botanica, the online organic cosmetic formulation, and business school, which has trained over 15,000 organic cosmetic formulators in 180+ countries.
Lauren is the former Deputy Digital Editor at woman&home and became a journalist mainly because she enjoys being nosy. With a background in features journalism, Lauren worked on the woman&home brand for four years before going freelance. Before woman&home Lauren worked across a variety of women's lifestyle titles, including GoodTo, Woman's Own, and Woman magazine.