The best gua sha tools to detoxify, tone, and lift skin
The best gua sha tools help amplify your DIY facial massage to a spa-like experience, with visible results—here are our favorites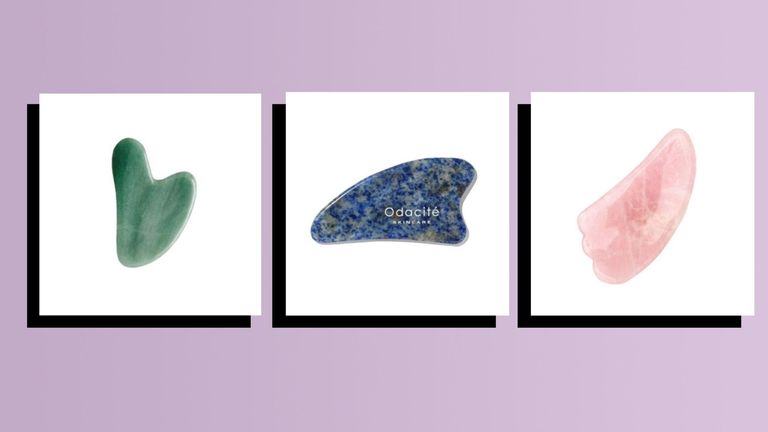 (Image credit: Future)
At-home facial massage aids have soared in popularity in recent years, and having one of the best gua sha tools is at the top of many skincare wish lists. The small, handheld tools are used to exfoliate and release toxins by gently scraping the surface of the skin. 
The name gua sha comes from the Chinese word for scraping. Historically, gua sha tools date back to the Paleolithic Age, and were a form of ancient Chinese medicine used to rub parts of the body to help alleviate pain and rid certain symptoms of disease. 
Today, this natural form of therapy is commonly used in many a skincare routine to stimulate circulation in the facial tissue to increase blood flow and to remove toxins from the lymphatic system. This in turn helps decrease inflammation and promotes healing in the skin.
If you're looking for a natural detoxification method to supplement your skincare devices, investing in a gua sha scraping tool can be a smart move: It's effective, affordable, and handy for on-the-go as well.
What is gua sha? 
Chinese medicine practitioner and founder of Philosophia Botanica Francesca Canzano-Franklin told woman&home:
"Gua sha is an ancient practice for energy flow and blood circulation; 'gua' means to scrape, and 'sha' means sand.
"The term means the act of scraping the skin to remove an energy blockage using a stone made of bian, jade, or rose quartz." 
Acupuncturist and TCM/Five Element practitioner Charlotte Conwy of acu:east explains that it's a form of massage employed along the meridian lines of the face. 
She says, "It boosts circulation—studies show by up to 400%—and creates micro trauma, boosting collagen and stimulating the lymphatic and immune system." 
Key features to look out for in the best gua sha tools
Material: Gua sha tools come in different materials, with different skin benefits depending on which you choose. Rose quartz gua sha tools are said to address dark undereye circles and general puffiness, while jade gua sha tools will remain cool to the touch for a refreshing experience. 
Shape: While they're built pretty similarly, there are small variations in shape and size. Those seeking to target and define specific angles of their face should seek out gua sha tools with a more defined "leg" or concave edge in order to really dig into the skin and follow the contours of the jawline. Those who are simply looking to target their entire face and neck will be less particular about the shape.
The best gua sha tools, as chosen by our experts
1. Mount Lai Gua Sha Facial Lifting Tool
Best jade gua sha
Specifications
RRP: $28/£20
Features: Jade stone
Reasons to buy
+Made with authentic jade stone+Reasonably priced
Reasons to avoid
-Delicate and breakable
This classic gua sha tool is a great choice for those who are new to the gua sha practice. One of the most affordable in this collection, this gua sha tool is shaped to sculpt and contour your face as you use it. It's made with authentic jade stone that balances skin as it smooths across the surface while remaining cool to the touch. 
The groove on the larger end of the gua sha makes it ideal for pressing it along your jawline to add definition and get rid of puffiness. We love this gua sha tool because it's easy to grip and because of how easily it runs along our jawlines, underneath our cheekbones, and because we can lightly run it along our under eyes. If you're looking for a no-nonsense, authentic, quality tool, this deserves that spot on your vanity—or better yet, in your skincare fridge.
2. Skin Gym Rose Quartz Crystal Gua Sha Sculpty Facial Tool
Best rose quartz gua sha
Specifications
RRP: $32/£38.50
Features: Rose quartz
Reasons to buy
+Rose quartz lends healing properties to your gua sha experience
Reasons to avoid
-Slightly pricier
Leave it to Skin Gym to create a gua sha that will heal your skin as it relieves anxiety and relaxes your facial muscles. This gua sha is made of rose quartz, a stone widely considered as a heart chakra aid, as well as a material known to contain healing properties that ease the tension and stress many of us are guilty of carrying in our facial muscles. We found it particularly healing and relieving for jaw tension and a necessary daily reminder to unclench those muscles while giving them some TLC. 
This gua sha tool is proof that the benefits of this practice are both physical and visual. Our facial muscles felt and looked better after just a week of nightly use. Plus, we can't help but gush at how pretty this one looked on our nightstands.
3. OSEA Gua Sha Ritual Skin Care Set
Best gua sha skincare set
Specifications
RRP: $72/£52
Features: Gua sha tool; face mist; Argan oil
Reasons to buy
+Comes in a 3-piece set that includes skincare essentials: gua sha tool, Sea Minerals Mist and Undaria Argan Oil+Includes travel bag
Reasons to avoid
-Premium price tag
Consider this gua sha set (or think about gifting it to your girlfriends) if you are looking for a truly luxurious experience. This set includes boutique beauty brand OSEA's gua sha facial tool, Sea Mineral Mist, and Undaria Argan Oil for an all-inclusive routine all in one place—and thanks to the handy pouch, good for travel, too.
For an Asian-inspired medispa vibe, start by applying the Sea Mineral Mist and Undaria Argan Oil to a clean face after double cleansing. Next, start your facial massage with the tool. The combination of these products left our skin with an instant healthy and youthful glow. This set is ideal for taking the guesswork out of product choices and skin prep for your gua sha practice.
4. Herbivore Botanicals Rose Quartz Gua Sha
Best budget gua sha tool
Specifications
RRP: $18/£16
Features: Rose quartz
Reasons to buy
+Unique "wing" shape+Affordable
Reasons to avoid
-Can chip easily
What sets this gua sha tool apart from the rest is the unique shape that allows you to target different areas, use different techniques, and achieve different results all with the same tool. Following the Herbivore directions, we used the longest edge to sculpt our jawline and cheekbones, the medium-length edge to promote lymphatic drainage, and the smallest edge for general pressure and massage. 
While the small difference in the edges seems gimmicky at first, we were pleasantly surprised to see how easy this tool made our gua sha practices. We were also able to get into the undereye area and do a gentle massage, which helped alleviate puffy eyes.
By rotating the tool throughout our skincare night routine, we were able to reap all of the benefits of gua sha without too much of a learning curve.  
5. KORA Organics Rose Quartz Heart Facial Gua Sha
Best unique gua sha tool
Specifications
RRP: $58/£52
Features: Rose quartz
Reasons to buy
+Great for cooling and soothing puffiness+Looks appealing on your vanity+Great for gifts
Reasons to avoid
-Seems more fragile/breakable-Not ideal gua sha shape
Another rose quartz gua sha, another symbol of universal love. This heart-shaped tool is too cute to pass up and just as effective as its more standard counterparts. The unique heart-shaped stone allows you to use the angles of the tool to gently dig into problem areas and define the edges of your face where you want a boost. 
We found that placing the stone in the freezer for five to ten minutes before use gave us an added cooling effect. The heart shape helped cover wider areas on our cheeks, but we did find it a bit cumbersome on the smaller areas of the face and on our foreheads, which need a bit of curvature. It's still a cute alternative and makes for a nice just-because gift for the facial tool lover in your life, in case they already have one of the best derma rollers.
6. Sephora Collection Gua Sha Facial Roller
Best multi-use gua sha tool
Specifications
RRP: $28
Features: Rose quartz tool; facial roller
Reasons to buy
+Unique design is unlike any other tool on the market+Clever and handy for travel+2-in-1 shape consolidates your facial tools
Reasons to avoid
-Heavier-Not up to classic gua sha spec-Not available in the UK
This two-in-one gua sha tool is one of the most unique tools on the market. Our editors love this option because of the two different facial sculpting routines it provides: the rose quartz roller head can be used to target smaller areas on the face while the larger stainless-steel portion can be used flat against the jawline in an uplifting motion. 
If you're just learning how to use a facial roller, this is probably an economic entry point as well since it provides a supplementary gua sha scraper on the handle. We appreciate this clever take on consolidation, and although it was a bit different to use because of the stainless steel feel (also, fingerprints, sigh), we're giving it points for originality and appreciate the small-counterspace appeal of a dual tool.
Store this gua sha tool in the refrigerator for a longer-lasting cooling effect and use it as a part of your evening routine to massage your face or in the morning to de-puff your under eyes with the cooling effects of refrigerated rose quartz.
7. Odacité Crystal Contour Gua Sha
Best blue sodalite gua sha
Specifications
RRP: $45/£40
Material: Blue sodalite
Reasons to buy
+Unique blue sodalite material is great for harmonizing chi and releasing tension+Proudly cruelty-free/PETA-certified
Reasons to avoid
-Expensive
Blue sodalite is known to contain healing properties that bring about emotional balance and a distinct calming sensation when used, encouraging peace and inner tranquility every time. Odacité Crystal Blue Sodalite Gua Sha helped give an extra boost of calm and luxury to an otherwise regular gua sha routine, and what set it apart from its counterparts was the heavier weight of the tool. 
We found our gua sha experience more grounding and luxurious when practicing with this tool and feel great supporting a woman-owned, California-based skincare brand (that's also PETA-certified, by the way). Lovely for gifting, we appreciate the vanity flex we get from a more unique stone than the usual rose quartz and jade as well.
How to practice gua sha
Learning how to do gua sha is fairly simple. It employs a facial massage technique rooted in Traditional Chinese Medicine practice. Here's a brief primer on how to get started:
Prep skin: While there are ample benefits to practicing gua sha, there are also some risks. It's essential to properly prepare your skin with a light face oil before you begin to ensure that you don't create any friction between your gua sha tool and your skin. By prepping your skin with a facial oil, you will ensure that your gua sha will move in a smooth gliding motion. This way, you won't cause any unnecessary tugging or pulling that can lead to skin stretching and unwanted wrinkles.
Move slowly: Gua sha tools might look simple and easy-to-use, and while this is a relatively democratized form of facial massaging, it's extremely important to move slowly and with caution. Slow, gentle motions are ideal and are best paired with medium-level pressure. You want enough pressure to feel the effects of the gua sha without bruising your skin or causing any redness.
Practice makes perfect. Don't be discouraged if you find yourself having a hard time at first. Consider watching a few tutorials to familiarize yourself with the practice. You will find your way around a gua sha in no time and soon you'll have your own personalized 10-minute routine down.   
woman&home thanks Francesca Canzano-Franklin of Philosophia Botanica and Charlotte Conwy of acu:east for their time and expertise.
Miriam Herst-Stein specializes in branding, content creation, and storytelling. She brings ten years of experience customizing content to large corporations such as Unilever in her role as Deputy Editor for their publication All Things Hair, as well as to small businesses just beginning to step up their content. She graduated from Stern College with a degree in journalism and is currently pursuing her masters in professional creative writing at The University of Denver. A NYFW reporting veteran, she has written for Byrdie, Birchbox, LoveStoriesTV, and the Huffington Post, and has interviewed a long roster of celebrity stylists including Ursula Stephen and Justine Marjan. Born and raised in Chicago, she now lives in Brooklyn with her husband and their large collection of color-coded books. You can find her on Instagram @miriam.herst.stein.