The best gua sha tools for de-puffed, detoxed, glowing skin
We reveal the best gua sha tools for facial massage – and how to use them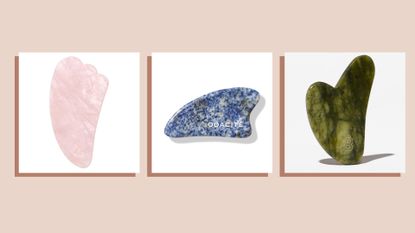 (Image credit: Future)
woman&home newsletter
Sign up to our free daily email for the latest royal and entertainment news, interesting opinion, expert advice on styling and beauty trends, and no-nonsense guides to the health and wellness questions you want answered.
Thank you for signing up to . You will receive a verification email shortly.
There was a problem. Please refresh the page and try again.
The best gua sha tools are in demand as more and more of us incorporate facial massage into our daily routine. Rooted in Traditional Chinese medicine, these hand-held tools (pronounced gwa sha) are said to reinvigorate circulation, soothe tight muscles and promote lymphatic drainage.
If you're yet to discover the wonders of gua sha, now's a perfect time. Despite being a fairly recent addition to our skincare routines, their use dates back thousands of years. "Gua sha is an ancient practice for energy flow and blood circulation; 'gua' means to scrape, and 'sha' means sand," explains Chinese medicine practitioner and founder of Philosophia Botanica, Francesca Canzano-Franklin (opens in new tab). "The term means the act of scraping the skin to remove an energy blockage using a stone made of bian, jade, or rose quartz."
Historically, gua sha tools were used to help alleviate pain, but today they are used like the best facial rollers, to stimulate facial tissue for multifaceted benefits. "It boosts circulation – studies show by up to 400% – and creates microtrauma, boosts collagen, and stimulates the lymphatic and immune system," says acu:east acupuncturist and TCM Five Element practitioner Charlotte Conwy (opens in new tab). If you're looking to supplement your skincare ingredients with a tool, investing in one of the best gua sha tools could be a smart move – here's everything you need to know.
How to choose the best gua sha tools
Why you can trust Woman & Home Our expert reviewers spend hours testing and comparing products and services so you can choose the best for you. Find out more about how we test.
With demand comes supply, and the past few years have seen several beauty brands launch their very own gua sha tool. Differing in shapes and sizes, finding the right one for you can be a tricky task. Charlotte Yau, founder of Muihood (opens in new tab), a skincare brand rooted in Traditional Chinese medicine, breaks down the key factors to consider:
Material: "In Traditional Chinese medicine, jade is a material that is cooling and smooth, making it especially useful for facial scraping and alleviating puffy eyes. Rose-quartz has properties that help soothe, purify and bring a deep inner feeling of healing and peace to the heart and mind." Want to go green with your beauty regime? Black obsidian is said to be one of the most sustainable crystals.
Shape: "Using precision gua sha tools can help target acupressure points, improve blood circulation and remove heat from the face." Consider those with angled edges or a concave edge to really hug the facial contours. "Other smooth and rounded gua sha tools can help with massaging wider surface areas and relieving jaw tension."
How we tested these gua sha tools
To filter out the best from the rest, we tried a wide selection of gua sha tools – differing in shapes, sizes as well as materials. To test, we used each tool as part of our daily skincare routine alongside one of the best facial oils for added slip. In order to score highly, the gua sha had to be easy to grip and it had to hug onto the contours of the face without tugging or pulling. The winning tools we've featured here all received top marks for ease of use and de-puffing results (without requiring too much skill).
The best gua sha tools, as chosen by our beauty team
(opens in new tab)
1. Skin Gym Rose Quartz Crystal Gua Sha Sculpty Facial Tool
Best rose quartz gua sha
Specifications
RRP: $32/£38.50
Material: Rose quartz
Reasons to buy
+
Rose quartz has healing properties
+
Feels sturdy
+
Beautiful and giftable
Reasons to avoid
-
Slightly pricier than some others
Gua sha isn't all about skincare results, this gua sha tool promises to heal your skin as it helps relieve anxiety symptoms and relax your facial muscles. This gua sha is made of rose quartz, a stone widely considered as a heart chakra aid, as well as a material known to contain healing properties that ease the tension and stress many of us carry in our facial muscles.
We found it particularly healing and relieving for jaw tension and a necessary daily reminder to unclench those muscles while giving them some TLC. This gua sha tool is proof that the benefits of this practice can be both physical and mental. Our facial muscles felt and looked better after just a week of nightly use, and we experienced a definite glow. Plus, we can't help but adore how pretty this one looked on our nightstands.
2. By Beauty Bay The Jade Gua Sha
Best jade gua sha
Specifications
RRP: $12/£10
Material: Jade
Reasons to buy
+
Excellent value
+
Ultra-cooling jade material
+
100% naturally sourced
Reasons to avoid
-
Slightly slimmer than others
Proving you don't need to spend a lot to enjoy one of the best gua sha tools around, this nifty jade tool by Beauty Bay costs little more than a couple of morning lattes but will bring a whole lot of joy to your life. Jade is a hugely popular material in gua sha and is known for its cooling properties, making this an excellent choice for those looking primarily to de-puff or calm rosacea-prone skin.
This gua sha has a simple shape that's straightforward to get to grips with. Use the long edge to massage and work into larger areas of the skin, while the inverted 'lip' is great for getting into facial contours. As the cheapest tool on our list by some way, it's no surprise that Beauty Bay's offering is a little slimmer than some others, and lacks added extras such as a storage pouch. But as a quality tool for those looking to try gua sha without breaking the bank, you really couldn't go wrong with this.
3. FACEGYM Multi-Sculpt High-Performance Gua Sha
Best metal gua sha
Specifications
RRP: $60/£45
Material: hypoallergenic stainless steel
Reasons to buy
+
Ultra-cooling feel
+
Hygenic material
+
Six sides for versatile treatments
This unusual metal gua sha tool could be a great choice for those who are already familiar with gua sha practice and want to ramp up their routine. Why? Firstly, it's ultra-versatile so can be used in a number of ways. It has not one but six different shaped edges including typical long and curved sides for lymphatic drainage as well as less-common shorter eye area curves, and collagen-boosting 'teeth' (less scary than they sound.)
The stainless steel material, while not traditional, does make for an ultra cooling massage tool, particularly if you keep it in the fridge (or better yet, in one of the best skincare fridges.) It's also super easy to keep sparklingly clean. We found this was one of the best gua sha tools on our list for easy grip, and stayed resolutely in our hands even when used with slippy face oils and serums. It seems to fit every contour, running easily along the jawline, underneath the cheekbones, and right into the eye area. It may not be the prettiest crystal option, but if you're looking for a no-nonsense, effective, and high-quality tool, this deserves that spot on your vanity.
(opens in new tab)
4. Herbivore Botanicals Rose Quartz Gua Sha
Best budget gua sha tool
Specifications
RRP: $18/£16
Material: Rose quartz
Reasons to buy
+
Unique "wing" shape
+
Affordable
+
Looks beautiful
What sets this gua sha tool apart from the rest is the unique shape that allows you to target specific areas, use various techniques and achieve different results all with the same tool. Following the Herbivore directions, we used the longest edge to sculpt our jawline and cheekbones, the medium-length edge to promote lymphatic drainage and the smallest edge for general pressure and massage.
While the small difference in the edges seems gimmicky at first, we were pleasantly surprised to see how easy this tool made our gua sha practice. We were also able to get into the undereye area and do a gentle massage, which helped alleviate undereye puffiness. By rotating the way we used this tool throughout our skincare night routine, we were able to reap all of the benefits of gua sha without too much of a learning curve.
(opens in new tab)
5. KORA Organics Rose Quartz Heart Facial Gua Sha
Best gua sha tool for gifting
Specifications
RRP: $58/£52
Material: Rose quartz
Reasons to buy
+
Great for cooling and soothing puffiness
+
Looks appealing on your vanity
+
Great for gifts
Another rose quartz gua sha, another symbol of universal love. This heart-shaped tool is too cute to pass up and just as effective as its standard-shaped counterparts. As well as making it one of the cutest beauty gift ideas we've seen, the unique heart-shaped stone allows you to use the angles of the tool to gently dig into problem areas and define the edges of your face.
We found that placing the stone in the freezer for five to ten minutes before use gave us an added cooling effect. The heart shape helped cover wider areas on our cheeks, but we did find it a bit cumbersome on the smaller areas of the face and on our foreheads, which need a bit of curvature. It's still a cute alternative and makes a nice gift for anyone in your life seeking out the best skincare devices.
(opens in new tab)
6. Sephora Collection Gua Sha Facial Roller
Best multi-use gua sha tool
Specifications
RRP: $28 (US only)
Features: Rose quartz tool; facial roller
Reasons to buy
+
Unique design unlike any other tool
+
Clever and handy for travel
+
2-in-1 shape consolidates your facial tools
This two-in-one gua sha is definitely the most unique tool on our list. Our editors love this option because of the two different facial sculpting routines it provides: the rose quartz roller head can be used to target smaller areas on the face while the larger stainless-steel portion can be used flat against the jawline in an uplifting motion.
If you're just learning how to use a facial roller, this is a savvy entry point since it provides a supplementary gua sha scraper on the handle. We appreciate this clever take on consolidation, and although it was a bit different to use because of the stainless steel feel (also, fingerprints, sigh) we're giving it points for originality and appreciate the small-counter space appeal of a dual tool. As with many of the best gua sha tools this benefits from being stored in the refrigerator for a longer-lasting cooling effect and can be used as a part of an evening routine massage or in the morning to de-puff.
7. ESPA Rose Quartz Gua Sha Tool
Best luxury gua sha
Specifications
RRP: $52/£40
Material: Rose quartz
Reasons to buy
+
Ideal heart shape for massage
+
Works perfectly with ESPA skincare
+
Comes with handy storage bag
There is something to be said for investing in this ESPA tool, one of the best gua sha tools that we've come across. First of all, due to being made of ultra-durable crystal rose quartz, this truly is a skincare tool for life. Take care of it and you'll never need to buy another one.
Clearly, a lot of thought has gone into creating this particular gua sha, as the elongated heart shape adheres perfectly to facial contours, gliding up cheekbones and really getting into the jawline for an effective lymphatic massage. It works beautifully with some of ESPA's best skincare products, which for the uninitiated are gorgeously sensorial serums and facial oils. We found this gua sha also feels particularly sturdy in the hand and loved the extra touch of throwing in a cute cotton washbag to store the tool when you're not using it.
(opens in new tab)
8. Odacité Crystal Contour Gua Sha
Best blue sodalite gua sha
Specifications
RRP: $45/£40
Material: Blue sodalite
Reasons to buy
+
Unique blue sodalite material
+
Proudly cruelty-free/PETA-certified
Blue sodalite is known to contain healing properties that bring about emotional balance and a distinct calming sensation when used, encouraging peace and inner tranquility every time. Odacité Crystal Blue Sodalite Gua Sha helped give an extra boost of calm and luxury to an otherwise regular gua sha routine, and what set it apart from its counterparts was the heavier weight of the tool.
We found our gua sha experience more grounding and luxurious when practicing with this weighty tool and it had the added feel-good factor of supporting a woman-owned, PETA-certified brand. Lovely for gifting, we appreciate the vanity flex we get from this unique stone, instead of the usual rose quartz and jade.
9. Muihood Gua Sha Spoon
Best gua sha spoon
Specifications
RRP: £25 (UK only)
Material : Jade
Reasons to buy
+
Great for precision work
+
Sculpts cheekbones
+
100% Xiuyan Jade
If you're ready to incorporate more advanced massage techniques into your skincare regime, consider investing in this Gua Sha Spoon from Muihood. The small, rounded spoon is the perfect shape to really sculpt cheeks and drain puffiness for a brighter, healthier-looking complexion. "The gua sha spoon offers a more contoured massage than say the classic heart-shaped tool," says Yau, "it can be used to define facial features and release any tension."
To use, Yau recommends starting with the spoon to lift and sculpt the cheekbones with several strokes. "Use the tip, at the opposite end of the tool, on acupressure trigger points, such as the temples, ears, and jaw, to release tension," she continues. Once we mastered the technique, we thoroughly enjoyed using this tool to really massage the contours underneath the cheekbones. We also found that it helped ease sinus congestion and can double up as a skincare applicator – no more dipping fingers!
10. Lanshin Intro Gua Sha Tool Nephrite Jade
Best gua sha tool for beginners
Specifications
RRP: $69/£60
Material: Nephrite Jade
Reasons to buy
+
Easy to use
+
Dense and heavy tool
+
Comes with a dust bag for travel
New to the practice of gua sha? This top-rated tool from Lanshin has been specifically created for beginners with its simplistic design that's extremely easy to use. Instead of the traditional heart shape, you'll notice that this gua sha tool boasts a square-like shape that's easy to grip onto and maneuver along the facial contours. While the shape may be different from others, the benefits of gua sha remain the same and this tool can soothe tight muscles, reinvigorate circulation and improve the appearance of congested skin.
A great pick for travel, this tool comes complete with a matching dust bag to keep it safe while on the move. As for the material, we were very impressed with how sturdy and heavy this gua sha tool is – which is thanks to the high-quality precious stone that it's crafted from: Nephrite. You can rest assured that it won't break under deep pressure. Luxurious and cool to the touch, we found that it's especially soothing when alleviating congestion issues like headaches.
11. Sacheu Stainless Steel Gua Sha
Best Gua Sha tool to de-puff
Specifications
RRP: $35/£40
Material: Stainless steel
Reasons to buy
+
Added cooling benefits
+
Eco-friendly material
+
Sturdy and reliable
While this isn't a traditional stone gua sha, it is a durable, eco-friendly, and anti-bacterial stainless steel gua sha that delivers the same lifting results. Unlike other tools that need to be refrigerated to keep cool, this one is naturally cold to the touch which feels heavenly on tight, tense muscles. In terms of its eco-friendly claims, this top pick is crafted from recycled material that's also 100% recyclable. Note that the packaging is made with recycled cardboard, too.
Oh, and the material benefits don't end there. Whereas jade and rose quartz are porous, stainless steel is non-porous meaning it prevents bacteria build-up that can transfer onto your skin. We tried using this tool with one of the best cleansing oils to take off the day while massaging and soothing skin. We noticed that skin immediately appeared brighter and redness was reduced. Expect a lifted and firmed effect over time, too.
---
How to practice gua sha
Learning how to do gua sha is fairly simple. This facial massage technique is rooted in Traditional Chinese Medicine practice. Here's a brief step-by-step from Yau to get you started:
Cleanse the skin: "Begin your routine with cleansed skin. For evening, we recommend double cleansing to ensure make-up, sunscreen, dirt and excess oil is fully removed."
Apply oil or serum: "Applying oil or serum enhances the glide of your facial tools for fluid movements while nourishing your skin with nutrient-rich plant oils, butters and herbs."
Warm your gua sha tool: "Warm between clean hands before you use your chosen tool. In traditional Chinese medicine, we generally avoid using cold tools on the skin and body because cold constricts circulation."
Start moving: "Move the gua sha under the cheekbones, along the jawline, and gently under the eye area from the inner to the outer corner." Use medium pressure and gentle motions for best results.
Practice makes perfect: Don't be discouraged if you find yourself having a hard time at first. Consider watching a few tutorials to familiarize yourself with the practice. You will find your way around a gua sha in no time and soon you'll have your own personalized 10-minute routine down.
---
Miriam Herst-Stein specializes in branding, content creation, and storytelling. She brings ten years of experience customizing content to large corporations such as Unilever in her role as Deputy Editor for their publication All Things Hair, as well as to small businesses just beginning to step up their content.
She graduated from Stern College with a degree in journalism and got her masters in professional creative writing at The University of Denver. A NYFW reporting veteran, she has written for Byrdie, Birchbox and the Huffington Post, and has interviewed a long roster of celebrity stylists including Ursula Stephen and Justine Marjan.
With contributions from