Best jewelry making kits for crafting intricate, one-of-a-kind pieces for yourself or as a special gift
One for the budding crafters, the best jewelry making kits will keep your hands and brain busy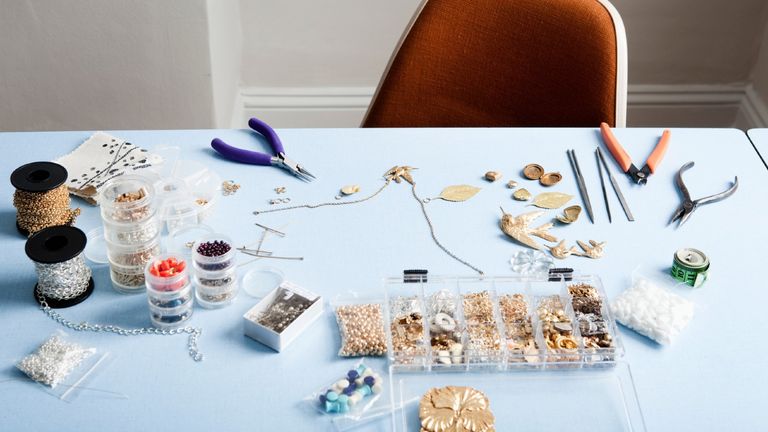 (Image credit: Getty)
The best jewelry making kits make crafting one-of-a-kind pieces easy—whether it's an occasional hobby, or you envisage turning your passion into a brand or a money-making venture.
Hobbies are booming right now, and many are opting to spend a productive afternoon armed with crafting kits. As well as providing a way to destress and unwind—with crafting proving a mindful activity for many—you're also left with a beautiful product at the end of it. 
There's never been a better time to learn a new skill or craft, with so many user-friendly kits and informative tutorials out there to help you develop your technique. In fact, if you're a budding seamstress, we also have you covered, with a round-up of the best sewing machines on the market right now. In order to select the best jewelry making kits, our team tested out the best on the market to see which provided the most user-friendly and enjoyable crafting experiences. 
The joy of the best jewelry making kits is that you're gifting yourself—or someone special— with something beautiful and unique at the end of the process. It's no wonder that jewelry making is one of the most popular hobbies for women. Skilling up in this area can also prove to be lucrative—as the best jewelry gifts are often handmade, one-of-a-kind gems that that the wearer will treasure for years to come. 
With everything from a beginners' beading set—such as Macaroon's Luxe DIY Beading Kit—to a more complex option, such as CAST's Bespoke Jewellery Making Kit, we've got your jewelry making needs covered. Learning how to make jewelry really isn't as fiddly as it sounds!
Key jewelry trends for 2021
Here at w&h HQ, we love knowing what's in style right now—and this season's jewelry trends are just too good to ignore. And it doesn't hurt to get a feel for them if you're about to start making your own pieces.
Colorful jewelry: look out for rainbow colors bold enough to rival a small child's toy box—the brighter, the better. 
Pearls: dangling from modern metal bracelets, strung onto cord—how you wear your pearls doesn't matter, it's the taking part that counts. 
Chunky chains: moving away from delicate, dainty pieces, catwalks have been chock-a-block with thick, chunky chains. 
Single or mismatched earrings: an easy trend to nail, save yourself time in the morning by only putting on one earring, or a mismatched pair. 
Charms: the classic charm bracelet is experiencing a revival. Adorn yours with heirlooms or new buys… or a mix of both. 
What to consider when choosing the best jewelry making kit for you
What do you need to consider when browsing through the best jewelry making kits? Skill level will play a part: how much (or little) experience—and perhaps patience—do you have for the activity? Are you looking for something that offers flexibility for creative flair, or something that's more of a painting-by-numbers-style creation? How much money do you want to invest, and what kind of materials do you want to work with?
If you have done some crafting before, it can be helpful to choose a kit that chimes with what you're most comfortable with. If you've done a bit of crafting with yarn or thread, have a go at making the below tassel earrings or friendship bracelets. You'll get the hang of it quickly and have the confidence to move onto the harder kits that involve carving or hammering. That being said, there's nothing stopping you from going straight to the more technical kits—it might just take a little bit of time to get your head around them.
These are just some of the things you'll want to think about, and the criteria that we considered when seeking out the very best jewelry making kits on the market. Whether making jewelry is something you're already into, or you want to learn the techniques from scratch with online jewelry-making classes, we've saved you precious time scrolling through Instagram, or browsing on Etsy by collating the very best options available right now into one big list. We've also sought out personal recommendations from in-the-know friends and colleagues, for those word-of-mouth recommendations that online browsing fails to deliver. Once we had a comprehensive list of options, we added them to our basket and tested them out for ourselves, to share with you what the kits are really like. 
We assessed each kit for:
Value for money
How easy they are to use
The end result and how it looked
The best jewelry making kits as chosen by our experts
The best jewellery making kit for beginners
Specifications
Collection size: 9
Difficulty level: Easy
Collection starting price point: from $19/£14
Reasons to buy
+Easy-to-follow instructions+End result feels stylish and modern 
Reasons to avoid
-You do need to provide some additional tools
A hub of all things crafty, The Sewcial Circle sells everything from pom-pom sets to embroidery starter packs. But for us, the jewel in its crown is its jewelry making kits. Requiring just enough concentration to keep frazzled brains occupied but not so much that you'll end up with a tension headache, these are the sort of crafts to enjoy with a cuppa on hand.
Sewcial Circle's braided cord friendship bracelet kit and cord and bead necklace kit are both brilliant; they're not too fiddly, making them perfectly suited to little hands or anyone who struggles with mobility in their fingers. 
It was the tassel earring kit that really won us over as one of the best jewelry making kits, however, featuring enough silky embroidery floss to make two pairs of earrings, along with gold and silver plated hooks and hardware. You will need a pair of jewelry pliers for the finishing touches (you can pick up a pair for as little as £3.50 at Hobbycraft), but otherwise, everything is included. 
Read our full Sewcial Circle Tassel Earring Kit review
2. CAST Bespoke Jewelery Making Kit
The best professional jewellery making kit
Specifications
Collection size: 1
Difficulty level : Hard
Collection starting price point: from $39/£29
Reasons to buy
+Freedom to create completely bespoke designs+Choice of different metal finishes
Reasons to avoid
-Casting costs add up quickly 
Unless you're secretly skilled in the workings of a soldering iron (and other specialist tools), you'd be forgiven for thinking that making your very own precious metal jewelry was a little out of your reach. But we've got good news—CAST is making the seemingly impossible possible thanks to a technique called lost-wax casting.
Use the tools included in this kit to turn the various blue-wax forms (from a ring form to various other shapes) into unique-to-you designs. Once you've carved your desired piece of jewelry, send it off to CAST who will return it to your cast (see where the name comes from now?) in silver or gold. 
The carving is a little tricky to get the hang of at first—be careful of your fingers—but practice makes perfect, and you can always order replacement wax shapes if you have a mishap. Once you're in the swing of things, the whole process is very enjoyable, which is why this made the cut as one of the best jewelry making kits.
Read our full CAST bespoke jewelry making kit review 
3. The Workbench Box
The best ring-making kit
Specifications
Collection size: 3
Difficulty level: Hard
Collection starting price point: from $158/£115
Reasons to buy
+Unusual and exciting concept+Enables you to create something completely unique 
Reasons to avoid
-No downsides that we can find! 
Always dreamt of making your own rings? Get a step closer to the pros (with no expensive training) thanks to this clever little box of joy, brought to you by jewelers and friends Kirstie MacLaren and Katie Woodward. 
It all starts with a little ring of blue wax which can be carefully carved and sculpted to suit your style. If you're not quite sure where to begin, make the most of the process by following online tutorials, snooping on the brand's Instagram, or sketching your own designs before using the included craft knife and sandpapers to perfect your ring. The real beauty of this kit is that even if you've carefully followed a how-to-guide, the resulting rings will always be unique. Think of it as handwriting; no two people's scribbles look exactly the same. 
Once you're happy with your carved ring design, pop it in the post and the clever folk over at The Workbench HQ will use a process called lost-wax casting to turn it into a beautifully shiny, bespoke piece that you can treasure forever.
While this kit is on the pricey side, it's one of the best jewelry making kits out there, and worth every penny for the quality of the materials, as well as the joy of knowing you're the proud owner of a ring that's one-of-a-kind. A great option for you to enjoy or as a gift for a loved one.
Read our full The Workbench Box review 
4. Macaroon Luxe DIY Beading Kit
The best beaded jewellery making kit
Specifications
Collection size: 1
Difficulty level: Easy
Collection starting price point: from $38/£28
Reasons to buy
+Simple for beginners to use +Great selection of quality beads 
Reasons to avoid
-Only one set currently available
Jewelry brand Macaroon has been toying with the idea of launching its own jewelry making kits for years, but it was the pandemic that provided the final push to get the project off the ground. And the kit ticks some major boxes: it's screen-free, occupies your hands, and relaxes frazzled brains. It also makes a gorgeous-looking gift for a friend or family member in need of a little TLC. 
Each kit offers plenty of options for personalization and self-expression: they are packed with a mixture of around 200 beads and charms crafted from glass, shell, pearl, opal, crystal, and semi-precious gemstones, as well as some metal ones. All of the metal beads are lead and nickel-free. 
Your options are increased still further by the additional elements included in the box; you can string beads onto the stretchy elastic to make bracelets, or onto the strong cord to create beautiful, bespoke, beaded necklaces. One of the best jewelry making kits if you're want beaded creations.
Read our full Macaroon Jewelry Luxe DIY beading Kit review
5. Rose Beach Bracelets Bracelet Making Kit
The best friendship bracelet-making kit
Specifications
Collection size: 10
Difficulty level: Easy
Collection starting price point: from $13/£9.50
Reasons to buy
+Lots of different colours available +Quality materials 
Reasons to avoid
-Would love to be able to buy the kits in bigger bundles 
As you might have guessed by the name, Rose Beach Bracelets specializes in colorful, beach-themed friendship bracelets. Its impressive range of 12 sets—which you can find on the brand's Etsy shop—offers options in an array of vibrant shades.
Each kit comes with an illustrated step-by-step guide to help you along the path of creating the various bracelet styles. Not only is this helpful for beginners, but it serves as a useful reminder if you decide to work on any similar craft projects in the future. 
These bead-focussed kits also offer great value for money; the slightly cheaper Turtle and Pineapple bead bracelets contain enough materials to make 2 matching bracelets, while the larger sets include enough supplies for at least 4 different designs. We had thread left over at the end too. Keep your creations for yourself or gift them to friends and family—the choice is yours. 
6. TOTL Tom Foolery Jewellery Making Kit
The best jewellery making kit for creative types
Specifications
Collection size: 8
Difficulty level: Medium
Collection starting price point: from $8/£5.99
Reasons to buy
+Tools included+Sleek packaging
Reasons to avoid
-No cons for us!
Of all the jewelry kits we've tried, the TOTL Tom Foolery Full Kit looked the most exciting on first unboxing, which is part of the reason it's made its way onto our list of best jewelry making kits. Three large, shiny pouches contain everything needed to make your own necklaces and bracelets. One is brimming with an electric mix of colorful beads, another is dedicated to beads emblazoned with letters and symbols, and the final pouch holds all the practical elements—wire, cutters, and clasps. 
One of the key selling points of this kit is the freedom it offers. There are no set rules or expectations, just the excitement of creating something completely unique. The beads included vary from kit-to-kit and are generous too, with a single set including enough beads to make a range of pieces.
But don't worry, if you do run out of beads, wire, or clasps there's the option to stock up on refill packs. There are limited edition extensions to the range too, so keep a beady eye on the TOTL Tom Foolery Instagram page for news on those. 
7. TUPARKA Earring Making Kit
The best earring-making kit
Specifications
Collection size: 2
Difficulty level: Hard
Collection starting price point: from $19/£16.99
Reasons to buy
+Great value for such a big kit +Includes jewellery pliers 
Reasons to avoid
-Doesn't contain any beads or decorative details 
If earrings are your thing, and you want to try your hand at making your own designs, this kit is well worth a look. If you're a total jewelry making beginner, however, this may not be the best place to start as it doesn't come with an instruction leaflet or manual. However, for those with a little experience and a few designs in mind, it offers plenty of scope to dream up your own, bespoke pieces, and at scale, too, making it one of the best jewelry making kits out there right now.
Packaged in a compartmentalized container you'll find 250 earring hooks in six different colors—including silver, rose and yellow gold—650 coordinating jump rings for attaching stones and beads, and 600 earring backs. There's nothing skimpy about this set. 
When it comes to the fiddly work itself, you're also well-cared-for: chain nose pliers, a jump ring opener, and tweezers are all included, and come in handy when putting together delicate pieces or even repairing damaged earrings that you already own.  Furthermore, if you're planning to gift your creations, you're in luck! The kit also contains earring display cards and clear self-seal bags to package them in. 
8. Kuuqa Jewellery Making Kit
The best value-for-money jewellery making kit
Specifications
Collection size: 1
Difficulty level: Hard
Collection starting price point: from $15/£10.99
Reasons to buy
+Nice range of beads and charms +Jewellery making tools included 
Reasons to avoid
-Only available in silver
Just like the Tuparka kit, this Amazon set also doesn't come with any instructions or guidance, which might put off some novice crafters. That being said, it's easy to find jewelry making tutorials on Youtube if you get stuck.
This particular kit offers great value for money—the tools alone (a brass jump-ring opening tool, pliers, and craft tweezers), make it worth the purchase. Many kits don't come complete with these, so it's certainly a selling point. 
As for the jewelry making materials themselves, there's a nice mix of charms, beads, clasps, and fixings to help you put your necklaces, earrings, and bracelets together, using the beading wire and cord. All in all, a solid and affordable little set for making bracelets or necklaces.
9. We Are Knitters Macramé Bracelet kit
The best macramé jewellery making kit
Specifications
Collection size: 1 (although there's enough yarn to make at least 10 bracelets)
Difficulty level: Easy
Collection starting price point: $6/£6
Reasons to buy
+You can apply the techniques to any yarn you have+Come in any color you could want+Very affordable price
Reasons to avoid
-Can be fiddly for beginners
We Are Knitters is at the centre of the cool crafting scene, specialising in yarn-based kits, stunning embroidery motifs and bang on-trend techniques. So when we discovered that their easiest kit to make (and the cheapest) was the Macramé Bracelet kit we jumped at the chance to try it out.
We weren't disappointed with the results. Macramé is a simple technique to master once you've learnt the knots, you only need two knotting techniques to make this bracelet. Plus, there are so many color options to choose from on the website. At such an affordable price, you can buy a rainbow of yarns to try out with your new craft skills.
You'll become addicted to the mindful technique of weaving the yarns and pulling the knots together—in fact, this kit is a great way to switch off after a hard day. The best bit? You get a gorgeous stack of on-trend bracelets at the end of it.
---
What other equipment do I need to make jewelery?
If you're just getting started making your own jewellery, there are some extra tools that can help make the journey a little easier. Some of the best jewelry making kits (including many of the kits mentioned above) come with everything you could possibly need to make your project—while others require wires, pliers or even wire or elastic thread. Make sure to check if your kit has these things, or whether you need to purchase them alongside the kit as well. 
It can also be helpful to purchase some bead stoppers if you struggle keeping yours on the wire. A beadboard can also be incredibly handy when making your jewelry as well, as it will hold everything in place for you. While you can make your jewelry on your lap, or sat at a table, a beadboard will make things so much easier. To make sure you have everything you'll need, our ultimate guide to creating your own jewelry starter kit might be helpful. 
What can I make next?
Once you've mastered the basics with one of the best jewelry making kits, you can make your own range of bracelets, necklaces and earrings from scratch. Use the same tools from your jewelry kits and some extra beads to get started. You can even repair your own jewelry with the same equipment and techniques.