How to make jewellery: a beginner's guide to getting crafty
With a wealth of materials, tutorials and specialist kits widely available, there's no better time to try your hand at jewellery making.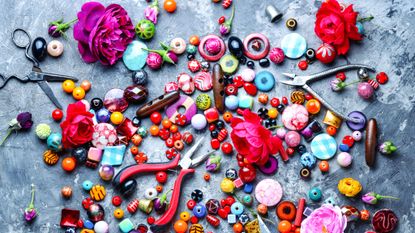 (Image credit: Getty Images)
woman&home newsletter
Sign up to our free daily email for the latest royal and entertainment news, interesting opinion, expert advice on styling and beauty trends, and no-nonsense guides to the health and wellness questions you want answered.
Thank you for signing up to . You will receive a verification email shortly.
There was a problem. Please refresh the page and try again.
Making your own jewellery is a perfect way to express your individuality. It's also a fun and relaxing hobby that gives your creative side an outlet. If you're ready for a learning adventure – whether that's guided by an online tutorial or trying out one of the jewellery making kits (opens in new tab) we've reviewed in our buying guide.
Try a jewellery making kit
If you're just starting out making jewellery, buying a kit is a sensible idea. Kits usually include everything you need to get started, such as beads in a range of shapes, sizes and colours, wires in various gauges, clasps and (most useful of all for beginners) step-by-step instructions. All the pieces you need, packaged in one handy collection? What more could you want if you're a beginner looking to get started on a new hobby?
Basic jewellery making tools
If you've never made jewellery before, it can be difficult figuring out how to get started. Even if you have a jewellery-making kit, many don't include tools...which can be essential when you're working on fiddly projects. It helps to gather together some basic jewellery-making tools, which can be found online, as well as in most craft supply shops. Jewellery-making tools include:
If beads are the style you're going for (a good option for beginners), you'll also want a supply of these in different sizes and colours. Craft stores sell boxes with dividers that are designed to keep your bead collection organised. Another essential item, for most bead jewellery-making projects, is headpins – these are used to keep beads in place for drop earrings or necklaces.
Other supplies you might want to consider for bead-focused designs include craft glue, chains, bead stringing wire, connecting rings and various charms. If you want to make tassels, be sure to include embroidery string and scissors in your jewellery making supplies.
READ MORE:
Try an online jewellery making tutorial
There are many online jewellery making courses you can take, including those specifically designed for beginners. You can also find jewellery-making videos or websites, with a simple Google search, that show you how to make unique pieces, such as silver spoon rings and bird's nest pendants. These tutorials provide step-by-step instructions, so you'll feel like a jewellery pro in no time.
Beaded jewellery basics
Before beginning anything, it's a good idea to familiarise yourself with the different types of string, and other lesser-considered tools, used in beading.
Silk string is one of the highest quality stringing materials you can use and is always paired with pearl beads. Many jewellery makers like to use silk string with stone beads, as well. Nylon string works well if you're making a long beaded necklace; it's a durable choice for all kinds of projects.
If you see something labeled "monofilament", it's basically fishing line. It's very versatile and can be used for a variety of beading projects. If you need something more durable, try inter-knitted or braided bead thread.
Coated wire, also known as beading wire, works very well with crystals and floating necklaces. Leather cord, hemp cord and waxed linen cord are also tried and true choices for a variety of beading work.
Choosing the right size needle for your beads is also important. Generally, the smaller the needle size, the larger the needle. So, smaller beads correspond with needles that have higher number sizes.
For example, a size 15 bead is the smallest bead for jewellery making. For this, we recommend a beading needle in a size 12 or 13.
Learn how to open and close a connecting ring
Closing and opening a connecting ring properly is one of the most important things you can learn in jewellery making. We recommend working gently with two pairs of pliers, and using twisting – rather than pulling – motions. Remember that forceful pulling can make it difficult to get a secure fit.
Choosing birthstone beads
If you're making jewellery as gifts, it's a lovely idea (and thoughtful touch) to incorporate the recipient's birthstone – the stone that represents the month of their birthday – into the design. Each month has its own type of precious and semi-precious birthstone. When making your own jewellery, you're likely to be using the less expensive, semi-precious stones.
Handmade jewellery makes an ideal, thoughtful gift and it's also a good way to save money.
Semi-precious birthstone chart
January – Rose Quartz
February – Onyx
March – Red Jasper
April – Rock Crystal
May – Chrysoprase
June – Pearl
July – Carnelian
August – Aventurine
September – Lapis lazuli
October – Opal
November – Topaz
December – Turquoise
Kids love making jewellery too, no matter their age – get them helping on a jewellery project too, for hours of creative fun. Between you, you can make your own bracelets, necklaces and earrings to match all of your outfits. This gives you a personalised look that's uniquely yours and is bound to attract attention.