How to make a necklace that's both stylish and wearable
Bored of the high-street? Learn how to make a stylish necklace of your very own.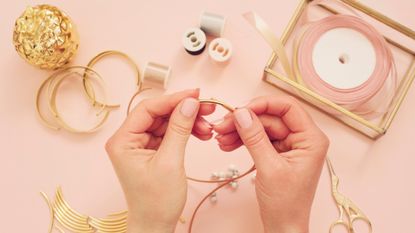 (Image credit: Getty Images)
Stylish jewellery is a wardrobe staple, but owning a collection of on-trend pieces and classic accessories can be difficult on a limited budget. Instead of saving up for an expensive necklace, try making your own. There are many resources available for beginners, like pattern books, beading magazines, and online videos. You can even buy jewellery making kits (opens in new tab) to get you started.
While it might take a little time to learn the basics, you can start making simple, chic pieces like necklaces without much effort. The key parts of putting a necklace together are learning how to use simple tools, along with the style, colours, and materials you like best.
Jewellery-Making Tools
If you ever wander down the beading aisle in a craft store, you might find yourself staring blankly at the selection before walking right back out. Facing all those tools can be intimidating if you don't understand their purpose, but that's part of the beauty of learning how to make a necklace. In fact, the simplest styles don't even require tools. When you're ready to explore some complex designs, however, these tools will become essential to your kit. Bead boards, jump rings, clasps, crimp beads, pliers, and clippers are among the most essential.
Bead boards
A bead board is a tray, usually with measured markings, that allows you to place beads in the pattern you want. These boards are very lightweight, so be sure to anchor the board to your table to avoid accidentally spilling your beads. Try masking tape to connect the corners to your work surface.
Jump rings
Jump rings are small, round rings that form a circle without connecting ends. They attach charms to chains, clasps to end cap beads, and more. They come in different sizes and a few different colours. When choosing your jump rings, consider the colour of the chain or charm you are using as they are typically available in gold, silver, and brass. When using a jump ring, avoid pulling the ends apart. Instead, twist the ring to avoid ruining its circular shape.
Clasps and crimp beads
Clasps are the small hooks that help you secure a necklace, and they come in different styles depending on how you prefer to wear your necklace. Crimp beads are small beads placed alongside other beads or charms that are designed to remain in one place along the necklace chain. They are literally crimped twice using a special crimping tool.
Pliers and clippers
When you begin your jewellery making hobby, it's best to start with chain-nose, needle-nose, and bent-nose pliers in your kit. You'll also want a set of clippers called side cutters to help snip away small pieces. When working with side cutters, it's worth investing in a cheap pair of craft goggles to protect your eyes from any small pieces that may pop off.
READ MORE:
Getting started
For a simple, easy to follow style, start with a long ribbon or cord necklace. You won't have to worry about clasps or chains, and all you really need is a soft ribbon and a pendant with a hole large enough to accommodate the ribbon or cord. These necklaces are versatile and can be worn with any simple style.
Connector beads are another easy way to create your first necklace design, if solid ribbon feels too basic. String these beads along the ribbon or cord and tie small knots in the ribbon to alternate sections of beads and ribbon.
No matter what style you choose, start simple, don't overload yourself, and don't worry if a design you see looks complicated. Beading and jewellery-making is meant to be fun, not frustrating! Spend time on beading sites, looking at sample patterns, and look at the necklaces you already have to see if there is a style you gravitate towards.
Colours and materials
If you need some inspiration for choosing colours, try a colour wheel. These wheels help you match one colour with opposing colours that compliment your design. You can even widen your colour combinations with split-complementary (opens in new tab) shades. When starting out, choose materials that are easy to work with and require minimal tools, like fishing wire, a necklace charm, crimp beads, and a simple lobster clasp. Another easy design uses a simple chain, a pendant, and a clasp with jump rings. A jewellery making kit will include many of these basic components and is a great place to start your new favourite hobby.