The best smartwatches for women—including stylish and budget-friendly options
The best smartwatches do more than tell the time, here we share our top picks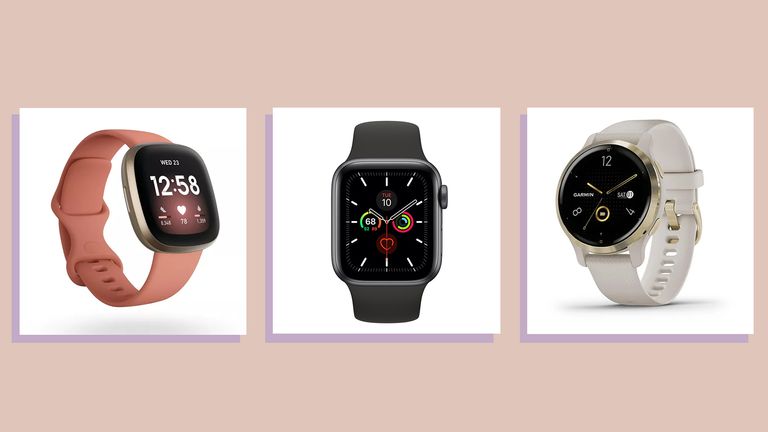 (Image credit: Future)
By Amy Hunt , Ciara McGinley
The best smartwatches do more than just tell the time. Here we round up the top models on the market right now to help you find the best smartwatch for you.
Much like choosing the best fitness tracker, finding a smartwatch to suit your needs is no mean feat. Over the years, tech companies have invested in their smartwatch offerings to bring us bigger, better, cleverer, and stylish models.
But, what exactly is a smartwatch? In short, a smartwatch is a watch, fitness tracker, and phone all in one. You can use it to monitor your heart health, track your workouts, answer calls and reply to text messages, pay for shopping via contactless and so much more.
Smartwatches are a versatile piece of tech, so it's unsurprising this product often comes with an expensive price tag if you're investing in models from tech leaders like Apple and Samsung. The goods news is there are some budget-friendly smartwatches on the market right now too, with impressive features for half the price.
How we tested and selected the best smartwatches
Testing a range of brands, including premium and budget options, we tried each smartwatch over several weeks using all the features it offered.
We weighed up the pros and cons of each smartwatch and considered:
How easy it is to set up
How easy it is to use
How long the battery lasts
The features it offers
How much easier it makes our day-to-day
How much it motivates us to be active and workout
How to choose the best smartwatch for you
Choosing a fitness watch can feel like a complicated process—but it needn't be. There are a few simple things to consider before you make your purchase, to ensure you get the best smartwatch for your needs.
Budget—consider how much you're willing to spend on a smartwatch and set yourself a limit. Prices can vary hugely from $100—$500. There are lots of brilliant mid-priced options, so don't feel like you need to spend hundreds to get the best.
Features—think about the features you actually need in a smartwatch. If you need a watch that has GPS, access to third-party apps, and contactless payment abilities, you'll need to make more of an investment. If you just need a watch for step counting, distance tracking, and sleep analysis, a cheaper option could work.
Design—before you start smartwatch shopping, think about how often you'll wear your watch and what color and style would work best with your wardrobe. Long gone are the days of bulky fitness trackers, today's watches are much more stylish and there are plenty of on-trend among our top picks.
The best smartwatches as chosen by our experts
1. Garmin Venu 2S
The best smartwatch overall
Specifications
Watch dimensions: 40.4mm x 40.4mm x 12.1 mm
Battery lasts: Up to 11 days
Water-resistant: Up to 50m
Compatible: All smartphones
Available colors: Stainless steel, light gold, silver stainless steel, rose gold
RRP: $399.99 / £349.99
Reasons to buy
+Easy to set up and use +A huge variety of features +Stylish design +GPS
Reasons to avoid
-Expensive -Only Android users can respond to texts on the watch face
Garmin is an industry leader when it comes to smartwatches and fitness trackers, so it's no surprise the Garmin Venu 2S came out top in our tests. Easy to set up and even easier to use, this smartwatch really ticks all the boxes. It offers a huge variety of features, a range of stylish colors, and a sleek modern design with a large screen. It'll help you look and feel your best, while also hitting your health & fitness goals.
The smartwatch gives a great overall picture of your health, too. It tracks key stats around heart rate, respiration, and blood oxygen saturation. It also tracks energy levels with a body battery estimate and prompts you to take a well-needed break when stress levels spike. You can monitor your sleep, receive phone notifications to the watch face, go wallet-free with Garmin Pay, and set up safety features with an emergency contact for peace of mind.
When working out, the Venu 2S is a great companion. Choose between on-screen animated Garmin workouts (which we loved for time-poor days) or track your own activities, from HIIT treadmill workouts to swimming.
This watch really is an all-rounder. While it's expensive, if you have the budget to splash out on this pick you won't regret it. However, it's worth noting only Android users can respond to texts via the watch face. All other users will receive notifications, but won't be able to respond to them—which, could be a deal-breaker if this feature is a must-have for you.
2. Apple Watch Series 5 GPS
The best premium smartwatch
Specifications
Watch dimensions: 40mm and 44mm available
Battery lasts: Up to 18 hours
Water-resistant: Up to 50m
Compatible: iPhones only
Available colors: Gray, silver, gold
RRP: $349.99 / £319
Reasons to buy
+Fantastic user experience+Range of features including GPS+ECG monitor +Intelligent safety features
Reasons to avoid
-Expensive-Only compatible with iPhone
The Apple Watch is often considered the king of fitness watches and, with an amazing range of features, there's no doubt it offers almost everything you could want from such a device. We found the Apple Watch Series 5 very easy to set up and use. The design, as with all Apple products, is pretty swish and undoubtedly lovely to look at. It's available in three sleek colors, with an endless amount of strap options out there.
A key aspect of the Apple Watch that draws many customers in is the Move, Exercise, and Stand activity rings. The watch prompts you to 'close' the rings every day, by hitting your step and movement targets. We found it a great motivator to get up from our desks throughout the day.
While the smartwatch also features built-in workouts and intelligent activity tracking, it's not all about fitness with this pick. You can get phone notifications straight to your watch face. The ECG monitor lets you check in with your heart, while the fall-detection feature will automatically call emergency services and your emergency contact if the watch detects you are unconscious—an incredibly smart feature.
The GPS abilities are great for keen runners and walkers. However, we did find using GPS drained the battery and it ended up only lasting a day and a half with this feature enabled.
Comparing Series 5 with Series 3, the models are very similar—except for the ECG monitor, compass and fall-detection feature in Series 5. While it's undeniably brilliant, the Series 5 is rather expensive, so if you aren't too fussed about missing out on these features, take a look at the Series 3 for a more purse-friendly price tag.
See our full Apple Watch Series 5 review
3. Huawei Watch GT 2e
The best budget smartwatch
Specifications
Watch dimensions : 53mm x 46.8mm x 10.8mm
Battery lasts: Two weeks (dependant on usage)
Water-resistant: Up to 50m
Available colors: Black, white, green and red
Compatible: with iPhone and Android (though some features do not work on iPhone)
RRP: $130 / £79.99
Reasons to buy
+Great sleep tracking+Brilliant battery life+Affordable+Large screen
Reasons to avoid
-Some features are missing for iPhone users-More complex to use
A lightweight, affordable and durable smartwatch—what more could you want? We loved the large watch face of the Huawei Watch GT 2e, but it took us a little while to get familiar with the settings as it's a little more complex and less user-friendly than the other options we tested.
The watch has built-in GPS, automatically picks up the type of exercise you're doing and the step count seemed accurate as we racked up the miles while Nordic walking. Plus, this model has some very impressive health metrics for such an affordable price tag. The Huawei smartwatch monitors oxygen levels, heart rate, workout effort, and recovery time. It offers excellent sleep data and comes with a personal fitness tracker you can tailor to help you hit your health and fitness goals.
Another highlight of the Huawei Watch GT 2e is the battery life, which far outlasted some of the other devices tested, despite the same levels of usage with GPS enabled.
While the smartwatch is totally compatible with Android devices, features such as the stress test and music storage aren't available on Apple devices. It's also worth noting the GT 2e can't connect to other third-party apps, such as Strava and MapMyRun, so if you rely on those this may not be the watch for you.
4. Samsung Galaxy Watch 3
The most stylish smartwatch
Specifications
Watch dimensions : 45mm and 41mm screens available
Battery lasts: 45mm 56 hours / 41mm 43 hours
Water-resistant: Up to 50m
Available colors: Black, silver, bronze
Compatible: iPhone 5 and up, and Android phones
RRP: $429.99 / £349
Reasons to buy
+Incredibly stylish+Very easy and intuitive to use+Compatible with a range of smartphones
Reasons to avoid
-Leather straps and watch face uncomfortable to sleep with
The Samsung Galaxy Watch 3 is undeniably impressive—the device is incredibly stylish, with a leather strap and a large, circular clock face, reminiscent of a traditional watch.
We tried the bang-on-trend bronze model and can confirm it's a chic piece that will work with any outfit. While the design is important, it's not all about style with this pick. The smartwatch has all the features you'd expect, and then some.
It tracks a range of workouts including walking, running, and swimming (it's waterproof up to 50m). And, there are 120 home workouts programs available to play via the app on your smartphone (ideal if you're in need of a new at-home workout routine). The watch intuitively turns on when you turn your wrist, so there's no tapping or pushing buttons if you want to quickly glance at your stats while exercising.
Other noteworthy features include heart rate tracking, blood oxygen, and ECG monitoring, and stress level ratings. Like the Apple Watch, the Samsung Galaxy Watch 3 also has a fall-detection feature that will notify your emergency contact and share your location if you don't move after a fall. It's a feature that could be invaluable to an older person or those worried about running or walking alone.
While we loved the look of the leather strap, we found it uncomfortable to wear during the night. This could mean you miss out on the impressive sleep tracking features of this device, but you could replace it with one of the best sleep apps instead.
5. Fitbit Versa 3
The best Fitbit smartwatch
Specifications
Watch dimensions: 40.48mm x 40.48mm
Battery lasts: Up to 6 days
Water-resistant: Up to 50m
Compatible: Apple iOS 13 or higher / Android OS 8.0 or higher
Available colors: Black, midnight, pink clay, thistle, olive
RRP: $229.95 / £199.99
Reasons to buy
+Easy to use +Great for all fitness levels +Compatible with most smartphones+Variety of features
Reasons to avoid
-More expensive than other Fitbits
The best Fitbits have been worn by fitness lovers for years, and it's not hard to see why. The smartwatches and fitness trackers are constantly being updated with new and improved features, but are still super user-friendly and great for all fitness levels.
With a Fitbit on your wrist, your life is about to get a whole lot easier. Not only will it give you a boost of workout motivation, by providing you with on-screen workouts and detailed activity stats in the Fitbit App. But, it's also got Fitbit Pay for contactless payments, music playing abilities, and tracks a variety of health metrics.
When testing the Fitbit Versa 3, we felt motivated and inspired to take control of our health and fitness goals. Available in five trendy colors, the model has a large watch face and displays the date, time, step count, heart rate, and estimate of calories burned. Using the touchscreen, you can swipe to access other features from exercise tracking to music streaming.
Without GPS enabled the battery lasted for almost a week, but when using the GPS it drained quickly and needed charging within a few days. It's a more expensive Fitbit in comparison to the rest of the brand's offering, but if you want to access a variety of advanced features it's worth the investment.
However, to see detailed sleep and oxygen saturation monitoring stats, you'll need to sign up for Fitbit Premium via the Fitbit App. Plus, if you want to reply to texts via your wrist you'll need to pair with an Android device and have your smartphone nearby.
5. Garmin Forerunner 55
The best smartwatch for runners
Specifications
Watch dimensions: 42mm x 42mm x 11.6 mm
Battery lasts: 2 weeks or 20 hours with GPS on
Water-resistant : Up to 50m
Compatible: Most smartphones
Available colors: Black, white, aqua, grey
RRP : $200 / £180
Reasons to buy
+Easy to use with a bright screen+Accurate GPS +On-screen coaching +Great for runners interested in diving deep into stats
Reasons to avoid
-It isn't a touchscreen, making navigation a little harder-No interchangeable wristbands
Finding a smartwatch that's convenient for day-to-day use but can also accurately track your workouts is key for any runner. Cue—Garmin Forerunner 55.
The easy-to-use smartwatch is comfortable and lightweight with a big and bright watch face that makes checking stats during workouts easier than ever. The Garmin Coach and PacePro technology provide expert training plans and pace guidance, while cadence alerts let you know when you've gone outside your target range. We also love the Race Predictor which helps us set goals by combining data from previous workouts.
As well as accurately tracking runs, the Forerunner 55 tracks a range of activities from yoga for beginners to ab workouts for runners. It also monitors heart rate, steps, calories burned, respiration rate, energy levels, and stress levels.
While it doesn't have Garmin Pay, the Forerunner 55 does deliver email, text, and phone notifications to your watch face, allows you to control the music playing from your smartphone and can set up emergency contacts with incident detection features. Via the Garmin Connect app, you can track your menstrual cycle and access exercises and nutrition education, too.
It's not the most stylish smartwatch on the market, but if you're a keen runner looking for a watch you can wear all the time, it's a fantastic option.