The best fitness watch – which one is right for you?
The best fitness watch can help you keep on top of your workouts and on track with your exercise goals, so which is the one to suit your needs?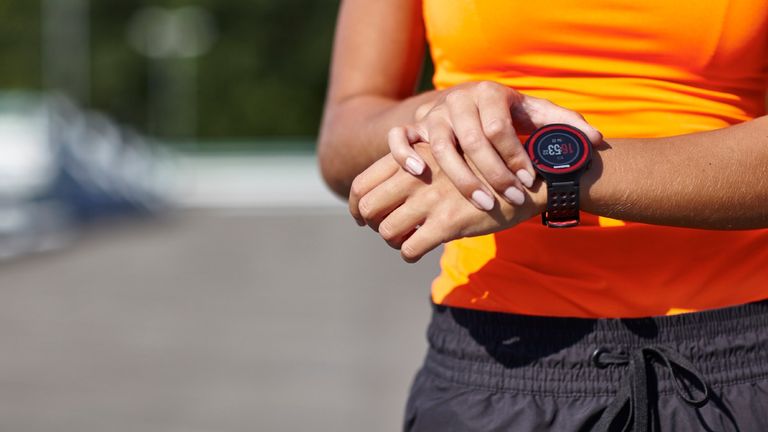 (Image credit: Getty Images / Maria Fuchs)
By Amy Hunt
With so many smartwatches on the market at the moment claiming to be the best fitness watch, making a choice about which of the best fitness trackers suits your goals and lifestyle can feel insurmountable at times.
After all, the best fitness watch for you is likely to be quite a bit more expensive than the other essentials in your gym kit (even the best of the best running shoes for women rarely top £150), therefore it's an important purchase to get right.

When testing the fitness watches, we assessed them on ease of set-up, how simple (or not) they were to navigate, the range of features – and how well these worked – the look and design plus, of course, the price.
During our testing, we found that the Samsung Galaxy Watch3 was a real highlight, being incredibly easy to set up and navigate, but there's no doubt that it's an expensive option, starting at £399. Similarly, the Apple Watch Series 5 lived up to the hype, with a wealth of helpful features and a fantastic design. But for those with a slightly smaller budget, the Fitbit Versa 2 also reigned supreme. At half the price, it still offers a brilliant user experience and all of the exciting features you'd expect from a fitness watch.
How to choose the best fitness watch for you
Choosing a fitness watch can feel like a complicated process – but it needn't be. There are a few simple things to consider before you make your purchase, to make sure you get the best value fitness watch for you and your needs.
The first step for most people is budget. Fitness watches don't come cheap and can vary in price hugely, from around £50 to £450. So, set yourself a limit – what are you comfortable paying and what price are you not happy to go above? If you are able to spend the top amount, you will, of course, have more options. But it's important to note that there are plenty of brilliant mid-priced fitness watches out there, too – spending more doesn't necessarily mean a better device for your needs.
The next thing to think about is how you want to use the watch. Fitness watches come with a range of different features, depending on the device. So, make sure that the watch you have your eye on has all the highlights you'd expect, such as heart tracking, links to third-party apps or GPS – don't just assume that the watch will have everything, if there's something you really need. But, if you're only after a fitness watch for the basics – step counting, distance covered and calories – a cheaper option could work perfectly for you.
The best fitness watches you can buy right now
1. Fitbit Versa 2
The best fitness watch for most people
Specifications
screen: 25.07mm
Battery life: 6+ days
Water-resistant : up to 50m
Compatible: with iPhone 5S and up, and most recent Android phones and Windows 10 devices.
Reasons to buy
+Easy to set up and intuitive to use+Has all of the features you need and more
Reasons to avoid
-No built-in GPS for runners and walkers-Some features you need to pay for
Switching on the Versa 2, we were struck by its sleek and modern look – it's a very stylish watch, as well as feeling functional and practical for long, intense workouts.
Like many of the best Fitbits, the Versa 2 was incredibly easy to set up. You'll need to download the Fitbit app and then, happily, the device and the app pretty much walk you through the next steps, giving you a quick tutorial on how to use your new watch before letting you explore on your own. The ease of use means we'd highly recommend it for anyone a bit nervous of new tech, as well as fitness watch pros.
A swipe up will allow you to go into more detail on your vitals – your step count, heart rate and calories burnt. Then, a quick swipe left allows you to explore the rest of the features, such as the timer, built-in exercises (running, walking etc), weather and music, plus third-party apps, such as Strava, for runners. It also syncs with your phone, allowing you to receive texts, calls and calendar notifications, listen to Spotify and send quick text replies while on the move – something you can't do on cheaper Fitbits.
The one downside is that you are not able to track your swimming on the Versa 2 (despite it being water-resistant) and the lack of in-built GPS may put some runners off, as it means you'll need to take your phone with you on a run in order to track your route. But, despite this, we found the Versa 2 a fantastic overall fitness watch, which has many of the features you would expect at a very reasonable price, and all contained within a chic-looking watch with a great on-screen design – a win-win.
2. Apple Watch Series 5 GPS
The best premium fitness watch
Specifications
Case sizes: 44mm and 40mm
Straps: Comes with a variety
Battery life: up to 18 hours
Water-resistant: up to 50m
Compatible: with iPhones only
Reasons to buy
+It provides a fantastic user experience+A huge range of features
Reasons to avoid
-It is expensive-Only works for iPhone users
The Apple Watch is often considered the king of fitness watches and, with an amazing range of features, there's no doubt that it offers almost everything you could want from such a device. We found the Apple Watch series 5 very easy to set up. You'll need to download the Watch app to your iPhone and have the latest iOS system updated on your device.
Much like the rest of the fitness watches, you can decide your preferences during the set-up and the watch will ask you some personal details (height, weight, age) to tailor the device to you. We liked that you can set a password, too, which is handy for security. The design, as with all Apple products, is pretty swish and undoubtedly lovely to look at.
One highlight, if you're looking to use a watch for fitness tracking, is that the Apple Watch has so many workouts built in, from yoga to fencing to boxing and, of course, the expected running and walking. It's really handy to know that you can track any possible workout without having to search around for it.
Another key aspect of the Apple Watch, and one many customers are drawn to, is the 'rings' that you are urged to close every day – Move, Exercise and Stand. We found them to be a brilliant motivator to get up from our desk throughout the day, in particular with the 'reminder to move' that pings at you every so often.
The watch doesn't just look after your fitness, though – there are many health-based aspects that you could find helpful, such as an ECG monitor (which we are assured is medical grade) and a fall-detection feature, which will automatically call the emergency services for you if you are unconscious, as well as your emergency contacts. In fact, the fall-detection feature is on as default if, in the set-up, you state you are over 65.
The fact that the watch syncs with your phone is good, but we found that some notifications were going straight to the watch and not to our phone, which seemed a little odd. Another slight downfall was battery life. If using the watch often (and the GPS especially), it may only last a day and a half.
However, there's no doubt that the Apple Watch is a brilliant bit of kit with so many handy features, including a wealth of third-party apps. It's also really intuitive to use – but it's obviously a pricey purchase. Comparing the Series 5 with the Series 3, there doesn't appear to have been a huge amount of upgrades – bar the ECG feature, a compass and the fall-detection – so, for the much-reduced price, the Series 3 could well be worth a look, too.
See our full Apple Watch Series 5 review
3. Huawei Watch GT 2e
The best budget fitness watch
Specifications
Screen: 1.39in
Battery life: two weeks (dependant on usage)
Water-resistant: up to 50m
Colours: four
Compatible: with iPhone and Android (though some features do not work on iPhone)
Reasons to buy
+Great sleep tracking+Brilliant battery life
Reasons to avoid
-Some features are missing for iPhone users-Slightly more complex to use
Our first impression of the Huawei Watch GT 2e was of the big watch face, which may not be ideal for some, but is perfect for others who want to see the details of their fitness journey on a larger screen.
Despite the big screen, the watch feels very light to wear, which is ideal for workouts, and the holed pattern of the strap means your wrist doesn't get too warm and sweaty when exercising either.
We found the watch easy to set up, but initially a little more complex to move through than the other watches tested. However, this became easier the more we used it. The watch automatically picked up on the type of exercise we were doing, which was impressive, and the step count seemed to be very accurate compared with the other devices.
One drawback we found was that while the GT pairs with almost all Android devices, some features – such as the stress test and music storage – are not available on iPhones, which is disappointing. But the watch was great at tracking exercise, with a good accuracy and a built-in GPS working alongside your heart monitor, so you can be on top of all of your workouts.
Another highlight of the Huawei Watch GT 2e is the battery life, which far outlasted some of the other devices tested, despite the same levels of usage. It also shines during sleep tracking, which appeared to be super accurate. However, it's worth noting that the GT 2e can't connect to other third-party apps, such as Strava and MapMyRun, so if you rely on those, this may not be the pick for you.
4. Samsung Galaxy Watch3
The best fitness watch for style and ease of use
Specifications
Sizes: 41mm and 45mm
Colours: three
Battery life: 45mm 56 hours / 41mm 43 hours
Water-resistant: up to 50m
Compatible: iPhone 5 and up, and Android phones
Reasons to buy
+Incredibly stylish – the nicest-looking of all the options here+Very easy and intuitive to use
Reasons to avoid
-It is a more expensive option-Leather straps and watch face uncomfortable to sleep with
First impressions with the Samsung Galaxy Watch3 are undeniably impressive – the device is incredibly stylish, with a leather strap and a large, circular clock face, reminiscent of a traditional watch.
The colour we tried – a bronze rose gold – is bang on trend, so if you're after a watch that looks chic and would fit in well with your wardrobe, look no further than this one.
But perhaps more importantly, the Samsung, like the top Fitbits, is very easy to set up (via a phone app) and navigate – an on-screen tutorial plays out when you first turn the watch on. You also have the option to use the rotating bezel on the outside of the screen to move through the watch – which we found useful to avoid smearing the watch with sweaty hands!
Another very handy feature of the Galaxy Watch3 is that it has the ability to track a huge range of workouts, including swimming. Only seven of these are automatic – you'll have to set up the others. Handily, the watch also intuitively turns on when you turn your wrist to look at it, so there's no tapping or pushing buttons if you want to quickly glance at your stats while exercising.
The watch has all the functions you'd expect of a smartwatch – connection to your phone and stats such as heart rate, step count and distance – but it also the ability to check your blood oxygen levels and your stress levels which, when tested, seemed pretty accurate.
A huge benefit of the Galaxy Watch3 is that, like the Apple Watch, it has a fall-detection feature that will notify your emergency contact and share your location if you don't move after a big fall. It's a feature that could be invaluable to the older person or those worried about running or walking in unstable conditions.
Overall, this fabulous-looking device has almost everything you could need from a fitness watch.
5. Garmin Forerunner 245
A sports watch for those who take exercise seriously
Specifications
Fits wrists: with a circumference of 127mm-204mm
Battery life: up to 7 days in smartwatch mode, 24 hours with GPS
Water-resistant : up to 50m
Compatible: with most smartphones
Reasons to buy
+The built-in 'coach' – a little like your own personal trainer+Great for runners interested in diving deep into stats
Reasons to avoid
-Some may struggle with the darker screen -It isn't a touchscreen, making navigation a little harder
Straight away, the Garmin Forerunner cements itself as a watch for fitness fans. It has a bendy, flexible watch strap with holes in, making it perfect for breathability during a workout and allowing the wearer not to feel encumbered while exercising.
It's comfortable and lightweight – in fact, you barely notice it. The set-up is very easy – download the Garmin app to your phone, pair it with the device, and answer a few questions about your height, weight, age etc, to get you set you up.
We ran into a few stumbling blocks when it came to actually using the device. The screen seemed a little dark, which would be fine in the sunlight, but is tricky if running indoors or in low light. The Garmin Forerunner is also not a touchscreen which takes some getting used to and, to be honest, feels a little bit out of date, especially when compared with the other fitness watches we tried.
However, once we had worked out exactly how to navigate the watch (using the buttons on the side), it really came into its own. It tracks every workout you'd expect and is big on running, be it on trails or a treadmill. The stats the Garmin Forerunner provides are extensive, too, allowing you to really drill down into your workout, making it perfect for serious runners. It also has all the essential health-tracking features, including steps, distance, calories and heart rate, as well as stress and the ability to chart your menstrual cycle. However, one thing it doesn't have that lots of others do is the ability to take ECG measurements.
Another highlight is the fact that it can play music without you needing to bring your phone along – something runners and walkers alike will likely be pleased to hear. The battery life lasted very well, too, likely helped by the lowlight design. We think this is the ideal device for dedicated runners, who will really get the most out of it.
6. Oppo Watch
A very stylish option that is easy to use
Specifications
Sizes: 41mm and 46mm
Display: 1.91in
Battery life: 36 hours in smartwatch mode, 21 days in power save mode Water-resistant up to 30m
Compatible: Android 6.0 or higher and iPhones running on iOS 12.0 or higher
Reasons to buy
+Very stylish-looking and great design+Easy to use
Reasons to avoid
-Battery life isn't the best we've seen-The apps aren't the clearest
At first glance, the design of the OPPO Watch, which is paired with the Wear OS app by Google, isn't dissimilar to the Apple Watch or the Fitbit Versa 2.
It's stylish, with a curved black, 1.91in watch surface and a watch display that looks high-res (you can also customise the display if you wish).
It's very simple to navigate – a tutorial shows you exactly how, for technophobes. A swipe right brings up Google Assistant and gives you the ability to check your vital stats, while a swipe down lets you see all your typical phone commands – airplane mode, torch, silent, etc. Swipe left for the fitness side of things, including your daily activity. And touch left on the top right button on the side of the watch to see all the Google apps available for you to use.
You'll need to have a Google account set up to make the most of the OPPO Watch, as many features aren't available for use without one. While we found most of the apps on the phone self-explanatory, one slight niggle was that the more obscure app icons, which not everyone would recognise, didn't have a name attached to them, meaning you had to click them to figure out what they actually were. But this is something that would soon resolve itself after a week or two of usage.
The watch has a range of features – quick replies to texts (and calls) are very handy and easy to do, and it has everything you would rightly expect of a fitness watch, including a built-in heart rate monitor, built-in GPS, alerts to move, built-in workouts and sleep tracking, all of which worked well during testing.
Charging time was very speedy, getting up to 100% in a matter of hours. The battery didn't last quite as long as we might have hoped, but this is, of course, dependent on how often you use the watch. A great smartwatch for a very reasonable price.
Amy Hunt is Life Channel Editor at womanandhome.com, having been with the brand since 2015. She began as the magazine's features assistant before moving over to digital as a News and Features Writer, before becoming Senior Writer, and now a Channel Editor. She has worked on either women's lifestyle websites previously too—including Woman's Weekly, Goodto.com, Woman, and Woman's Own. In 2019, Amy won the Digital Journalist of the Year award at the AOP Awards, for her work on womanandhome.com. She is passionate about everything from books, to homes, to food and the latest news on the royal family. When she isn't editing or updating articles on cleaning, homewares, the newest home gadgets, or the latest books releases for the website, she's busy burying her nose in a gripping thriller, practising yoga, or buying new homeware of her own.