Apple Watch Series 5 review
Added extras mean the Apple Watch Series 5 fitness tracker works harder than the competition, but the jury's out on whether it will get you fitter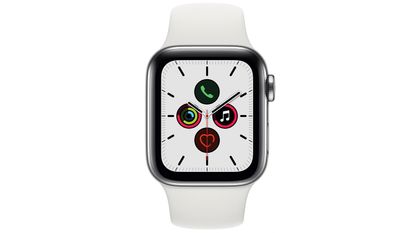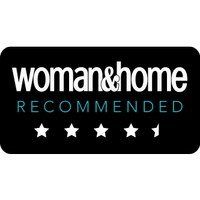 (Image credit: Apple)
The Apple Watch Series 5 is a premium buy that will give you a premium user experience in return.
Reasons to buy
+

Looks stunning

+

Endless functionality

+

Easy to navigate
Reasons to avoid
-

No sleep tracker

-

Expensive

-

Only compatible with iPhone 6S+
Why you can trust Woman & Home Our expert reviewers spend hours testing and comparing products and services so you can choose the best for you. Find out more about how we test.
woman&home newsletter
Sign up to our free daily email for the latest royal and entertainment news, interesting opinion, expert advice on styling and beauty trends, and no-nonsense guides to the health and wellness questions you want answered.
Thank you for signing up to . You will receive a verification email shortly.
There was a problem. Please refresh the page and try again.
Looking for a fitness tracker to help boost your health and wellbeing? The Apple Watch Series 5 – which acts as an extension to your iPhone – could be for you. How to be sure? We've put it through its paces from the moment it was unboxed, so you can see if you think it's worth the investment.
I tested a wide selection of the best fitness trackers (opens in new tab) and considered how user-friendly they were, and whether the results they give are useful to boost your health and wellbeing. All fitness trackers tested were worn for at least three different workouts for varying lengths of time, and overnight. Each fitness tracker was also reconnected several times afterwards to check reliability.
Keep scrolling for the full review to see if this fitness tracker is the one for you.
Apple Watch Series 5 specifications
Heart rate sensor: Yes and ECG
Watch face dimensions: 40mm x 34mm
Charge time: Around 2 hours
Battery lasts: Up to 18 hrs
GPS: Yes
Waterproof: Water-resistant up to 50m
Storage: No
Extra strap: Yes
Warranty: 2 years
Compatible with: iPhone 6S+
Who does the Apple Watch Series 5 suit?
The Apple Watch Series 5 will suit a woman who doesn't want to carry her phone around while working out – or anywhere - ever again.
What is the Apple Watch Series 5 like to use?
Compared with many other fitness trackers, the Apple Watch Series 5 has a multitude of functions. In all honesty, this can feel overwhelming at first. Yet, as this is an Apple product, once you've charged your watch and paired it with your iPhone (you need version 6S or above) then all the hard work is done for you. And, unlike some fitness trackers I trialled, which took up to 30 minutes to link to my phone, this was instantaneous. You just need to download the Watch app on to your iPhone, which is really simple to navigate, and from here you can control the watch settings. It even has a watch as its logo, so it's easy to spot.
You can choose which apps and notifications you want to transfer from your iPhone to your Apple Watch Series 5. I probably chose too many at first and it did feel tricky to navigate. But, after a while, I found myself searching for more and functions that I didn't really use on my phone so much, such as Apple Pay and Siri, suddenly became much more user-friendly on the watch. In fact, while I had previously ignored these functions on my iPhone, I found I used them regularly on my Apple Watch Series 5. You really can leave your iPhone at home when it comes to working out, as this fitness tracker has everything you need. Even if you get lost, you can find your way with maps.
The colour screen is clear and easy to read, and you can swipe or press the crown dial to control the functions. If you use an iPhone on a daily basis, then it's relatively easy to use, as it follows a very similar system. And, if you get stuck, you can ask Siri to take control of the watch for you.
The Apple Watch Series 5 design
Just like all Apple products, the Apple Watch Series 5 is sleek, modern and appealing. The rectangular watch face is large (I trialled the smaller 40mm version) and you can choose either an aluminum or stainless steel model (although the price will increase), plus there are plenty of options when it comes to straps. There's definitely something to suit most tastes.
An upgrade from the Apple Watch Series 4 means that the watchface now stays on permanently. This means that you can easily glance at your stats mid-workout and you don't have to raise your arm in a certain way to activate it.
The only downside is that the distinctive shape of the Apple Watch makes it look like an Apple product – and this means many people will know it's an expensive piece of hardware. While I didn't have any issues with this, I imagine if I was in the centre of a busy town I might be conscious of it being on display.
How the Apple Watch Series 5 can help your fitness
From total beginners to gym bunnies, the Apple Watch Series 5 has great benefits when it comes to spurring on your fitness, at times without you even realising.
The fitness tracker comes with an activity app. This is made up of three rings, which have to "close" by the end of the day. The first ring is how much you need to move and be active to burn a set number of calories for you. This can be any target you want, depending on your stats (such as height, weight and age). Then there's the "exercise" ring. This is set at 30 minutes a day and anything from a brisk walk or more counts. The final ring is "stand". This will nudge you to move for at least one minute in 12 different hours a day.
Even if you just follow this ring system, you will start to see an improvement in your fitness levels over time. It honestly motivated me. With usual fitness trackers, once you've done your daily exercise then you've usually completed all the tasks for that day. However, one workout isn't enough with the Apple Watch Series 5 – even if you've been on a 45-minute run, you still need to stand regularly throughout the rest of the day. It was great for my mindset.
Not only can you see all this activity info clearly on the Apple Watch Series 5 itself, but the accompanying activity app is really colourful and easy to read. Plus, you can link up with friends and give each other daily challenges. I found it really addictive and you'll be surprised how little you do actually stand and move some days, especially if you are in an office.
If you're more into tracking your workout and setting yourself fitness goals, the Apple Watch Series 5 is ideal. Yet, it goes one step further than other fitness trackers. If you forget to tell the Apple Watch Series 5 that you are starting an activity, it can detect it itself, and then once you've confirmed what you are doing, it will count and record everything you have done up until that point. It could even detect that I was specifically walking outside. Plus, it's not just walking or running that it can recognise – it can even detect certain gym equipment.
Not only is this fitness tracker water-resistant, so ideal for swimming (it can count the number of lengths you have done), but the in-built GPS function means you can follow your workout on a map afterwards. While it works really well with your iPhone, you simply don't need to take it with you any more.
How the Apple Watch Series 5 can help your health and wellbeing
Already using the Health app on your iPhone? The Apple Watch Series 5 automatically syncs with it. And, when it comes to health functions, it has a lot of versatility. For example, you can set up cycle tracking to learn more about how symptoms of menstruation may be affecting you without even realising it.
The Apple Watch Series 5 watch is also compatible with wellbeing apps, such as Headspace and Calm, plus there are breathing meditations to help you relax in times of stress. I even found changing my watch face to a moving jellyfish helped when I felt tense. Taking time out to be nudged to focus on your breathing really helps with concentration, even if you are not feeling stressed.
Heart rate is an important function on the Apple Watch Series 5. If you want, you can have this on your homescreen to constantly monitor it. But, as this is an Apple product, this tracker goes far beyond the capacities of others and has the ability to take an ECG. This stands for electrocardiogram and can detect an irregular heartbeat – something one in four adults can experience.
Everything seems to have been thought of – you can even set up a decibel checker to make sure you are not in a loud environment for too long and risk damaging your ear health – which makes it slightly curious as to why there is not a built-in sleep tracker, although you can use other third-party apps that have an extension for the Apple Watch Series 5. Also, I found I usually charged the watch at night anyway, so I didn't really need this function.
Is the Apple Watch Series 5 designed for women?
While the Apple Watch Series 5 is unisex, you can customise the watchface. Here, the choices are almost endless – you can even use your favourite photos if you don't like any of the designs on offer.
Plus, you can choose from a range of different types of interchangeable strap (from leather to silicone), so there is something for everyone. There are two sizes of strap included, and the smallest felt quite small, even for me, so it will definitely fit someone with a small wrist.
The watch is light (although if you go for the stainless steel option it is heavier) and, although relatively chunky, it sits well on even a small wrist.
But what makes this fitness tracker better than the rest is the extra details, especially when it comes to safety. Worried about running on your own? This watch includes a fall detector, so if you have a hard fall, it can call the emergency services for you and alert them to your exact location.
The Siri function means you can get directions if you are lost, while Apple Pay means you don't have to take your wallet anywhere (or even touch anyone or anything, thanks to the contactless design). There's even an in-built torch in case you need it. All these little extras can definitely make a woman feel safer when exercising somewhere remote or alone.
Battery use and charging the Apple Watch Series 5
The battery life of the Apple Watch Series 5 is around 18 hours but, if you are regularly connecting to GPS, that could be shorter. The good news is that this fitness tracker only takes around two hours to recharge, although seeing as it doesn't have a sleep tracker, I tended to charge mine overnight.
I found the battery did deplete quite quickly, but then I was using it a lot, especially while working out which features and notifications I wanted to use. I went on one 90-minute run with only 42% battery. Around 10 minutes before I reached home, the fitness tracker warned me that it was running low on battery, so went into power-saving mode. Thanks to this, once I had recharged it I still had my whole run recorded.
The Apple Watch Series 5 has a special magnetic docking charger instead of the typical Lightning connector used with an iPhone. If you lose your Apple Watch charger (opens in new tab), you can buy an official replacement for £29.
Apple Watch Series 5 reviews: How does it rate online?
The Apple Watch Series 5 has great reviews online. Many users who have previously used an Apple Watch love the fact that the screen stays on at all times, so you no longer have to raise your wrist awkwardly to see workout stats on the go. The heart rate monitor gives accurate readings and most who have had any tech issues have been supported by the Apple team.
Is the Apple Watch Series 5 worth buying?
Yes, if you can afford it, then the Apple Watch Series 5 is well worth the money. However, if you don't think you will use all the features, then it may be worth considering one of the earlier models, which are less expensive. This is especially true if you are buying it to simply get fit, as this is just a fraction of what you can use the watch for.
But, warning: once you've gone for an Apple Watch, you won't be able to go back - a traditional (and cheaper) fitness tracker will feel like a significant downgrade.
Faye M Smith is an award-winning journalist with over 15 years experience in the magazine industry. Her continued work in the area of natural health won her the coveted title of the Health Food Manufacturers' Association (HFMA) Journalist of the Year Award 2021. Currently Health Editor across several brands including woman&home, Woman and Woman's Own, Faye specialises in writing about mental health, the menopause, and sex and relationships.