The 10 best food subscription boxes 2022: Tried, tested and ranked
We've cooked our way through the best food subscription boxes, from recipe kits to meat hampers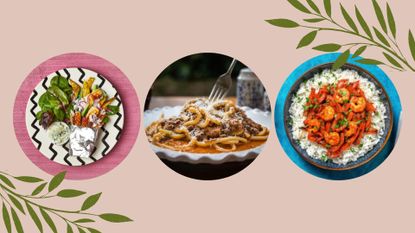 (Image credit: Future / Gousto / Hello Fresh / Nonna Tonda)
Food subscription services have been operating for years, but it was during the lockdowns of 2020 and 2021 that the industry really boomed - and it shows no signs of stopping now. Countless restaurants and shops diversified to offer meal kits and grocery deliveries, meaning we now have a huge variety of options available, all promising to take the hassle out of shopping and meal planning.
With such considerable choice, it can be difficult to know which to sign up for. So, we've tried and tested a range of food subscription services to find the best ones out there and the ones genuinely worth your money. Whether you're looking for lunch ideas to entertain friends or for some quick midweek meals, there will be a box to suit your needs.
The most popular types of food subscription boxes are recipe kits – which include pre-measured ingredients and recipe cards for cooking up specific dishes – and produce boxes, containing groceries like fruit, veg, meat and fish. This guide focuses on wide-ranging recipe boxes, but if you're interested in ordering calorie-controlled cooked, handmade meals, check out our guide on the best weight loss meal delivery services.
How we chose the best food subscription boxes
Why you can trust Woman & Home Our expert reviewers spend hours testing and comparing products and services so you can choose the best for you. Find out more about how we test.
We scoured the market for the best-quality subscription boxes that you can get delivered to your door automatically, on a regular basis. All of our final 10 are available nationwide, and if they don't fit through the letterbox, they come with sufficient insulation and packaging to be left outside if you're not in when they arrive.
We tested them by cooking up the contents at home and assessed each service on the following criteria:
Price: Is the cost reasonable and affordable in the long term?
Ease of service: It's key that navigating these services' websites and managing our accounts is straightforward and user-friendly for all kinds of customers.
Quality of food: We were looking for fresh, blemish-free food that looked good and had great flavor and texture.
Sustainability and ethics: Whether using recyclable packaging or ensuring all meat was farmed to high welfare standards, each brand's ethical principles were important considerations.
Delivery: Can you choose delivery days, and can the package be left outside if you're not home? Is there an extra fee for delivery?
Convenience: These services are great for making our lives easier, so long as they're simple to use, reliable and have the options we want.
Best food subscription boxes to sign up for in 2022
There are plenty of great things to be said about all of these subscription services, and each has its own strengths and weaknesses.
In terms of meal kits, Gousto's wide range of recipes, eco-credentials, delicious results and reasonable price made it our favorite meal kit service. That said, although a pricier option, we were impressed with the ease and quality of Nonna Tonda's pasta kits – the resulting dish could be priced twice as much if you were eating it in a restaurant.
Eversfield Organic stocks everything you could want from your regular grocery shop and, while it doesn't come cheap, you do get a discount for ordering on a subscription basis. Plus, your delivery is fully customizable.
Best food subscription boxes 2022
1. Gousto
Best overall recipe kit
Specifications
Subscription type: Recipe kits
Price per box: From £24.99
Price per serving: From £3.14
Delivery fee: £1.99
Reasons to buy
+
Great variety of recipes
+
Generous introductory offers
+
Sustainability credentials
+
Options for different diets/lifestyles
+
Easy cooking instructions
Reasons to avoid
-
Strict cut-off for amending or canceling an order, three days before delivery
-
Added delivery cost (although it's low)
There were 77 recipes on the go at Gousto the week that we had our box delivered. It's easy to navigate through all the options on the website too, with helpful filters like '10-minute meals', 'plant-based' and 'gluten-free' to choose from.
Our dinners ranged from vegan pulled hoisin mushroom wraps (full of rich sweet-salty flavor) to Peruvian-style haddock and sweet potato stew (which saw fresh, plump hunks of fish swim in a mix of tomato, sweet potato and spices) so there was no danger of anyone getting bored. None of these dishes took longer than 35 minutes to whip up, either, so meal times were something of a breeze. Recipes include step-by-step photographs and no culinary prowess is needed to follow the simple instructions.
You can choose to have your box delivered any day of the week, and while delivery fees are added, it's only £1.99, which is on the reasonable side.
If you've never had a Gousto box before, you can get great offers when you first sign up – think 60% off your first box and 25% off the next two after that. With such big savings, it's well worth a punt (plus, you can cancel any time).
Gousto is a B Corp too, which means it's certified as maintaining high standards in terms of its social and environmental impact - so it's a great choice if you're trying to live more sustainably.
2. Nonna Tonda
Best restaurant-quality meal kit
Specifications
Subscription type: Pasta kit
Price per box: From £16.50
Price per serving: From £5.83
Delivery fee: None
Reasons to buy
+
Restaurant-quality pasta
+
Super quick to make
+
Can be frozen for another day
+
Letterbox delivery available
Reasons to avoid
-
Minimal choice of dishes each week
-
Pricier option, not for everyday
If you want a freshly cooked Italian-style meal at home with almost zero effort, you're in luck. Nonna Tonda's pasta kits are super-easy to prepare – expect fresh pasta that takes a couple of minutes to boil, a sauce that just needs heating through in a pan and Italian cheese to top it all off with. We're not exaggerating to say these meals will be on the table in about five minutes.
We tried spinach tagliatelle with beef ragu bolognese and, no, it was nothing like mum used to make (no offence, ma). The handmade pasta had all the silky texture and satisfying bite we'd expect in a top-notch Italian, and the sauce was packed with rich flavor and lots of tender meat.
This isn't the cheapest at-home meal kit but with the restaurant-style quality and the option to add antipasti, this is a great subscription for date nights or special weekend dinners as you'll be able to whip up some of the best Italian dishes in minutes.
There are two meals to pick from each week and deliveries are super convenient – you can customize their frequency and you don't need to be home when they arrive, as the boxes will fit through most letterboxes. The packaging is thoughtful too – lots of it is made from recycled materials and is either biodegradable or recyclable.
3. Riverford
Best seasonal fruit and veg box
Specifications
Subscription type: Fruit and vegetables
Cost per box: From £15.35
Delivery fee: None
Reasons to buy
+
In-season ingredients
+
Ever-changing contents
+
Great sustainability credentials
+
Good quality produce
Reasons to avoid
-
Pricier than supermarket
-
Can't swap contents of set boxes
Riverford is an all-organic farm based in Devon (with three sister farms in other parts of the UK). Run by organic food pioneer Guy Singh-Watson, this brand is well-known for its seasonal fruit and veg boxes, although also offers more specific speciality boxes for salads, fruits, and meat, as well as recipe kits. If you're not able to grow your own vegetable garden, this might just be the next best thing.
You can either build your own box for regular delivery (so long as it's more that £15 in value), or you can choose any of the seasonal set boxes. The website is really user-friendly and makes it simple to set up a regular order.
Our large fruit and veg box was stuffed with a colorful variety of veggies, with sweetcorn, courgettes, salad potatoes, bunched onions, carrots, sugar snap peas, spinach, lettuce mushrooms and padron peppers. Everything was fresh and full of flavor – we especially loved the bunch onions, which were more mellow than regular ones so were great not only for cooking but also raw in salads and salsas.
Also inside the box were handy ideas for prepping, cooking and storing the veg – including a couple of recipes. This is a neat touch that helped us get the most out of the produce. We were impressed, too, with the packaging – everything was either loose or bagged up in plant-based packaging that was fit for our compost caddy.
With all the produce being organic, we'd expect it to be pricer than the supermarket, and it is – but not unreasonably so. You can tailor the frequency of your deliveries too, from every one to four weeks, so you'll never need go short or end up with a backlog of veg to use up.
4. Parson's Nose
Best premium meat subscription box
Specifications
Subscription type: Meat and groceries
Price per box: From £40 (minimum order vale)
Delivery fee: From £4.95, or free for local addresses when you spend over £60
Reasons to buy
+
Ethically produced, high-welfare meat
+
Good range of products
+
Excellent quality
+
5% discount on subscriptions
+
Can choose all box contents
+
Next day delivery
Reasons to avoid
-
Delivery can be expensive
-
Minimum order is £40
-
Only two preset frequencies available on subscriptions
Named Online Butcher of the Year 2022 at the National Butchery Awards, Parson's Nose sees raw cuts of beef, chicken, duck, venison and goat sit among fish, cured meats, cheeses, homemade pies, gravy and stock and vegetables, among other grocery staples. There are chef-prepared ready meals on offer too, created in collaboration with local restaurants.
There are firm sustainability and welfare principles here, and in turn the quality of the meat really was spot-on: we found it was easy to cook with and gave great results in terms of texture and flavor.
With Parson's Nose, you can create a unique subscription box based on your own shopping and eating habits. Just build an order of any items you like (minimum spend is £40, mind) and sign up to make it a regular delivery – you'll save 5% on the price compared to a one-off delivery, too. Loyalty points are awarded for every purchase as well, which eventually equates to money off your orders.
5. Fish at Home
Best fish subscription box
Specifications
Subscription type: Fish
Price per box: From £50
Delivery fee: None
Reasons to buy
+
Super fresh fish
+
Great variety
+
Sustainably caught produce
Reasons to avoid
-
Can't customise boxes
-
Minimum subscription spend is £50
Great quality, genuinely fresh fish can famously be tricky to find unless you live on the coast. Fish at Home is making things far easier though, with nationwide delivery from its South East base, perched right on the shoreline of the English Channel.
This fishmonger has its own fleet of boats and fishermen and women, meaning it knows exactly where each product has come from and when it was landed. As such, it's able to promise the journey from sea to doorstep is less than 48 hours – meaning even in-land customers are guaranteed super-fresh fish.
While you can place one-off orders of whatever fish or shellfish you fancy, this virtual fishmonger offers three different subscription options: Sussex catch (fillets of seasonal fish, £55), Sussex prime (top-quality fillets from the best part of the fish, £85), and Sussex export (20 boneless fillets of seafood most often exported to Europe). You can choose to have your delivery every one, two or four weeks.
The fillets in our box – we had mackerel, plaice, wild bass and monkfish, among others – were super-fresh, and because they had not already been frozen, we were able to stash anything we wouldn't eat soon in the freezer. The mackerel fillets were plump and meaty and went down a treat after a few minutes on the barbecue, while the monkfish was perfect in a Goan-inspired curry.
Contents of the subscription boxes vary, depending on seasons and what the boats happen to bring back each day. That makes this service is on the money if you want to eat sustainable meat, up your fish intake and experiment with different types of seafood.
Navigating the website and setting up your regular order is easy too – when you choose a subscription box, there's a simple drop-down menu for selecting the frequency .
6. HelloFresh
Best recipe kit for generous portions
Specifications
Subscription type: Recipe kits
Price per box: From £28.49
Price per serving: From £3.15
Delivery fee: £4.99
Reasons to buy
+
Generous portions
+
Simple recipes
+
Customisable contents
+
Generous introductory offers
Reasons to avoid
-
Delivery cost
-
Strict deadlines for making changes or canceling delivery (with no reminders)
HelloFresh is one of the best-known meal kit services out there. There are around 45 recipes on the go each week, including vegan, and vegetarian options, as well as super speedy meals that are on the table in 20 minutes. There are also a range of low-calorie meals, making it one of the best recipe boxes for healthy meals.
Subscriptions are really easy to manage. You can stop, pause or update your deliveries at any point (although be aware of the strict weekly deadline for making changes, which is five days before your box is due), and you can choose your recipes yourself from that week's options or go for a lucky dip.
The recipe cards have clear instructions with step-by-step photos, and you never need any specialist skills or equipment to make them. Portions are generous – you won't ever be going hungry with these kits – and we've never had a dish we didn't like. The juicy chimichurri cheeseburger (with homemade chorizo jam, cheese chips and smoked corn) was a hit in our house – and only took 35 minutes to make from scratch. You can also buy a folder to store the comprehensive recipe cards, meaning they can double up as one of the best cookbooks to turn to when you're low on inspiration.
Deliveries are weekly, and you can choose to have three, four or five meals in each box, to feed up to four people. There's no option for single portions, so if you like to cook for one, you might want to choose another service.
Prices are lower per portion the bigger your order is, and work out to be around the same as Gousto. And considering the big portions and convenience, it's well worth it. But, once again, there are impressive savings to be made by signing up for the first time – with 60% off your first box, and 25% off the two after that.
It's simple to choose your meals and manage your account using the app – although you'll find you need to go to the website to cancel.
7. Abel & Cole
Best customisable fruit and veg box
Specifications
Price per box: From £15.30
Subscription type: Fruit and vegetables
Delivery fee: £1.99
Reasons to buy
+
High sustainability credentials
+
Organic
+
Customisable boxes
+
Low minimum spend (£12)
Reasons to avoid
-
No choice of delivery day
-
Added delivery cost
Abel & Cole might be best known for its organic fruit and veg, but it also stocks organic meat as well as grocery staples like eggs, butter, milk and pasta, too. Subscriptions are available for the fruit and veg boxes and meat and fish boxes, although you can add other bits and bobs to each delivery depending on what you're running low on. So, there's no need to top up your box with extra items from the supermarket.
Delivery is always £1.99, no matter how much you order (although there's a minimum order value of £12). Each area has a set day for delivery, which might be slightly less convenient than some of the other suppliers here but it helps the producer stay carbon neutral – and means your groceries have sparking sustainability credentials.
All of the produce in our small veg box – mushrooms, vine tomatoes, onions, broccoli, a big bunch of carrots, peaches and raspberries – was fresh, blemish-free and good quality. There was minimal packaging, too (Abel & Cole use mostly recyclable packaging, but will also collect any hard-to-recycle plastics from their last delivery when they drop your next box off).
If there are specific products that you don't like, you can customise your preferences, and there are options to swap items in some of the boxes, although others have fixed contents.
8. Passo To Go
Best pizza subscription kit
Specifications
Subscription type: Pizza and pasta kits
Price per box: £20
Price per portion: £10
Delivery fee: None
Reasons to buy
+
Restaurant-quality meals
+
Easy and speedy assembly
+
Customisable
Reasons to avoid
-
Instructions could be clearer
-
Need to add your own herbs in some cases
Passo is an Italian restaurant in London, serving homemade pasta and pizza. It started its delivery service, Passo To Go, as a result of lockdown – and this arm of the business is still going strong, delivering Italian-style meal kits nationwide.
Pasta kits contain fresh, handmade pasta and rich, slow-cooked sauces to toss it through. Our pork shoulder and 'nduja ragu took less than 10 minutes to cook at home, was packed with tender meat and made two really decent-sized portions. Meanwhile, the pizzas were straightforward to make – the three-day fermented dough was silky soft and easy to work with. While we stuck to the conventional oven-cooking technique, there were also instructions for cooking them in a frying pan.
While the dishes were simple to make, the instructions read a little confusingly at times (for instance, we were told to put pasta water in the pasta sauce, before we'd been told to cook the pasta) and had a couple of typos that further upped the amount of brainpower we needed to employ.
At £10 a portion, this is another option for special dinners when you want something a bit fancier than the norm but don't have the time, energy or expertise to whip up a pizza dough or roll out fresh pasta.
9. Eversfield Organic
Best subscription box for all groceries
Specifications
Box type: General groceries
Price per box: No minimum order value
Delivery fee: Depends on order value (free over £80 and for local postcodes))
Reasons to buy
+
Huge selection of produce
+
Everything is organic
+
Loyalty point and reward system
+
5% off subscription orders
+
Fully customisable
Reasons to avoid
-
Pricier option for some items
-
Some products come preportioned, so you might have to order more than you need
Another bountiful repository of all things British, organic and free range, Eversfield Organic covers the full spectrum of grocery needs: meat, fruit, veg and fish, as well as store cupboard staples like cereal and pasta, and premade items like pies and ready meals.
Our box contained fruit, veg and meat, and had been packaged carefully with everything arriving in good shape. The meat was clearly of good quality – when whipping up a bolognese with the steak mince we noticed it was a vibrant red color, had a lovely firm texture and browned really easily. Although only 10% fat, it was still rich in flavor.
This isn't the most affordable option (a pack of two chicken breast fillets is £11.20, for instance) but if you're willing to pay for great quality, it reps good value. Plus, you save 5% if you're on a subscription.
You can build your own box or choose one of the mixed selection options. There are all sorts of specialty bundles too, including boxes for those with fitness goals or following specific diets, like Keto.
Subscriptions are flexible (choose to have your delivery every one, two, three, four, six or eight weeks) and you can cancel or change the contents of your box whenever you like. Plus, you can return the packaging with the next delivery.
10. Field & Flower
Best high welfare meat subscription
Specifications
Subscription type: Meat (plus other groceries)
Price per box: From £39.50 (minimum order value)
Delivery fee: From £2.95
Reasons to buy
+
High welfare meat
+
Fully customisable boxes
+
Flexibility in terms of delivery regularity
+
Delivery available seven days a week
Reasons to avoid
-
Delivery fee
-
Substantial minimum order value
Co-founded by a fifth-generation farmer, Field & Flower bills itself as a service delivering high-quality meat direct from farms to consumers. The range it stocks is vast – you can pick up everything from prime cuts to offal and chef-prepared products. There's also fish (fresh as well as smoked and cured), deli products (think pies and cured meats) and dairy items.
In the meat box that we received were juicy and flavor-packed beef and chorizo burgers, sous vide chicken lollipops, lamb koftes, cheeses and chipotle ketchup. The quality of the meat was obvious, and we loved seeing small-scale producers represented in the box (the ketchup comes from a small indie outfit based in Bristol, for instance) as well as independent, sustainable farms.
You have full control over what's in your box too, thanks to the build-your-own capabilities, but if you'd rather save time perusing virtual shelves, you can go for one of the set starter boxes. There is also great flexibility in terms of the frequency you receive your deliveries – you can choose intervals of one, two, three or four weeks.
There is a minimum order value of £39.50, which makes this option best for bigger shops rather than ordering the odd cut of meat here and there. Prices are akin, again, to what you'd find in butchers, although it beats our local one in a few areas – for instance, you can get a whole, 1.5kg high-welfare, free-range chicken for under £12.
What are the best value food subscription boxes?
To choose the subscription service with the best value, it's important to think about what your priorities are. Do you want meals you can cook with speed, seasonally changing ingredients that will encourage you to try new things or a regular online grocery shop without the admin? Think carefully about how you shop and cook when considering which service will be the best value for you.
With a lot of these options, the more you order, the better the value. For instance, Gousto meal kits are just £3.14 per portion when you go for a large box (which feeds four adults) and have four meals delivered a week. For conscientiously pre-prepared meals of such good size and quality, that's really solid value.