Foraging for food is a hobby with wellbeing benefits—this is how to get started
We are hunter-gatherers by nature—return to your roots and see the benefits of foraging for food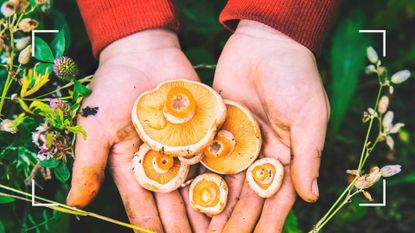 (Image credit: Future / Getty Images)
There is something remedial about foraging for food in the wild. From finding an illustrious blackberry bush down an unruly cul-de-sac to picking crab apples on an autumn leaf-covered floor—finding food for free is a primitive challenge.
To then take these foraged finds home and turn them into something beautiful like a spiced winter soup or blackberry and cinnamon crumble is a rewarding experience with nurturing benefits that have been enjoyed for thousands of years. Not to mention that foraging will get you outside into the fresh, providing a much-needed moment to reconnect with nature.
Maybe you are pressured by the busyness of everyday life and keen to take up a new activity (it's one of the best hobbies for women, after all), or under stress from having to feed a family. Prioritize your wellbeing for a moment by stripping back to your hunter-gatherer instincts and getting ready to start foraging for food with our handy guide. We're sure you'll relax your mind in the process, too...
What is the definition of foraging?
"Foraging is the act of collecting your own food or provision," says John Rensten, the CEO of Forage London (opens in new tab) and author of The Edible City: A Year of Wild Food. It's the art of hunting, gathering, and harvesting wild food. It's about searching for something in nature, being immersed within a landscape that surrounds us, and enjoying something edible.
The activity has become popular in recent years, with foraging bloggers sharing their experiences online and foraging courses encouraging newbies to return to their hunter-gatherer roots.
Foraging for food—4 benefits of this nature hobby
Foraging enthusiast, Diane Reeves reminisces over her first experience foraging, when she was eight years old finding blackberries on the side of the road. "It was amazing, the most exciting thing ever," Reeves says.
Sparking joy and finding food to take home isn't the only benefit of this age-old pastime, for others, it's a new hobby to try their hand at, something they can do with friends, or a way to meet like-minded people, and an opportunity to get outside and connect with nature. Teamed with the Japanese mindfulness technique of Forest Bathing, where you're encouraged to take notes of the sights, smells, and sounds of the forest, foraging can be a fulfilling and relaxing way to spend an afternoon. These are four ways it could benefit you, according to foraging experts:
1. It's a hobby to share
Donned in your winter warmers and wellington boots, you can arrange to meet a friend and search for some horse chestnuts and elderflowers. The elation felt when finding a stockpile of bounty is an experience designed to be shared. Not to mention helping you bond with all generations of the family. "The thrill of the chase and gathering food together is a great way to bond together and can involve even the smallest members of the family," keen forager Flick Hindley of North Farm Cottages (opens in new tab) told us.
Not only this, but foraging is about learning. Did you know that dandelion leaves are an edible salad alternative? And that the dandelion flower can be made into a beautiful marmalade? Learning about the natural resources around us enriches our minds as well as our bellies. And, what better boost for our wellbeing than sharing this experience with those we love? Kit Byron (opens in new tab), a Shropshire-based artist rates foraging as fun in all weathers, for all ages. "Blackberry picking in the lanes with young children is a dream," says Byron.
2. It's free
Foraging is free, within limits. As long as you don't go trailing someone's private garden to steal some of their figs, you should be fine. "Enshrined in English law is the right to forage for your food but not uproot plants without the permission of the landowner," explains Rensten. "The most important thing is to behave respectfully towards your environment."
There are some rare flowers out there that need protecting in certain areas. If you can't positively identify a plant, don't take it. In the US, read more about foraging laws at Forage Culture (opens in new tab). While in the UK you can get up to speed on the foraging law via the British Local Food Foraging (opens in new tab) website.
3. It's an opportunity to connect with nature
Much like the benefits of cold water swimming, getting outside and into nature is an instant mood booster. "Our mental health would be much better if we were all outside connecting with nature," says Byron. She sees foraging as, "an extension of being oneself and being in harmony with our natural surroundings...I think it's an instinct as old as time that many people don't tap into, but could," Byron adds.
The bustle of urban life can sometimes push us to forget our natural surroundings. But, by foraging for food we connect with nature in a way that Rensten describes as an intimate relationship. "I've turned businessmen into children, running around trying to find the biggest nettle," Rensten adds. Much like the benefits of cold water swimming, getting outside and into nature
4. It reduces stress
Foraging is good for your physical and mental wellbeing, it's something to enjoy and get excited about. Getting outside, feeling the sun on your skin and the soil in your hands can also help reduce stress and anxiety. Its a type of ecotherapy that research by the National Institute of Mental Health and Neurosciences (opens in new tab) has shown can have a positive impact on our mental health and wellbeing.
Foraging guide: How to get started
Like what you hear? Now it's time to learn the basics and you'll be foraging for food in no time.
1. Gather your equipment
The best thing about foraging is that not only is it free, but it doesn't require much equipment. "You'll need common sense and your hands. Some things are also best gathered with a knife or scissors," Rensten says. Think mushrooms, leaves and nettles.
A basket large enough to hold your goodies, some old Tupperware for collecting plants and a smiling face should suffice. But, you also might want to invest in gardening gloves to protect hands, sticks to shake branches and release fruits, and a mini trowel to make digging out roots easier.
Equipment list
Knife or scissors
A basket
Old Tupperware
Gardening gloves
A stick
Mini trowel
2. Get to know the craft
Get to know your craft and understand the safety aspects when it comes to foraging for food. "Read several books, and if you fancy picking mushrooms—wait until you're absolutely certain you can identify what it is you're looking at," recommends Alysia Vasey (opens in new tab) aka The Yorkshire Forager.
As a given rule—if you're not sure what it is, don't pick it. Keep a foraging book with you that has photos for reference (see our favorites below) or head to the internet and devour websites like Foraging Culture (opens in new tab), Wild Food (opens in new tab), Identify That Plant (opens in new tab).
Our foraging expert recommends...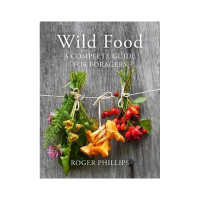 (opens in new tab)
Wild Food: A Complete Guide for Foragers by Roger Phillips
With color photography and detailed descriptions, Wild Food will help you identify hundreds of plants and has over 100 recipes for delicious food and drinks to make with what you find—whether that's berries, herbs, mushrooms or wild vegetables.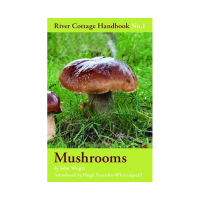 (opens in new tab)
Mushrooms—The River Cottage Handbooks by John Wright
The River Cottage Handbooks are a great resource for foragers in the UK who want to learn more about specific plants and foraging laws. The mushroom guide details the most common type of mushrooms you'll find on your foraging adventures—those to enjoy, and those to avoid. It's also got 30 recipe suggestions to help you cook up a delicious meal with your finds.
3. Understand when and where to look
"Foraging for food is best between the spring equinox and the end of October to the beginning of November if the weather is mild. Once the frosts come, or if it stays late in spring, it is not the time to forage," says Vasey.
The best places to look include woodlands, meadows, the coast, the beach, the moors or you can try urban foraging. It's a perfect excuse to explore the best UK staycation destinations. Go on a walk, keep your eyes peeled, and you never know what you might find.
What to pick in autumn—look for crab apples, sloes and hawthorn to make traditional jellies, jams and preserves. Salad plants also have a second flush this time of year.
What to pick in winter—enjoy filling your basket with berries, chestnuts, acorns, dandelion, burdock and nettles in winter for warming meals.
What to pick in spring—forage for dandelions, wild violet, ramps, wild asparagus and garlic mustard and add to spring recipes.
What to pick in summer—gather blackberries, mallow, and strawberries in the summer months for sweet summer bites like an almond, strawberry and cream loaf cake.
4. Only take what you need
Be wary of how much you are taking from one place. "Just be sensible about what you take, have in mind that it will come back better next year so only take what you need," says Vasey.
It's important that we keep our ecosystems in order so over-foraging is an absolute no-no. Take a small amount from one area and carry on walking to find the next. After all, half the fun is finding the food as well as taking it home! Rejoice in the find and leave the rest for the hungry birds.
5. Make it a tradition
Foraging is better with family and friends, so why not make it a family tradition? Start foraging for nettles to brew tasty soups come autumn, or ramble along wild hedgerows looking for berries like Byron and her loved ones.
Foraging is a tradition passed down from generations, one that is fulfilling, rewarding, and benefits wellbeing. It's a lovely way to connect with family, and a great activity to share with kids who one day can share it with their children.
Foraging recipes
Had a successful foraging adventure? Here are a couple of recipes you can follow for your first foraged feast, or use your haul to make thoughtful and homemade gifts for friends (our sloe gin recipe is a crowd-pleaser)
Kit's fig and goats cheese salad
Ingredients:
6-10 Figs depending on how many mouths to feed
Goats cheese (as much as desired)
A drizzle of honey
A handful of walnuts
A bunch of salad leaves
Balsamic vinegar
Method:
Toss salad leaves in oil
Quarter the figs, placing them on top of the leaves
Dollop goats cheese across the salad
Drizzle honey and shower in walnuts
Finish with a dash of balsamic vinegar and enjoy
Isabel's Wild Thyme and Apple Soup
Ingredients:
A handful of wild thyme
1 cup red lentils
4 apples
1 onion
1 cup veg stock
Optional crème Fraiche and chili to garnish
Method:
Dice onion and fry in oil in a large saucepan until softened
Add lentils and cook for 2-3 minutes
Add apples and stock and simmer until the lentils have cooked and the apples are soft
Blend until smooth
Serve with crème Fraiche and chili to garnish