The best rooftop bars in London for summertime sipping and dining al fresco
Choosing the best rooftop bars in London is no easy task and as summer blazes on you might want to book in advance to secure a spot at one of these amazing spaces...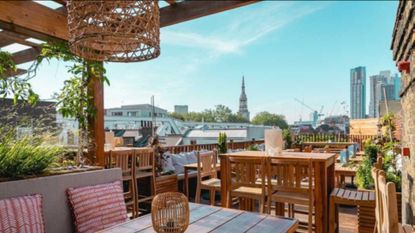 (Image credit: TT Liquor)
Nabbing a table at the best rooftop bars in London is the type of self care that summer begs for, and as the city is filled with plenty of options, you're sure to find one that suits you.
Whether it's after-work drinks, an intimate evening with a special someone, or you're planning to make the most of the great weather with friends, there's a rooftop bar in ever corner of this glorious metropolis if you know where to look.
Locals may know the best bars with rooftops near them, but if you're branching out to a new part of town or a visitor to the city on a UK weekend getaway, it can be harder to find those brilliant rooftop bars with a great view and cocktail menu to match.
We sent London-based writer, Aoife Hanna, on a tour round every rooftop bar she could find in the British capital, to sip on the drinks menu, sample the snacks and soak in the view. She has compiled her pick of the very best rooftop bars in London below so you can add them to your bucket-list.
The best rooftop bars in London
Use the on-page menu to search by area or scroll down for our pick of the best rooftop bars in London. As with many establishments in the city, it's best to book ahead of visiting to avoid disappointment, but some bars do have some tables set aside for walk-ins.
Central London
Spritz in the City, The Madison, St Pauls
Best London rooftop bar for: A bit of a boogie with the girls.
The Madison rooftop's resident brand this year is Italicus, a truly unique and delicious Italian liqueur. Italicus, in case you're not in the know, is a liqueur made in Italy's famously stunning Almafi coast and the rooftop's design reflects this wholeheartedly. Think lush green foliage, lemons, and teal blue hues that take you away to the Mediterranean beauty spot in a heartbeat.
There's a DJ playing banging tunes and people aren't afraid to get up and dance - so it's not one for a quiet drink. But if you want fun in the sun and a view of St Pauls so close you can almost touch it - say no more.
The food menu includes an impressive grill selection with the good quality meat and seafood, and their snack options feature Mediterranean favorites like falafel, chorizo, and Gordial olives. Special praise for their extensive plant-based menu, which includes drool-inducing offerings like deep fried banana and Biscoff pie served with vanilla ice cream and bourbon caramel sauce.
Although their drinks menu features all the old favorites, make sure you try something from the Italicus Spritz menu. The liqueur mixes zingy lemons with Italian bergamot and when paired with Prosecco and an olive garnish is basically summer in a glass. Fair warning, the only Prosecco they offer is 'dolci' (meaning sweet) so if you're not a fan overly sweet cocktails you may be better off trying an alternative.
Top tips: You can book a table ahead of time, with table service, for up to six people but it will cost you £20. However, if you come for a drink as a walk-in and are willing to forgo a table and table service - you'll get a smashing view and just as good drinks. Just prepare to queue!
The Rooftop, Trafalgar St James, Trafalgar Square
Best London rooftop bar for: Incredible sunset views
From the terrace at the Trafalgar St James you can see right across some of Central London's most iconic locations - making it an ideal spot for anybody visiting the city from overseas or for a UK staycation.
The service at the Trafalgar St James is top shelf and you can expect a stunning menu that will please most palates. I went for the burrata with grilled asparagus, and summer truffle sauce as well as the crispy prawns with lime and vegan 'nduja, chili, and green onions.
The drinks menu offers a menu of summer spritz including The Scandinavian Nuet, which is an irresistible blend of Dry Aquavit, Franklin & Sons Sicilian lemonade & elderflower, and Prosecco. Cocktail lovers will kvell over signature delights like their Apricot Blossom cocktail that's a perfect blend of Bulleit bourbon, apricot jam, lemon, aquafaba, and aromatic bitters. For purists, they're more than happy to rustle up a pornstar martini or, my personal favorite - a filthy martini.
Top tips: There's a £50 minimum spend to visit this establishment, so make sure you factor that into your budget. There's also a no smoking or vaping rule on the terrace, which is great for some and a deciding factor for others.
Aqua Nueva Summer Terrace with Veuve Clicquot, Soho
Best London rooftop bar for: Champagne and tapas
In line with the Champagne House's 250th Anniversary this year, Aqua Nueva has collaborated with Veuve Clicquot to turn their summer terrace into an elegant, stylish, and luxurious hotspot with impressive views.
Aqua Nueva is highly regarded for its contemporary Spanish small plates and the chefs have designed suggested pairings for the different Champagnes on offer.
Accompanying a bottle of Veuve Clicquot Yellow Label was melt-in-the-mouth rustic tomato bread, wild mushroom croquettes, and Padron peppers. All of which went down easy, with views of Central London's hotspots like Regent Street and Soho and chill music to match.
Top tips: We suggest reserving a table but the good news is that, despite how popular this spot is, they do accept walk-ins too. Your worst-case scenario is having to sit inside and honestly, the bar is so stunning that you won't feel like you're missing out.
North London
The Rooftop at The Standard, Kings Cross
Best London rooftop bar for: Drinks and street food.
The Standard is one of the more affordable luxury hotels in London (room prices currently start at £219 for a night) and The Rooftop at The Standard is a super cool spot, located a stone's throw from Kings Cross St Pancras station. Situated on the 11th floor, the bar boasts panoramic views of the London skyline including an especially stunning vista of the St Pancras Renaissance hotel.
The drinks menu includes Tommy's cocktails on tap with flavors including espresso martini and Spicy Tommy's margarita. They also have classic options like negronis as well as pitchers of Pimms and white sangria. If all you fancy is a beer or a wine, they've got you covered too.
What really makes the experience extra special is their food pop up, Decimiño, which is a bright red taco truck churning out its own take on Mexican-Spanish cuisine. Expect excellent sharing plates, generous portions, and the ideal nibbles for drinks in the sun.
Top tips: Consider booking a table on Sunday from 11am, where they have bottomless drinks and breakfast tacos for the ultimate bottomless brunch.
Bubba Oasis, Angel
Best London rooftop bar for: Remote working as well as a party
Bubba Oasis sits pretty in the borough of Islington, a stone's throw from Angel tube station. The bar is aiming for a 'home away from home' concept that, "combines elements of casual dining, hot desking, music, entertainment, and art into one destination."
There aren't many options on this list that are ideal for getting a bit of work in while you enjoy a beverage, but Bubba Oasis is just that. I also noticed a lot of people enjoying after-work drinks with colleagues and it seemed like an ideal spot for such an event. The vibe is casual, fun, comfortable and unpretentious.
Their all-day food menu will get you from breakfast to lunch and dinner, with plenty of room for snacks in between. They have beer on tap, a rarity in many rooftop establishments, and a signature cocktail list that's right on the nose. This is updated seasonally and if you want to go off menu, they're more than happy to oblige.
Top tips: Keep up with their social media to find out what upcoming music events they have and if you're looking for somewhere friendly to big bookings - look no further than Bubba Oasis.
East London
Pocketsquare, Whitechapel
Best London rooftop bar for: Experimental cocktails and negronis
Not one for cocktail purists, Pocketsquare chooses to push the boundaries when it comes to the flavors on their menu.
Describing themselves as, "eccentrically local, outrageously striking, and an alluring oasis that boasts unrivalled views of the city," there's is certainly a creative selection of food and beverages on offer.
Each of their signature cocktails, inspired by the eccentric and creative history of the area, comes with a suggested food pairing. One example includes the 'Brutalism', made from a delectable mix of Makers Mark, port wine, tobacco bitters, and pecan liquor. They suggest that you nibble on their slow-cooked oxtail slider with pecan BBQ sauce while you sip on your drink, and the pairing is truly delicious.
Negroni lovers will be delighted as Pocketsquare has a designated Negroni menu to peruse, which is an absolute must.
Top tips: This little slice of city life is often busier during the week, owing to its proximity to the City, so keep this in mind when booking your table.
Rooftop at The Boundary, Shoreditch
Best London rooftop bar for: East London cool
It's easy to feel like you're entering an establishment in New York City when you approach the stripey awnings of this Shoreditch hotspot. The Boundary London rooftop is located on Redchurch Street in Shoreditch, East London. It's on top of the Boundary London, which consists of a small boutique hotel with 17 individually designed bedrooms, two restaurants, a bar and events & private dining spaces.
The rooftop bar and grill has stunning views across East London. Their food menu reflects the chic aesthetic of the establishment and the neighborhood it resides in. Best of British ingredients make up options like their fillet of seabass, grilled aubergine and courgette with sauce viérge - which was delicious and a very generous portion too.
They have a wonderful drinks menu, including the summer-in-a-glass option that is their Passion Mint - which is a blend of Plymouth gin, passion fruit, elderflower, lime, and fresh mint. For those who love a bit of rosé, their Luberon Rosé from Famille Perrin is just about the crispiest you'll every taste.
Top tips: Book far in advance! The rooftop is incredibly busy during the warmer months so make sure you reserve a spot in the sunshine.
TT Liquor rooftop, East London
Best London rooftop bar for: Cocktails, beer and pizza
Is anything in this world as satisfying as beer and pizza? Well, maybe the above in the sunshine with a side of the most delicious Hennessy cocktails you've ever tasted.
The atmosphere here is cool as a cucumber, and also kind of feels like a grown up treehouse which is such a fun vibe. The TT Liqour Rooftop kitchen comes from their residents, The World Famous Gordos - one of the best places you can get pizza in East London. They've also partnered up with world leader in Cognac, Hennessy, which has shone around the world with its exceptional know-how for more than 250 years. Cognac cocktails are just as delicious as they sound and we tried their French 125 which is a delightful blend of Hennessy, Lemon, Oleo Saccharum, topped with Moet NV. The only problem with the cocktail was the fact that we didn't want it to end!
Top tips: Hennessy is hosting a series of fresh live music sessions on the first Tuesday of the month at TT Liquor Shoreditch, supporting up-and-coming local artists.
South London
London Bridge Rooftop, Southwark
Best London rooftop bar for: Iconic London views
If you're looking for a rooftop bar in London that offers a view of some of the city's most iconic sights then London Bridge Rooftop is the destination for you.
Spot London Bridge, the Shard and the London Eye amongst other city sights while you sit amongst fairy lights and pergolas, sipping on cocktails and tucking into a Spanish-inspired menu.
A rooftop bar that is ready for any weather eventuality, you can soak up the sun in the summer or wrap up in a blanket next to a heater if visiting in the cooler, colder months. There are also plenty of tables that can be booked under cover too, so if it looks like the weather might turn during your visit, you can be protected from any spontaneous showers.
Top tips: It is possible to walk in here and get a table but it's on a first come, first served basis, so we recommend booking online first - especially on warm, sunny days!
West London
Pantechnicon Roof Garden, Belgravia
Best London rooftop bar for: Stylish dinner and drinks
Stepping into Pantechnicon Roof Garden is an overwhelming combination of bliss and plant envy. The stylish verdant paradise is lush with banana plants, ferns, monstera, tradescantia, all manner of ivies, and a rather chipper looking conifer too.
Pantechnicon's shtick is blending Nordic and Japanese styles and their interesting food menu represents this. Think cured fish, dill, miso, pickles, daikon, yuzu, and cloudberry too.
In terms of drinks, it's more of the same with their interesting cocktail menu. Samples include their Birch & Apple - which has Pantechnicon Exclusive Akvavit, Granny Smith apple, dill and sparkling birch sap.
Fans of natural wine look no further, as their selection will leave you positively kvellling.
Top tips: Book well in advance as the venue often hosts private events and make sure you check out their shop on the ground floor for some irresistible products.
Skylark Roof Garden, Paddington
Best London rooftop bar for: Pre-dinner drinks.
Got a big night planned? Why not kick it off with a fun in the sun at Skylark Roof Garden? Situated on the 10th floor, Skylark has views of London's famous hotspots Hyde Park, Notting Hill, and Little Venice.
Skylark offer snacks and Sunday brunch but the jewel in their crown is their drinks menu, which features delicious classic and signature cocktails. They even offer generously portioned cocktail pitchers to split with your pals. Espresso martini pitcher anybody?
It's another rooftop with fairly loud music, so if you want something a little more reserved, best try somewhere else. Although after one of their signature Zombie Killer cocktails - a mix of spiced rum, aged rum, golden rum, apricot brandy, mango juice, bitters and a shot of absinth crème - you may feel like dancing.
Top tips: Pack your suncream! This rooftop is an incredible sun trap and there are a lot of tables that don't have parasols. You can also ask staff ahead of time to seat you at a table with a parasol or to put one up near you.
Roof Terrace at the Sloane Club, Sloane Square
Best London rooftop bar for: Smooth music sessions
It's not every day you find yourself in a little oasis in the middle of London but the Roof Terrace at the Sloane Club is just that. Surrounded by beautiful plants and greenery, tucked away from the busy streets, it's easy to imagine you're out of town entirely. Better still, if you're lucky enough to pop in on a Friday - there's live music too.
I went off menu with a filthy martini, which the staff were happy to provide. In my opinion the sign of an excellent mixologist is their martini and the Sloane proved their skills with a perfect rendition of the classic drink.
Their menu is a mixture of grilled classics like jumbo prawns in the shell, T-bone steak, and yellowfin tuna steak. They also have Chinese delicacies like bao buns and luxurious snacks like mac and cheese mushroom fritters too.
Top tips: As they often book musicians for the venue, it's worth keeping an eye on their schedule to see what's coming up as their roster of talent is an absolute delight.
Sign up to our free daily email for the latest royal and entertainment news, interesting opinion, expert advice on styling and beauty trends, and no-nonsense guides to the health and wellness questions you want answered.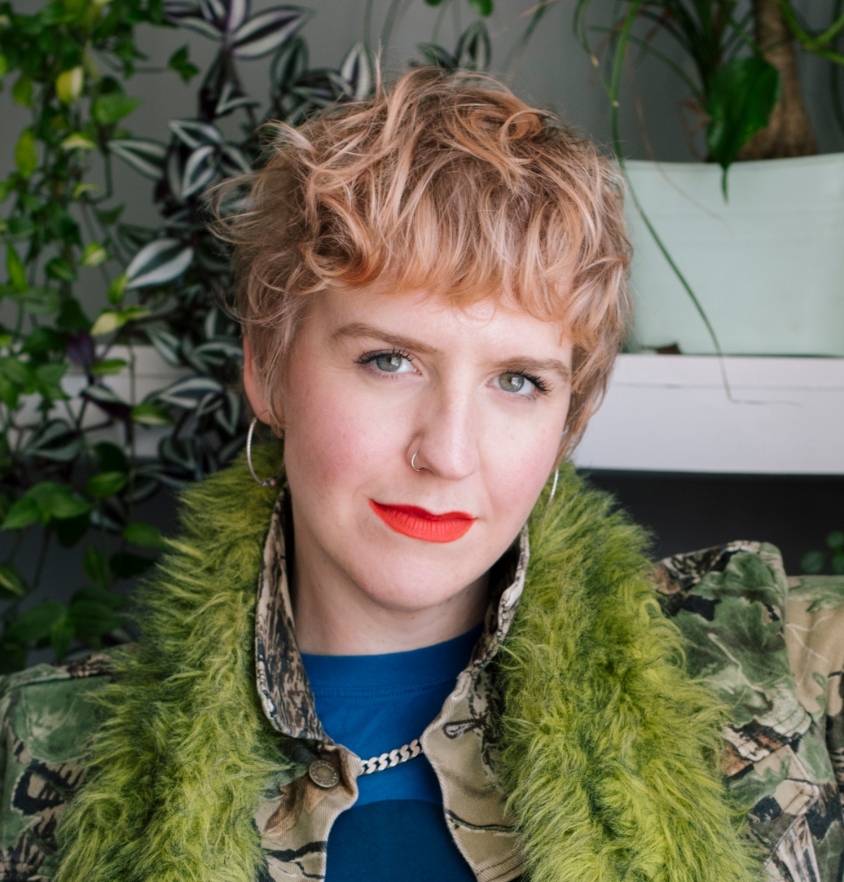 Aoife is an Irish journalist and writer with a background in creative writing, comedy, and TV production.
Formerly woman&home's junior news editor and a contributing writer at Bustle, her words can be found in the Metro, Huffpost, Delicious, Imperica and EVOKE.
Her poetry features in the Queer Life, Queer Love anthology.
Outside of work you might bump into her at a garden center, charity shop, yoga studio, lifting heavy weights, or (most likely) supping/eating some sort of delicious drink/meal.