River cruises vs ocean cruises: which is best for you?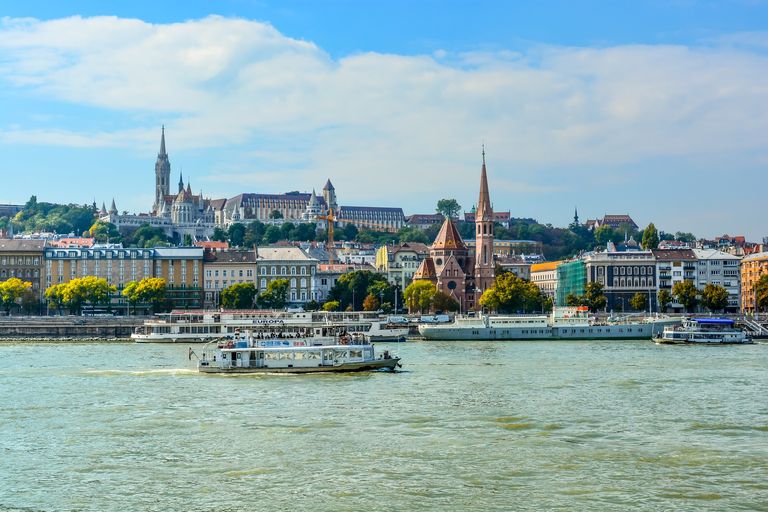 Cruises of all kinds can be a fantastic way to see multiple destinations on a relaxing trip. But river cruises and ocean cruises are very different. Find out which is best for you with our guide and intel from the experts.
The idea of hitting numerous destinations on one trip sounds exhausting, but when you do it on a cruise it's actually pretty simple – it can even be relaxing. Someone else is in charge of your itinerary, you've got a lovely ship to relax on between ports, and all you need to do is decide whether to disembark and explore each place.
But there are two main types of cruise you'll have to choose from before you book: river cruises versus ocean cruises. Here, we weigh up the pros and cons of both, with expert opinion and some trip inspiration.
More like this: The best winter cruises for a dreamy escape
River cruises vs ocean cruises: what's the difference?
It might seem like a silly question, but there's more to it than just the body of water these cruises sail on. For starters, the ships are usually a completely different make-up. While most ocean cruises have large ships with multiple restaurants and loads of things to do – from on-board water parks to cinemas and broadway shows – river cruise ships are more like large boats, with one restaurant and maybe a separate bar, and a sun deck for lounging on.
More like this: Fantastic no-fly cruises to take this year
If you want a world of possibility, then ocean cruising might be best for you, as you'll never find yourself bored with all the activities in a big cruise ship. A more sedate and serene experience can be had on a river cruise, where boats will likely be intimate and the draw is really about relaxing on board and watching the scenery pass.
River cruises vs ocean cruises: why choose a river cruise?
"A river cruise is a life-enriching experience," says Katja Hildebrandt, Head of River Cruising at Riviera Travel. "Whether you choose to meander along the Rhône in France or the Mekong in Southeast Asia, discovering the delights of the world's waterways is inspiring and enlightening."
It's enlightening not least because you'll get to see life on the water from a different perspective, but also because you will be able to discover multiple famous cities in one trip. You might take a Daunbe river cruise, which starts in Budapest and visits Salzburg, Vienna and Bratislava too.
More like this: Outstanding river cruises for cruise aficionados
With river cruising, there's always something to look at from the comfort of your onboard suite or from the top deck – think sloping vineyards and little riverside villages – unlike ocean cruises where you can spend days at sea with little scenery to gaze at.
The best river cruise destinations:
River cruise destinations are somewhat limited, as rivers are harder to traverse than oceans, but there are still some spectacular places to explore by boat. Europe has lots of options, with the Danube, Rhine and the Seine offering gorgeous scenery and compelling cities.
Get inspired: Get the Riviera Travel river cruise brochure here
Further afield, you could try exploring the Nile in Egypt, the Ganges in India or even the Mekong in Vietnam. Get more inspiration for river cruise destinations here.
River cruises vs ocean cruises: why choose and ocean cruise?
Overall, ocean cruises offer a greater variety, from dining options to ship sizes to the destinations they call at. "There's something magical about stepping on board an ocean cruise ship," says Rob Stapley, Senior Product Manager in Cruise at Titan Travel. "There's a sense of anticipation in the air – excitement about the voyage ahead and the places travellers will visit over the coming days or weeks."
"A wonderful way to see the world, ocean cruising allows travellers to discover iconic cities, remote landscapes and secluded islands all in one trip. From small-ship experiences, no-fly options, winter sun routes, expedition ships and relaxation cruises, there is an ocean cruise for everyone and every holiday dream."
Stapley also says ocean cruises are great for solo travellers. It's a brilliant way to meet people on your own terms, rather than being thrust together in a group for an entire week.
The best ocean cruise destinations
There's a far greater variety of destinations and trip length when it comes to ocean cruising. You could choose to go island hopping in the Caribbean, sail the Mediterranean coast or even explore the polar regions.
Cruises around the Middle East take in some spectacular ancient sites, like Petra in Jordan, and exciting cities like Muscat in Oman or Dubai in the UAE. Then there are the islands of the coast of West Africa, from the Canaries where the sun shines almost all year, to the Azores, which have fantastic inland hikes for day-trippers.
Get inspired: Check out cruises by our partner Newmarket Holidays here
Combining a cruise with a land-based holiday is another excellent option – fly to Miami, take a cruise to Cuba or the Caribbean, then head back to Florida for a family holiday (we've got some great tips here). Still not sure if it's for you? Try these mini-cruises to help you decide.
Whatever ocean cruise you choose, there's bound to be a ship and price to match your needs.