I escaped to Mexico for a solo adventure - and this is what I learned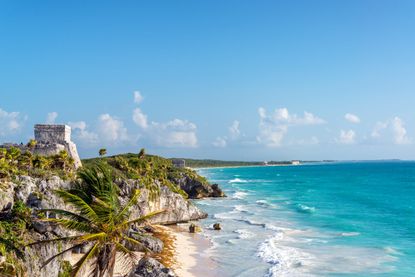 Ever dreamed of packing a suitcase and jetting off by yourself to somewhere exotic, a million miles away from the humdrum and responsibilities of daily life? Travel writer Fanny Blake did just that...
A modest door in the green-and-white facade of the church of San Juan Chamula opens into a vast pewless space lit by flickering candles, the floor covered with pine needles.
Down each side of the nave, plaster casts of saints observe the scene, each with a mirror to help the soul return to the body during prayer. Families troop in to worship, clearing themselves a space on the floor, lighting their own candles, praying, singing, making offerings and, in one or two cases, slitting a chicken's throat to trail the blood on the floor. Some of our group leave quickly, feeling too intrusive, while others walk among the people, all of whom are too absorbed in their worship to mind our presence. We have been requested not to take photos of the indigenous people in the village because they believe a bit of their soul is stolen with each photo.
San Juan Chamula is one of Mexico's so-called "magical villages" and one of many extraordinary places I visited during a two-week holiday. Months before, I had decided to travel to Mexico on my own. My husband was busy and I had some free time, so I decided to join an escorted tour for solo travellers that offered independence within a group travelling together. As the departure date drew closer, the more nervous I became. How big would the group be? What would the other people be like? Was this one of my worst ideas?
I needn't have worried. At 5.10am on the morning of departure I was picked up and driven to the airport where our group met for the first time. That level of care continued throughout the trip, thanks to our fabulous tour manager, Bev Davey.
Once in Mexico, she accompanied us on the trips (we had a coach driver and guide too), but we were free in the evenings to do whatever we wanted and had occasional free afternoons built in too. Every evening, she would be in the hotel lobby in case anyone had a problem or simply wanted company for supper. Of the 20 of us, there were eight men. A few of the women were friends already from previous trips, some were married but travelling alone like me, while others were widowed or single. Everyone was friendly and welcoming. All of us (bar one) were over 55 and wanting to expand our horizons.
MORE:No travel buddy? No problem! Introducing the ultimate holiday for solos
Our journey took us on the Mayan Trail from Mexico City to the small towns of Puebla, Oaxaca, San Cristóbal de las Casas, Campeche and Mérida, finishing up outside Cancún. We explored ancient mystical sites of the pre-Hispanic peoples, scrambling up the steps of the massive ruined pyramids and palaces at Teotihuacan, Monte Albán, Palenque, Uxmal and Chichén Itzá.
To cover so much ground in so few days, we spent a lot of time on the coach, on a couple of days up to seven hours. Daunted by the distances at first, I found I enjoyed relaxing staring out at the life outside or listening to our guide tell us about some aspect of contemporary Mexican life or the country's history. There were plenty of comfort stops and lunch, as well as breaks to see local handicrafts (weaving, mezcal-making) or sights such as the Misol Há waterfall, or a boat trip down the Sumidero Canyon, where we saw spider monkeys, crocodiles and vultures, and the towering cliff from which it's said local tribespeople committed mass suicide to avoid being enslaved by the Spanish conquistadors, in 1528.
On the pyramid of Cholula, we saw the celebrations for the spring equinox. In a park, high above the city, I was ritually cleansed (I think): incense was wafted round me, a bell was rung and I was brushed with herbs before a roller was run down my back and my hands washed in scented water. Meanwhile, people gathered round men in feathered Mayan costumes who led incantations to the sun, everyone's hands raised to the sky. On the plain below, shouts rose from the market place, drums beat, and four "voladores" launched themselves on ropes from the top of a pole high above the crowd and slowly descended upside down while circling the pole. Not a safety net to be seen.
MORE:The safest solo travel destinations | The best places to travel alone
Funnily, the billed highlight of the trip was the most disappointing. Chichén Itzá – a wonder of Mayan architecture – was overcrowded and over-commercialised, with stalls selling the same trinkets lining almost every path. I preferred the jungle at Palenque, exploring the ruins to the unearthly roar of howler monkeys, or experiencing the peace at Teotihuacán, Monte Albán or Uxmal, where the architectural remains might not be quite as intact as Chichén Itzá but the atmosphere was unforgettable.
In Uxmal, I climbed the steep steps to the top of the pyramid by the Governor's Palace. The view stretched for miles across the plains of the Yucatan, but the steps were invisible from the top. It looked like a sheer drop. With a sickening fear of heights, I inched towards the edge. But thank God for the youngest member of our party, the only one to have come up with me. He talked me down (only confessing his own fear later) and, embarrassingly, I came down on my bum very slowly indeed.
The hotels we stayed in varied from traditional to modern, all of them clean and comfortable. For a non-meat-eater like me, it was often a struggle to find something on the menus. However, fuelled by guacamole, vegetable soup and the odd Magnum, I survived, arriving home with my waistbands satisfyingly looser. In Puebla, I tried vegetables à la mole poblano – smothered in a thick chilli-chocolate sauce – a local speciality. That was the first and last time. Wherever we went our guide, Everado, oriented us with a short walk before we were given plenty of free time in which we could explore on our own or in smaller groups.
My most memorable afternoon was in Oaxaca, when I split off from the others, walking sun-filled streets busy with Saturday afternoon markets, craft shops and weddings. Drawn down the street by the sound of drums, a brass band and shouts, I found my first of four that day. Boy, the Mexicans know how to party. The bride and groom danced with their guests accompanied by bride and groom stilt dancers, giant bride and groom puppets and a dervish figure whose role was a mystery. The atmosphere was electric and so happy.
Before I left, friends had warned me of the perils of Mexico but I found a country full of colour and music, with atmospheric ancient ruins, wonderful local crafts and people who were nothing but welcoming. Travelling with a group of fellow solo travellers took the sting out of being alone and provided a welcome sense of security. Friendships were forged and there was always company to be had. I'll take more of that Mexican magic, any time.
Other solo holidays w&h would like to try
Go sailing around Norway's Lofoten Islands aboard a 60ft yacht with a "crew" of eight people (90% of whom join solo). Find new anchorage points in this UNESCO World Heritage listed archipelago of islands then head ashore to explore and discover. Rubicon 3 (020 3086 7245, rubicon3.co.uk) offers a 14-night Lofoten Islands adventure sailing holiday from £1,895pp departing August 2019. Or try a 14-night Cuba Explorer adventure sailing holiday. Starting on the coast of Jamaica, sail overnight across the Caribbean to Cuba, mixing visits to Cuban towns with anchoring off islands fringed with coral reef and flamingos. Throughout, the "crew" get top-class training, building their sailing skills. From £2,249pp departing in February and March 2020 (020 3086 7245, rubicon3.co.uk). For both holidays, cost includes accommodation, food on board, plus sailing instruction. Excludes travel to and from the start of the holiday.
Visit the three cities of the 'Golden Triangle' – New and Old Delhi, and Jaipur – plus, see the Taj Mahal and experience three safari drives in Ranthambore, in search of the park's elusive Bengal tigers. Cost includes flights, accommodation, transfers, excursions, 18 meals, the services of a Titan tour manager and VIP door-to-door travel service. Titan Travel (0808 239 1428, titantravel.co.uk) is offering this nine-night India's Golden Triangle solo tour from £2,049pp, departing 7 February 2020.
Travel along the Great Wall into the palaces of the Forbidden City, see the army of Terracotta Warriors at Xi'an and take a three-day cruise along the Yangtze River. Cost includes flights, accommodation, transfers, excursions, 32 meals, services of a tour manager and VIP door-to-door travel service. Titan Travel (0808 239 1428, titantravel.co.uk) is offering its 13-night Treasures of China solo tour from £3,099pp, departing 1 September 2020.
Enjoy a sociable singles holiday in the Caribbean getaway of St Lucia. September is dedicated to single travellers at this all-inclusive wellness retreat. Dine at the hosted singles table or keep active with classes from beach circuits to spinning in the treetop studio, plus land and water sports. Health and Fitness Travel (020 3397 8891, healthandfitnesstravel.com) offers seven nights at The BodyHoliday from £2,990. Price includes return flights and transfers.
From wine tasting to spa time, this holiday includes a guided tour of Isola del Garda, a visit to Malcesine and Monte Baldo with a cable car ride, free time to enjoy the hotel spa and the chance to experience local cuisine. One Traveller offers flights, seven nights accommodation in the four-star superior Hotel Caesius Thermae Spa and the dedicated services of a One Traveller tour manager. Prices start from £1,890 for tours up to November 2019. Visit onetraveller.co.uk/tours/scenic-lake-garda-and-spa-2019.
Fanny Blake's latest novel, A Summer Reunion (Orion), is out on 13 June
Sign up to our free daily email for the latest royal and entertainment news, interesting opinion, expert advice on styling and beauty trends, and no-nonsense guides to the health and wellness questions you want answered.