The world's safest solo travel destinations have been revealed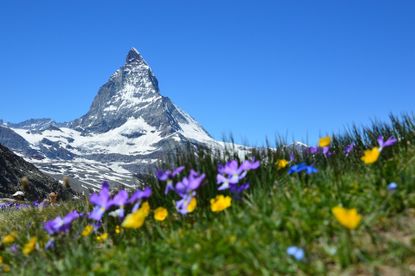 Travelling alone can be liberating - these are the best places to try solo travel.
Going on holiday alone can be daunting - from flying by yourself to dining solo, there are all sorts of experiences that change as soon as you're doing it on your own.
But, if safety has ever been a concern for you when thinking about travelling alone, data compiled by travel website wegoplaces.me (opens in new tab)might just put you at ease. In order to find the safest solo travel destinations for 2019, they've examined advicefrom the Foreign and Commonwealth Office, crime data, and established how peaceful or hostile a country is, and the result is a helpful ranking.
According to their solo travel safety index, these are the best places to travel alone.
1. Singapore
A cosmopolitan city with plenty to offer travellers, this is the world's safest solo travel destination. Come for the luxury hotels and stay for the epic retail therapy. This is a fantastic shopping city, with perpetually great weather and some incredibly cool attractions.
More on Singapore: How to holiday Crazy Rich Asians-style (opens in new tab)
2. Norway
All fjords and craggy mountains, Norway is simply stunning – and it's the second safest place to travel alone. The best way to experience Norway's gorgeous natural wonders is on a cruise. Riviera Travel run a special Norwegian Fjords For Solo Travellers cruise, taking in striking glaciers, picturesque coastal towns and cities, and the incredible Flåm Railway.
Book it here:15 days solo travel cruise in Norway from £2,799pp (opens in new tab)
3. Iceland
A relatively remote country with such a small population, Iceland is a solid choice for a solo travel break if you're concerned about safety. Cheap flights abound to the capital Reykjavik, and beyond there is a unique landscape of dramatic waterfalls, a craggy coastline and amazing black lava fields. Not forgetting the incredible hot pools and lagoons ideal for soaking in…
Book it: Riviera Travel run a 5-day trip in Iceland from £999pp (opens in new tab)
4. Finland
Finland's natural beauty knows no bounds, and this country is hot for solo travellers in 2019. Capital Helsinki is a thrilling weekend break destination, with its museums and Design District, and head to northern Finland and you might spot the northern lights.
5. Uzbekistan
Not a country on many travellers' bucket lists, Uzbekistan is an incredibly safe nation for travellers. This central Asian destination has history aplenty thanks to its position on the Silk Road, as well as some stunning natural landscapes. The locals are exceptionally friendly, so if you're travelling alone and want a warm welcome wherever you go, this is the place to book. Tour operators such as Transindus (opens in new tab) and Intrepid (opens in new tab) run guided trips to Uzbekistan.
More like this: 13 of the best places to travel alone
6. Hong Kong
This sprawling city in China is a mesmerising place. Bright lights, tall skyscrapers and more escalators than you can shake a stick at – Hong Kong is epic. Luxury hotels abound here – ideal for escaping the hot Kong Kong days – and a gorgeous, 500-metre-high hill makes for a lovely day trip out of the chaos with views back to the city. Views from the water are equally special, so don't miss a harbour cruise.
Book it: 16 days on the China for Solo Travellers tour with Riviera Travel from £3,399pp (opens in new tab)
7. Switzerland
If mountain scenery is your bag, book a solo trip to Switzerland. There's so much to love here, from scenic railway routes (the Bernina Express is bucket list-worthy stuff) to rural valleys where life has hardly changed for hundreds of years. Plus, small historic cities like Bern and river cruises on the Rhine are delightful.
Book it: Riviera Travel have a number of amazing Switzerland trips from £999pp (opens in new tab)
8. Canada
Renowned as one of the friendliest countries in the world, Canada is unsurprisingly a great, safe destination for solo travellers. The country has it all, too. Stunning mountains (the Rockies stretch across the country), incredible wine regions (the Okanagan is a favourite) and cosmopolitan cities. The only bad thing about a trip here is that you have to leave at the end!
Book it: Riviera Travel run some spectacular tours across Canada starting at £2,199 (opens in new tab)
9. Indonesia
You've probably heard of Bali – famous as an Eat, Pray, Love location, and for being the yoga and wellness capital of Asia. But there's so much more to Indonesia than smoothies and chakras (though the yoga is great). As a pretty safe country, solo travel here is rewarding. Explore the country's idyllic islands, from the monkey forests of Ubud to the beaches of the Gilis.
More like this: The best destinations for a spiritual break (opens in new tab)
10. Denmark
Home of hygge, Denmark is a brilliant solo travel destination and a super safe option. Capital Copenhagen is a stop on many European cruises, but stay a little longer and you'll find cute cafes and plenty of delightful boutiques for perusing. Tivoli Gardens is a fun day out, and beyond the capital is Aarhus – former European Capital of Culture and now an artsy hub.
Lottie is an NCTJ-trained journalist, an experienced travel writer and an expert in creating compelling digital content.
Lottie has been in the travel writing business for nearly a decade and has writing and photography bylines at The Telegraph, The Times, The Independent, the i and National Geographic Traveller. She's done broadcast work for BBC Radio 4 and have contributed to a number of guidebooks and coffee table titles during her career.