How to be happy in nature – boost your mood instantly by going outside
Learning how to be happy is easier than you think. Try these simple tips to stay mentally strong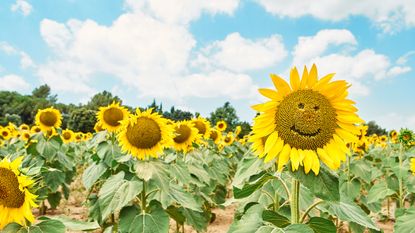 (Image credit: Getty Images / Westend61)
Do you want to know how to be happy, full of energy and better equipped to deal with stress? The solution could be right outside your front door.
Research shows that being sedentary in our homes not only impacts on our health but causes a huge decline in mental wellbeing, too. The good news is that getting up off the sofa and heading outdoors is a positive step you can take to boost your level of contentment. And it's so easy to do.
Why walking makes us happy
How to be happy starts with a simple movement. A survey by Serenata Flowers reveals that 32% of Brits are planning to walk more in a bid to boost their wellbeing. So grab that pair of best women's walking shoes (opens in new tab), quick! Why? Because it's proven that the simple act of walking has mental health benefits (opens in new tab).
"Getting a walk outside in the morning, or at lunchtime on a busy day, can make all the difference," says Dr Alex George. "Not only will being outside in nature help the way we feel, but a good walk is also great for our cardiovascular system, too."
The NHS advises we do at least 150 minutes of moderate intensity exercise per week for physical and mental health. A brisk walk is a brilliant way to clock up these minutes and release feel-good endorphins in the body. Stick on your favorite podcast or music and get marching to raise your daily step count (opens in new tab).
How gardening helps your mental health
If you're feeling low, learn how to be happy with therapeutic gardening. According to a report in the Mental Health Journal, gardening can help us deal with stress and boost mood, as well as reduce symptoms of depression and anxiety.
Growing your own fruit, vegetables or herbs will also give you a sense of achievement to raise your self-esteem. Plus, you'll have a home-grown, wellbeing-boosting supply of vitamins and minerals.
"Your kitchen is likely to already have heaps of 'plantable' items," says dietician Juliette Kellow. "These include tomato, pepper, and butternut squash seeds, lemon and apple pips, potato 'eyes' or vegetables such as leeks and onions. Grow roots by popping them in a glass of water before planting."
The link between sunshine and happiness
It's no surprise that a sunny day makes us feel happier, but have you ever wondered why?
"Daytime sun exposure is essential for serotonin, which helps govern our moods and sleeping patterns," says Dr Carrie Ruxton. She explains that low energy, sadness and anxiety can be a result of spending too much time indoors and on devices, which upsets the balance between serotonin and melatonin.
Short bursts of sunshine also provide us with Vitamin D. "A deficiency of this 'sunshine vitamin' increases the likelihood of depression, and it's also essential for bone health and immunity," says Healthspan (opens in new tab) head of nutrition Rob Hobson.
Open blinds and curtains first thing in the morning when the sun is shining and then head outdoors to get your daily dose.
Why bird sounds are so relaxing
Listening to birds twittering in your garden or when out and about is a great antidote to stress, says the Royal Society for the Protection of Birds.
Studies suggest that tuning into these sounds of nature has a calming effect on the body's nervous system, which in turn promotes relaxation and increases feelings of contentment.
How to be happy on your own
Being alone needn't be a barrier to getting out into the great outdoors. Having the confidence to go solo and enjoying time in your own company is a great benefit of ageing.
"A significant emotional differentiation between being alone and being lonely is having the ability to feel positive and happy when alone, and to even prefer it at times. Some outdoor pursuits can be joyous when done alone," says psychologist Dr Meg Arroll (opens in new tab).
When walking or hiking on your own, remember to let someone know where you're going, stick to the beaten track and always have a fully charged phone.
Why exercising outdoors is good for you
Taking your workouts from your living room into the back garden – or even to the park or a field – can make them more enjoyable, according to research. A study by Essex University found that doing any exercise outdoors boosts your mood in just five minutes.
What is forest bathing and how does it work?
Have you heard of forest bathing (opens in new tab)? This ancient Japanese practice, known as Shinrin-yoku, involves mindfully spending time in woodland. And soaking up the sights, sounds, and smells of a forest is proven to have many wellbeing benefits.
"Research has shown that the scenery and sense of freedom heighten sensory stimulation and encourage people to take notice of their surroundings and feel better connected to nature. This can improve how they feel about themselves, towards other people and the wider world," says Dr Liz O'Brien, Head of the Social and Economic Research Group at Forest Research. (opens in new tab)
Try forest bathing for yourself by...
Turning OFF your devices. Don't let screens distract you from your relaxing, sensory experience.
Switching ON your senses. Tune in to what you can hear, see and smell in the forest around you.
Inhaling fresh air. Take long breaths deep into the abdomen and exhale slowly to encourage your body to relax.

How water boosts wellbeing
"There's lots of evidence showing that proximity to water positively impacts breathing and heart rate, and floods the body with 'pleasure' neurochemicals such as oxytocin and dopamine, to create a positive mood," says Blue Health Coach Lizzi Larbalestier. (opens in new tab)
It's been found that cold water swimming triggers feel-good chemicals in the brain and can boost mental resilience but even a seaside walk has impressive emotional benefits. Researchers at the University of Exeter found that spending just two hours a week near the coast can improve mental health.
And these principles of 'ocean therapy' apply to any form of natural water, so head to your nearest lake, river, or canal to get the benefits.
So, which one will you try?
Senior Health Writer Ali Horsfall has almost 15 years experience as a journalist and has written for national print titles and women's lifestyle brands including woman&home, Woman, Woman's Own, BBC magazines, Mothercare, Grazia and The Independent. She currently specialises in health and fitness content and loves sharing the best expert advice on staying well.