Why walking will help your mental health, as well as your physical wellbeing
Give it a try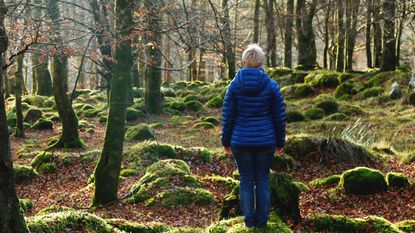 (Image credit: Getty Images / CEZARY ZAREBSKI PHOTOGRPAHY)
Sarah Finley discovered first-hand that getting outdoors for a daily walk is an instant and easy way to lift mood.
When we think about the benefits of moving or exercise, we tend to look at the results we can see or measure. Yet walking for your mental health is just as important. And the best part? All you need is a pair of the best women's walking shoesand you're good to go.
Being active lowers stress levels, helps you sleep better and also works to raise your self-esteem. It can also aid in preventing mental-health problems, such as anxiety or depression.
Walking is free. And, if we do it regularly, it's said to not just help our cardiovascular health, but also our mental health. I learnt this first-hand in the last few months. So I now try to walk on average 10,000 steps a day to feel more focused and positive.
Walking for your mental health
According to the charityMind, one in four people in the UK will experience a mental health problem each year. Plus, one in six in England will experience a common mental health problem such as anxiety or depression each week.
Dr Sarah Vohra, a consultant psychiatrist and author, told theGuardianlast year that there is a big correlation between activity levels and mental health: "I see plenty of young people who have been referred with mild depression or anxiety symptoms, and when you unpack what they are doing day to day, the answer is very little.
"Time in the great outdoors has been replaced with time behind a screen, and real-life relationships replaced with virtual ones."
How negativity can start creeping in
I'm generally quite active. But, when work becomes busy and my social life takes over, I tend to let my fitness slide. I've definitely seen the impact on my mental health, and started to notice negativity creeping into my headspace.
During lockdown, like many, I was working from home and, as my iPhone health stats liked to regularly remind me, I was walking and moving less, so I had to make a conscious effort to make time to move.
I regularly talked myself out of walking on my lunch hour. Yet, whenever I did manage to get out of the house, sometimes for just 30 minutes, I slept better that evening and mentally felt more positive the next day.
Dr Nick Summerton, a GP and public health physician, says, "Mental wellbeing is so important, so if you can get out and go for a walk, you'll see the benefits. Having somewhere to walk to and admire, such as woodlands or a good view, will in itself lift your mood."
When to start walking for mental health
I know, just going outside sometimes seems like such a chore. But, when you make a conscious effort, your mind will really thank you for it. Exploring where you live is a great start. So plan a route before you leave the house or walk whenever you can, instead of using public transport.
Walking with a friend or even a group can be a great motivator, says Dr Nick: "Sometimes when you're just walking on your own, especially on an overcast day, it can be easy to lose motivation, so plan to walk with a friend or join a walking group."
One of the easiest ways to add walking or any form of exercise into your life is by integrating it into your lifestyle. That way, once you build up your walking, you can plan days out around walking or hiking; theNational Trusthas detailed walks mapped out on their website at all their national parks across the country.
My walking has taken on lots of different forms over the last few months. I've roped in friends to come on longer walks on the weekends, got off buses earlier to get in a few more steps and even stuck on a podcast or some music to take a lunchtime walk in my local area.
How many steps a day will help?
My goal now is around 10,000 steps a day. And, even though I'm quite active, I still find it hard to achieve. But it's good to have a benchmark every day. The NHS recommends 150 active minutes a week. Not sure how long that will take you? A fitness tracker is a great way to motivate you to reach a goal.
However, Dr Nick says that if you're a beginner, take it slowly: "Any walking is better than nothing – you have to set realistic goals or you may get disheartened and stop altogether.
"Do a little bit more each week and include it in your daily routine. Increase your weekly walking time by 20 minutes and over time you'll reach the 150 minutes goal."
Joining a walking group is also a great way to up your steps and socialise with other people while you're at it.Ramblersis Great Britain's biggest walking charity, with 500 walking groups. They usually offer walks of varying lengths, so you can start with shorter distances if you are not an experienced walker.To search for your nearest group, check theRamblers websitefor more details.
So, what are you waiting for? Give it a try!
Sarah is a freelance journalist - writing about the royals and celebrities for Woman & Home, fitness and beauty for the Evening Standard and how the world of work has changed due to the pandemic for the BBC.
She also covers a variety of other subjects and loves interviewing leaders and innovators in the beauty, travel and wellness worlds for numerous UK and overseas publications.
As a journalist, she has written thousands of profile pieces - interviewing CEOs, real-life case studies and celebrities - interviewing everyone from Emma Bunton to the founder of Headspace.