7 reasons you should buy an activity tracker, especially if you are over 40
What are you waiting for?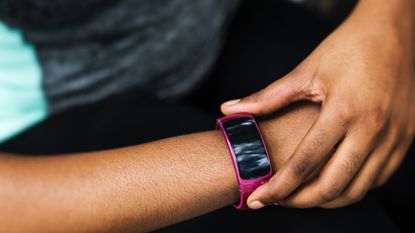 (Image credit: Getty Images / Rawpixel)
Over-40s are getting tech-savvy and snapping up wearables to monitor their lifestyles – why not join them?
No longer just for millennials and the tech-literate, the best fitness trackers have gone mainstream – and they're becoming increasingly popular with the more mature market. Don't own an activity tracker yet? You're in the minority. In fact, a YouGov survey has revealed that one in three fitness trackers in the UK is owned by someone over 50.
So, if you're looking to jump on the wellbeing wagon and track your steps, heart rate and even sleep patterns, here are all the reasons you should definitely buy one.
1. An activity tracker is not just for tech buffs
Yes, we've said it already, but we want to make this clear. "Wearable tech was initially aimed at tech lovers and 'early adopters' – not typically the older market," explains Fitbit marketing director Lucy Sheehan. "But the older market has been steadily growing." She believes that after seeing family and friends wearing them, we now understand they're not scary pieces of tech. And now they are actually something that could benefit our lives.
2. Heart-rate tracking is ideal for keeping an eye on your health
The over-40s are interested in keeping an eye on their overall health, including their heart rate. "Tracking it continuously, recording it at rest and noticing trends or changes over time can provide a meaningful insight," explains Lucy. Most activity trackers now have this built in.
3. You can become sleep-savvy with an activity tracker
Sleep monitoring is one of the most popular features on a fitness tracker. Several devices, including Fitbit models, now not only calculate the number of hours you get, but also the quality of your slumber. "You're able to see the different sleep stages, such as light, deep and REM sleep," says Lucy.
4. An activity tracker can change bad habits
Receive personal insights into your sleep patterns to understand what that means for you. For example, if your tracker alerts you to the fact you don't have a regular bedtime, you can alter your routine (set a regular bedtime). This can help improve your wellbeing, instead of just worrying about your lack of shut-eye.
5. You'll maximise your motivation
Setting your own personalised goals can encourage you to keep fit. "It's a great feeling when you hit your daily step target," says Lucy. According to a study published in the Journal of Personality and Social Psychology, receiving an immediate reward boosts motivation by 20%. So, those daily celebrations will really help. Staying motivated can also increase the likelihood of success in your new exercise routine. The more you feel the benefits and are succeeding, the likelier you are to continue and thus to smash your fitness goals.
6. Be part of a community
We know working out with others can improve our performance. And, sometimes virtual ones can be just as helpful as 3D ones, challenging you and cheering you on. "Plus, it can be a lifeline for much older groups of people who have less daily social contact," adds Lucy.
7. It can help you get to know your body
Tracking your heart rate, sleep and fitness levels can help you to get to know what is normal for your body and what isn't. Noting your resting heart rate can help you to realise when something might not be quite right (although it's worth bearing in mind that they may not be 100% medically accurate). Plus, keeping an eye on your sleep quality, as another example, can aid you in making sure you get a better night's sleep.
Key questions you should ask before buying a fitness tracker
We rounded up the top five questions any buyer should ask before getting their hands on a new tracker.
Does it have a built-in heart rate monitor?Even though chest straps are slightly more precise than integrated wrist ones (the difference is literally a couple of beats per minute), the convenience of the latter far outweighs the very marginal accuracy gain.
And does it monitor heart rate continuously?This will provide a key insight into your health and could highlight any anomalies.
What are the most important metrics to track?Steps, heart rate and sleep are the best places to start to understand where you are on your health and wellbeing journey.
How much is it?Just because it's the latest, most expensive tracker doesn't mean it's right for you. Sometimes you'll get more out of simpler, more purse-friendly options, which include all the necessary features you want (such as sleep tracking, heart and step counting) but are easier to use.
How long is the battery life?Wearing it continuously for as long as possible will provide the clearest picture of your health, so aim for trackers that last at least five to seven days.
Faye M Smith is an award-winning journalist with over 15 years experience in the magazine industry. Her continued work in the area of natural health won her the coveted title of the Health Food Manufacturers' Association (HFMA) Journalist of the Year Award 2021. Currently Health Editor across several brands including woman&home, Woman and Woman's Own, Faye specialises in writing about mental health, the menopause, and sex and relationships.