Lockdown anger explained - experts on how to manage irritability for better mental health
Could the Five Stages of Grief help explain lockdown anger?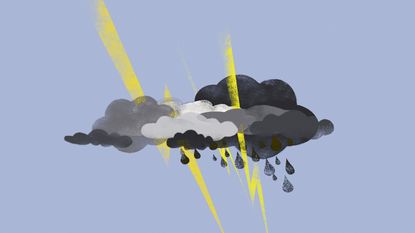 (Image credit: Getty Images )
woman&home newsletter
Sign up to our free daily email for the latest royal and entertainment news, interesting opinion, expert advice on styling and beauty trends, and no-nonsense guides to the health and wellness questions you want answered.
Thank you for signing up to . You will receive a verification email shortly.
There was a problem. Please refresh the page and try again.
The new UK tiered system and now, a nation-wide lockdown, has brought with them a huge range of emotions - fear for ours and our loved ones' health, anxiety, and sometimes even joy, at getting to spend some unexpected quality time together.
But please tell me I'm not the only one experiencing the occasional feelings of anger as the announcement of new restrictions rolled in? Of course, we all get angry from time to time. It's completely normal. But with the new tiered lockdown system coming into full force and a potential second national lockdown on the horizon, there appear to be endless opportunities for frustration to arise.
Be it the disappointing fury that appears when you see someone evidently breaking the lockdown rules, changing regional restrictions, or the worried frustration for family or friends in cities experiencing higher tier lockdowns- anger is everywhere.
More from woman&home:
There's angry sadness over the uncertainty of our futures - and our present. And that's without mentioning the anxious anger that regularly seems to bubble up when new governmental decisions are announced...
So why are why feeling this way?
A sense of loss
According to Dr Donna Grant, Consultant Psychiatrist at Priory Hospital Chelmsford, the reason we might be feeling more tetchy than normal could be to do with the sense of loss we're feeling at the moment. She explained, "People may be experiencing a loss of routine, a loss of contact with friends, work colleagues, and family, as well as a loss of loved ones through bereavement - all of which can make us feel more irritable and angry."
And it's the loss of freedom that could be contributing to our lockdown anger too - which isn't too much of a surprise. Being cooped up isn't ideal, especially as restrictions in many areas had been lifted enough to allow for some precarious normality to return to our lives. Now there's the possibility of once more completely losing our normal ways of venting frustration - talking to friends over a coffee, hitting the gym, or seeing family members.
"People have lost their sense of entitlement to be able to do what they want when they want and with whom they want," Dr Donna said of the initial lockdown. "For those who are living alone, this can result in loneliness and for others who are living within a family unit or with housemates in small spaces, this can result in a lack of personal space and not being left alone.
Feeling boxed in
Seeing others who may be flouting the lockdown rules can also touch a very sensitive nerve with many people. Psychologist Karen Kwong told w&h, "We are all being asked to make sacrifices and the fact that the rule-breakers are deliberately and wilfully flouting the rules will send the message that they are being selfish. And selfishness almost always brings about feelings of frustration, resentment and a whole load of anger for potential 'victims'.
"In these unprecedented times, where life does not resemble normality, it is quite normal to feel this way."
"When people don't stick to the rules, it is like poking the proverbial agitated, scared, grieving, confused and hyper-sensitive bear."
But if you're feeling angry, be reassured that it's not unusual right now. Dr Grant says, "Anger is a normal emotion that can arise due to distress, suffering, pain and fear. Therefore, in these unprecedented times, where life does not resemble normality, it is quite normal to feel this way."
Experts explain that some of the anger we're experiencing right now could be to do with the five stages of grief.
What are the five stages of grief - and how might they explain lockdown anger?
Rebecca Lockwood, an NLP practitioner, said, "Understanding the 'change curve' can really help in this situation [during lockdown]. The change curve helps to understand how people react to change, and being in lockdown is certainly a big change for most."
The change curve is also known as the five stages of grief, which was created by psychiatrist Elisabeth Kubler-Ross.
These five stages of grief are:
Denial
Anger
Bargaining
Depression
Acceptance
Rebecca explained, "During the denial stage, it is hard to accept the new reality."
Then comes anger - which in this situation, can come as a result of many different things, as explored above.
Psychotherapist and Counselling Directory Member Pam Custers agreed that the five stages of grief accurately sum up our feelings right now - and explains that we might be feeling angry, simply because we've lost a lot.
"What we are experiencing as individuals and as a society is grief. We have lost our lives as we know it. We understand the loss we are experiencing now, of our friends, family or livelihood but we are also experiencing anticipatory grief. We do not know what the future holds so we are fearful of what loss may unfold," she said.
Pam also explained, "In the bargaining stage, people were starting to try and configure the rules around trying to have more freedom. Depression comes when we feel angry, frustrated and are staying at home for extended periods, which can easily turn that depression inwards. The fifth stage is acceptance - when we embrace the time we have, and start complying with it."
How to tackle lockdown anger
Karen Kwong noted that while it's normal to feel agitated from time to time right now, you shouldn't let any anger fester into something bigger. She said, "It is normal to feel this way for the reasons cited. But it is not normal to feel this way for a prolonged period of time. Short-term bursts of stress can actually help productivity and spur action. However, when something is agitating one for a long period of time, it will lead to chronic stress, anxiety, and depression, if these have not already been triggered."
It's important to remember the basics. Ensure you're getting a good night's sleep by investing in the best pillow (opens in new tab) for your needs and a cozy duvet set, getting plenty of daylight, and staying away from the blue light produced by phones and computer screens at least a few hours before bed. Instill a sense of calm into your day by making time for a quiet period of meditation or reflection each morning and having action plans in place for when negative emotions might be triggered.
So how can we address any feelings of irritability practically?
Don't ignore it - instead, try and turn it into kindness towards yourself
Dr Donna explained, "We should not try to ignore anger as it won't go away. If anything, it will grow as tension builds, and finally, feelings of frustration and anger will overspill."
Instead, she suggests treating ourselves as if we were children, and handle our anger as such.
"We need to try and self-soothe through compassion, tenderness and love, as we would do towards a child if they were upset," Donna said. "It is important to recognise when we are feeling angry and show ourselves kindness, without becoming critical of ourselves for feeling angry. It may help to talk to someone in order to work out what is going on beneath the anger. "
Other self-care techniques can also be invaluable, too.
Donna said, "Ensuring a good night's sleep (opens in new tab) pattern is also very important, as if we don't sleep well, we can generally feel more irritable. Breathing exercises, mindfulness, yoga and exercise in general are all good self-soothers that can help to bring us back into a state of calm. By self-soothing, anger will naturally dissipate."
You have to do what's right for you.
A new survey commission by Healthspan of 2,000 UK residents found that 70% of respondents exercise or go for a walk to ease some of the difficult emotions that recent events have triggered. 72% watch a movie, whilst 63% listen to music and 60% read. Each of these activities helps people to cope and support their mental health in the face of an uncontrollable world.
So whatever makes you feel soothed and positive, remember to focus on this as much as you can.
Try to establish compassion for others
In order to let go of anger, it might be good to try and understand why others are reacting to the situation as they are - even if you don't agree with it.
Pam Custers told w&h, "The vital component is to have compassion. We are all dealing with things in different ways. We will all be experiencing our personal grief at different stages."
"Compassion for ourselves and for others is key. Allow yourself and others some leeway in terms of how they are managing. They may not be themselves right now, but this too will pass."
Seek professional help online if it becomes a problem
There are online resources that can help you to tackle your anger if you're finding it tricky to deal with yourself. Often, seeking help from a professional is the best way to get you feeling better, so it's so important to reach out if you need it.
Websites like Mindbox give their users practical tools in order to help them manage anger through exercises and online counseling sessions. Their mission is to "provide the best therapy, in the right place, when you need it the most".
Redefine your feelings of anger into something positive
It mightn't be easy, but trying to work out the root cause of your lockdown anger can help to tackle it.
Karen suggested, "Change your relationship with those difficult feelings. By identifying [your feelings of anger] and accepting them, you can now look at what those feelings are trying to tell you.
"You might be grieving for your old lifestyle – 'I am feeling really sad about not being able to do stuff I used to do. I miss my freedom. Clearly freedom is important to me, so what else can I do to recognise this is important to me?'
She then explained that you can try and redefine what freedom means to you at the moment.
In lockdown, freedom may mean, "Trying something new and doing it with my friends online. It may be freedom to wear whatever I want, whenever I want. Freedom to try a new exercise that I hadn't tried before.
"Gratitude is important too. Yes, it is stressful - but how can I channel my anger and frustration to something useful? Perhaps acknowledge your gratitude for the fact that at least now I don't have to commute, for example."
Accept the things you can't control
When situations seem to be spiraling out of control or frustration becomes overwhelming, Acceptance and Commitment Therapy (ACT) might just help. You must learn to accept what is beyond your control - be it regional restrictions, government decisions, or problems with the test and trace system.
And also commit to everything you do have influence over - your own feelings of frustration.
Here you are facing the problem head-on and not avoiding your stresses, but confronting them.
Be mindful of venting
Though it might help to talk through your frustrations with someone close to you, it's important not to get swept along by this.
If constant venting isn't getting you any closer to finding a solution to your anger, it ceases to be helpful. Research has shown that fault-finding without any form of restraint can not only affect mental wellbeing, but strain friendships.
Dr Meg Arroll, psychologist on behalf of Healthspan, has recently been reported as suggesting, "try to have a laugh instead - it's impossible to feel angry when you're laughing."
"There's even some evidence that watching cat clips improves our sense of wellbeing"
It seems that sometimes it's the smallest of things that can help us switch off from the cycle of frustrating news and restrictions.
Amy Hunt is an experienced digital journalist specialising in homes, interiors and hobbies. She began her career working as the features assistant at woman&home magazine, before moving over to the digital side of the brand where she eventually became the Lifestyle Editor up until January 2022. Amy won the Digital Journalist of the Year award at the AOP Awards in 2019 for her work on womanandhome.com.