Why a great playlist or podcast will help you run faster
Plug in and go!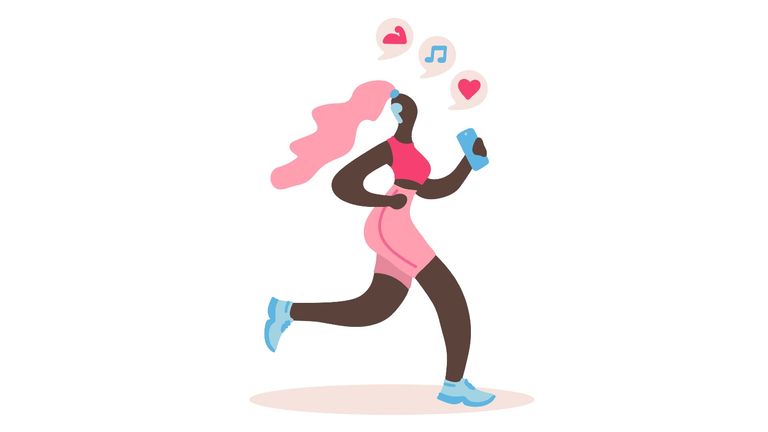 (Image credit: Getty Images / Yuliia Afanasieva)
Running to a beat or distracting yourself with a good story are surefire ways to boost running performance, says Sarah Finley.
Silent running is the stuff of school PE nightmares. Teachers barked at us to run around fields, without even a tiny bit of music to help us run faster or entertain us.Now that we're older and modern technology is more accessible, we have music and even podcasts at our fingertips to help motivate us as we put one foot in front of the other. In fact, audio is, for many, just as key as having the best running shoes for women.
I was training for a 10K race when I first came across the power of a good playlist, which helped motivate me to run faster. The farthest I'd run in the past had been 5K and adding on another 5K seemed like hard work.
So, before I did my next training run, I sat down and devised a playlist of upbeat songs that would carry me around the 10K route. Podcasts have also recently become a good running buddy, as I love the distraction and having a narrative as I run.
But how does music help you run faster? Is it all in the mind? Or do they really have the power to motivate you or even help you hit a new PB? Lace up your favourite shoes and let's explore.
The power of a playlist
In my opinion, it's always great to have some company on a run. Whether that's in the form of a friend, music or even an audio recording.WithU, a new audio fitness app that talks you through fitness classes, including outside running, and includes music on their tracks, explains that choosing the right music for their running tracks was an important factor.
"The music has deliberate and clear tempos that are easy for runners to pick up and keep pace to," says Steve Clarke, co-founder of WithU. "We pick a beats-per-minute range that's motivational and suits the goal and pace of the workout selected."
But can this type of music improve our running? Brunel University professor Dr Costas Karageorghis, who co-wroteInside Sport Psychology, claims that our performance can be boosted by up to 15% when we listen to music while running.
This was definitely something I found when I was training for my 10K. The moment I put on my playlist, I zoned out. I focused on the beat of the music instead of how hard the run was.
Steve agrees: "Several studies have been conducted about the impact of using audio during sport and the long-term benefits. This includes heightened sports performance, and this is particularly key when running, as it can help with techniques including pace, efficiency and speed."
https://www.youtube.com/watch?v=Yir4WyDi8rU
Which music can help you run faster
If you're feeling uninspired, then apps such as Spotify or Amazon Music have pre-programmed running playlists. But, if there's particular music you know will wake you up and make you run faster, you can curate your own list.
However, make sure you pick tracks that will help you to keep your own rhythm. "A track can help push people to keep on tempo. It can challenge them by helping to dictate pace. This is really important when you're training and trying to improve the length, duration or tempo of a run," Steve emphasises.
What's more, as the darker nights draw in, you need tracks that will motivate you. "Music that inspires you and pushes you to dig deep and clock those few extra minutes or keep up your speed for just a few more beats can make all the difference to your progress and self-esteem. And that's whether you're just starting out at running or are a seasoned professional," Steve adds.
I found that the right playlist, which consisted of up-tempo tracks and a few cheesy pop songs, kept me motivated even during the hardest sections of my run. It even helped me gain a new PB when I took part in the 10K race.
https://www.youtube.com/watch?v=hfkrly_v2YE
Can podcasts do the same?
Prefer a narrative, rather than music? Then podcasts can be just as good at helping to motivate you through a long run.
Just this year, I realised the power of a good podcast when running. It gave me a chance to work on not just my physical self but my mental wellbeing, too. It allowed me to have half an hour to learn something new. Plus, delve into someone else's story while I pounded the pavements.
I found that podcasts with great takeaways, such as How To Fail With Elizabeth Day. Here, she interviews successful people about their failures. Plus, Dhru Purohit's Broken Brain podcast, where he explores health and mindfulness. These both gave me a fresh perspective on the world and distracted me from my own thoughts and my running.
There are some great podcasts available, which cover almost every subject. Choose from running to health, knitting to cats! So your next run could find you laughing out loud or pondering the world as you rack up those miles.
Sarah is a freelance writer - writing across titles including Woman & Home, Fit & Well, Tech Radar and the BBC. Covering a variety of subjects, including the royals, celebrities and trends in beauty, fashion and wellness - her biggest passions are travel and fitness. She can normally be found trying out the latest fitness class or on a plane to an exotic destination (pandemic allowing) - or writing about either of them.