The best podcasts to listen to in 2023
These are the 20 best podcasts you need to listen to in 2023, from love stories to true-crime, and more...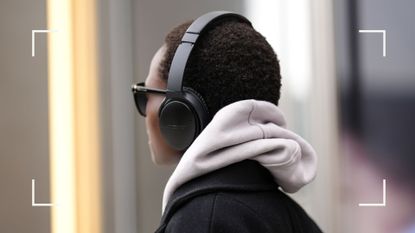 (Image credit: Getty Images )
The best podcasts of 2023 have arrived! These easy-to-listen-to, informative, and just plain funny podcasts will leave you wanting more.
These days, there's a podcast about every subject you can think of - food, history, film, celebrity interviews, and ramblings from high-profile figures. So whether you want something to make you laugh, or you just want to gain some extra knowledge, there's a podcast out there for you.
Plus, we're huge fans of true-crime following Netflix shows such as Hatchet Wielding Hitchhiker and The Girl in the Picture, so we've added some of the best crime-based podcasts too.
The best podcasts to listen to in 2023
1. The goop Podcast
Genre: Culture, health, self-help
You might remember the actor and self-care champion Gwyneth Paltrow, and the riot she caused by releasing a candle that apparently 'smells' like vaginas from her wellness brand goop.
Since then, goop has become extremely popular in the health podcast space with a self-titled show that covers a range of topics around the 'brightest thinkers to culture changers' within the lifestyle and wellness space. Alongside her long-time collaborator Erica Chidi, who is the CEO of sexual wellbeing platform LOOM, they chat to industry professionals, experts, and a host of famous faces, discussing everything from dating and relationships to the simple pleasures of cooking, wellbeing, and the best sex toys.
2. Table Manners with Jessie and Lennie Ware
Genre: Comedy, personal stories, food
Multi-award-winning singer/ songwriter Jessie Ware and her mother Lennie host a weekly dinner party that you're always invited to!
This podcast about food and family covers just about all areas of life. From favorite foods to career journeys, this cozy and funny podcast takes place around Jessie and Lennie's very own kitchen table. Food is served and conversation flows in this award-winning and beloved loved show that lets listeners get intimate with their favorite famous faces, from *actual* ABBA member Bjorn Ulvaes to Hollywood royalty Robert DeNiro and ex-Selling Sunset star Christine Quinn.
3. The Louis Theroux Podcast (coming spring 2023)
Genre: Comedy, personal stories
Everyone's favorite journalist, documentary show host, and thirst-trap expert, Louis Theroux, is back with a new installment of his podcast, which is airing this spring.
On his lockdown podcast Grounded with Louis Theroux, he chatted with personalities ranging from Justin Theroux to The Crown's Helena Bonham Carter. This new Spotify exclusive show, aptly titled The Louis Theroux Podcast is not too different. Long-form conversation episodes will showcase Theroux doing what he does best - and getting to know more about people, their lives, and their work.
4. Financial Feminist
Genre: Business, self-help
If you're looking to boost your confidence when it comes to looking after your money, how to budget, and learning how you can make more of it… this podcast is for you!
Money expert and social media star Tori Dunlap talks about feeling financially positive in a patriarchal world that all too often doesn't give women the adequate space to learn about managing their finances.
Tori has successfully created a space for women to not purely survive but succeed and gain success in their careers and monetary pursuits. Each episode sees Tori sharing valuable money management tips and tricks (just one of the many discussions held within this podcast) with a financial expert or business owner that empowers the listener.
5. The Happiness Lab with Dr. Laurie Santos
Genre: Health
What can boost happiness? More vacations? An ever-growing collection of clothes? Staying at the world's most beautiful hotels with your loved ones? While these are all nice things we want to have, they don't necessarily guarantee the type of joy in our lives that truly satisfies us and keeps us truly at peace. So where do we begin searching for happiness? Enter, The Happiness Lab.
In this podcast, Dr. Laurie Santos shares the science behind happiness. Based on her extremely popular course at Yale University, Dr. Laurie offers the listener insightful and engaging research, anecdotes, and stories that give you the space to reflect on what is really important, and how you can take steps to achieve it.
6. Unsolved Murders: True Crime Stories
Genre: True crime
Hosted by Carter Roy and Wenndy Mackenzie, this podcast is not your average true crime show to binge-listen to on your daily commute. Taking elements of old-time radio shows, Unsolved Murders: True Crime Stories looks at some of history's most puzzling and gripping unsolved murders through a life-like and enticing lens by using ensemble voice actors who bring the cases to life.
From witch hunting cases in the 18th century to the assassination of notorious mafia bosses, you'll be gripped by all the cases that Carter and Wenndy dissect. Some topics are not for the faint of heart, but there are plenty for you to have a look around and find your next true crime case to obsess over.
7. Dressed: The History of Fashion
Genre: Fashion & beauty, history
This podcast, brought to you by the iHeart Radio podcast team, explores the social and cultural history behind the "who, what and when of why we wear."
Every week, a variety of conversations that span across sartorial-related topics are discussed. Ever wanted to know where the use of handmade lace came from in fashion? Or how costume designers come up with their ideas for outfits in some of Hollywood's most recognised films? This podcast answers these questions and many more, keeping you educated about one of the most fast-moving and highly competitive industries in the world.
8. Left, Right and Centre
Genre: News, politics
This podcast features a weekly discussion of US politics, approaching topics you may be too afraid to talk about with your own family.
Hosted by New York Times best-selling author and award-winning journalist David Greene, this podcast is no stranger to discussing and getting to the heart of some of the biggest issues in American and global politics. Each week, topics are dissected among the host and the ever-changing panel of guests and political experts that rotate on the podcast, making this podcast perfect for current affairs experts and novices alike.
9. 10/10 (Would Recommend)
Genre: TV, film
Wondering what to watch when you feel like you've gone through the best of Netflix's new shows? No worries, this podcast is the perfect companion to help you look out for what shows you can add to your watchlist, or keep your eye out for release in the future.
Best friends Tolani Shoneye (of the hit UK podcast The Receipts) and Gena-mour Barrett (who works for Netflix, aka, she knows a thing or two about what to watch!) catch-up weekly to discuss what shows are at the top of their recommendations list. Expect hidden gems and brutally honest reviews of the show everyone's talking about that you're not quite sure if you want to dive into just yet.
10. Every Day is a Food Day
Genre: Food, comedy
Every Day is a Food Day is hosted by foodies Lia Ballentine and Anna Van Vallin, who each have made their name in the food industry. Lia is the owner of snack box subscription service Yumday, and Anna (aka The Foodlosopher) is a foodie that is always excited to delve into the lesser-known sides of food and cuisine.
They bring you all the most bizarre and interesting stories, scandals, and history lessons from the world of food - such as who helped invent gingerbread, the biggest food company rivalries in history, and what foods are really aphrodisiacs. This fun and informative podcast lets you relax and learn at the same time - and is best enjoyed when in the kitchen cooking up a storm.
11. We Can Do Hard Things with Glennon Doyle
Genre: Self-help, health
Writer Glennon Doyle, author of the #1 best-selling book Untamed, featured in Reese Witherspoon's book club, chats to others about being able to overcome issues in life, posing the same great mantra all of us should live by, every day: "We Can Do Hard Things."
All manner of guests have been on Glennon's show, from Emily in Paris star Lily Collins to sex-positive actor and comedian Mae Martin. Glennon's show lets you become comfortable with facing topics that we are often expected to just shoulder on our own.
Episodes are slightly longer in format but make for a great way to pass the time on a long journey, or even to wind down in the bath. It's also one of the best LGBTQ+ podcasts to listen to this year.
12. The Royal Rota
Genre: Society, culture
From Kate Middleton's dresses to Meghan Markle's hair, this is a podcast for those who want to get weekly doses of everything you need to know about the Royal Family. ITV News Royal Editor Chris Ship and Royal producer Lizzie Robinson are experts in their field about Royal News (as it's literally their jobs!), and look back at everything royal over the last seven days. They welcome a range of guests to their show to offer you as much insight and expertise as possible.
13. Unexplainable
Genre: Science
This weekly podcast from Vox takes listeners on a journey through the world's most bizarre unanswered questions and scientific mysteries. Ever wondered why we hiccup? Or thought about how dinosaurs may have sounded? Unexplainable aims to find out!
Host Noam Hassenfeld speaks with a gamut of experts and Vox reporters to get to the bottom of mind-boggling topics and the ways in which scientists are trying to tackle them in these bite-sized and extremely listener-friendly, educational episodes.
14. TED Climate
Genre: Science
Let's face it - we're all trying to do our bit for Mother Earth.
From some of the brightest minds around that bring you the always viral and philosophical TED Talks comes TED Climate. A podcast that packs incredibly useful but sometimes alarming realities about the way we are treating our planet into episodes that are often 10 minutes or less. TED producer Dan Kwartler hosts this sometimes sobering but always hopeful show to show us that while action is most definitely needed if we are to preserve our planet for generations to come, little steps each day can (and do!) make a difference.
15. SmartLess
Genre: Comedy, personal stories
Award-winning actors and all-round funny guys Jason Bateman, Will Arnett and Sean Hayes chat with people from all walks of life to bond over shared experiences in a relaxed and comedic way.
The twist? Each week, one of the hosts has a celebrity special guest that the other two don't know about and meet during the show! Letting interesting topics of conversation take centre stage in this chilled-out and uplifting podcast, the guys have interviewed everyone from Sigourney Weaver to the President of the United States, Joe Biden… high praise indeed!
16. Pop Culture Happy Hour
Genre: TV & film, comedy, literature
Every day, the team at Pop Culture Happy Hour offers you all the gossip on the most talked-about movies, TV shows, books, and games.
Expect up-to-date reviews of red carpet moments, what's trending on Netflix, and if the newest releases at the movies are actually worth going to. While often coverage is about what's new and trending, there are also the occasional in-depth dives on specific movies, TV shows, and award nominees.
17. The Penguin Podcast
Genre: Literature, personal stories
The Penguin Podcast is a fortnightly show that speaks to authors from all genres of literature about what drives them, where their love of writing comes from and how they have overcome the obstacles in their career.
Hosted by Nihal Arthanayake and Isy Suttie, this podcast is for those who want to broaden their horizons with a new author to binge-read, or get a deeper understanding of an author you already love. Past guests have included award-winning author Malorie Blackman and British rock legend Jarvis Cocker.
18. True Crime and Cocktails
Genre: True crime, comedy
For those who want to blend relaxing with discussing true crime and solving mysteries, we have the perfect show for you! Friends Lauren Ash and Christy Oxborrow bring you this weekly podcast that is sure to put you in a crime-solving mood.
The research undertaken for these podcast episodes can put even some of the most investigative sleuths to shame, with podcast episodes that can be up to two hours long.
19. The Kitchen Cabinet
Genre: Food
Brought to you by BBC Radio 4, The Kitchen Cabinet is another podcast for all the food lovers out there.
Host and renowned chef Jay Rayner chats with chefs and nutritionists about interesting approaches that may change the way we see food and how we can change/ improve our diets. Expect to learn interesting facts about the food we eat, and how we can implement small changes to make our sourcing, cooking, and enjoyment of food more exciting.
20. Modern Love
Genre: Relationships, personal stories
A household name in the world of newspaper columns, Modern Love has been the New York Times romance guide for millions every day for 18 years.
Now turned into a TV show, three books, and a podcast, this show gives normal people a glimpse into the love lives of other normal people. From messy breakups and dating disasters to what it can mean to find your 'soulmate', host Anna Martin keeps the listener involved by giving us the audio version of some of the column's stories.
Sign up to our free daily email for the latest royal and entertainment news, interesting opinion, expert advice on styling and beauty trends, and no-nonsense guides to the health and wellness questions you want answered.
Elena is currently a digital intern at woman&home. Having completed her Undergraduate degree in Politics and International Relations at the University of Sussex in 2021, Elena began her career in journalism by completing a course on the media and creative industry with Media Trust, which led to her being commissioned to write for Red Magazine. She loves travel, the arts and culture, and is always looking for ways to make her lifestyle more eco-friendly.