Helena Bonham Carter thinks The Crown should stop being made, here's why...
Helena, who played Princess Margaret in The Crown, has some thoughts about the future of the Netflix series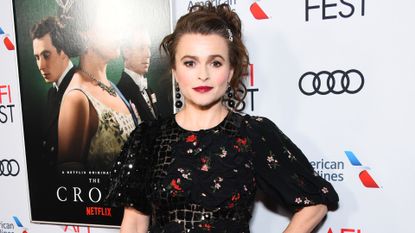 (Image credit: Getty Images)
Helena Bonham Carter, who played Princess Margaret in multiple seasons of Netflix's hit series The Crown, has some thoughts about the future of the series.
The Royals, as we are all well aware, are a huge topic of conversation among people from all over the globe. With the release of Prince Harry new novel Spare, as well as the Harry and Meghan documentary on Netflix, there is seemingly enough material out in the universe for folks to consume if they want a proper fix of Royal Family drama. However, the series that really started the unraveling of historical details about the Royals was Netflix's critically acclaimed drama series, The Crown which had fans asking how true is The Crown over and over again.
Helena Bonham Carter, known for her outrageous roles in films like Sweeney Todd, Edward Scissorhands, and many films from the Harry Potter franchise, also played Princess Margaret, sister to Queen Elizabeth II.
In a recent interview with the Guardian (opens in new tab), she said that, because the series will now begin filming from the perspective of the Royal family in recent and present years, rather than historical events from decades ago, the series should cease to be filmed.
"I don't think they should carry on, actually. I'm in it and I loved my episodes, but it's very different now. When The Crown started it was a historic drama, and now it's crashed into the present," she said reflecting on the series. Ultimately though, she says it's up to the show's creators, including The Crown's writer, Peter Morgan. It is also understood that The Crown won't continue past season 6 - seeing as they really wouldn't have much more material other than what's happening in the present day.
In addition to her thoughts about the continuation of the series, she also gave some context about her feelings toward Prince Harry's new novel. "I don't really want to contribute to the whole thing. It's complicated and it'll get taken out of context. And I think it's been given enough attention," she said. We can't say we blame her.
When Helena was on The Crown, however, she loved the series and her episodes - and recently divulged into the process of getting into character to play Princess Margaret. One of her fun facts about the Queen's sister was that, although she wasn't necessarily insecure about being sister to the Queen, she did find ample insecurity in her height, of all things.
"Well, actually, the real Margaret didn't mind about being number two, but she did mind being really short. She was just 5ft, so there was something in her posture to maximize every little millimeter: she had her car seat elevated so she could be seen," Helena said. Seeing as folks often discuss how accurate The Crown really is, Helena certainly took playing Princess Margaret, who died in 2002, very seriously.
She said that, above all else, Princess Margaret did not want to be overlooked. "A lot of it was the need not to be overlooked, probably prompted by her great-grandmother saying something about the fact that she was tiny. And that scarred her," Helena concluded.
The Crown season five, which is now available to stream on Netflix, largely uncovers the drama surrounding the divorce between Princess Diana and now-King Charles, as well as the death of Diana.
woman&home reached out to fans of the series to get their take on Helena Bonham Carter's recent statement about the filming of the show. Allison Sijgers, tells woman&home that, since she's a younger viewer of the show, she sees events like Will and Kate's wedding as historical in the same way that people in older generations viewed Princess Diana's wedding. She also slightly agreed with Helena, saying that she believes filming should stop before Meghan and Harry are introduced as a couple. "It would be smart for the show to stop before the introduction of Meghan into the family, if only because Harry and Meghan have just offered us such a compelling and intimate view of their side of the story," she said.
Madeline Merinuk is woman&home's US lifestyle news writer. She covers celebrity, entertainment, fashion, and beauty news but is also obsessed with internet trends - you can find her reciting trending TikTok sounds out loud at any given time.
After winning multiple student journalism awards for her investigative work, she graduated from Hofstra University in 2021 with a B.A. in Journalism. After graduating, she worked at today.com, the digital site for the Today Show, where she wrote pop culture news and interviewed big-name personalities like Emily Ratajkowski, Haley Lu Richardson, Emma Corrin, and more.
Her personal interests, in no particular order, are: cheese, Joni Mitchell, reading, hot yoga, traveling, having multiple chapsticks in every handbag at all times, and dancing to ABBA songs as if she were in the Mamma Mia movies.