How accurate is The Crown? We uncover how much of the show is fact, and how much is fiction
Have you ever wondered how accurate is The Crown while binge-watching the hit Netflix series? Here is what you need to know...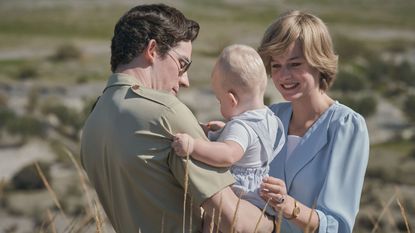 (Image credit: Netflix)
woman&home newsletter
Sign up to our free daily email for the latest royal and entertainment news, interesting opinion, expert advice on styling and beauty trends, and no-nonsense guides to the health and wellness questions you want answered.
Thank you for signing up to Woman & Home. You will receive a verification email shortly.
There was a problem. Please refresh the page and try again.
There's no doubt about it, it's a great show but just how accurate is The Crown? The hit Netflix series draws in millions of viewers all over the world, entranced by the dramatic lives of the British Monarchy. It's time to find out how true The Crown is, as we've unpacked what is really true and what's been dramatized...
Ahead of the fifth season of The Crown fans are wondering how realistic the hugely popular period drama is and are questioning if the tumultuous divorces and deaths that took place in the Royal Family will be covered by the show makers.
Following the introduction of Princess Diana and Margaret Thatcher in the fourth season which aired in 2020, a lot of people questioned how true these storylines were and how much creative license Netlfix was able to take. It's no secret we're big fans of royal news at woman&home, but just where does fact end and fiction begin when it comes to the Netflix show?
While The Crown is a dramatization, the events it portrays are based on some very real people like Penny Knatchbull who's introduced in season 5 and some very real-life events, meaning the show gives a fascinating insight into royal history.
But none of us are likely to have an encyclopedic knowledge of the royal family since the 1950s, so we've all got questions about certain conversations, events, and depictions from The Crown.
So how true is The Crown? Just how accurate are your favorite episodes? We've uncovered the fact from the fiction, from all four seasons, to get to the bottom of how accurate is The Crown, compared to real-life events...
How accurate is The Crown?
So just how accurate is The Crown? We take a look at the different seasons and how much the main storylines remain faithful to the facts.
How much of The Crown season 4 is true?
Although the show is 'true' in that it is based on events that really did happen and the characters are based on real people, the script is a work of fiction, meaning that the conversations had in the show won't be an accurate representation of what actually happened.
Season four of The Crown sees the introduction of Diana, Princess of Wales, played by Emma Corrin. The show covers the early years of Charles and Diana's relationship, as well as their wedding day - including Diana's iconic wedding dress.
The new series has already won widespread acclaim and praise from viewers who are enthralled by the latest installment of the show, but season four has also drawn criticism.
Princess Diana's brother, Earl Spencer spoke out about refusing The Crown's request and his concerns that people will watch the show and believe it is an accurate depiction of exactly what happened in real life - which in defense of his sister's memory he says is unfair. "I think it would help The Crown an enormous amount if, at the beginning of each episode, it stated that: 'This isn't true but it is based around some real events'," Earl Spencer told Lorraine Kelly. "I worry people do think [the show] is gospel, and that's unfair."
Culture Secretary Oliver Dowden also echoed these sentiments, even going so far as to suggest that Netflix should preface the show with a warning or some sort of disclaimer to make it clear that the series is a work of fiction and it not, therefore, 'true'.
The cast has hit back at these criticisms and Netflix has also released a statement about how accurate is The Crown versus what happened in real life. "We have always presented 'The Crown' as a drama – and we have every confidence our members understand it's a work of fiction that's broadly based on historical events," a Netflix spokesperson said in a statement. "As a result we have no plans - and see no need - to add a disclaimer."
The Crown's Emma Corrin, who played Princess Diana , revealed she'd 'probably leave' if she ever met a royal. The actress also emphasized that despite any potential awkwardness, the show was most definitely fictionalized. "I think for everyone in The Crown, we always try and remind everyone that the series we are in is fictionalized, to a great extent. Obviously, it has its roots in reality and in some fact, but Peter Morgan's scripts are works of fiction," she said.
Did Prince Philip really take Diana to hunt deer in Scotland?
In season four we saw Princess Diana being woken up while staying in Balmoral Castle in Scotland to be taken out on a hunting trip with Prince Philip, in which he subsequently shoots a deer to take back to the castle.
We don't really know if this deer stalking event did take place but according to royal butler Grant Harold, speaking to The Daily Record, "If [the Queen] invites you to Balmoral, then you are being invited to spend time with the royal family in a personal setting. You are going to be out on the hills with the Queen or other members of the Royal Family, perhaps fishing, hunting or doing other country pursuits." So perhaps this scene did actually take place in real life!
Did Charles nearly die in an avalanche?
In episode nine of the fourth series of The Crown we see King Charles, then called Prince Charles, on a skiing trip in the Swiss Alps, which subsequently ends in disaster as one of his close friends Major Hugh Lindsay, tragically dies after being caught in an avalanche. The Prince himself escapes unharmed but did this really happen?
It turns out it is true, according to reports from The Times, a helicopter pilot who attended the emergency said Charles was "within feet of death when the avalanche struck."
While this depiction of King Charles in The Crown was accurate, there are many storylines in the show that have been exaggerated for the sake of the narrative.
Did Charles meet Diana while she was dressed as a tree?
In The Crown, Charles is introduced to a 14-year-old Diana, while he is courting Sarah Spencer, Lady Di's older sister. The Prince meets Diana while she is dressed as a 'Mad Tree' for her school's production of A Midsummer's Night Dream. Their encounter is brief and soon after chatting the young Lady Spencer sneaks creeps away and tells Charles to keep their meeting private.
In real life the encounter was not quite like this. It is true that Charles met Diana when she was just 14 and he was 26, and he did know Diana through her older sister, but the costume and 'Mad Tree' element was sadly a fictionalized part of the show. Perhaps this was to make their first encounter more exciting, or to demonstrate Diana's age when she first met the Prince.
Princess Diana's portrayal on The Crown is also not entirely accurate, and there are many elements that were fabricated for the show.
Did Charles receive a letter from Lord Mountbatten confronting him with his romantic involvement with Camilla?
In the very first episode of season 4, Lord Mountbatten confronts Prince Charles and tells him off for his romantic involvement with Camilla, who was married to Andrew Parker Bowles at the time. In the scene, Lord Mountbatten also writes a letter telling Charles to marry 'some sweet and innocent well-tempered girl with no past'.
Speaking about the decision to fabricate this scene, Peter Morgan, the creator of the show, explained in a Podcast, "I made up in my head – whether it's right or wrong – what we know is that Mountbatten was really responsible for taking Charles to one side at precisely this point and saying, 'Look, you know, enough already with playing the field. It's time you got married and it's time you provided an heir',"
"I think everything that's in the letter that Mountbatten writes to Charles is what I really believe – you know, based on everything I've read and people I've spoken to, that that represents his view," said Peter. "We will never know if it was put into a letter, and we will never know if Charles got that letter before or after Mountbatten's death but in this particular drama, this is how I decided to deal with it."
How much of The Crown season 3 is true?
The third series of The Crown follows the royal family into the 1960s and 70s, with Olivia Colman playing Queen Elizabeth and Tobias Menzies portraying Prince Philip.
Was Princess Margaret and Lord Antony Armstrong-Jones' tour of the US really as wild as it was portrayed?
In the second episode of season three, we're in 1965, and focusing on Princess Margaret and her husband Antony Armstrong's tour of the US.
What we do know is that the Lord and Countess of Snowdon enjoyed a glitzy, star-studded few weeks during their America trip. The royal couple really did rub shoulders with the toast of Hollywood - such as Julie Andrews, Alfred Hitchcock, Elizabeth Taylor, Grace Kelly, and Judy Garland - although we don't see this in much detail in the show.
But then there was their infamous night at the White House, in Washington, D.C. In The Crown, it's portrayed as a wild night. And while it's not clear whether Margaret and Antony actually took part in drinking games, and were as outspoken as the show suggests, it does appear to have been a rather raucous evening in real-life!
At the time, the New York Times reported that "the party lasted longer than most White House affairs. Margaret and her husband did not leave until 1:35 this morning." So while it might not have been quite as nuts as the show suggests, it was certainly a lot less tame than most other royal events, particularly those attended by Queen Elizabeth II.
What is the true story of the Aberfan disaster?
In the third season, The Crown covers the Aberfan disaster - the collapse of a colliery mining tip in the South Wales coal mining village, which took place in 1966. The colliery created an avalanche, that fell down onto the local village - tragically killing 144 people, many of them children from the local school, which was directly in the line of the landslide.
It seems that the depiction of the monarchy's relation to the devastating tragedy is somewhat debatable in the show. In the episode, the Queen is seen dismissing the idea that she should pay a visit to Aberfan immediately after the tragedy, saying, "We don't do disasters sites, we do hospitals". Other members of the family do go though - Prince Philip and her brother-in-law, Lord Snowdon.
In the programme, she eventually visits Aberfan eight days after the disaster (which is true), but comes across as unemotional about the entire thing. However, at the end of the episode, viewers see her shedding a tear, when she listens to a hymn sung by mourners at a burial service.
Of course, pictures of the day show the Queen looking incredibly sombre during her visit to Aberfan. But as with much of the royal family's private feelings, there won't ever be any way of knowing how the monarch really felt at the time.
Did the Royal Family really film a documentary about themselves?
This is totally factual. The Queen, Philip and their children had their day-to-day lives filmed long before reality television was a thing. The monarchy commissioned the documentary, and they were filmed for a huge 75 days, in over 170 locations. It covered lots of different events in the family's lives, including normal things like eating dinner together, to the not-so-ordinary - like the Queen meeting world leaders.
Did Princess Margaret really go to her father's private secretary and ask to take her sister's place as Queen?
According to royal author Robert Lacey, this is not true. He told People, "It was imagined. But it stems from an implicit situation and tension between the two princesses. There was very little sense of Margaret being brought up as her sister's deputy, which she was until Charles was born."
"There were definitely times as Margaret came of age when her parents just pushed her away from any thought of serious responsibility. In the end, in as much as Margaret became a successful partner to her sister, it was in areas like the arts, and ballet and opera - which accorded with her natural tastes."
He added, "When it came to Elizabeth and Margaret, the Queen's pain about Margaret was always subdued. I'm not aware of her confiding to friends any negative remarks about Margaret. It was always couched in terms of 'what shall we do about Margaret?' And Margaret kept a supportive public stance of great loyalty to her sister. It is partly to do with the fact that the Queen Mother lived on."
Was Prince Charles sent on a naval excursion to get him away from Camilla?
It's suggested in The Crown season 3 that Louis Mountbatten used his Naval connections to get Charles sent away to get him away from Camilla. Charles did indeed go away to sea, with royal Author Robert Lacey explaining, "It's not impossible that Mountbatten used his naval connections to get Charles sent away to sea for a long time."
He added, "Now, it seems quite normal for Prince William to marry someone who is not noble, and the same is true, of course, with Prince Harry, but in those days, it was still expected that Prince Charles, the future king, would marry – and he did marry – the approved candidate."
"She was Lady Diana Spencer, an earl's daughter. She wasn't considered grand enough by some people who thought Charles should marry a foreign princess. But Camilla wasn't royal in any way. And she also had this quite racy – the word was "spicy" – reputation. You didn't want a past that hung about. And she was a subject. Nobody married a subject."
Did Queen Elizabeth's uncle, the Duke of Windsor, apologise for abdicating on his deathbed?
One scene shows Queen Elizabeth making a last-minute visit to see her uncle - who abdicated the throne to be with his American lover, Wallis Simpson - as he was close to death in Paris. During the exchange, he apologized for giving up the crown and gave Queen Elizabeth a stack of letters from Prince Charles, opening up about his love for Camilla.
In an excerpt of Hugo Vicker's new book published in The Times, the historian says that the Queen did see her uncle in 1972, 10 days before he died, but that the visit was planned and that there was no apology. The letters from Charles were also apparently a fabrication and didn't exist.
Was Prime Minister Harold Wilson a Russian spy?
Wilson was indeed a suspect of MI5 for his ties to Eastern Europe. Historian Christopher Andrew revealed to the Washington Post that there was a hidden file kept on the former Prime Minister.
In his 2009 book "The Defence of the Realm: an authorised history of MI5" Andrew claimed the information agency kept a file on the prime minister throughout his two terms, making him "the only serving Prime Minister to have a permanent Security Service file." The Queen however, is thought to have had good feelings toward the Prime Minister and their regular meetings were rumored to have gone over hours.
Was there a KGB mole in Buckingham Palace?
This scandal which features in season 3 is very much true. Sir Anthony Blunt, the Queen's surveyor of art and a member of the Cambridge Five British spy ring, was turned by the Soviets in the 1930s before working for MI5 in World War II. After American authorities tipped off MI5 about the spy in 1964, Sir Anthony continued to work under the Queen as an art historian, in order to save The Firm and the information agency from embarrassment.
The news was even kept a secret from then Prime Minister Alec Douglas-Home, until Margaret Thatcher outed Anthony in the House of Commons in November 1979. He eventually went on to hold press conferences where he admitted his double-crossing.
Did the Queen have an affair with her horse racing manager?
Season 3 of The Crown implies that a romance blossomed between Queen Elizabeth and Lord Porchester during their trips to France and America to visit racing stables.
However, royal author Hugo Vickers says that there was no affair between the two and that actually, they were never away together for very long. In fact, many of her equestrian-related trips were accompanied by Lady Porchester, whose brother lived in Kentucky, or Prince Philip.
Did Princess Margaret's affair with a younger man lead to her divorce?
This storyline seems to be true also. Princess Margaret escaped to the island of Mustique, where she embarked on a romance with Roddy Llewellyn, a gardener-turned-unsuccessful pop star who was 17 years her junior. The pair had first met in 1973 at the country home of Colin Tennant, whose wife was a good friend and longtime lady-in-waiting to Princess Margaret
A private photo of the couple swimming in the pool - which we saw in The Crown - was leaked and edited to look as though they were alone. This led to mounting issues with her husband, Lord Snowdon. In 1978, after almost 20 years of marriage, they announced their divorce.
How much of The Crown season 2 is true?
Season two covers the period between 1956 and 1964. Claire Foy and Matt Smith continue to portray the Queen and Prince Philip in the earlier part of their lives.
What is the truth about Philip being made a Prince of the United Kingdom?
In season two, we see plenty of suggestions of unhappiness in the Queen and Philip's marriage - including his unrest at being second to his wife, his suggested infidelity, and his being uncertain of his public role and place in the Royal Family. The problems culminated in episode three of season two, when the monarch and her husband argue as he returns from his royal tour of Australia.
In the episode, Philip angrily tells the Queen that he is unhappy, and resents being outranked by his son, Prince Charles. At the end of the episode, we see the Queen making her husband a Prince of the United Kingdom. Previously, he had only been the Duke of Edinburgh, after renouncing his Greek and Danish royal titles after marrying Elizabeth.
And of course, there is some truth to the episode. Philip was made a Prince, in real life, in 1957, with the palace issuing the following statement, according to Town & Country, "The Queen has been pleased to declare her will and pleasure that His Royal Highness the Duke of Edinburgh shall henceforth be known as His Royal Highness The Prince Philip, Duke of Edinburgh."
But obviously, what is not known are the reasons why the title came about, and whether it really did come as a result of Philip's unhappiness about his position within the family. Here, it's safe to assume that The Crown took a fair amount of dramatic license.
Did Prince Philip make Prince Charles go to his old school in Scotland - and did he really hate it?
This appears to be true. The Duke of Edinburgh attended Gordonstoun independent school in Moray, Scotland, when he was a boy, and Prince Charles later followed in his footsteps. In The Crown, we see the Duke put his foot down about sending his eldest child to the same school that he went to, despite Queen Elizabeth's protestations that he attend Eton College instead.
And it seems there is a lot of truth in Charles' reaction to the school. In the episode, he is seen as miserable - bullied by other classmates and struggling with the tough schedule at the school. Recent reports have suggested that Charles really did dislike the school, calling it 'Colditz in kilts'. He also sent his own sons to Eton rather than Gordonstoun, thus ending the school tradition his father enforced.
However, according to The Telegraph, in speeches from Charles himself, he seems to praise the virtues of the school and the education it gave him. At the House of Lords, in 1975, he said, "I am always astonished by the amount of rot talked about Gordonstoun and the careless use of ancient cliches used to describe it."
"It was only tough in the sense that it demanded more of you as an individual than most other schools did - mentally or physically. I am lucky in that I believe it taught me a great deal about myself and my own abilities and disabilities," concluded the King.
And then, in a later interview with the Observer, Charles admitted he was "glad" to have gone to the school. He said, "[It was]...an education which tried to balance the physical and mental with the emphasis on self-reliance to develop a rounded human being. I didn't enjoy school as much as I might have, but that was only because I'm happier at home than anywhere else."
Was the Duke of Windsor - the former King - really a Nazi sympathiser?
In season two, the former King, Edward, is portrayed as a Nazi sympathizer, appearing to show his support for Adolf Hilter. It's even suggested that he once visited a Nazi concentration camp.
But the real-life Duke of Windsor's attitude towards the Nazis remains foggy. It's true that he and his wife Wallis Simpson did visit the former German leader in 1937, and reportedly the Duke gave him full Nazi salutes during the visit.
Royal biographer Andrew Morton also wrote in his book, 17 Carnations: The Royals, the Nazis and the Biggest Cover-Up in History, that he was sympathetic to the regime. He said, "[Edward] was certainly sympathetic...even after the war he thought Hitler was a good fellow and that he'd done a good job in Germany, and he was also anti-Semitic, before, during and after the war." It's widely thought that the rest of the royal family did not support the Duke here - as is shown in The Crown.
There are also historical suggestions that the Nazis did indeed have a plan to overthrow the monarchy and reinstate the Duke of Windsor as King, but of course, this never happened.
How much of The Crown season 1 is true?
The first season of The Crown follows the life and reign of Queen Elizabeth II. This series also features Claire Foy and Matt Smith as Queen Elizabeth II and Duke of Edinburgh.
Did cameras really catch the Queen and Prince Philip in the middle of an argument during their Commonwealth royal tour?
Yes - this is actually widely thought to be an accurate scene from season one of the series. Of course, normally, the royal couple are the picture of composed elegance. But during their royal tour of the Commonwealth in 1954, the Queen and Philip were spotted in the middle a rather explosive argument.
Just like in the show, camera crews were setting up outside the couple's chalet in Australia, when they witnessed the Duke of Edinburgh storming out of the door, with the Queen following behind him shouting and visibly angry.
Reportedly, just as on The Crown, the monarch emerged a few minutes later and politely said, "I'm sorry for that little interlude but, as you know, it happens in every marriage. Now, what would you like me to do?". Then, apparently, the royal press secretary at the time, Richard Colville, also approached the film crew, who were quick to hand over the footage to the royals.
It was subsequently destroyed, and her never been seen publically. So while the spat can't be proven with evidence, it seems highly likely to have happened.
What is the truth behind the Queen's refusal to allow Princess Margaret to marry Peter Townsend?
Sadly, one of the most heartbreaking storylines in season one of The Crown appears to be achingly true to life. When a 22-year-old Margaret told her sister of her decision to marry their late father's former equerry, Peter Townsend, it made for a tough decision, to say the least.
Just as in The Crown, the Queen was divided by the opinion of the Church and government, who were against the union of a former divorcee and senior member of the royal family, and fulfilling her own sister's wishes.
Of course, we'll likely never know the private discussions the sister had on the subject - something which The Crown shines an interesting light on. But history books (National Archives papers released in 2004), reveal that the monarch and the Prime Minister at the time, Sir Anthony Eden, eventually put together a plan in which Margaret could marry Peter, but that they and any children they may have would be removed from the line of succession.
However, Margaret would have been able to keep her royal title and all privileges associated with it, and could continue with royal duties. In The Crown, we simply see the monarch eventually refusing her sister permission to marry Peter, lest she be expelled from the family.
History states that Margaret decided not to marry Peter eventually - for reasons which we'll likely never know. So of course, the subtext behind this decision will likely always be unknown to us...
One point at which The Crown certainly separates from history is with the official statement made at the time. The show sees Peter make the statement on behalf of himself and the Princess. In reality, it was Princess Margaret who issued the statement.
It read, "I would like it to be known that I have decided not to marry Group Captain Peter Townsend. I have been aware that, subject to my renouncing my rights of succession, it might have been possible for me to contract a civil marriage. But mindful of the Church's teachings that Christian marriage is indissoluble, and conscious of my duty to the Commonwealth, I have resolved to put these considerations before others. I have reached this decision entirely alone, and in doing so I have been strengthened by the unfailing support and devotion of Group Captain Townsend."
What was the Great Smog of London - and how accurately is it depicted in The Crown?
Early on in season one, there is an entire episode dedicated to the Great Smog of London, a severe air-pollution event that hit the city for four days in December 1952.
The smog lingered from December 5 to December 9, and pulled the capital to a standstill - as is shown in the series. Public transport ceased, and many vital emergency services also stopped working, including ambulances. As the show portrays, people struggled to see the hand in front of their face, and life essentially stopped.
What appears to be slightly exaggerated in The Crown is the panic and hysteria at the time. While the Radio Times reports that there was a slightly increase in crime at the time - including over 100 smash and grab raids, reportedly, there was little panic about the smog, given that fog in general was so common in London at the time. The Crown, however, depicts a panicked mania, that, it seems, didn't happen.
But the disaster did cause plenty of deaths. Official figures at the time reported that 4,000 lost their lives due to the fog, but recent reports suggest that number might be closer to 12,000. Reportedly, most deaths were caused by respiratory conditions being made much worse, in young people and in the elderly.
Sign up to our free daily email for the latest royal and entertainment news, interesting opinion, expert advice on styling and beauty trends, and no-nonsense guides to the health and wellness questions you want answered.
Amy Hunt is an experienced digital journalist specialising in homes, interiors and hobbies. She began her career working as the features assistant at woman&home magazine, before moving over to the digital side of the brand where she eventually became the Lifestyle Editor up until January 2022. Amy won the Digital Journalist of the Year award at the AOP Awards in 2019 for her work on womanandhome.com.