Who is Penny Knatchbull, Countess Mountbatten of Burma amid The Crown season 5 Prince Philip storyline?
Penny Knatchbull and the late Duke of Edinburgh had a close friendship and now she's a major character in The Crown season 5...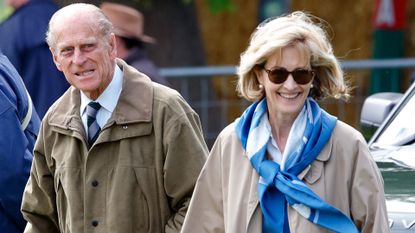 (Image credit: Photo by Max Mumby/Indigo/Getty Images)
Penny Knatchbull, Countess Mountbatten of Burma was close to Prince Philip and she's now made her debut appearance in The Crown season 5.
Last year it was announced that The Crown cast Natascha McElhone as Penny Knatchbull in Netflix's hit historical drama, meaning that the newly-released The Crown season 5 will see the late Duke of Edinburgh's friend step on to the royal stage. The Countess first met Prince Philip back in the 1970s and their bond endured until his sad passing at Windsor Castle in 2021. She remained part of the royal inner circle and joined the late Queen at the Royal Windsor Horse Show this year.
Though The Crown season 5 trailer didn't show us a glimpse of Natasha as Penny Knatchbull, fans are set to be introduced to her in a major way.
In recent weeks reports have alleged that the Netflix drama could include scenes that suggest their relationship strayed into the realm of romance. Whilst this remains to be seen for those who haven't yet binge-watched their way through the latest series, there's so much to be explored when it comes to the Countess.
Here we reveal who Penny Knatchbull is, what we know about her friendship with Prince Philip and what remains pure speculation.
Who is Penny Knatchbull?
Penny Knatchbull was born Penelope Meredith Mary Eastwood in 1953 and is the only daughter of the late Marian and Reginald Eastwood, who went on to found the popular Angus Steakhouse restaurant chain. She had a younger brother, Peter, and is understood to have met the late Prince Philip when she was 20 years old and the royal was 52.
At the time she had been dating Norton Knatchbull, now 3rd Earl Mountbatten of Burma, who had been a school friend of the now-King Charles III during their time at Scottish boarding school, Gordonstoun.
The Duke of Edinburgh was Norton's godfather and he was the son of his first cousin. He attended Norton and Penny's wedding at Romsey Abbey in 1979, though the nuptials had been postponed for several months as the family and Prince Philip grieved the loss of Lord Mountbatten.
Fans of The Crown saw this tragedy depicted in season 4 when Lord Mountbatten, Lady Brabourne and Norton's brother Nicholas were killed in an IRA bombing.
At the wedding King Charles was best man to Norton Knatchbull, then known as Lord Romsey, and the newlyweds inherited the Mountbattens' Broadlands estate in Hampshire where the Queen and Prince Philip had spent their honeymoon. Over the years Penny and Prince Philip formed a close friendship and supported each other throughout some of the most challenging times.
She and her husband Norton went on to have three children together: Nicholas Knatchbull, Lord Brabourne, Lady Alexandra Hooper and the late The Honorable Leonora Knatchbull. Norton and Penny's marriage reportedly broke down in 2010 when the Earl left his wife for a Bahamas-based fashion designer.
In his absence, Penny continued to manage the immense Broadlands estate and Prince Philip is said to have been a huge source of support with his own knowledge of estate management. In 2014 Norton returned to the UK and moved into a converted barn on the Broadlands estate, though reports have since claimed he's moved back into the main house.
Is Penny Knatchbull related to Prince Philip?
Whilst Penny Knatchbull's title - Countess Mountbatten of Burma - might suggest that she could be related to Prince Philip, the two aren't actually related by blood. For those wondering where the surname Mountbatten comes from, the late Duke of Edinburgh chose to use his grandparents' surname Mountbatten when he became a British subject and married the Queen.
Penny Knatchbull's husband, Norton Knatchbull is 3rd Earl Mountbatten of Burma and she is Countess Mountbatten of Burma by marriage and has also been known as Lady Brabourne and Lady Romsey when her husband was Lord Brabourne and Lord Romsey respectively.
Norton is the grandson of Lord Louis Mountbatten, who was the uncle of Prince Philip, making the two first cousins once removed. Prince Philip was also his godfather and attended his christening in 1947. So whilst Penny Knatchbull isn't related by blood to the late Duke of Edinburgh, her husband is and so she's related by marriage to him.
What we actually know about Prince Philip and Penny Knatchbull
Prince Philip and Penny Knatchbull were friends throughout the Duke of Edinburgh's life and Penny shared his passion for outdoor pursuits and horses. She was pictured attending the Royal Windsor Horse Show with him several times over the years and it was in the 1990s that Penny and Prince Philip's bond is understood to have become incredibly close.
A lover of carriage driving, it's said that the Duke of Edinburgh taught Penny his favorite hobby and he's also credited with helping her at one of the most difficult times of her life. In 1991, Penny's daughter Leonora passed away aged five of kidney cancer and it's understood that Prince Philip and the Queen supported Penny immensely.
The Sun (opens in new tab) reports that a source has previously claimed, "He was a tremendous support during a time of unimaginable grief."
Their friendship continued well into the later years of the Duke of Edinburgh's life and it's said that she came to be dubbed "and also" by courtiers as no royal guest list was ever fully complete without her. When Prince Philip retired from public duties in 2017 and spent the majority of his time at Wood Farm at Sandringham, Penny is understood to have been one of his visitors.
"They were brought together by tragedy but were there for each other through thick and thin. He trusted her implicitly and she adored him. She never betrayed him. She was a keeper not only of his secrets but those of the family," claimed royal expert Ingrid Seward, author of Prince Philip Revealed: A Man Of His Century, to The Sun.
Ingrid also opened up more recently to The Sun (opens in new tab) about Penny Knatchbull and Prince Philip's bond, expressing her belief that after Norton left the family home, the pair's bond grew "closer". She even suggested that Prince Philip liked to discuss deeply personal matters with his friend.
"Running royal properties was something Philip knew full well and having bonded with her over horses and carriage driving, their friendship blossomed further," she wrote. "While driving around sprawling country estates, Philip liked to discuss religion and other deep, worldly matters. "
The royal expert added, "I'm sure Penny, who was educated in Switzerland and the London School of Economics, would have indulged his curious mind."
The Duke of Edinburgh passed away at Windsor Castle in April 2021, a few months before what would've been his milestone 100th birthday. With Covid-19 restrictions still in place at the time, the guest list for Prince Philip's funeral was limited to just 30 people. Alongside his and the Queen's children and grandchildren were members of the extended Royal Family and Penny Knatchbull. She attended the funeral at St George's Chapel and is also said to have been a close friend to the Queen.
Earlier this year ahead of the Queen's Platinum Jubilee weekend, Penny joined her and Prince Edward to watch the Royal Windsor Horse show as she'd done plenty of times before. Following the Queen's death at Balmoral in September 2022, Countess Mountbatten of Burma was observed paying her respects to Her Majesty at her State Funeral and Committal Service.
What's rumored about Prince Philip and Penny Knatchbull's relationship
Whilst their long-time friendship is well-known, over the years speculation has continued to persist over the exact nature of Prince Philip and Penny Knatchbull's relationship. Despite the rumors, however, no affair between Prince Philip and Penny has ever been confirmed and the late Duke of Edinburgh actually strenuously denied the rumors of infidelity.
As reported by the Daily Mail (opens in new tab), Prince Philip previously responded to a journalist's questions regarding alleged infidelity by saying, "Have you ever stopped to think that, for the last 40 years, I have never moved anywhere without a policeman accompanying me? So how the h*** could I get away with anything like that?"
Though if recent reports are to be believed, The Crown season 5 will be exploring the rumors of romance between Penny Knatchbull and the Queen's husband. Whilst it's already been said that The Crown season 5 could be "painful" for the Royal Family given its focus on the end of the then-Prince Charles and Princess Diana's relationship, according to The Sun (opens in new tab), the show will also allegedly see their fictionalized Prince Philip "pursuing an affair" with Penny.
They claimed that scenes will show Prince Philip confiding in Penny about his marriage and touching hands with her. But Ingrid Seward shared her belief that this would be a confidence too far for the Duke of Edinburgh, writing that he would never have touched on these topics with the Countess.
"Philip would have been her confidante during those dark times but I highly doubt he would ever have discussed his own marriage with her – or anyone," she declared.
The royal expert also speculated about the possible spark for this supposed Netflix storyline idea. According to Ingrid, "Penny was described as a "plummy voiced woman" in a secret phone recording between her, her husband and Philip in 1996, which fired up the rumour mill and I suspect this is what Netflix will look to portray."
Remarking upon what she thinks the Queen thought of Prince Philip and Penny's friendship, Ingrid said that she was "certain" that Her Majesty "approved".
"Ultimately, I'm certain the late Queen would have approved of their friendship. She never minded her husband being around pretty women," she wrote. "I don't believe she had a jealous bone in her body. She trusted him and wanted him to be entertained while she fulfilled her pledge to devote her life to public service."
"Questions may be raised about Philip's other female 'friendships', but I'm certain nothing would have happened with Penny," Ingrid added. "She was a regular guest at the Queen's events and at one point served as a monitor on the world for the Royal Family to understand important issues to the public."
Instead, she described Penny Knatchbull and Prince Philip's relationship as "somewhat symbiotic" and that he was "almost a grandfather figure".
Although the exact content of The Crown season 5 hasn't been confirmed, this rumored affair storyline has also been condemned by Her Majesty's former press secretary Dickie Arbiter.
He's said to have told The Sun, "Coming just weeks after the nation laid Her Majesty to rest next to Prince Philip, this is very distasteful and, quite frankly, cruel rubbish. The truth is that Penny was a long-time friend of the whole family."
Following the release of The Crown season 4, Netflix previously made it very clear in a statement that it is "broadly based" and not directly depicting historical events.
"We have always presented The Crown as a drama and we have every confidence our members understand it's a work of fiction that's broadly based on historical events," they stated.
Whilst The Crown season 5's Jonathan Pryce, who plays Prince Philip, is reported as saying that since it was a "very real, strong friendship" between the Duke and Penny, "it's a very good thing" that people will know more about "his emotional life."
"If people only read the attention-grabbing headlines, they're not going to get the whole picture. You've just got to watch it, and all will be revealed. It's not what people think it is," he said, perhaps suggesting an affair won't be shown after all.
Whether or not The Crown season 5 does go on to suggest an alleged romantic relationship between the late Prince Philip and Penny Knatchbull remains to be seen. Though what is known is that their friendship was a strong and supportive one that endured for many years.
The Crown season 5 is now available to watch on Netflix.