Who are Queen Elizabeth's children and where do they fall in the line of succession?
Meet Queen Elizabeth's children, Prince Charles, Princess Anne, Prince Andrew and Prince Edward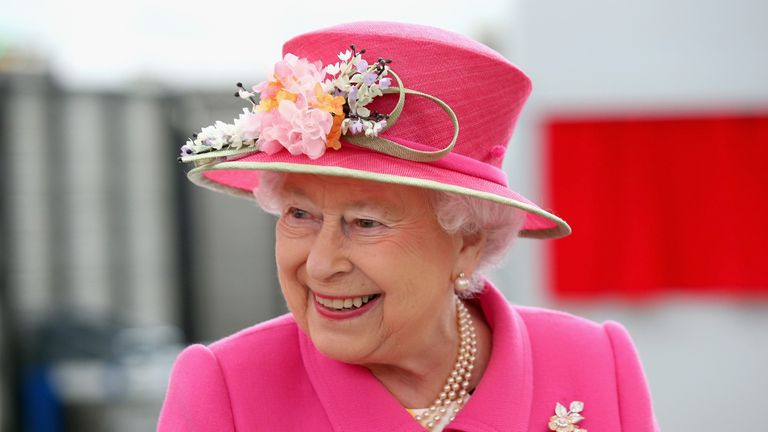 (Image credit: Photo by Chris Jackson - WPA Pool/Getty Images)
Queen Elizabeth II and Prince Philip had four children throughout their 73 happy years of marriage, but who are they and what are their titles?
---
Queen Elizabeth II is the longest-reigning monarch in British history and after first meeting Prince Philip in the sweetest way back in 1939, the royal couple was married for 73 years and were devoted parents to four children. The Queen and her family were left devastated when Prince Philip passed away at Windsor Castle on 9 April. 
The Queen has since celebrated her momentous 95th birthday whilst in royal mourning for her beloved husband. She released a special message of thanks for the "support and kindness" she and the Royal Family have received since the Duke of Edinburgh's death. 
Meanwhile, the couple's children visited their mother at Windsor Castle at this difficult time and will no doubt have been a great comfort to her. All four of them walked behind Prince Philip's coffin on the day of his moving funeral and were amongst the 30 guests who attended the service. It's clear Queen Elizabeth shares a close bond with her children, who have helped her through such a difficult time. 
Who are Queen Elizabeth's children?
The Queen has three sons, Prince Charles, Prince Andrew, and Prince Edward, as well as one daughter, Princess Anne. Despite being born third in line to the throne, Princess Anne is 15th in line for the throne, which is lower down in the royal line of succession than you may realize. 
The 95-year-old monarch gave birth to her and Prince Philip's eldest child, Prince Charles—the heir to the throne—on 14 November 1948. 
Prince Charles is first in line to the throne, followed by his son, Prince William, the current Duke of Cambridge. Prince Andrew is 10th in line to the throne, just ahead of younger brother Prince Edward, who is 11th in line. 
Prince Edward, the Duke of Wessex, jumps the line ahead of his sister, Princess Anne, due to an old (and now revised) royal rule that puts male ascendancy ahead of female ascendancy. 
Two years after welcoming Charles, the Queen gave birth to Princess Anne on 15 August 1950. Charles and Anne are very close together in terms of age, while there is a larger gap between them and their younger brothers. 
Queen Elizabeth gave birth to her and Philip's third child, Prince Andrew, ten years later on 19 February 1960. Four years later, their youngest child, Prince Edward, was born on 10 March 1964. 
How old are Queen Elizabeth's children?
At 72 years old, Prince Charles is the eldest of the Queen's children. He is married to Camilla, Duchess of Cornwall, and splits his time between his London residence, Clarence House, and Highgrove House in Gloucestershire. 
Next is Princess Anne—the second oldest child at 70 years of age. Princess Anne was married to Mark Phillips, with whom she shares two children, for 19 years, before the couple divorced in 1992. 
She is now married to Sir Timothy Laurence and the couple lives on the Gatcombe Park Estate in Gloucestershire. 
The third of Queen Elizabeth's children, Prince Andrew, is 61 years old. He was famously married to Sarah Ferguson, before the couple divorced in 1996. Despite their separation, they are reportedly still close friends and both live at Royal Lodge in Windsor. 
The youngest of Queen Elizabeth's children, Prince Edward, is 57 years old. He is married to Sophie, Countess of Wessex, and lives at Bagshot Park in Surrey with their two children. 
What are Queen Elizabeth's children's royal titles?
All of Queen Elizabeth's children have official titles as children of the monarch. Queen Elizabeth announced her intention to make Charles Prince of Wales in 1958, when he was just nine years old. It was a title previously held by Edward II, the son of England's King Edward I.
The official ceremony happened in 1969 at Caernarfon Castle in Wales. Since that day, Charles has taken the position seriously, working tirelessly to educate himself about his Welsh neighbors. He even purchased a country home in Llwynwermod, Wales, and undertakes a week-long tour of Wales every year. 
Princess Anne was given the slightly more generic title of Princess Royal, a title customarily (but not automatically) awarded to the eldest daughter of a British monarch. It is purely honorary. 
Prince Andrew is known as the Duke of York, a title he received from the Queen on his wedding day in 1986. 
Prince Edward is the only son of Queen Elizabeth to be an Earl. He is referred to as the Earl of Wessex and was granted the additional title of Earl of Forfar for use in Scotland on his 55th birthday in 2019.
It has been widely reported that, following Prince Philip's death last April, Prince Edward will become Duke of Edinburgh in the future. 
What are Queen Elizabeth II children's last names?
The Queen and Prince Philip had to make a tricky decision when it came to which royal surname they would pass down to their children.
The Queen's surname, Windsor, was established in 1917 as the official last name of the Royal Family. Prince Philip was originally born Prince Philip of Greece and Denmark before his family was exiled from Greece when he was just a young boy. 
When he married Elizabeth, Philip was forced to adopt a new surname as part of his British citizenship. He chose Mountbatten, which was his grandparent's last name.
Queen Elizabeth was pressured not to take Philip's last name and in 1952 declared their descendants would go by Windsor. 
This break from patriarchal tradition didn't go down too well with the Duke of Edinburgh. Prince Philip was reportedly disgruntled by his wife's decision, complaining that he was "the only man in the country not allowed to give his name to his own children".
Eight years later the couple compromised and the surname Mountbatten-Windsor was born. Prince Harry and Meghan Markle's daughter Lilibet is the latest royal family member to take the surname. 
Georgia studied Print Journalism at university in Nottingham, England before going on to work on several leading celebrity magazines, as well as freelance writing for international magazine Grazia Middle East. An enthusiastic, hard-working and ambitious writer, Georgia recently launched her own communications consultancy, farq media. As Director and Founder, Georgia helps businesses with their Public Relations strategy, as well as influencer and celebrity marketing. She also represents several influencers of her own. She lives with this motto in mind; "if your dreams don't scare you, they aren't big enough."