Who are Queen Elizabeth's children, where do they live and where are they in the line of succession?
Queen Elizabeth's four children each have prestigious titles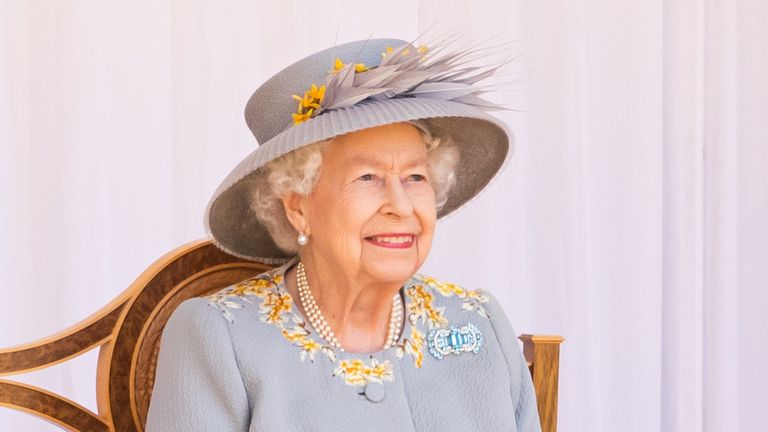 (Image credit: Photo by Pool/Samir Hussein/WireImage via Getty)
Queen Elizabeth's children have been observed taking more prominent roles in royal life in recent months as they supported her following the sad passing of Prince Philip. But how many children does she have, who are they and where do they live?
Queen Elizabeth II has four children, eight grandchildren, and eleven great-grandchildren.
Prince Charles, Princess Anne, Prince Andrew, and Prince Edward have all been supporting Her Majesty since their father Prince Philip passed away in April.
---
Queen Elizabeth II is the longest-reigning monarch in British history and was left devastated earlier this year when the Duke of Edinburgh passed away at Windsor Castle. Once described as her "strength and stay", the Queen and Prince Philip were married for 73 years and had four children together. The devoted parents were known to have a close bond with their children, with all of them understood to have visited their mother as she supported her at this difficult time.
Now the Queen has settled in Scotland for her first solo trip to Balmoral since Prince Philip's death. Her Majesty traditionally invites her children, grandchildren and great-grandchildren to visit over the annual vacation. It is thought to be a time where the Queen can relax and enjoy family life and she's known to prefer dressing more low-key, leading to her hilarious response one year after tourists failed to recognize her.
This year she will likely be looking forward to seeing her nearest and dearest and whilst it's not yet known whether any of her four children will make the trip to Balmoral Castle, they have each visited in years past.
How many children does Queen Elizabeth have and who are they?
Prince Charles
Prince Charles is the eldest of Queen Elizabeth's four children and the first of her three sons. The 95-year-old monarch welcomed Prince Charles on November 14, 1948 in none other than Buckingham Palace. At the time of his birth, Her Majesty was still Princess Elizabeth and she ascended to the throne when Charles was three.
At this time, Prince Charles, as the eldest son of the Sovereign, became heir apparent. He was also the first royal child to watch his mother be crowned monarch and attended Queen Elizabeth II's coronation at Westminster Abbey in 1953. Today the Prince of Wales remains first in the royal line of succession, followed by his eldest son, Prince William, Duke of Cambridge.
On 29 July 1981, Prince Charles married Lady Diana Spencer in St Paul's Cathedral and the couple went on to have two sons, Prince William and Prince Harry. They sadly went on to divorce in 1996 and Princess Diana tragically passed away a year later in Paris.
The Prince of Wales later went on to marry Camilla Parker-Bowles, now Duchess of Cornwall, in a private ceremony back in 2005 in Windsor. The beautiful service was followed by a reception at Windsor Castle hosted by the Queen.
Today Prince Charles and Duchess Camilla split their time between their primary London residence, Clarence House, and their countryside home, Highgrove House, in Gloucestershire. Though these are not the only properties they own, as the couple spent much of last year at their Scottish residence, Birkhall.
Whilst Prince Charles also owns a stunning converted farmhouse in Wales where he reportedly headed to grieve Prince Philip in private after his funeral.
---
Princess Anne
The only daughter amongst Queen Elizabeth's children, Princess Anne was born on August 15 1950. Despite being born third in line to the throne, Princess Anne is now 16th in line for the throne, far lower down than some royal fans might have expected. She and her brother Prince Charles are very close together in age and are understood to have a close relationship.
The Princess Royal began public engagements in 1969 when she was 18 years old and went on to make history as she became an Olympian and began her Olympic career in 1976, though sadly she never won a gold medal for Team GB.
Though her love of horses continued, she retired from professional horse riding in the 1980s. Princess Anne married her first husband and fellow Olympian, Captain Mark Phillips, in November 1973.
The couple went on to have two children, Peter Phillips and Zara Tindall, and were married for 19 years before divorcing in1992.
The Princess Royal is now married to Sir Timothy Laurence and the couple lives on the picturesque Gatcombe Park Estate in Gloucestershire. And they're not alone as Zara and Mike Tindall also live on the Estate, providing wonderful opportunities for Princess Anne to catch up with their three adorable children, Mia, Lena and baby Lucas.
---
Prince Andrew
Just like his older brother Prince Charles, Prince Andrew was born at Buckingham Palace. The Queen and Prince Philip welcomed their third child on 19 February 1960 and Prince Andrew was the first child born to a reigning monarch for 103 years. He is currently 9th in line to the throne, just ahead of younger brother Prince Edward.
On 23 July 1986, Prince Andrew married Sarah Ferguson at Westminster Abbey and he was created Duke of York by the Queen. The royal couple's first child, Princess Beatrice, was born on 8 August 1988 at The Portland Hospital, with her younger sister Princess Eugenie following in 1990.
Two years later, the same year that Prince Charles and Princess Diana separated, it was announced that The Duke and Duchess of York were also to separate. Despite their divorce, however, Prince Andrew and Sarah have remained close friends.
In November 2019, Prince Andrew officially stepped back from royal duties after the Jeffrey Epstein scandal. Since then, Virginia Giuffre has made allegations in a federal court in New York.
Today, Prince Andrew and his former wife Sarah both live at Royal Lodge in Windsor. They are proud grandparents to Princess Eugenie's six-month-old son August and are no doubt looking forward to welcoming Princess Beatrice's first child to the family this autumn.
---
Prince Edward
Prince Edward, Earl of Wessex, is the youngest of Queen Elizabeth's children and is ahead of his sister Princess Anne in the line of succession in 13th place. This is due to an old (and now revised) royal rule that puts male ascendancy ahead of female ascendancy.
The Queen gave birth to Prince Edward in March 1964, once again at Buckingham Palace, leaving Princess Anne as the only one of the Queen's children to not be born at this principle royal residence. He met his future wife Sophie Rhys-Jones at a Real Tennis event in 1993 and the couple went on to announce their engagement six years later.
They married at St George's Chapel, Windsor, in 1999 and it was on the day of the wedding, that it was announced the Queen had made him Earl of Wessex.
The Earl and Countess have two children, Lady Louise, who was born on 8 November 2003 and could become a Princess in a matter of months, and James, Viscount Severn, who was born on 17 December 2007. The family of four live at Bagshot Park in Surrey.
What are Queen Elizabeth's children's ages?
Prince Charles is the eldest of the Queen's children at 72 years old and will celebrate his 73rd birthday in November 2021. Whilst his sister Princess Anne will turn 71 this month on August 15. She and Prince Charles are closer in age to one another than they are to their younger siblings, with Prince Andrew 61 and Prince Edward 57 years old.
Last year the Royal Family paid sweet tribute to her on her milestone 70th birthday.
The official Royal Family social media accounts announced, "We're sharing photos of The Princess Royal from each decade of HRH's life ahead of her 70th birthday".
We're sharing photos of The Princess Royal from each decade of HRH's life ahead of her 70th birthday.Today, we're looking back at the 1990s!On 12th December 1992, The Princess married Vice Admiral Sir Timothy Laurence at Crathie Kirk, in Scotland.#PrincessRoyalAt70 pic.twitter.com/K2Ej8DcV3wAugust 12, 2020
See more
They proceeded to share several throwback pictures of the Princess Royal from significant moments throughout her life, including her wedding to Vice Admiral Sir Timothy Laurence. It's not yet clear how Princess Anne will choose to mark her 71st birthday this year.
What are Queen Elizabeth's children's royal titles?
All of Queen Elizabeth's children have official titles as children of the monarch. As well as being Prince of Wales, Prince Charles is also the Duke of Cornwall and in Scotland, Duke of Rothesay, Earl of Carrick, Baron Renfrew, Lord of the Isles, and Prince and Great Steward of Scotland.
Queen Elizabeth announced her intention to make Charles Prince of Wales in 1958, when he was just nine years old. The official ceremony happened in 1969 at Caernarfon Castle in Wales. Prior to his investiture, Prince Charles spent a term at the University College of Wales at Aberystwyth, learning to speak Welsh.
Since that day, Charles has taken the position seriously, working tirelessly to educate himself about his Welsh neighbors. He even purchased a country home in Llwynwermod, Wales, and undertakes a week-long tour of Wales every year.
Princess Anne was given the title of Princess Royal, a title customarily (but not automatically) awarded to the eldest daughter of a British monarch back in 1987. This rare title might be passed to her great-niece Princess Charlotte in the future, though Princess Anne holds it for life.
The Queen's second son Prince Andrew is known as the Duke of York, a title he received from the Queen on his wedding day in 1986. Whilst his younger brother Prince Edward is the only son of Queen Elizabeth to be an Earl. He is referred to as the Earl of Wessex and was granted the additional title of Earl of Forfar for use in Scotland on his 55th birthday in 2019.
It has been widely reported that, following Prince Philip's death, Prince Edward will inherit the title of Duke of Edinburgh in the future.
What is Queen Elizabeth's children's last name?
The Queen and Prince Philip had a difficult decision to make when it came to which royal surname they would pass down to their children. Her Majesty's surname, Windsor, was established in 1917 as the official last name of the Royal Family. Prince Philip was originally born Prince Philip of Greece and Denmark before his family was exiled from Greece when he was still a young child.
When he married the then-Princess Elizabeth, Philip was forced to adopt a new surname as part of his British citizenship. He chose Mountbatten, which was his grandparent's last name and a wonderful way to honor their legacy.
However, Queen Elizabeth was supposedly pressured not to take Philip's last name and in 1952 declared their descendants would go by Windsor. This break from patriarchal tradition didn't go down too well with the Duke of Edinburgh. Prince Philip was reportedly disgruntled by his wife's decision, complaining that he was "the only man in the country not allowed to give his name to his own children".
Eight years later the couple compromised and the surname Mountbatten-Windsor was born. Prince Harry and Meghan Markle's daughter, Lilibet 'Lili' Diana, is the latest royal family member to take this iconic surname.