Who are Queen Elizabeth's children?
We answer all the questions!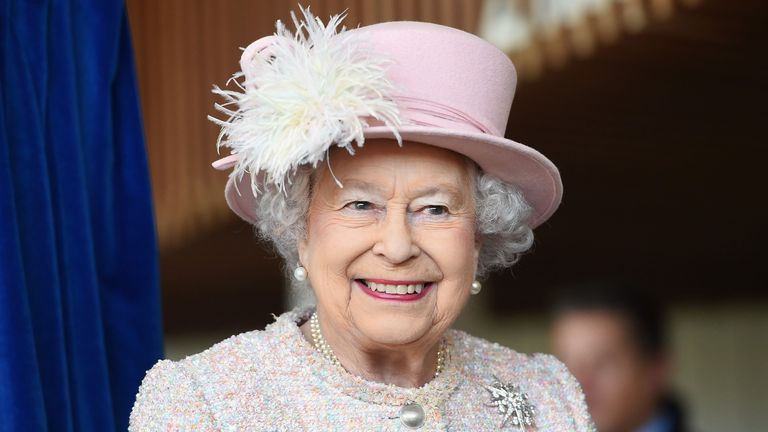 (Image credit: Photo by Stuart C. Wilson/Getty Images)
Queen Elizabeth II children: the Queen has given birth four times in her 68 years on the throne - but who are they?
Queen Elizabeth II children - does she have any? 
She's reigned on the British Throne since 1952 - making her the longest-reigning monarch in history. And in those 68 years as Queen, Elizabeth II has welcomed four children.
As well as running the country as the Head of the Institution - which will be celebrated with a Platinum Jubilee bank holiday in 2022 - Queen Elizabeth II is a parent too, alongside her husband-of-74-years, Prince Philip.
In her years as Monarch and in the public spotlight, the Queen has given birth to four royal babies - opting for home births each time - but who are Queen Elizabeth's children?
More from Woman&Home
Who are Queen Elizabeth's children?
The Queen has three sons, Prince Charles, Prince Andrew and Prince Edward and one daughter, Princess Anne.
The 94-year-old Monarch first gave birth to a son, Prince Charles - the heir to the throne - on November 14 1948.
Despite fulfilling her role in providing an heir to the throne, she and Philip went on to have three more children.
Two years after Charles' arrival, the Queen gave birth to a daughter, Princess Anne, on August 15 1950.
Although the Princess Royal was second in line to the throne at birth, she has since fallen down the line of succession due to her gender.
Her Majesty waited ten years before she and Philip welcomed their third child, a son - Prince Andrew - on February 19 1960.
Four years later, the youngest of the bunch was born - Prince Edward - on March 10 1964. 
What are Queen Elizabeth's children's ages?
Prince Charles is the eldest son of Queen Elizabeth, and is 72 years old. 
He is married to the Duchess of Cornwall and splits his time between his London residence, Clarence House, and Highgrove House in Gloucestershire. 
Next in the family tree is Princess Anne - the second oldest child and only daughter of the Queen and Prince Philip. She is 70 years old and has been married twice.
Princess Anne was married to Mark Phillips - the father of her two children - for 19 years, before the couple divorced. She is now with Sir Timothy Laurence and the couple live on the Gatcombe Park estate in Gloucestershire. 
The Queen's third-born child, Prince Andrew, is significantly younger than his siblings at 61 years of age. 
He was famously married to Sarah Ferguson, before the couple publicly split in 1992. Despite their divorce, they are still close friends and both live at The Royal Lodge in Windsor. 
The youngest of Queen Elizabeth's children, Prince Edward, is 57 years old. He is married to Sophie, Countess of Wessex, and lives at Bagshot Park in Surrey. 
What are Queen Elizabeth's children's names?
All of the Queen's children have first names and official titles, for example, Prince Charles is known as The Prince of Wales. 
Queen Elizabeth announced her intention to make Charles Prince of Wales in 1958, when he was just nine. It was a title previously held by Edward II - the son of England's King Edward I.
The official ceremony happened in 1969 at Caernarfon Castle in Wales. Since that day, Charles has worked tirelessly to educate himself about Wales and taken the position very seriously.
He even purchased a home in Llwynwermod, Wales and undertakes a week-long tour of Wales every year. 
Princess Anne, who was previously described as the hardest working royal, is known as Princess Royal - it is a style customarily (but not automatically) awarded to the eldest daughter of a British Monarch. It is purely honorary.
Prince Andrew currently holds the title Duke of York. It was a title given by the Queen on his wedding day in 1986.
Prince Edward is the only son of Queen Elizabeth to be an Earl, not a Duke. 
He is Earl of Wessex, and was granted the additional title of Earl of Forfar for use in Scotland on his 55th birthday in 2019.
It is widely reported that Prince Edward will become Duke of Edinburgh upon the death of his father, Prince Philip. 
What are Queen Elizabeth II children's last names?
The Queen and Prince Philip had to make a tricky decision when it came to which royal surname they would pass down to their children.
Would it be her's (Windsor) or his (Mountbatten)? The Windsor surname was established in 1917 as the surname of the royal family, so it was widely expected that this would be the surname of the Queen's children. 
But, Prince Philip was originally born Prince Philip of Greece and Denmark, before his family were exiled from Greece when he was just a young boy. 
When he married Elizabeth, Philip was forced to ditch his foreign titles and adopt a new surname as part of his British citizenship. He chose Mountbatten, which was his grandparent's last name.
Queen Elizabeth was pressured not to take Philip's last name and in 1952 declared their descendants would go by Windsor. 
But, Prince Philip kicked up a fuss saying he was "the only man in the country not allowed to give his name to his own children."
Eight years later the couple compromised and the surname Mountbatten-Windsor was born. Prince Harry and Meghan Markle's son Archie is the latest child to take the surname. 
Who are Queen Elizabeth's grandchildren?
The Queen has eight grandchildren from her four children. 
Prince Harry and Prince William are Prince Charles' two sons - and are currently going through a tense time following Prince Harry's bombshell interview with Oprah Winfrey. 
Prince Andrew has two daughters - Princess Beatrice and Princess Eugenie. Princess Eugenie recently gave birth to her first child, August. 
Her Majesty has two grandchildren thanks to her daughter, Princess Anne. Zara Tindall and Peter Phillips - who have both been raised without royal titles.
The Queen's final two grandchildren are Lady Louise Windsor and James, Viscount Severn - they are the daughter and son of Prince Edward.