Royal Lodge: Explore the Windsor family home where Prince Andrew and Sarah Ferguson live
The separated couple live in the home, next to Windsor Castle, sometimes with their daughters Beatrice and Eugenie and their families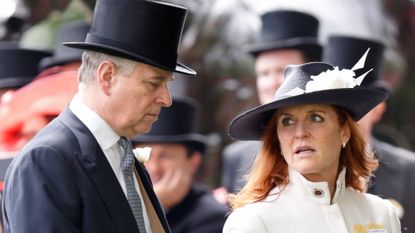 (Image credit: Max Mumby/Indigo/Getty Images)
We take a look at the York family's royal residence Royal Lodge, and explore who exactly lives on the sprawling Windsor estate.
Prince Andrew and Sarah Ferguson's home is Royal Lodge, located in Windsor.
The home is a Grade II listed building in Windsor Great Park, just five miles from Windsor Castle, the oldest and largest inhabited castle in the world.
---
Prince Andrew and Sarah Ferguson, who divorced back in 1996, once called Sunninghill Park, in Ascot, home. But after the breakdown of their marriage, the couple eventually sold their marital home to a billionaire who demolished the property and re-built a new manor house on the plot of land.
Prince Andrew and Fergie now live in a royal residence that has been in his family for over a century - Royal Lodge. The residence is now the official residence of The Duke of York.
A brief history of Royal Lodge
Prior to use by the current royal family, Royal Lodge was used as accommodation for various officers of the Royal Household until the 1930s. The Grade II-listed Royal Lodge was originally built to enable George IV to entertain guests during Royal Ascot - as the home is just 7 miles from the racecourse.
Located in Windsor Great Park, the property was the private residence of the Queen Mother for over 70 years. While Windsor Castle was their main home, Elizabeth and her husband, King George VI, frequently spent weekends at the Royal Lodge during the monarch's short-lived reign. The plush country retreat reportedly gave the couple and their two children, Princess Elizabeth (Queen Elizabeth II) and Princess Margaret, a welcome escape from the pomps and grandeur of Buckingham Palace.
"At Royal Lodge, court etiquette was forgotten, and ceremony left behind… We had all our meals together and went for picnics, and above all, we gardened," Marion Crawford, Scottish educator and former governess to the Royal Family, said.
The grounds of the Royal Lodge were also home to Y Bwthyn Bach, a playhouse gifted to Princess Elizabeth on behalf of the 'people of Wales' for her sixth birthday in March 1932. Also called The Little House, The two-thirds size cottage measures 24 feet long, eight feet deep, and has five feet high rooms. The remarkabletoy cottage was kitted out with everything a junior homemaker could want - including a functioning fridge and gas cooker, as well a blue and white dining and tea set for entertaining.
After King George VI's untimely death in 1952, the Queen Mother moved to the Royal Lodge permanently. In fact, the Queen Mother actually died at Royal Lodge in 2002, with Queen Elizabeth II by her side. before being gifted to Prince Andrew in 2003 following her death.
Who lives at Royal Lodge now?
Royal Lodge became the official residence of Prince Andrew in 2004 when he moved in with his daughters Princess Beatrice and Princess Eugenie (who were then around 15 years old), once lengthy renovations on the property were complete.
However, Beatrice and Eugenie have their own homes in London - Ivy Cottage and St James's Palace. Royal Lodge is their family home though, so it's thought that they come back there regularly.
Where does Sarah Ferguson live now?
Despite their separation and subsequent divorce in 1996, Sarah Ferguson and Prince Andrew maintain a strong partnership and friendship, and Sarah moved into Royal Lodge with him in 2008.
It's thought that the Windsor home is now Sarah's permanent residence, but the size of the mansion allows the pair to live their lives happily but separately.
In a radio interview in 2016, Fergie explained, "I'm in and out all the time and he's in and out all the time."
Sarah has also spoken on the unusual dynamic of her and her ex-husband's relationship, dubbing it as "not normal" but admitting she'll always stand by him.
"I believe that the love I have for him and he has for me is just very different from what normal people have," she said on an Italian chat show Porta a Porta.
"We have great respect and love for each other. It really is our own fairy-tale and it's our own lives, how we like to be, with total respect and honor to each other."
Who owns Royal Lodge?
The Crown Estate (a collection of holdings belonging to the British monarch) owns Royal Lodge, meaning it is technically a royal grace and favour property. However, Prince Andrew was granted a lease agreement back in 2003 for 75 years, which meant that after the Duke paid £7.5 million for refurbishments, a £1 million payment to the Crown Estate was made by him to secure the home.
What is it like inside Royal Lodge?
Before Prince Andrew first moved in, he is said to have spent £7.5m renovating the 30-room Georgian house in Windsor, with new additions including an indoor swimming pool. The property also has a private chapel, and eight separate additional properties for staff.
Official royal photos have been taken inside the house in the past, giving a great look into the property as it was before.
Princess Margaret posed for photos at Royal Lodge with Antony Armstrong-Jones after they announced their engagement in 1960, and old photographs from Queen Elizabeth's childhood give a glimpse of what Royal Lodge was like before it was refurbished.
Sarah Ferguson, Duchess of York, often shares glimpses into her part of the home on her YouTube channel, on which she hosts her Story Time with Fergie and Friends series for children.
Another video saw her making traffic light sandwiches, you can see a glimpse of the beautiful, extensive garden behind her.
And many have also noted the very impressive drinks cupboard behind her. In a deep green/grey color, it appears to contain everything you'd need for the perfect summer beverage - including bottles, straws, and even some sweet treats.
Princess Eugenie also gave the public their first look inside her family home, when she posed for a magazine shoot within Royal Lodge in 2016. The Princess, who now lives at Nottingham Cottage in Kensington Palace with her husband Jack Brooksbank and baby August, clearly still considers Royal Lodge home!
In photos published in the September 2016 issue of Harper's BAZAAR US, Princess Eugenie is pictured in the sitting room of Royal Lodge. A grand room full of antique furniture and lit by chandeliers, the photo provides one of the first insights into Prince Andrew's official residence since the huge refurbishment.
In the background of the image, the formal sitting room is seen opening out into another, smaller, living room with a collection of photographs on display.
The presence of family photographs is a touch that the magazine revealed is present throughout the house.
"It's the definition of comfy cozy, with family pictures scattered around and Norfolk terriers wandering in and out," read the description of the family rooms inside the Lodge.
What are the grounds of Royal Lodge like?
The property also has well-kept gardens, within 21 acres of secluded grounds. The Prince also had a driving range installed within the extensive grounds of the property. So the York family practically need never leave!
Pictures of Princess Margaret and Antony's engagement shoot decades ago also reveal a look at the stunning grounds, as the couple stroll through the garden with a couple of dogs in tow.
Princesses Eugenie and Beatrice appeared in British Vogue, and posed for photos in the stunning grounds of the home - giving a recent glimpse into the impressive grounds.
In fact, Princess Eugenie loves the home so much that she chose to hold her wedding reception at Royal Lodge, back in October 2018.
Is Royal Lodge open to the public for visits?
Much like other private royal residences, it is not open to the public - and glimpses of the house, the gardens, and its interiors are rare.
However, Prince William and Kate Middleton's London home, Kensington Palace, which is also where Princess Diana lived, is open to the public in some areas. The Duke and Duchess of Cambridge use a special trick to make sure the prying eyes of the public from peeping into their private quarters.
Digital Editor - Woman & Home
An internationally published digital journalist and editor, Rachael has worked as a writer and editor for both news and lifestyle websites in the UK and abroad including Metro UK, Homes & Gardens, Ideal Home, GoodTo.com, honey.nine.com.au and body+soul.
Rachael's published work covers a broad spectrum of topics and she has written about everything from the future of sustainable travel, to the impact of the coronavirus pandemic on the world we live in, to the psychology of colour.