Prince William and Kate's sneaky trick to keep the prying eyes of the public away from them at home
Kate and William have a clever way of making sure tourists can't peep inside their private living area at Kensington Palace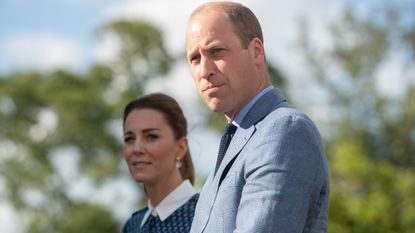 (Image credit: Photo by Joe Giddens - WPA Pool/Getty Images)
The clever yet simple method Prince William and Kate Middleton use to make sure tourists visiting their London home can't catch a glimpse of them enjoying down time at home.
---
While large sections of Kensington Palace are reserved for Kate, William, Prince George, Princess Charlotte and Prince Louis' living quarters, the iconic royal residence, where Princess Diana once lived, is open for tourists to visit.
One royal fan who spent the day exploring the lavish home shared an insight into how visitors are kept from looking from the public aspects of Kensington Palace, into the Cambridges' private areas.
Laura-Ann Bar shared a video on TikTok of the windows in Kensington Palace that have semi-invisible frosting on one side, preventing anyone from craning their necks and looking down into Kate and William's garden.
"I'm at the Kensington Palace tour! Look at the secret windows they have that make sure you can't see into Kate & Will's private garden to the right," Laura wrote along with a clip demonstrating how the privacy glass works. They have it on all the windows in this room," she wrote.
In the caption for the upload, Laura went on to joke, ""They are onto us 😂👀👑,"
Kate and William have shared more up-close looks inside Apartment 1A than ever before in recent years, with the pandemic meaning that lots of their royal work was conducted from home, with footage and snaps being shared across their social media channel.
This has also meant royal fans have been able to see the sweet family photos that have pride of place in the Cambridge home, with an adorable array of snaps featuring the Duke and Duchess and their trio of little ones often visible in the background of their Instagram uploads.