Who lives at Kensington Palace and what is it like inside?
Did you know that regular people live there too?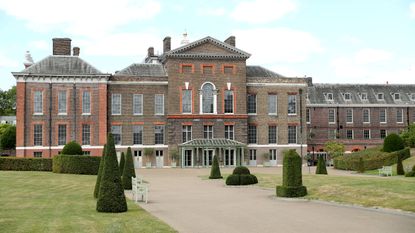 (Image credit: Getty Images)
Hidden in the grassy mounds of Hyde Park stands the hard-to-miss brick building that is Kensington Palace.
Kensington Palace is located in the heart of London.
It has a rich royal history with one of its most famous tenants being Princess Diana.
---
The palace has a rich and interesting history that dates back to the 17th century, but it really came into the spotlight after Prince Charles and Princess Diana moved in after their wedding.
Where is Kensington Palace?
Sitting just behind Hyde Park, the palace is—as you may have suspected—situated slap-bang in the middle of Kensington.
It's just minutes away from Buckingham Palace and St. James's Palace, which is handy for family visits.
Kensington Palace is surrounded by green space, an unusual treat given how centrally in London it's located.
The palace is also just minutes away from many London landmarks, including Ben Ben, the British Museum, and St Paul's Cathedral.
Can you visit Kensington Palace?
Year-round from Monday to Sunday you can visit the publicly open parts of the royal home.
Included with a ticket (£15.30 for adults, and £7.60 for children (opens in new tab)), are various exhibitions and various activities for kids. You can also explore the King's State Apartments, and the King's Gallery, as well as parts of the gardens.
Although pubic access is typically allowed, when there are private events taking place at the palace or on the grounds, public viewing can be restricted.
This was made most obvious in July 2021 when a statue paying tribute to Princess Diana was unveiled in the Sunken Gardens at Kensington Palace. This was a private event led by Prince Harry and Prince William and public access was restricted during this time.
Kensington Palace announced, "Kensington Palace and its gardens will be closed to visitors all day on Thursday 1 July for a private event, with no public access. This event will not be visible from the Broadwalk or surrounding area."
A brief history of Kensington Palace
In 1689, King William and Queen Mary purchased a £20,000 (about £4 million today) modest Jacobean mansion, then called Nottingham House, in the village of Kensington. They hired renowned architect Sir Christopher Wren to expand the house into a proper palace, and the royal court moved there before Christmas in 1689.
And since then, succeeding generations of royals have continued to use the palace. Queen Anne expanded its gardens and constructed The Orangery, which was originally used as a greenhouse, and is now a public restaurant. Queen Victoria was born and Christened in the palace in 1819, and she saved the dilapidated property from being destroyed years after she moved out.
In 1899, the state apartments were first opened to the public as a museum. In the following century, the palace went through a series of closures but was reopened permanently in 1949, after being repaired for bomb damage from World War II.
Princess Margaret and her husband, the Earl of Snowdon moved into the palace in the 1960s, and Prince Charles moved in with Princess Diana after they were married. Diana continued to live in the palace until her death in 1997.
Today, the palace still serves two purposes. It's open to the public as a museum but is also the official residence for a number of select royals, who live in apartments in the palace and houses within the grounds.
Who lives in Kensington Palace?
The Duke and Duchess of Cambridge - Apartment 1A
The most senior royals living in Kensington Palace today are the Duke and Duchess of Cambridge, who first moved there in 2013.
At first, the two lived in the cozy Nottingham Cottage (Prince Harry and Meghan Markle's former home, too), but eventually set up in the spacious Apartment 1A, which used to belong to Princess Margaret.
Catherine and William spent £4.5 million renovating the apartment, as well as hundreds of thousands more of their personal money on additions like a second family kitchen.
They moved out of the Kensington abode in 2013 shortly after the birth of Prince George, moving to Anmer Hall in Norfolk in order to raise their children in more of a private location.
But recently, the family have officially moved back to their Kensington Palace apartment full-time, in order to dedicate themselves to their royal duties. Their two oldest children, Prince George, and Princess Charlotte, also now go to school in London, and their youngest Prince Louis attends Willcocks Nursery School in London, so the family will be in the city for some time yet.
Official pictures released of the royals show how Kate and William have decorated some parts of their home. When former President Barack Obama visited in 2016, photos show the elegant cream and gold decor the couple have chosen, along with candles and impressive paintings.
The Prince and Princess of Kent—Apartment 10
Prince and Princess Michael of Kent were caught up in controversy when it was discovered the Queen was covering the majority of their rent since they moved into the palace in 2002. In 2010, it was announced they would have to begin paying the full rate of £120,000 if they wanted to remain residents.
The Duke and Duchess of Kent—Wren House
Prince Edward, the Duke of Kent lives in Kensington Palace's Wren House with his wife, Katharine. The Duke is Queen Elizabeth's first cousin and also serves as the president of the All England Lawn Tennis and Croquet Club
Princess Eugenie and Jack Brooksbank—Ivy Cottage
Princess Eugenie, cousin to William and Harry, moved in to the palace's Ivy Cottage (opens in new tab) with husband Jack Brooksbank just before their October wedding last year – and out of the four bedroom apartment in St. James's Palace she used to share with her sister, Beatrice.
It marked the first time the pair had lived together throughout their seven-year relationship.
However, the couple are now reported to be moving to Frogmore Cottage (opens in new tab) in Windsor - formerly the UK home of Prince Harry and Meghan Markle.
39 other individuals
There are 50 residents of the palace in total. The rest are military members, courtiers and staff, along with a sprinkling of regular citizens who pay market rent for their royal dwelling.
What is it like inside Kensington Palace?
Given that most of the palace is a private royal residence, there's not been much chance to have a sneak peek inside. But a few pictures were taken during former President Obama's visit to the home, alongside his wife Michelle, the Duke and Duchess of Cambridge, and Prince Harry—sharring an insight into how the palace is decorated.
The room appears plush and lavish but cozy too, with plenty of warm lamps and candles, and comfortable beige sofas and carpets.
Older photographs of Princess Diana and her two sons also revealed a glimpse into the private apartments at Kensington Palace too.
While the home certainly looks grand and well looked after, it also undeniably looks cozy and homely too, with comfy sofas and carpets, and the opportunity for the current family to decorate any way they wish to.
What are Kensington Palace grounds/gardens like?
Of course, Kensington Palace is set just next to Hyde Park—meaning it is surrounded by greenery and nature.
The grounds are most easily recognized by the 'Round Pound' just behind the palace which can be seen from aerial photographs.
There are also many memorials and statues to be found within the palace grounds, including the Peter Pan statue, and the Princess Diana Memorial Fountain. Held within the grounds of the palace is also the Serpentine Gallery, too.
But when it comes to the private gardens of the palace, Prince Harry and Meghan Markle's engagement photocall back in November 2017 gave the world a rare glimpse into the stunning green areas the royals enjoy at Kensington Palace —specifically, the Sunken Garden.
The images show an impressive pond, manicured lawns, and plenty of gorgeous plants and flowers.
Who owns Kensington Palace?
Kensington Palace falls under the ownership of the Crown Estate, meaning it is made available to the reigning monarch and her descendants to use as they wish—mostly, of course, as living quarters.
Amy Hunt is an experienced digital journalist specialising in homes, interiors and hobbies. She began her career working as the features assistant at woman&home magazine, before moving over to the digital side of the brand where she eventually became the Lifestyle Editor up until January 2022. Amy won the Digital Journalist of the Year award at the AOP Awards in 2019 for her work on womanandhome.com.