Who lives in Nottingham Cottage now? All you need to know about Prince Harry and Meghan Markle's first home together
Nottingham Cottage is one of the smallest royal properties available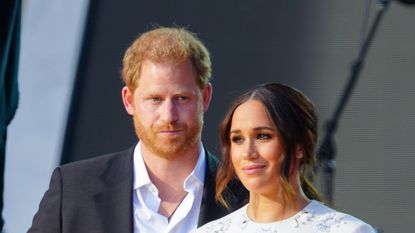 (Image credit: Getty)
Nottingham Cottage is one of the smaller homes within the walls of Kensington Palace.
Nottingham Cottage is a two-bedroom property located within Kensington Palace.
It's most famous as the former home of Prince Harry and Meghan Markle.
In other royal news, what does the Queen eat? All the weird things Her Majesty likes and dislikes.
Nottingham Cottage is perhaps most famous as the first home of Prince Harry and Meghan Markle—it's where they lived before and after their marriage in May 2018.
Following the pair's engagement in November 2017, Meghan moved into Harry's former bachelor pad in the palace grounds, where he lived for a number of years before meeting his wife.
The couple also lived there up until a few months before the arrival of their baby son Archie, before moving to Frogmore Cottage on the grounds of the Queen's Windsor Estate. Of course, the pair have now moved to Montecito in Los Angeles, and into a new family home.
So who lives in the couple's first home now?
Where is Nottingham Cottage?
Nottingham Cottage is located within Kensington Palace, within the London borough of Kensington.
It's just a stones throw away from Buckingham Palace and backs onto Hyde Park, so enjoys a brilliantly central location in the capital.
Who lives in Nottingham Cottage now?
After Harry and Meghan officially announced the happy news of their engagement in November 2017, the pair set up home together at Nottingham Cottage, nicknamed 'Nott Cott', one of the many apartments within the grounds of Kensington Palace.
It's thought to be one of the smallest residences within the palace grounds, but certainly isn't one to be sniffed at.
Meghan was no stranger to the property when she moved in, having stayed there numerous times when visiting Harry while in London. In fact, it's where the prince proposed while the couple were cooking dinner together.
However, the couple moved out a few months after they got married in May 2018, to Frogmore Cottage, before moving abroad. So who lives there now? At the moment, it seems the property is currently vacant, with no known residents since Harry and Meghan moved out.
A brief history of Nottingham Cottage—who lived there before Prince Harry and Meghan?
In 1948, the house was given to Marion Crawford, who was the former governess of Princesses Elizabeth and Margaret. She lived there until 1950 when she was found to be selling stories about the royal family to newspapers.
After Marion Crawford moved out, a man called Sir Miles Hunt-Davis, Prince Philip's then-Private Secretary, and his wife Anita, Lady Hunt-Davis lived there. And after that, Robert Fellowes, Private Secretary to the Queen, and his wife Lady Jane Fellowes, who is Princess Diana's sister, also lived there.
However, residency moved to members of the royal family in the 21st century. Prince William and Kate Middleton lived at Nottingham Cottage for two years after getting married in 2011, and briefly returned there with Prince George after he was born, before moving to Apartment 1A within Kensington Palace.
It was following their departure that Prince Harry moved into the home, and he lived there for around six years.
Inside Nottingham Cottage—what's the interior of the home like?
The cute, cozy cottage is thought to have two bedrooms and a small garden. It also houses a kitchen, small living room, and bathroom.
A few years ago, one of Meghan's close friends revealed that she had an adorable guest room set-up at Nottingham Cottage, for when her loved ones visited her former royal abode.
In a recent interview with People magazine, an unnamed close pal of the Duchess revealed that Meghan had set up a candle, robe, and slippers in the second bedroom for her.
She revealed, "We had a couple of days together recently. Her husband was out of town on work. In the room she made up for me, there was a candle lit by the bed, slippers, and a robe. We were the only two in the house. It was our time."
The friend revealed that behind the glitzy events and newspaper headlines, the Duke and Duchess of Sussex actually enjoyed a very normal life together, with Meghan cooking for her and her husband every day.
Giving an insight into the home, they said, "We've all been to their cottage. It's small and she's made it cozy, but the perception of their lifestyle and the reality are two different things. Meg cooks for herself and Harry every single day."
"She made the most lovely meals. She made tea every day. It was raining and muddy outside, so the dogs got all dirty, and she's wiping them off with towels. How much she loves her animals, how much she loves her friends, how much she loves feeding you, taking care of you—none of that has changed."
Although small, Harry and Meghan's former residence reportedly boasted impressive reception rooms, designed by none other than Sir Christopher Wren, who was one of Britain's most highly-acclaimed architects.
What are the Nottingham Cottage grounds like?
Nottingham Cottage has its own, small private, flower-filled garden, but the wider Kensington Palace estate has vast grounds that residents can enjoy too.
In fact, the home backs onto the Kensington Gardens, a huge green expanse of land with various water features, giving palace residents more than enough outside space to enjoy.
Is Nottingham Cottage open to the public to visit?
No—Nottingham Cottage is a private royal home and so is not open for the public to visit in any way.
However, Kensington Palace, the estate on which the home sits, is open for visitors year-round. Members of the public can visit State Rooms and gardens at the palace, but the tour does not extend to the private homes there.
Where did Prince Harry and Meghan move to?
Kensington Palace confirmed in 2018 that the Duke and Duchess of Sussex would be moving to Windsor, to make a permanent home at Frogmore Cottage, nearby the Queen's favorite home, Windsor Castle.
However, the couple has since relocated to Los Angeles, after stepping down from their roles as working members of the royal family.
Amy Hunt is an experienced digital journalist specialising in homes, interiors and hobbies. She began her career working as the features assistant at woman&home magazine, before moving over to the digital side of the brand where she eventually became the Lifestyle Editor up until January 2022. Amy won the Digital Journalist of the Year award at the AOP Awards in 2019 for her work on womanandhome.com.