A look inside Nottingham Cottage: Prince Harry and Meghan Markle's first home together
Royal fans have been given a look inside Nottingham Cottage in Harry and Meghan's new Netflix series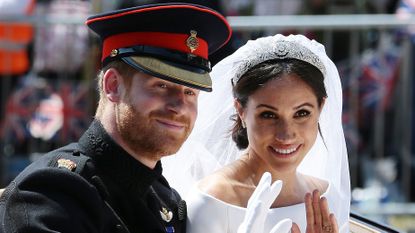 (Image credit: Getty Images)
A sneak peek inside Nottingham Cottage, Prince Harry and Meghan Markle's new home were featured in the couple's new Netflix docuseries – and it's nothing like what we would have expected.
Photos of Nottingham Cottage have been featured in Prince Harry and Meghan Markle's new documentary, giving royal fans a never-before-seen glimpse into the couple's first home together.
The Duke and Duchess of Sussex moved into the two-bedroom cottage in the grounds of Kensington Palace after their royal wedding in 2018, only to move to Frogmore Cottage in Windsor after a few months.
---
Nottingham Cottage has become the latest royal residence to attract attention from the public, following the private property's exciting cameo in Prince Harry and Meghan Markle's new Netflix docuseries.
The Duke and Duchess of Sussex shared never-before-seen images of their first home together in the second instalment of Harry & Meghan, which dropped on the US streaming platform in December 2022.
In the fourth episode of the six-part series (which is thrilling, if we do say so ourselves) the A-list couple reveals that they moved into Nottingham Cottage shortly after their royal wedding in 2019. The Queen later gifted them Frogmore Cottage nearby to Windsor Castle, which would become their final residence in the UK before their high-profile withdrawal from the Royal Family in January 2020.
Nottingham Cottage was the focus of royal drama again, when a leaked snippet of Prince Harry's 'Spare' memoir reportedly alleged that his brother, Prince William, pushed him to the ground after grabbing him by the collar during an altercation at Nottingham Cottage.
In the passage, obtained by The Guardian (opens in new tab), Prince Harry is said to detail how William came from the palace to Nottingham Cottage 'piping hot' and had allegedly upset Harry by calling Meghan Markle "rude", "abrasive" and "difficult".
After claiming that he had gone to the kitchen to fetch William some water after his brother had called him names, Harry reportedly writes, "He grabbed me by the collar, ripping my necklace, and he knocked me to the floor.
"I landed on the dog's bowl, which cracked under my back, the pieces cutting into me. I lay there for a moment, dazed, then got to my feet and told him to get out."
Inside Nottingham Cottage: What does Nottingham Cottage look like?
On the outside, Nottingham Cottage looks pretty similar to many other rural cottages in southern England. A photo featured in Meghan and Harry's Netflix series reveals that the modest building has a sloped roof, red-brick walls, and four picturesque chimneys. It's also blooming with ivy and surrounded by a white picket fence that looks straight out of a fairytale. We definitely approve.
Photos of Nottingham Cottage's interior have also been included in Harry and Meghan's new documentary, and let's just say, it's not exactly what we would have envisioned for the A-list royal couple's first home.
"Kensington Palace sounds very regal, of course, it does," Meghan says. "It says 'palace' in the name. But Nottingham Cottage was so small."
The Duke and Duchess went on to joke that the cottage wasn't suitable for the prince's tall height, with Harry quipping that its 'very low ceilings' must have been made for someone 'very short.'
"He would just hit his head constantly in that place because he's so tall," Meghan added.
A photo of Harry in what appears to be one of Nottingham Cottage's two bedrooms then appears on screen, showing the 38-year-old posing in military attire in front of a rack of clothes.
A photo of Nottingham Cottage's small kitchen, complete with blue tiled walls, a black and white checked floor, and white cabinets, is also shown.
Its cozy sitting room, furnished with cream sofas, duo-chromatic cushions, and black-framed photos, also appears.
In the series, Meghan refers to the couple's time at Nottingham Cottage as a 'chapter' that 'nobody could believe what it was actually like behind the scenes.' It seems that the Sussex couple spent a lot of their days gardening, renovating and playing with their beloved pet dogs.
Harry and Meghan also joke about how Oprah said herself, "No one would ever believe it," when the TV host came over for tea one day.
This account of the couple's first home has been backed up by a source close to the pair.
"We've all been to their cottage," a friend of Meghan's told People magazine in 2019. "It's small and she's made it cozy, but the perception of their lifestyle and the reality are two different things. Meg cooks for herself and Harry every single day."
"She made the most lovely meals. She made tea every day. It was raining and muddy outside, so the dogs got all dirty, and she's wiping them off with towels. How much she loves her animals, how much she loves her friends, how much she loves feeding you, taking care of you – none of that has changed."
Where is Nottingham Cottage?
Nottingham Cottage, or 'Nott Cott' as it's affectionally known, is nestled within the grounds of Kensington Palace in London.
Designed by English architect Christopher Wren in the 17th century, the two-bedroom abode is considered to be a 'grace and favor' house, which means it's owned by a monarch and granted to members of the Royal Family to occupy rent-free. It's neighbored by Ivy Cottage, where Princess Eugenie and her husband, Jack Brooksbank, live, and Wren Cottage, which has been home to the Queen's cousin, Prince Edward, since 1978.
The Royal Family's headquarters at Buckingham Palace and King Charles and Queen Camilla's home, Clarence House, is also about a 50-minute walk from Nottingham Cottage.
Who lives in Nottingham Cottage now?
Prince Harry and Meghan Markle moved out a few months after they got married in May 2018, to Frogmore Cottage, before moving to start their new lives in the US. So who lives there now? At the moment, it seems the property is currently vacant, with no known residents since Harry and Meghan moved out.
A brief history of Nottingham Cottage – who lived there before Prince Harry and Meghan?
In 1948, the house was given to Marion Crawford, who was the former governess of Princesses Elizabeth and Margaret. She lived there until 1950 when she was found to be selling stories about the royal family to newspapers.
After Marion Crawford moved out, a man called Sir Miles Hunt-Davis, Prince Philip's then-Private Secretary, and his wife Anita, Lady Hunt-Davis lived there. And after that, Robert Fellowes, Private Secretary to the Queen, and his wife Lady Jane Fellowes, who is Princess Diana's sister, also lived there.
However, residency moved to members of the royal family in the 21st century. Prince William and Kate Middleton lived at Nottingham Cottage for two years after getting married in 2011, and briefly returned there with Prince George after he was born, before moving to Apartment 1A within Kensington Palace.
It was following their departure that Prince Harry moved into the home, and he lived there for around six years.
Is Nottingham Cottage open to the public to visit?
Nottingham Cottage is a private royal home and so is not open for the public to visit in any way.
However, Kensington Palace, the estate on which the home sits, is open for visitors year-round. Members of the public can visit State Rooms and gardens at the palace, but the tour does not extend to the private homes there.
Where did Prince Harry and Meghan move to?
Kensington Palace confirmed in 2018 that the Duke and Duchess of Sussex would be moving to Windsor, to make a permanent home at Frogmore Cottage, nearby the Queen's favorite home, Windsor Castle.
However, the couple has since relocated to Montecito, Los Angeles, after stepping down from their roles as working members of the Royal Family in January 2020.
Amy Hunt is an experienced digital journalist specialising in homes, interiors and hobbies. She began her career working as the features assistant at woman&home magazine, before moving over to the digital side of the brand where she eventually became the Lifestyle Editor up until January 2022. Amy won the Digital Journalist of the Year award at the AOP Awards in 2019 for her work on womanandhome.com.