Everything we know about Frogmore Cottage in Windsor, including details on its stylish interiors and who lives there now
Frogmore Cottage is close to one of the Queen's favorite residences and its occupants have been a source of great fascination over the years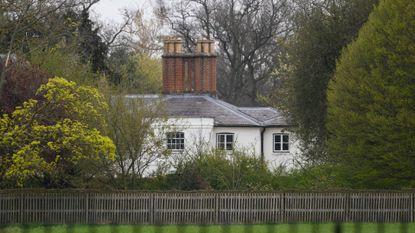 (Image credit: Photo by Leon Neal/Getty Images)
Frogmore Cottage in Windsor is possibly still best known as the UK home for Prince Harry and Meghan Markle though the royal couple haven't permanently lived there in quite some time now.
---
So many of the royal residences might be well known to fans, from the iconic Buckingham Palace to the Queen's beloved Berkshire home, Windsor Castle, but the homes of the extended Royal Family members might not be as familiar. Whilst many of the royals highest in the royal line of succession have multiple homes, including bases in London, others live further out such as Princess Anne who lives at Gatcombe Park in Gloucestershire. During their time as working royals, Prince Harry and Meghan Markle, Duchess of Sussex made their home in Berkshire.
They reportedly moved there from their two-bed city pad, Nottingham Cottage, at Kensington Palace, to this beautiful countryside home shortly before their son Archie was born in 2019. Though since the couple decided to "step back" from royal life they've now settled in America with Archie and welcomed their second child, Lilibet.
But who lives in Frogmore Cottage now, where is it and what do we know about the interiors of this royal property?
Who lives at Frogmore Cottage now?
After Prince Harry and Meghan Markle "stepped back" from being full-time working royals, the couple settled in their Santa Barbara mansion. At the time it was understood that the Duke and Duchess of Sussex had retained Frogmore Cottage as a UK base for them whenever they travelled back to visit family or for work commitments.
In the meantime, though, it was reported that another of the Queen's grandchildren, Princess Eugenie, had made the cottage her family home.
She and her husband Jack Brooksbank welcomed their first child, August, last year and it's thought there are several reasons why Princess Eugenie is one of Prince Harry and Meghan Markle's "favorite" royals. Earlier this year Prince Harry's Super Bowl outing with Princess Eugenie during his cousin's California trip showcased their incredible bond.
Whilst back in November 2020, royal author and commentator Omid Scobie took to Twitter to disclose that a Sussex source had claimed that Princess Eugenie and Jack had moved in.
Sussex source: "Frogmore Cottage continues to be [the couple's] residence in the UK and they are delighted to be able to open up their home to Princess Eugenie and Jack as they start their own family."They have not moved out and will still stay at the house during UK visits.November 20, 2020
See more
"Sussex source: "Frogmore Cottage continues to be [the couple's] residence in the UK and they are delighted to be able to open up their home to Princess Eugenie and Jack as they start their own family," he shared.
It's generally believed that Princess Eugenie and Jack continued to spend time living in Frogmore Cottage with little August in the meantime. However, as the Queen's Platinum Jubilee 2022 weekend draws closer, reports have alleged that the family have moved out of the home as they are supposedly planning on splitting their time between London and Portugal going forwards.
According to The Telegraph (opens in new tab), Princess Eugenie and Jack have reportedly relocated and are now said to be dividing their time between the Atlantic coast club and London after Jack secured an exciting new job.
Although the Princess has yet to address this herself, if the reports are indeed correct then that would mean no-one permanently lives at Frogmore Cottage at the moment and that it instead remains a UK home for whenever the Sussexes are in the country.
Where is Frogmore Cottage?
Frogmore Cottage is located on the Frogmore Estate in Windsor, Berkshire. It is close to not only Frogmore House where Prince Harry and Meghan Markle's evening wedding reception was held, but also to Windsor Castle where the Queen is currently residing. The Frogmore Estate is an estate within the Home Park which adjoins to the historic castle and it's not only picturesque but a very convenient location for any royals living there to pay a visit to Her Majesty.
Why did Harry and Meghan choose to live in Windsor at first?
The Duke and Duchess of Sussex might live in LA now, but the Windsor estate has long been a special place for Meghan and Prince Harry. The Duke and Duchess of Sussex tied the knot at St George's Chapel here back in 2018 and their wedding reception was held at nearby Frogmore House.
KP says in statement: "Windsor is a very special place for Their Royal Highnesses and they are grateful that their official residence will be on the estate. The Duke and Duchess's official office will continue to be based at Kensington Palace."November 24, 2018
See more
They also took some wonderful official engagement pictures there and the significance was something that was remarked upon in the official announcement of their new home. At the time Kensington Palace reportedly stated, 'Windsor is a very special place for their royal highnesses and they are grateful that their official residence will be on the estate'.
The cottage also offered the royal couple the kind of privacy and seclusion they likely wouldn't be able to have in London, where they used to live.
A brief history of Frogmore Cottage
The cottage was originally known as the Double Garden Cottage and it initially belonged to Queen Charlotte, back in 1801. Queen Victoria's personal assistant Abdul Karim lived there, in 1897. It was later occupied by Russian royal the Grand Duchess Xenia Alexandrovna, during the 1920s.
It's said that Queen Victoria once had breakfast at the home, and actually noticed an 'immense number of little frogs', which she described as 'quite disgusting' - hence the rather unusual name, Frogmore.
The home has been a Grade II listed property since 1975. Most recently, the cottage had been used as five separate housing units for people working on the Windsor estate, but it underwent an extensive renovation before the Duke and Duchess of Sussex moved in.
Who owns Frogmore Cottage?
The royal residence is part of the Crown Estate, which means that ownership is passed from monarch to monarch, and it isn't a private property owned by one or several people. However, the Sussexes' huge commitment earlier this year has caught the attention of many. Reports have suggested that Prince Harry and Duchess Meghan have signed another 12-month lease on Frogmore Cottage.
According to The Telegraph (opens in new tab), the Sussexes were planning on continuing their lease arrangement. This means that the home would still be available for them to use whenever they return to the UK.
What is it like inside Frogmore Cottage?
The home, situated just in front of Frogmore House is a Grade-II listed building and while it has a rich royal history, it wasn't actually that grand before Prince Harry and Duchess Meghan made it their home. The original building underwent intensive restoration, understood to have been overseen by the Duchess of Sussex, in order to make it perfect for the royal couple.
Though it's all-too easy to be fascinated by the cottage, unfortunately when it comes to the interiors only a few details have been reported over the years. Some have claimed that the Windsor home has five bedrooms, as well as a cozy kitchen, living room and nursery.
And when it comes to décor, the Queen is also said to have gifted her grandson and Duchess Meghan a series of paintings from her own personal collection.
"Meghan and Harry [were] told they can choose some artwork for Frogmore Cottage," a Palace insider previously claimed to Vanity Fair.
It's also been alleged over the years that Prince Harry and Meghan drafted in the interior designer of the trendy Soho House, Vicky Charles, to help them with the decoration and design of their home interiors.
Vicky Charles designed many of the Soho House private member's clubs around the world and the Duke and Duchess of Sussex are said to have enjoyed many dates at the London and Toronto venues at the beginning of their relationship.
Although fans haven't been given an in-depth glimpse of the interiors of the home and it hasn't been confirmed whether Vicky was brought on board, if the Soho House clubs interior is anything to go by, the home might include plenty of plush, luxury furnishings. It could also be that the home is full of colour and antique items as well - like many of the rooms in the Soho House venues.
What are the Frogmore Cottage gardens like?
The Sussexes' Windsor home has a high level of privacy though it backs on to the enormous Home Park, which is 655 acres of stunning gardens. The grounds are understood to be full of enormous trees, lakes, and lush flowers, right in the middle of the Berkshire town. The Frogmore Estate where Frogmore Cottage and Frogmore House with its huge lake are is separate from Windsor Great Park - the grounds belonging to Windsor Castle, however, they're just a short walk apart.
Is Frogmore Cottage open to the public?
Although understood to be part of The Crown Estate, Frogmore Cottage is a private royal residence and so it's not open to the public and neither are the grounds around it. However, Frogmore House, is open to the public on certain days and the Royal Collection Trust (opens in new tab) website has revealed that the house and garden open for pre-booked groups to see in August.
They are also open to individuals on three Charity Open Days, where all the proceeds are donated to specially selected charities, with these days yet to be confirmed for 2022 yet.
Lauren is the former Deputy Digital Editor at woman&home and became a journalist mainly because she enjoys being nosy. With a background in features journalism, Lauren worked on the woman&home brand for four years before going freelance. Before woman&home Lauren worked across a variety of women's lifestyle titles, including GoodTo, Woman's Own, and Woman magazine.