Relaxing podcasts that will calm, soothe and distract you during these unprecedented times
Manage your corona anxiety with a podcast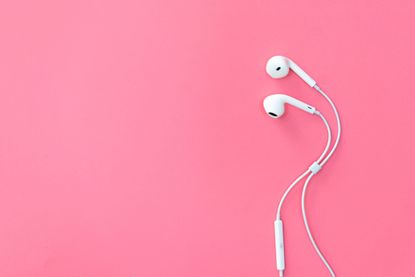 woman&home newsletter
Sign up to our free daily email for the latest royal and entertainment news, interesting opinion, expert advice on styling and beauty trends, and no-nonsense guides to the health and wellness questions you want answered.
Thank you for signing up to . You will receive a verification email shortly.
There was a problem. Please refresh the page and try again.
Find it hard to switch-off, relax and unwind amidst the pandemic?
Maybe you can't help but check the news before bed time, only to regret it and be filled with panic when you're meant to be settling down for night.
Or maybe juggling remote working, childcare and suddenly having your partner at home with you 24/7 is making it difficult to focus your thoughts.
But if you need something to get your mind off this weird time we're living in, these 10 podcasts will remind you to breathe, focus on the here, and now and even have a good laugh.
1. The Mindful Podcast
Free, Podbean and Apple
Mindfulness is the art of being fully present and engaged with you're doing at the moment, free from distractions whilst being aware of our thoughts and feelings, without being caught up in them. The Mindfulness Podcast will help you to reach this mental state. The episodes are short, giving you a ten or five minute practice to try, from how to ask for help to breathing exercises.
2. Soul Music
Free, BBC Radio 4, Podbean and Apple
A series about songs with a powerful emotional impact, this podcast will help you relax and unwind. Try listening in the bath with a glass of wine to really let go of outside distractions and focus on the music.
3. Tracks to Relax
Free, TrackstoRelaxPodcast.com, Apple, Spotify, Castbox and Youtube
With episodes such as 'Beachside Sleep' and 'Skipping Stones', this podcast will give you an oasis of lulling sounds to help you drift off to sleep. Perfect for those nights when you're struggling to switch off.
4. Your Anxiety Toolkit
Free, Apple and Podbean
Your Anxiety Toolkit aims to give you helpful tools to manage anxiety, stress and other emotions which can impact your life. With episodes specifically tailored to managing anxiety during coronavirus and how to live in the moment, this podcast will help if you're feeling particularly panicked about the current state of the world and give you tools to manage this.
5. Nothing Much Happens,
Free, Apple and Google Play
If you can't stop checking the latest news updates once you get into bed, try listening to this, a podcast devoted to simple stories where nothing much happens to help you clear your mind and fall asleep.
6. Cool Playlist
Free, Google Play, Apple, Stitcher and RSS Feed
A soundtrack for specific moments and occasions, such as 'Making dinner alone' and 'Picking up your cat and dancing around with it', you'll be spoilt for choice for your daily isolation backing track, sure to give your mood a boost and get you up and moving.
7. Distraction Pieces Podcast
Free, itunes, acast and distractionpiecespodcast.com
Need something to take your mind off the headlines? Try this aptly named podcast with special guests who each have an amazing story to tell, including comedians, Katherine Ryan and Russell BrandMost recent episodes include isolation recommendations.
8. The Moth
Free, itunes, RSS, RadioPublic, or your favourite podcast app
The Moth offers a collection of stories highlighting a range of human and social experiences. Perfect for days when you're feeling negative and hopeless about the future, these beautiful stories will give you an uplifting boost and escape.
9. Desert Island Discs
Free, BBC.co.uk or your favourite podcast app
Each episode will have a celebrity discussing and playing their favourite songs to help you unwind after a stressful day of juggling working from home and childcare.
10. 10% Happier
Free, Apple, Google Podcasts, Spotify and many more
As well as being one of the best podcasts for self-improvement, with a variety of episodes dedicated to coronavirus, including 'How to actually get work done from home', the 'Parenting pandemic' and 'How to handle corona anxiety', this is your go-to guide for tackling any anxiety, low mood and panic you might be feeling during these uncertain times.
Do you have any other podcasts you regularly listen to? Head over to our Facebook page and let us know!
Rose Goodman is a health writer across print titles and websites including woman&home.
Prior to pursuing her career as a writer, Rose obtained a degree in psychology and went on to work in adult mental health for five years, specifically working with people diagnosed with eating disorders, anxiety, depression and OCD. Mental health and wellbeing is something Rose feels incredibly passionate about and believes normalising the conversation around mental illness is something we should all actively strive to do.