The best sleep guided meditations for drifting off at night
Struggling to nod off? These sleep guided meditations will have you snoozing in no time...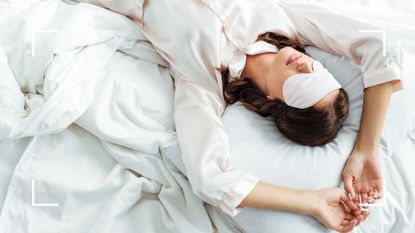 (Image credit: Getty Images)
woman&home newsletter
Sign up to our free daily email for the latest royal and entertainment news, interesting opinion, expert advice on styling and beauty trends, and no-nonsense guides to the health and wellness questions you want answered.
Thank you for signing up to . You will receive a verification email shortly.
There was a problem. Please refresh the page and try again.
Sleep guided meditations are practices designed to not only pull you away from the stress of the day but relax the body and mind, helping you get ready for a night of blissful rest.
Popular among those who have trouble drifting off at night, meditations focused on sleep take the listener through a process that has been shown to improve how quickly you can fall asleep, your overall quality of sleep and how long you can stay asleep for during the night.
Much like all the best sleep aids, there are many different guided meditations. So whether you're looking for gentle background chatter to mimic the effect of white noise, gentle ASMR for sleep or a story, there are plenty to choose from.
How do sleep guided meditations work?
Listening to sleep guided meditations can help you make time for the practice every evening, as you curl up in your preferred comfy sleeping position. Unlike the best meditation apps in general, these are specifically designed to help you nod off.
"They help lower the heart rate by igniting the parasympathetic nervous system and encouraging slower breathing, thereby increasing the prospect of a quality night's sleep," explains William Fowler, director of content at Headspace (opens in new tab). What's more, if you struggle with sleep anxiety, the practice encourages you to let go of the stresses of the day through mindfulness.
It's not always easy and it's important to be kind to yourself in the process, says director of meditation at Headspace Eve Lewis Prieto (opens in new tab), as it can feel tricky at the beginning. "The more you take the time to train the mind to be more present, more aware, more compassionate the more that is going to show up in your daily life."
However, one study from the University of California (opens in new tab) suggests that it's certainly worth it as sleep problems in older adults often go untreated - but mindfulness techniques like meditation can improve sleep quality and help you learn how to sleep better in the long term.
Guided meditations for deep sleep
There are so many different options out there if you're wondering how to relax your mind at night. Here are our top six sleep-guided meditations to download and use alongside your other best sleep aids, teamed with your best essential oils.
1. Mental Chatter Meditation by Headspace
For those nights you just can't stop your mind racing or if you have recurring common nightmares, this sleep guided meditation should be your go-to. Using the analogy of a rollercoaster, the 10-minute meditation by Headspace gently encourages you to step back from your thoughts and observe them, allowing them to come and go, rather than focusing on them, worrying about them or getting frustrated by them. The practice will help you quieten your mind, lower your heart rate, slow your breathing, relax your body and get you ready for sleep.
2. 10 Minute Guided Meditation For Sleep & Relaxation by Boho Beautiful Yoga
Poor sleep hygiene is one of the most common causes of difficulty falling asleep. If you don't allow yourself time in the evening to prep for bed, you're likely to have trouble getting to sleep and may find it difficult to stay asleep. Incorporating this 10-minute guided meditation, with ultra-soothing rain sounds, into your routine will have you nodding off in no time. Allow your body and mind to relax as the calming music takes you into a space that welcomes in deep sleep. This + a bedtime yoga practice = a dream combo for pre-sleep relaxation.
3. Rainday Antiques Sleepcast by Headspace
Headspace's Sleepcasts are like bedtime stories for adults. In Rainday Antiques, using sound and visualization meditation techniques, you'll be guided through a cozy antique shop while the rain patters outside and lulls you to sleep. The 10-minute sleep guided meditation is available for free on YouTube or you can access the 45-minute version on the Headspace app.
4. Guided Meditation For Before Sleep by Great Meditation
Sink into your mattress and unwind with this sleep guided meditation that's been created for you to do in bed or just before your head hits the pillow. To fully reap the benefits of meditation, you'd usually have to sit in a comfortable alert position and stay fully awake throughout the practice. But, the beauty of sleep guided meditations is that you can allow yourself to nod off mid-practice if it feels right, and this 10-minute meditation is perfect for doing just that.
5. Stephen Fry's Blue Gold Sleep Story by Calm
Calm's Sleep Stories tell tales, combining words, music and sound effects to create a dreamy visualization that will help you drift off at night. Narrated by Stephen Fry, Blue Gold is a 24-minute sleep guided meditation. The soothing practice takes you through the sleepy villages and lavender fields of the South of France. Bliss.
6. Positive Affirmation Meditation For Sleep by Bob Baker
Ending your day with positive affirmations is not only great for helping you fall asleep, but it's great for your overall wellbeing too. Research from the University of Pennsylvania (opens in new tab) shows positive affirmation can improve a person's sense of self and overall health. Falling asleep to affirmations like "all is well in my world" and "everything is working out for my highest self" will help put you in a positive mindset, let go of the challenges of your day and relax your body and mind for good quality, deep sleep.
---
Ciara is the former digital health editor at womanandhome.com and has covered all things health and wellbeing from fitness to sleep to relationships. She's always on the lookout for new health trends, innovative fitness gadgets and must-read wellness books.
Originally from Ireland, Ciara moved to London to study journalism. After graduation, Ciara started her career at Goodhousekeeping.com. Ciara qualified as a meditation teacher with the British School of Meditation in 2020, and outside of her day-to-day now runs her own meditation school called Finding Quiet. She is all about bettering that mind-body connection but believes wellness looks different to everyone.