The 12 best podcasts for mental health, as recommended by the experts
A pick of the best podcasts for mental health can help you understand more about yourself and others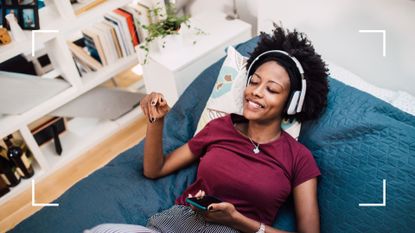 (Image credit: Getty Images)
As you'll discover, the best podcasts for mental health are the ones that fit seamlessly into your life to better your day. They will feature tools to calm your mind and conversations that will help you learn something new about your brain, from ways to overcome social anxiety to breaking down the stigma about trauma.
However, with mental wellbeing such an important topic in the podcast world, there can seem like an overwhelming number of options to choose from. This is why we've called on the experts - including therapists and psychologists, scientists, and life coaches - to share which, in their experience, are the most helpful choices to download.
Just like the best podcasts for self-improvement, recommendations for the best podcasts for mental health come in a range of different formats. Some aim to equip you with the latest mental health science and handy personal tools, while others seek to reassure you through celebrity interviews and open discussions. Some shows explore a range of topics, while others focus specifically on subjects like mindfulness or depression.
Best podcasts for mental health
1. The Happiness Lab
The Happiness Lab is all about giving you tools to "lead a happier life". It is hosted by Yale psychology professor Dr Laurie Santos, who has studied the core fundamentals of a fulfilling existence. She takes listeners through the latest scientific research and shares inspiring stories, with recent episodes looking at the benefits of silence and how to stop negative self-talk. If you're looking to learn how to recover from burnout, this could be one for you.
"I first came across this podcast last year after a client recommended an episode to me 'Emotions are data so listen to them'," says Gayle Macdonald (opens in new tab), a transformational sobriety coach. 'I've been listening ever since and I often take them on walks with me. The episodes are short, around 30 minutes, but they are full of so much goodness."
2. Ten Percent Happier
New to the world of mental health podcasts? The Ten Percent Happier podcast, inspired by one of the best meditation apps of the same name, is a great place to start. It's one of the best podcasts for mental health for anyone a little skeptical about how useful they can be. This podcast is hosted by former journalist Dan Harris, who started exploring the practice after suffering a panic attack live on air. His guests have included everyone from the Dalai Lama to Brené Brown, and he covers far-reaching subjects such as enlightenment and psychedelics, as well as productivity and happiness in relationships.
"This podcast is best suited to people seeking emotional wellbeing and general mental health," explains psychologist Giulia Bianchi (opens in new tab), who has sampled numerous podcast options focusing on emotional wellbeing over the years. "It discusses the reasons why you should consider meditation to counter or overcome things like social anxiety, depression, and relationship turmoil to achieve happiness."
3. The Mental Illness Happy Hour
While its title may indicate quite a heavy subject matter, The Mental Illness Happy Hour podcast - hosted by comedian Paul Gilmartin - brings a lighthearted take on lesser-explored mental health. The series covers fears, addictions, traumatic childhoods and more, with deep dives on perfectionism and post-partum bipolar among the most-recommended episodes to download.
"As a behavioral psychologist, I often recommend podcasts as a valuable resource for mental health. They are a convenient and accessible way to access information and guidance on a wide range of mental health topics, from stress and anxiety to depression and trauma," notes Justin Gasparovic (opens in new tab), a personal development expert, on why he is a fan of this podcast. "This one features interviews with a range of guests who share their experiences with mental illness, and provides a platform for open and honest conversations about mental health, helping to break down the stigma and providing hope and support."
4. The Hilarious World Of Depression
Another one of the best podcasts for mental health that explores a difficult subject through a cheerier lens is The Hilarious World Of Depression, which describes itself as "a show about clinical depression...with laughs", and through a series of "frank", "moving" and "funny" conversations with comedians who have dealt with the condition. It aims to destigmatize depression in all its forms and help us all learn how to support someone with depression. While the show, hosted by John Moe, shouldn't be considered a substitute for medical treatment or therapy, it's definitely a chance to gain some insights, laugh, and as the host says, "realize that people with depression are not alone and that together, we can all feel a little bit better".
It is the recommendation of positive psychology coach Elle Mace (opens in new tab). "This is a podcast discussing mental health, however, it's made comical," she explains. "The guests, including Margaret Cho, have a wonderful way of sharing their stories about depression and creating a safe space for those listening and perhaps suffering too. Removing the stigma around mental health and depression makes you feel as a listener that you can also open up and share your stories too."
5. Happy Place
Among the best relaxing podcasts is the Happy Place podcast, hosted by the much-loved presenter Fearne Cotton. Hearing her stellar list of guests, who have recently included Shania Twain, Jay Shetty, and Emily Ratajkowski, talk about "life, love, loss and everything in-between" is sure to ease your whirring thoughts and make you feel less alone.
"The magic sauce in this podcast is honesty and authentic conversations, real people, real situations, real heart, and soul," shares Nichola Henderson (opens in new tab), a holistic life and self-development coach, who is also a qualified yoga, meditation, and breathwork teacher. "It gives an interesting insight into the personal stories of her celebrity guests, but all the while remaining true to its core, which is helping people to find connection and ultimately their happy place in today's society."
6. Wellness With Ella
You'll probably know the host of this podcast, Ella Mills, for her famous Deliciously Ella platform. Wellness With Ella is an audio space where she focuses less on nutrition and more on mental wellbeing by speaking to guests - like Jake Humphrey and Dr Tara Swart - about "transforming times of great difficulty into times of enormous personal growth". She covers what's described as "un-filtered and empowering conversations", with topics as far-reaching as cultivating healthy relationships, managing intrusive thoughts, and the virtues of manifestation.
It is a go-to download for Iti Malken (opens in new tab), a self-development expert for women. "In this podcast, Ella and her guests discuss their journeys and corresponding mindset growth hacks," she notes. "It gives listeners the tools and inspiration to transform their lifestyles and their mental health - it makes you think bigger in all areas of your life."
7. The Positive Psychology Podcast
If you love when podcasts get nerdy about topics, and really explore the research, then the Positive Psychology Podcast does that with aplomb - but in a really enjoyable, understandable way. Hosted by mindfulness expert Kristen Truempy, it brings you the "science of the good life to your earbuds" and covers appreciation of beauty, gratitude, positive emotions, relationships and love, as well as more specific topics like post-traumatic growth and positive parenting.
This is a great option for understanding how to relax your mind, according to Dr Meg Arroll (opens in new tab), a chartered psychologist and author of the book Tiny Traumas (opens in new tab). "I recommend this podcast as it's evidence-based, yet practical and topical," she explains. "That is key thing for me, that the science behind psychological wellbeing is explored in an accessible way."
8. Daily Meditation
The Daily Meditation podcast offers practical tips for keeping your mental health in check each day, every day. Hosted by certified meditation and yoga teacher Mary Meckley, it's one of the best podcasts for mental health as it's designed for those who "yearn for simpler calmer days", and it provides "insight and understanding of the biggest stressors of our time" by covering a different weekly theme. Some of our expert's favorites include ones on rekindling your purpose and releasing tension in our relationships.
"Each episode is an 11-minute-long guided meditation, which means I can always make time for self-care even when I have a busy day," notes Valentina Cerutti (opens in new tab), a BCAP-registered psychotherapist and counselor. You could even use this podcast alongside one of the best yoga apps for an even better mind-body connection.
"I find it increases my productivity and reduces stress. I've tried various meditation apps and podcasts, but I found this one to be the best balance between reflection, breath work, meditation, and learning something new each day. Because it's so short, it's very easy to fit into a busy schedule," Cerutti, who can be found at Therapy Finders (opens in new tab), adds.
9. Therapy for Black Girls
You will find a wide range of topics covered in the Therapy for Black Girls podcast, which is hosted by Dr Joy Harden, a licensed psychologist. It describes itself as covering "all things mental health, personal development, and all the small decisions we can make to become the best possible version of ourselves". This includes ways to boost mental wellbeing in everyday situations.
Recent episodes include understanding seasonal affective disorder and how to combat SAD, getting organized with money, and Black maternal mental health. "This is a powerful podcast intended to resonate with Black women," says psychologist Bianchi. "It covers a range of topics on mental health and other relevant issues."
10. Couples Counseling For Parents
Do you have children? Has it impacted your relationship? Are you looking to learn how to revive romance in a relationship you've been in for a long time? The premise of the Couples Counseling For Parents podcast is simple but well thought out and that's what makes it one of the best podcasts for mental health. It's a series about relationships and how they work or don't work, and what you can do within your partnership to fix it. Recent topics have included knowing when to have conflict in front of your kids, and how to get your spark back again.
"I think it's great for making space for couples to understand how their relationship changes and develops as through the parenting journey," says Dr Jenna Vyas-Lee (opens in new tab), clinical psychologist and co-founder of Kove (opens in new tab). "At its simplest, it is incredibly normalizing to know 'we are not the only ones' but it also provides a balanced perspective of both parents, and several straightforward tips to use that day!"
11. Inside Mental Health
The Inside Mental Health podcast cuts to the chase and simplifies mental health topics in an understandable, but non-patronizing, manner, with its host Gabe Howard speaking openly with experts and celebrities alike to get to the root of complex subjects. Recent episodes have included tackling what happens when you give up alcohol, the pitfalls of antidepressants, and whether giving up on something can be a good thing.
"This podcast brings in experts from various spaces, including experts and celebrities, to talk about a full range of experiences and feelings, and break down some of the complexities of psychology, minus all the jargon," says Smriti Joshi (opens in new tab), mental health therapist. "To destigmatize mental health we need to make it accessible, and the podcast does a great job of doing that."
12. Unlocking Us
The Unlocking Us podcast is one of the best relationship podcasts generally, and one that experts recommended to us time and time again. Hosted by lecturer and author Brené Brown, who has spent two decades studying the emotions and experiences that bring us meaning and purpose, this series explores the "magic and the messiness of what it means to be human" as a broad subject area. As well as speaking to a range of guests, she also posts episodes discussing new research in this area and answering personal listener questions.
"This podcast features conversations with a range of guests about vulnerability, courage, and empathy," says personal development expert Gasparovic. "It provides an inspiring and uplifting perspective on mental health and personal growth, helping listeners to develop a greater sense of self-awareness and compassion." It's a great one to delve into the back catalog of if you're struggling with burnout from work as well.
How to choose the best mental health podcasts for you
Find one that works for your lifestyle: "Just because something works for someone else, doesn't mean it's right for you. Everything from the length of time, i.e. are you busy and need bite-size content, or do you prefer to spend time digesting a long story in bed?, to the right subject matter," suggests Joshi, who is also the lead clinical psychologist at Wysa (opens in new tab).
Seek out the topics that are most important to you: Whether that's one of the best quit lit books turned into an audiobook, help with social anxiety, the best podcasts to fall asleep to, or stories of those experiencing the same condition as you, find the podcast that resonates most with you.
Science or stories? "If you're scientifically minded, you might want a statistics and science-based one to help you tackle a problem in your pick of the best podcasts for mental health, whereas some people prefer stories and experiences that can help them feel less alone. It's all about gaining an understanding of yourself and finding the right fit," the psychologist notes.
Find one where you resonate with the voice: "I think it's important that you feel some connection with the host, this doesn't mean you have to agree with them all the time, but it means that you have an interest in their journey, their story, or the topic they are discussing," points out Henderson. "Listening to someone who has been through something similar, or talking about a topic that you can resonate with gives you a sense of understanding, but from another fresh perspective."
Make sure the experts are qualified: You also want to be sure that the host and the experts they have on are qualified enough to know the difference between things like stress versus burnout, or that the host is equipped to navigate a conversation with non-expert guests so that it's helpful rather than harmful. "It's important to make sure the podcast is being produced professionally," notes Mace.
Tips for getting the most out of your mental health podcast
Make it routine: "It is a good idea to make listening regularly part of your weekly routine," says Macdonald. "Try and make it a nice experience, maybe take your podcast with you on your morning walk or sit with a cup of tea as you listen. Consistency is key and listening in regularly will lead to improvement over time. However, don't beat yourself up if you miss an episode."
Keep an open mind: "Our beliefs and values are strongly ingrained into our subconscious mind, and sometimes we can forget that what we think or believe might not actually be true," suggests Henderson. "Therefore, keeping this awareness of your emotions, reactions, and thoughts when listening to new perspectives and new material can be a wonderful method of introspection. Listen to your gut instinct, if something feels like it's connecting with you and you feel inspired then go with it, take some notes if you are able, and come back to it again later."
Action their advice: "Make sure you can easily take notes and journal out parts that stand out to you and if not, find a time to reply and skip to the parts you want to hear again," recommends Mace. "If any podcasts advise on exercises, make sure you do them. Reflect after the podcast, what did you learn, and what changes could you make? If an episode resonated with you, listen to it a few times to cement the messages and new learnings, or listen every few weeks if you found it motivating."
Don't overestimate them: "A podcast should be used in conjunction and as part of wider wellbeing and mental health support," notes Joshi. "Don't expect them to solve all your problems, but use them as part of your toolbox. The thing about podcasts is they are often solo endeavors. If you know you might find a topic challenging or triggering have solutions available to offload afterward, possibly with a friend."
Know their limits: "Remember podcasts are there in a 'self-help' capacity and are meant for guidance only, not to replace professional support," warns Macdonald. "So, if what you are listening to causes upset or triggers something then stop listening for a while and seek out support from a trusted friend or professional."
Lauren is a freelance writer and editor with more than six years of digital and magazine experience. In addition to Womanandhome.com she has penned news and features for titles including Women's Health, The Telegraph, Stylist, Dazed, Grazia, The Sun's Fabulous, Yahoo Style UK and Get The Gloss.
While Lauren specializes in covering wellness topics—ranging from nutrition and fitness, to health conditions and mental wellbeing—she has written across a diverse range of lifestyle topics, including beauty and travel. Career highlights so far include: luxury spa-hopping in Spain, interviewing Heidi Klum and joining an £18k-a-year London gym.