The 12 best podcasts for anxiety, according to the experts
One of the best podcasts for anxiety can help soothe anxious minds or offer more information on the condition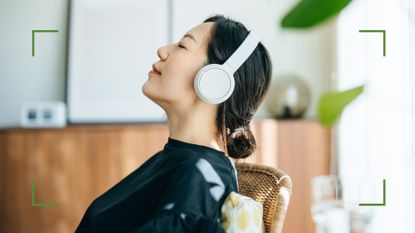 (Image credit: Getty Images)
The best podcasts for anxiety are no substitute for professional medical advice, but they can be helpful resources and feature a wide range of experts, interesting studies, and practical tips for you to implement into your own life.
Anxiety is a difficult condition that some people deal with from an early age and others experience later in life. For example, those going through menopause may experience anxiety in a way they never have before as the hormonal changes can have an impact on our mental health. It's also a condition that can come and go in its severity, depending on what's going on in a person's life.
To help you discover the best podcasts for anxiety on platforms like Spotify and Apple Music, we've asked the experts to recommend their favorites. Many of them also feature on our round-up of best podcasts for mental health and each one touches on different areas of the condition so no matter how anxiety shows up in your life, our selection can support you.
The best podcasts for anxiety
1. Your Anxiety Toolkit
If you suffer from anxiety, you'll know that it can be difficult to find strategies and tools to help you stay calm in high-stress moments. The Anxiety Toolkit by Kimberley Quinlan, founder of CBTschool.com, focuses on providing science-based tools for anyone with anxiety, OCD, and depression.
With a vast variety of episodes, including tips for managing health anxiety during a visit to the doctor and the dangers of catastrophization, the podcast interviews a wide range of experts and looks into mindful techniques that we can all utilize.
2. Untangle Mindfulness For Curious Humans
Untangle, created by the people behind the Meditation Studio app, is a great podcast to listen to if you want deep dives into topics related to anxiety, such as the link between the brain and exercise, creating calm in your life, and finding joy in difficult moments.
Untangle's hosts, Patricia Karpas and Ariel Garten, interview authors, experts, and thought-leaders, to bring you tips and techniques to help you hack your brain, along with the occasional 15-minute meditation episode to unwind your mind.
3. Ten Percent Happier
One podcast that featured as a favorite among our experts is Dan Harris' 10 Percent Happier, which is also considered one of the best podcasts for self-improvement. Designed to help us understand how we can approach life's challenges, Harris interviews experts in psychology, self-help, and neurology, to find out how we can lead a happier life.
"A good podcast to support those with anxiety is Ten Percent Happier," says chartered clinical psychologist, Dr Gemima Fitzgerald. "This podcast is hosted by Dan Harris, whose interest in overcoming anxiety grew when he had a panic attack live, on national television. He is a great advocate of meditation and mindfulness and believes that contentment is a skill you can learn and train for, much like building your muscles in the gym."
The podcast also features bonus meditation episodes, where listeners are guided through a six-minute meditation by one of Harris's expert guests. As research from St. James's Hospital Dublin shows, meditation can be an effective tool in helping to manage anxiety.
4. The Calmer You
With the help of expert hypnotherapist and author of The Anxiety Solution and The Confidence Solution, Chloe Brotheridge, The Calmer You is a great podcast for those who want to learn more about how anxiety manifests and what you can do to combat it.
There are episodes on how to relax your mind and boost a low mood and tips for learning your attachment style in relationships. Brotheridge uses practical tips to inform and engage listeners while helping them understand specific self-help strategies in more detail.
5. Unwind with Poppy Jamie
Unwind With Poppy Jamie might not be a podcast that's specifically dedicated to anxiety, but it made our list because of its engaging style and diverse selection of guests.
"Poppy interviews experts in a variety of fields, all of whom work to make our lives a touch better," says chartered psychologist and author of the book Tiny Traumas, Dr Meg Arroll. "Poppy's approach to being 'happy not perfect' is a balm to anxious minds and her insights with her guests give a rounded view of how we can give ourselves a bit of a break and support both mental and physical health."
6. Yeah, no, I'm not okay
Despite an ever-growing awareness of mental health issues, there is still a stigma around many conditions. In the Yeah, No, I'm Not Okay, the aim is to open up the conversation around mental health further, with topics covering everything from addiction and depression to self-love and anxiety.
If you're looking for advice on how to support someone with depression then this is a great podcast to help with understanding the condition better and how to reach out to someone who may be struggling.
7. The Happiness Lab
Have you ever wondered about the science behind happiness? In The Happiness Lab, Yale professor Dr Laurie Santos takes you through the latest scientific research and shares some surprising and inspiring stories that will change the way you think about happiness and how to deal with stress, along with other deep dives into self-help techniques.
"This is an easy podcast to listen to as Dr Santos explores how behavior and emotions are linked," says general practitioner Dr Raj Arora. "There are some great pointers on how to manage negativity and how to lift mood, making it a great listen for anyone struggling with anxiety."
8. The Anxious Achiever
Anxiety can often be tied in with feelings of perfectionism and expectation, and there's no better breeding ground for these feelings than the workplace.
"One of the biggest taboos is talking about anxiety at work," says CBT and EMDR therapist Jordan Vyas-Lee. "Even with the conversation on mental health conditions opening up, it's still a huge challenge. The podcast deals with anxiety at work and, refreshingly, features interviews with people inside big businesses. It's relatable and reassuring to hear that workplace anxiety is the norm for these types of people. The show hopes to revolutionize not only our own relationship with mental health but also the set up of the 21st-century workplace."
If you're looking to learn more about burnout at work and how to avoid it, this could be the podcast for you.
9. Unlocking Us with Brene Brown
In Unlocking Us, which is also one of the best relationship podcasts, author Brene Brown explains being human sometimes means making space for hard, difficult emotions. Her podcast features vulnerable, open conversations with her guests, all while exploring how new research, concepts, and ideas can help us foster self-awareness.
"Brene hosts this podcast that explores vulnerability, courage, and connection," says Dr Fitzgerald. "This podcast has gained a huge following by bringing to life what it means to be human. She invites different guests in to have conversations with her to help people understand themselves and others better."
10. The Self-Development Podcast
In our guide to the best podcasts for anxiety, we thought it was important to include a podcast that features personal experiences as well as expert interviews. The Self Development Podcast is ideal for anyone who wants tried and tested ways to combat anxiety that have worked for others.
"Johnny goes pretty deep into some challenging topics with his guests, using his own personal experience of trauma, anxiety, and addiction," says Dr Arroll. "This openness is so helpful and Johnny is a compassionate advocate for mental health, yet bringing in some of his tools to help us all with our own challenges."
11. The Mental Illness Happy Hour
If you want to listen to a podcast that explores people's stories of mental health conditions then The Mental Illness Happy Hour is a great show to tune into. Even though the podcast touches on difficult subjects such as addiction, self-harm, and depression, it remains compassionate and conscientious. For those who struggle with anxiety, there are important conversations surrounding panic attacks, health anxiety, and whether there's such a thing as 'good anxiety'.
"A really engaging show that brings to the table really important content, but dresses it up lightly with humor and entertainment," says Vyas-Lee, who is also a co-founder of mental healthcare clinic Kove. "There are weekly guests of varying professions and there's stuff you'll connect with in every show."
12. Not Another Anxiety Show
Hosted by nurse and health and wellness coach Kelli Walker, Not Another Anxiety Show made our list of the best podcasts for anxiety for its practical tips and simple, straightforward guidance.
"There are super helpful, practical, and realistic strategies, with lots of tips that you can fit into everyday life," says clinical psychologist Jenna Vyas-Lee. "It's very light-hearted in just the right way."
Are anxiety and depression related?
Anxiety and depression are technically separate disorders but they can occur at the same time as one another or one can come about as a result of the other, says psychologist Dr Alison McClymont. "Anxiety is a sense of overwhelm or impending doom. It can also be categorized as feeling unable to think or function or being in a consistent state of being on edge. Anxiety is not necessarily exclusively having panic attacks as it doesn't need to manifest as panic in order to be classed as anxiety. Also, anxiety doesn't always make itself as obvious as a panic attack to those dealing with it. Anxiety can be an insidious feeling of uncalm or discontent, or consistently looking for things that might go wrong," she explains.
"On the other hand, depression can be categorized as a debilitating illness whereby the sufferer is unable to perform basic tasks related to personal hygiene or eating, or it can be a persistent feeling of low mood or being 'tearful'. Depression is not necessarily always treated by medication but in some instances, this can be very helpful. Depression may look like trouble sleeping, or sleeping too much it may also look like under or overeating."
Both of these things may also be symptomatic of anxiety and other conditions, such as emotional burnout, which is why it's important to seek medical help if you find you identify with any of the symptoms.
Can podcasts for anxiety help?
Anxiety can manifest in many different forms, from health anxiety to menopausal anxiety. While podcasts can't substitute for therapy or advice from a medical professional, a pick of the best podcasts for anxiety can offer some useful tools if you're looking for practical ways to improve your emotional wellbeing.
"A podcast isn't psychological therapy or treatment," agrees Dr Arroll. "So, please do seek advice and support from a professional. Your general health practitioner is normally the first port of call. They can refer you to psychological services in your area."
However, there are also so many things we can do ourselves to help manage the symptoms of anxiety. "This is where podcasts come in," she says. "Listening to other people's stories makes a difference as anxiety can be a terribly isolating experience and also many podcasts recommend easy tips and techniques you definitely can add to your anxiety-busting toolkit."
Dr McClymont agrees, adding that having podcasts to fall asleep to or sounds to relax with can be helpful too. "I regularly tell my patients to engage in listening material that helps them calm the mind," she says. "General psycho-education around anxiety can also be helpful as anxiety has a biological basis that, once understood, can be amazingly empowering for sufferers to know more about."
With five years of experience working across print and digital publications, Stacey is a journalist who specializes in writing about the latest developments in health and wellbeing. She has also previously written for Women's Health, Get The Gloss, Fit & Well, Stylist, and Natural Health magazine, covering current health trends and interviewing leading figures in the wellness space.
When she's not talking to health experts, you can probably find her hiking somewhere in the Welsh countryside or near the coast. Her favorite two ways to switch off are a Pilates class and a glass of wine with a home-cooked meal.