How joining a walking club can add years to your life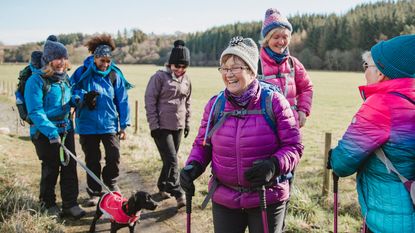 (Image credit: Getty Images / SolStock)
woman&home newsletter
Sign up to our free daily email for the latest royal and entertainment news, interesting opinion, expert advice on styling and beauty trends, and no-nonsense guides to the health and wellness questions you want answered.
Thank you for signing up to . You will receive a verification email shortly.
There was a problem. Please refresh the page and try again.
It's not just about the physical health benefits – walking with others can boost mental wellbeing and combat loneliness, discovers Sarah Finley.
Already got yourself a pair of the best women's walking shoes (opens in new tab)? Then it's time to sign up to one of your local walking clubs. But, don't worry. While joining a walking group or holiday (opens in new tab) can seem a little daunting at first, the pros definitely outweigh the cons. In fact, joining one could add years to your life (opens in new tab).
On your own or can't seem to persuade any of your family or friends to go walking with you? You shouldn't feel defeated. There are hundreds of walking groups all over the country that welcome anyone to join them.
Before I joined my first walking group, on a walking holiday in the UK, I knew there would be some physical health benefits to walking four hours a day. But I didn't think of the other benefits that a walking group could bring, such as the social aspect and even the mental health benefits (opens in new tab).
But, where do you start when thinking of joining a walking group? And how will you benefit personally by joining one? Lace up your boots, grab some of the best walking socks and let's walk through the basics.
Health benefits of walking clubs
The NHS recommends 150 minutes of activity a week (opens in new tab); some find that fitness apps or devices (opens in new tab) help them record these minutes and steps. I aim to do 10,000 steps a day and, when I was on my walking holiday, I was doing around 20,000 a day – and I quickly saw the health benefits.
As I was walking, my heart rate increased. Plus, I was burning calories (opens in new tab) and being in the outdoors was great for my mental wellbeing. Dr Nick Summerton, who is a GP and a keen walker, says that the long-term health benefits of walking are vast: "You're less likely to suffer from heart problems, diabetes (opens in new tab), strokes (opens in new tab), dementia (opens in new tab) and even cancer if you get out and walk more. Plus, you will generally feel better in yourself, which is important, especially during a pandemic."
Plus, he says, walking in a group will help with your pace: "If you're in a group, you normally walk at a better pace (opens in new tab). Just walking on your own, you would normally go at around 2mph. But, if you're with others, you'll probably pick up your pace to 3mph."
In terms of mental health, regular exercise and walking lowers our stress levels (opens in new tab) and can improve sleep patterns (opens in new tab). Dr Nick believes walking is great for issues such as depression (opens in new tab): "It's a great preventative prescription and can also be part of the treatment for anxiety and depression."
By the end of my walking holiday, I was sleeping better, I'd lost weight and I had more energy. Plus, mentally I felt more positive than when I'd arrived.
Socialising with likeminded people
The saying goes "you are the company you keep" and joining a walking group will give you an opportunity to socialise with likeminded people (opens in new tab). And, just like you, these people will be hoping to stay fit and healthy.
On my walking holiday, the people I met and walked with were hoping to make lifestyle changes for a healthier lifestyle. So, as we walked, we spoke about how to get more exercise (opens in new tab) into our daily lives. We swapped healthy recipes and discussed different walking groups near us.
Dr Nick agrees that talking as you walk is great for our minds and mental wellbeing: "It's not just about the exercise – the benefits of being with others is huge, as you're both talkingandwalking. In these uncertain times, that can be hugely helpful."
Loneliness is also said to be more dangerous, in health terms, thanobesity can be. Meeting new people in a walking group, although slightly daunting to begin with, is good for our mental wellbeing. This is because connecting with others gives us a sense of belonging and self-worth.
But can walking actually help you live longer? "There is no doubt that it can add years to your life. Sofas are very dangerous places. You are more likely to die if you're sitting on a sofa every day than if you are out walking. Walking is a great prescription and, best of all, it's free," says Dr Nick.
https://www.youtube.com/watch?v=M_fixOTIW4c
How to join walking clubs
Ramblers (opens in new tab)is Great Britain's biggest walking charity, with 500 local walking clubs. Their members have been supporting each other during the pandemic, even at times when they haven't been able to walk together.
All their group walks are led by trained volunteer walk leaders. Some of them, understandably, have not been able to lead walks during the pandemic and groups have had to adhere to social-distancing guidelines (opens in new tab).
They usually offer walks of varying lengths, so you can start with shorter distances if you are not an experienced walker. Plus, you don't have to worry about joining immediately – your first three taster walks with any Ramblers groups are free.
To search for your nearest group, check theRamblers website, which will also give you the latest guidance and regulations for walkers about Covid 19 restrictions.
Sarah is a freelance journalist - writing about the royals and celebrities for Woman & Home, fitness and beauty for the Evening Standard and how the world of work has changed due to the pandemic for the BBC.
She also covers a variety of other subjects and loves interviewing leaders and innovators in the beauty, travel and wellness worlds for numerous UK and overseas publications.
As a journalist, she has written thousands of profile pieces - interviewing CEOs, real-life case studies and celebrities - interviewing everyone from Emma Bunton to the founder of Headspace.