Can you still go for walks and runs during social distancing or self-isolation?
These are the the rules.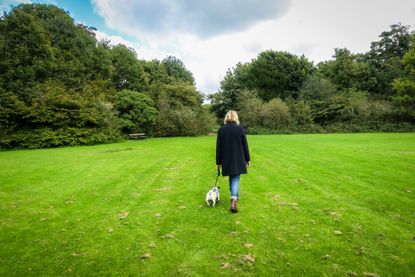 As the UK goes into lockdown, can you still go for a walk or run outside while you social distance from other people?
Walking, and other forms of moderate intensity exercise are crucial for both our health and wellbeing. But as the government ramps up its lockdown measures amid the coronavirus (Covid-19) pandemic, many Brits will be wondering if their daily strolls are still permissible, and what limits they should be aware of. Can you still go for walks and runs during social distancing?
Walks during social distancing: can we still go?
The government has outlined everyone should maintain a distance of two metres (or 6ft) from others around them to delay the spread of coronavirus (covid-19), with a few exceptions such as those who act as carers for a vulnerable person.
This should be observed when walking outside of your home for the following permitted reasons:
Shopping for basic necessities, for example food and medicine, though this must be done as infrequently as possible.
One form of exercise a day, for example a run, walk, or cycle – alone or with members of your household.
Any medical need, or to provide care or to help a vulnerable person.
Travelling to and from work, but only where this absolutely can't do you same role from home.
Many public parks and gardens are now closed, including those on all National Trust properties and all parks in the Borough of Hammersmith & Fulham. The family of 15 UK National Parks – which includes, amongst others, the Brecon Beacons, the Lake District and the New Forest – also urges on its website that 'this is not the time to travel to visit them'.
However, many, including London's Royal Parks and local commons and greens remain open. It's important to check your local authorities' website for further details, as the situation may change daily.
The government advises that you must wash your hands using soap and water, or use hand sanitiser, as soon as you come home after a period outside.
Runs during social distancing: is it still safe?
Much like with walks, or shopping outside, staying safe while running during this period of lockdown in the UK is all about applying the same health measures as you would with any venture outside.
MORE:The new Nightingale Hospital shows the scale of UK's coronavirus outbreak: here's everything we know about it
According to experts, going for a solo jog is generally still considered safe, as long as you maintain that all important 2 metre distance from anyone else - or a larger distance if possible.
However, it is not okay to go for a group jog or run, so it's time to ditch that social running club if you haven't already. Similarly, try to avoid crowded places as much as possible - so pick a quieter running route, and cross the street if you see someone approaching.
It's also important to remember that measures like hand-washing as soon as you return home still apply after a run.Akiko Iwasaki, a professor of immunology at the Yale University School of Medicine, said we should still treat public spaces outdoors as "contaminated", even though they are out in the fresh air.
This means there should be no touching your face (or wiping away sweat) during a run, and avoiding holding on to rails for stretching, etc.
There's also long been rumours that running outside in cold weather can be bad for your health. But this isn't true - experts reveal that you're no more likely to get ill from running in the chilly weather.
Walks during self-isolation
If you, or anyone in your household, has a recent on-set of one, or both, of the most common symptoms of coronavirus below you will need to self-isolate – which means not leaving the house at all, even for a walk – for 7 days from when your symptoms started. This is with the exception of exercising in your garden, if you have one.
These symptoms are:
a new continuous cough and/or
high temperature (above 37.8°)
If you live alone and have coronavirus symptoms
You will need to self-isolate for 7 days after which you can carry with your existing routine, including going out for daily walks.
If you live in a household with others and have coronavirus symptoms
You will need to self-isolate from the start of your symptoms for 7 days and then you can continue with your normal routine, including going out for daily walks. However, the rest of your household will have to self-isolate for 14 days from the start of your symptoms, whether they display any symptoms or not. At the end of the 14 days they too can resume their normal routine, including going out for daily walks.
But if any other member of your household begins to experience one, or both, of the common coronavirus symptoms outlined above within this 14-day period they must start the clock on their own 7-day period of self-isolation, even if this takes them past the 14-day period. You can find more detail in this explanatory diagram.
What about those who are deemed 'extremely' vulnerable?
From Monday March 22rd, around 1.5 million people who were deemed to be at most risk of severe illness upon contracting coronavirus were told not to leave their homes for a period of at least 12 weeks.
This means not leaving the house for any reason, including going for walks to do the above.
However, one such letter shown to womanandhome.com by a person in this group outlines that you can get out in your garden area or sit on your doorstep if you can, keeping a distance of at least two metres.
Failing that, it advises spending time with windows open to let in fresh air, sitting somewhere in the house where you have a nice view and can get some natural sunlight.
You will have been contacted by their GP practice via letter/text informing them you that you are part of this group, and the full list is outlined below:
solid organ transplant recipients
people with specific cancers
people with cancer who are undergoing active chemotherapy or radical radiotherapy for lung cancer
people with cancers of the blood or bone marrow such as leukaemia, lymphoma or myeloma who are at any stage of treatment
people having immunotherapy or other continuing antibody treatments for cancer
people having other targeted cancer treatments which can affect the immune system, such as protein kinase inhibitors or PARP inhibitors.
people who have had bone marrow or stem cell transplants in the last 6 months, or who are still taking immunosuppression drugs.
people with severe respiratory conditions including all cystic fibrosis, severe asthma and severe COPD
people with rare diseases and inborn errors of metabolism that significantly increase the risk of infections (such as SCID, homozygous sickle cell disease)
people on immunosuppression therapies sufficient to significantly increase risk of infection
women who are pregnant and who also have significant heart disease, congenital or acquired
The NHS are also set to send frequent texts to this group offering them the latest advice, while an army of NHS volunteers has been recruited in order to help collect shopping, prescription medication and provide check in calls.
There are also plenty of outlets where you can still order food and drink online.
The importance of regular physical exercise
Dr William Bird MBE is a Reading-based GP, an adviser to the World Health Organisation (WHO) and the UK government on physical activity. He is also the founder of Intelligent Health an organisation dedicated to increasing physical activity and improving the health of communities around the world.
"Strengthening your muscles is one thing you can do to boost your immune system so it's important to stay active, whether that's doing exercises at home or in the garden. Current government advice is that you can go for a walk once a day in your area; ensure you're 2m apart from others and that you wash your hands when you get home," Dr Bird says.
"If you can, head to a park or a green space, while observing the guidelines over social distancing, and walk briskly for ten to 15 minutes. This boosts your body's production of 'Natural Killer Cells' which fight viruses.
"Walking outside and in nature if at all possible is also a mood enhancer, and has been proven to reduce stress levels and improve mental and emotional wellbeing for adults and children alike."
Miriam worked for woman&home for over five years and previously worked on the women's lifestyle magazines Woman and Woman's Own.