This is where you can order food and drink online in the UK
These brands are still delivering during the new nationwide lockdown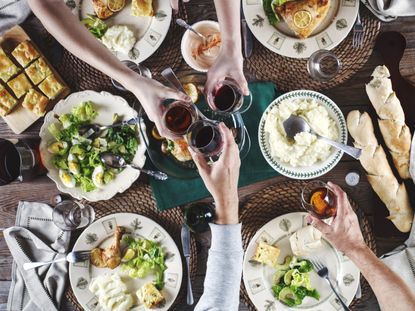 With another lockdown on its way and a new variant of COVID lurking around, it's time to look at food delivery options if are unable to get out of the house...
After Prime Minister Boris Johnson's most recent announcement, we're all preparing a third national lockdown, which is set to get underway this week.
And although under the new restrictions we will be allowed to go out to the supermarket to get hold of our essentials, we are being advised to stay home as much as possible.
And with a new COVID-19 variant now making its way around the UK, many may be put off the idea of heading out to the supermarket. Plus those who were previously required to shield will now have to do so once again, so getting to the supermarket could be a challenge.
So ordering food and drink online seems to be the best option for the moment - here's where to get hold of all your essentials and more...
Food
Order food online today
Iceland
Specifications
Wait time for delivery: Within a few days
Iceland have now lifted their restrictions and are offering delivery to all shoppers, with customers over the state pension age (65+), self-isolating and vulnerable people like the disabled prioritised. According to the supermarket, it will be releasing delivery slots during the day. They're also offering free next day delivery for orders over £35.
If you're self-isolating, Iceland offer 'contact-free' delivery to ensure your safety.
Ocado
Specifications
Wait time for delivery: Dependant on area
Ocado has been one of the most in-demand food delivery services ever since the first lockdown kicked off - and for good reason. They stock some of the best-quality affordable food products around, with groceries from Waitrose and M&S Food and produce from Daylesford farm.
Tesco
Specifications
Wait time for delivery: Dependant on area
One of the biggest supermarkets around that's bound to have all your essentials stocked up to make them easy peasy for you to get hold of!
Amazon Fresh
Specifications
Wait time for delivery: Same-day, or 24-hrs depending on postcode and availability
The UK's favourite market place, Amazon has a grocery delivery service. Amazon Fresh will delivery groceries to your door from some of the local shops and markets, as well as big name suppliers like Morrisons. They also stock basic health and beauty essentials to keep you going in lockdown.
To purchase items sourced locally, you'll need to order by 8am to receive same-day delivery between 2pm and 11pm, or order by 5pm for next day delivery. While you can order before 2.30am on all other products to receive next day delivery for the morning, or order before 10am and you'll be able to get same-day delivery between 2pm and 11pm.
Due to high demand and social distancing measures, delivery slot availability is currently limited, however new windows are released throughout the day so you're likely to get a slot at some point.
The Cooperative
Specifications
Wait time for delivery: From 2 hours, according to what time slots are available
You've seen them start to appear on every street-corner in the last few years, but the Cooperative isn't just for nipping into when you've forgotten a pint of milk.
Their online grocery delivery service still has some slots available for when you want to order food and drinks online, in some areas with free delivery as soon as 2 hours after ordering and in others, from Monday. Or you have the option to order your groceries online and pick them up in store.You'll have to check that the service is available in your area though.
Morrisons
Specifications
Wait time for delivery: Dependant on area
An old reliable when it comes to bringing us well-priced groceries, Morrisons is still delivering throughout lockdown for everyone to get hold of all their essentials.
Simply Cook
Specifications
Wait time for delivery: Weekly
Simply Cook is a brilliant way to use up odds and ends in your cupboards (like that leftover half packet of rice, or lentils that never seem to get used) and any fresh veg you might have in the fridge. You get everything you need to make a delicious meal - including spices, pastes and a recipe - all you need to do is add fresh ingredients.
In times when popping to the shop isn't as easy as before, this is a great option as the recipes offer ingredient options - and will still work well if you sub in similar fresh ingredients that you already have in.
Mindful Chef
Specifications
Wait time for delivery: Various delivery slots, usually within 4-6 days
This healthy eating brand is brilliant for fresh, tasty meals that are easy to pull together. They offer recipe boxes with recipe cards and all the ingredients you need to create meals for the whole family.
Beelivery
Specifications
Wait time for delivery: 30-90 minutes
Delivering across the UK in as little as 30-90 minutes using local, crowd-sourced drivers, Beelivery's site is still accepting new customers if you want to order food online.
Predominantly a snack-orientated site, they have plenty to offer if you're looking to keep those cravings (opens in new tab) at bay. They also offer essentials like bread, eggs and olive oil, as well as meal options to feed a family, from frozen pizzas to whole chickens - they even have pet food.
Farmdrop
Specifications
Wait time for delivery: Delivery times vary
Farmdrop is a locally sourced, online grocery delivery service with strong focus on farm-to-table foods for those in London. It also specialises in ethically-sourced baby foods, along with deli and other household products.
At the moment, Farmdrop has a queuing system set up to deal with the surplus traffic to the website. If you're looking for a quick-fix order, this might not be the one for you but if you can sit in the queue (over 1 hour waiting time at peak hours) they still have product available, if you're willing to wait it out.
The London Restaurant Co-Operative
Specifications
Wait time for delivery: Same day delivery if you order by 12.30. Order any time for next day delivery.
We can't rave enough about this brand new co-operative, which offers an affordable, top quality take-away option - all while giving back to the community. This new initiative from the culinary mastermind behind Soho's Le Bab (opens in new tab), Stephen Tozer, is bringing together some of London's finest chefs to offer delicious, restaurant-standard food for those who are struggling to order online. There'll be two different meal options daily (one vegan and one non-vegan), with the menu being advertised online and on Instagram (opens in new tab).
Each meal costs just £7 and, in addition to feeding your household, you'll also have the option to donate meals to the vulnerable on top. By adding a £4 tip on the order will cover a delivery of a meal to UCL hospital for staff or to The Connection at St Martin-in-the-Fields homeless shelter. You can order via their website (opens in new tab), but these guys also accept orders by email on info@londonrestaurantcooperative.com (please note, deliveries are London only). Keep up with the daily meals on offer @londonrestaurantcollective (opens in new tab).
Wine and spirits
Order wine and spirits online
Laithwaite's
Specifications
Wait time for delivery: Within 7 working days
If you're all stocked up on groceries but struggling with the lack of alcohol in your cupboards, look no further than Laithwaite's. A case of their red wines (opens in new tab) comes in at only £7.49 per bottle, which is similar to what you might spend on a bottle in store.
Majestic
Specifications
Wait time for delivery: Dependant on area
Majestic's ever-changing wine list means there is no need to settle for what you're used to. In these changing times, why not try something new? But of course they do keep their collection of delicious staples on offer for you to stock up on your favourites.
Waitrose Cellar
Specifications
Wait time for delivery: Dependant on area
Can't get down to your local Waitrose to sample their fine wine selection? Dig into straight from your sofa with their handy delivery service.
Marks & Spencer
Specifications
Wait time for delivery: Next day delivery available
Usually pop by M&S on a Friday night to grab your favourite bottle of plonk? Now you can get their staple wines delivered straight to your front door.
The Bottle Club
Specifications
Wait time for delivery: 1-3 days
The Bottle Club offers every spirit, wine or beer under the sun - and they're still delivering. Team a bottle of something special with a sweet treat for a thoughtful gift, or stock up on a discounted case of wine and beer to see you through lockdown.
Beer
Order craft beer online
Honest Brew
Specifications
Wait time for delivery: Within 3 working days
Weekends during lockdown (opens in new tab) call for trying out new things, so if you're a fan of craft beer then head over to Honest Brew to get hold of some of the stellar offerings they have in - the perfect thing for a Friday night to unwind after a long week WFH!
Brewdog
Specifications
Wait time for delivery: Despatches within 1-3 working days
Even if you're not a massive beer fan, you will have likely heard of BrewDog. Order their cans straight to your home for a refreshing beverage in the evening.
Beer Hawk
Specifications
Wait time for delivery: Different options available
Featuring another huge collection of beers, you can get your fix of whatever you're looking for here.