How to beat those pesky snack cravings for good - and build healthier habits
The temptation of a 3pm chocolate bar is all too strong.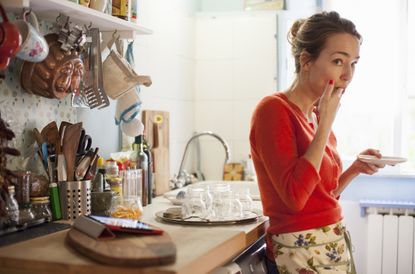 (Image credit: Getty Images)
We all want to know how to stop snacking, but at least half of us are tempted by unhealthy snacks twice a day or more.
Looking for tips on how to stop snacking?
You're not alone. In fact, 27% of women say they nibble even if they're not feeling particularly hungry, with a third saying they turn to unhealthier options when they are bored.
Here's how to stop snacking - or, how to snack healthier...
Try the 3:2:1 formula
If you find yourself picking at food throughout the entire day, adopting a snacking structure can help avoid overeating. "The formula helps people make better choices throughout the day by highlighting the recommended size and frequency of top-ups in-between meals," say Graze's head of health and nutrition, Eleanor Freeman.
The 3:2:1 method includes:
Three balanced meals (including breakfast)
Two smaller snacks (opens in new tab), up to 150 calories each
One additional larger snack up to 250 calories, if you're exercising
Snack when you're hungry, but as a general rule of thumb, have a snack mid-morning and mid-afternoon, especially if you're exercising. "It's best to snack at least an hour before your workout so that you have the essential energy required," advises Eleanor.
MORE:Nearly half of Brits admit they could 'do more' to reduce waste (opens in new tab)
Choose a quality snack
Aim for feeling fuller with healthy food, rather than sweet treats, advises Eleanor. "Avoid high-calorie, low-nutrient snacks that are unlikely to make you feel full," says Eleanor.
This is why a square of milk chocolate can often lead to polishing off an entire bar! In contrast, "foods with protein and fibre are likely to fill you up – think vegetable crudités with houmous or wholemeal crackers with nut butter."
Know your snack danger spots
If you have a sweet tooth or a hankering for something salty, make some healthy swaps. "One of the best things you can have if you're craving something sweet is a piece of fruit," says Eleanor.
"Fruit sugars can satisfy a sweet tooth, plus they're packed with fibre and vitamins. Or, if you're craving something savoury, put down the crisps and go for a handful of nuts," she says. The key is to make swaps that you look forward to, so you're still satisfying your cravings.
Work out if you're hungry or just bored?
"It can be easy to snack mindlessly, but this can wreak havoc on waistlines and productivity," says nutritionist Lily Soutter. Becoming more mindful of when you're reaching for food can help. Ask yourself, am I hungry? Or am I just bored? Be curious about why you're craving something – it will help you to differentiate between genuine hunger and eating for comfort.
How to stop snacking: Healthy snack ideas
Graze Sweet Chilli Crunch, £4.49 for 4 snacks, graze.com (opens in new tab).139 calories per pack.A protein powerhouse packed with sweet chilli beans, corn and peas.
Raw Bake Station Crookies.£20 for 10 packs (5 cookies per pack), rawbakestation.co.uk (opens in new tab) 175 calories per pack.Made with oats and nuts, these mini cookies are the perfect afternoon pick me-up.
Pip & Nut Dark Chocolate Almond Butter Cups, £1.65, pipandnut.com (opens in new tab).102 calories per cup.Curb chocolate cravings with a hit of almond butter protein.
Eleanor Vousden is a beauty journalist with over six years of experience in creating beauty, health, and wellbeing content for titles such as Powder, woman&home, and Hairdressers Journal.
After landing her first job as junior beauty editor at Powder, she's since interviewed Rihanna's make-up artist, reported backstage at London Fashion Week, and ventured behind the scenes at skincare labs to see how the world's biggest beauty brands create their products (and she's tested a fair few too).