9 high protein snacks that help 50+ women lose weight without losing muscle mass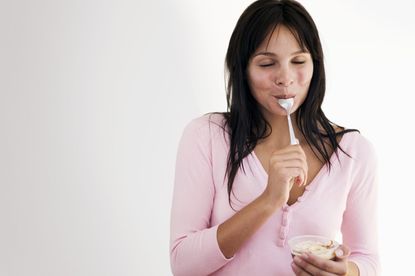 It's 3pm and you're desperate for a snack; perhaps a biscuit or some crisps. However, swapping instant energy foods for high protein versions, means you'll feel fuller for longer, which stops you reaching for calorific, unhealthy food. Next time you're in need try one of these high protein snacks...
There are so many benefits of protein powder and high-protein snacks. By filling you up and making you feel fuller for longer, they can help you with how to eat less and encourage weight loss. But, they don't only help with weight loss, they also help maintain muscle mass too, something which can often decline as we go through the menopause. Which means that these snacks are particualry great for women aged 50+
High protein snacks to try
Human Food Organic Daily Nutrition Bars, £3.30, humanfood.bio
Best for...When you're really hungry
These use 100% whole food-derived nutrients, which are packed with body-boosting phytonutrients. Phytonutrients are antioxidant and anti-inflammatory, plus these bars contain 100% of your daily recommended intake of b12, as well as 50% of your iron, calcium, magnesium and various other vitamins. Oh, and 12g of protein.
Myprotein Protein Break Bar, £21.99 for 16 bars, myprotein.com
Best for...Kit Kat fans
Chocolate and wafer sounds like a sugar catastrophe but this bar contains 90% less sugar than the market leader and plenty of protein.
The Protein Ball Co Peanut Butter 6 balls, £1.99, Tesco
Best for...Stop-start snacking
Available in a range of flavours – our favourite being Lemon + Pistachio – these balls are low in cals and fat, whilst offering 10g of protein. You can have one, two or the whole bag of these high protein snacks!
Munchy Seeds Honey Roasted Pumpkin and Sunflower seeds 25g, 80p, Coop
Best for...A little something
They get in your teeth a little but they're worth the subsequent tooth-pick session as these honey flavoured seeds don't just offer omega benefits, but protein, too!
FOGA Plantshakes Peanut&Coffee, from £2.40, foga.co
Best for...drinking
These plantshakes have been keeping the Woman & Home health team from reaching for cakes and chocolate. They're 30g pouches containing free-dried fruits and vegetables, which, when mixed with water or a liquid of your choice, offer a nutritious drink at under 100 calories. Keep a pouch of these high protein snacks in your handbag, or in your desk drawer.
Light Bites Salt & Vinegar, £0.99, Superdrug
Best for...crisps adicts
If savoury snacking is your weakness, opt for these soya and chickpea popped chips. They're packed with fibre and protein and are low in saturated fat.
Siggi's Blueberry yogurt 150g, £1, Sainsbury's
Best for...straight from the tub
Great alone, or sprinkled with seeds and fruit these tasty yog pots pack in 15g of protein, and contain no artificial sweeteners, preservatives or colourings.
Mini Babybel Light, £1.95 for 6, Tesco
Best for...a cheese lovers
A classic lunchbox addition, but you might not realise that whilst they offer a good source of calcium, they also pack in 5.3g of protein. If one or two Babybels doesn't quite hit the spot, try spreading them on crackers for some extra snack substance.
Protein Milk Chocolate Protein Digestives 5 Pack, £1.50, musclefood.com
Best For...biscuit fans
Luxurious, crunchy biscuits that taste pretty similar to the real deal, except a whole pack racks up less than 200 calories and they have just under 10g of protein.
Great for dunking in tea, without the waistline worry!
Sign up to our free daily email for the latest royal and entertainment news, interesting opinion, expert advice on styling and beauty trends, and no-nonsense guides to the health and wellness questions you want answered.
Lucy Gornall is the former Health & Fitness editor at Future and a personal trainer specializing in pre and post-natal exercise.