How to organise your weekend during the lockdown - from Friday night theatre to virtual quizzes
Does the weekend seem difficult to fill at the moment? With a little help from technology you - and your loved ones - can still enjoy a varied, fun-filled weekend.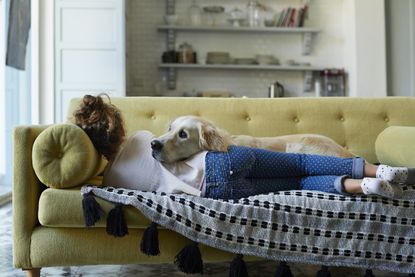 woman&home newsletter
Sign up to our free daily email for the latest royal and entertainment news, interesting opinion, expert advice on styling and beauty trends, and no-nonsense guides to the health and wellness questions you want answered.
Thank you for signing up to Woman & Home. You will receive a verification email shortly.
There was a problem. Please refresh the page and try again.
Due to the coronavirus pandemic, and subsequent lockdown, we've all had to adjust to a dramatic change in our social lives.
No longer can we while away a Sunday afternoon at the pub in the sunshine, or spend Saturday strolling round a city-centre art gallery. But - it doesn't mean that we have to let our social lives slip quietly away, nor does it mean that we can no longer enjoy doing the things we used to love. It just means we have to do them in a slightly different way, at the moment.
We can still partake in some of our favourite social events and pastimes - by doing them virtually. If your weekend used to be made up of day trips out, and nights spent at the cinema or theatre, there's still a way to schedule in some exciting activities for the weekend ahead.
And of course, there are still ways to catch up with your loved ones - find out how tomark special occasions online when you can't be together in person.
In between reading some of the best books of the year so far, these are the best things to do at the weekend - even when you can't leave your house...
Thursday night
Because all good weekends start on Thursday night, right?
Take part in a nationwide pub quiz
Make the most your downtime at the moment, and try your hand at the biggest pub quiz to come out of the lockdown. At 8.15pm every Thursday, Jay Flynn, a former landlord, hosts a virtual pub quiz. He expected a few local people to join in, but over 300,000 attended his first quiz during lockdown!
Get involved on his Facebook page, here.
Friday morning
Get your glad rags on
We don't know about you, but we're missing having a reason to get dressed up. In fact, we've practically been living in loungewear for the last two months. If you fancy popping your glad rags back on, it might be fun to take part in social media's #DressUpFriday - particularly this week, as Friday marks the start of the long weekend!
#DressUpFriday sees people of all ages from across the internet get changed into their most fabulous attire, for a little something to look forward to. People then post picture of their impressive outfits and share them online. Even if it's just for a virtual morning coffee - or evening wine - with friends, it's nice to get back to a bit of normality by carrying out some old routines.
Try your hand at some flower arranging
Popular flower delivery service Bloom & Wild have launched a 'Digital Flower Hour' on their Instagram at 11am every Friday during the lockdown, where one of their florists will give you a flower masterclass.
In the first week, the online session was all about creating a 360 flower arrangement, and the best ways to do so. If you missed it, you can catch up on their Instagram here.
The Flower Hours have taken a break in the last two weeks though.
It's not yet known when the next session will be, but it'll certainly be worth keep an eye on their Instagram account to find out....
Friday night
Enjoy a night at the opera
If arts and culture is your thing, you won't want to miss the chance to catch a show at the Royal Opera House on Friday nights for the foreseeable. The central London venue will be streaming broadcasts worldwide until 19th June, on their Facebook and YouTube channels - just tune in from 7pm to watch the magic unfold before your very eyes (on your laptop screen, that is.)
This Friday is Cendrillon, a French 'fairytale' opera sure to get your culture juices flowing.
See more here.
Andrew Lloyd Webber and his team are also making sure you don't miss out on your theatre fix, by releasing a full-length musical every Friday, which will be available for 24 hours, completely free.
See them here.
Or, take part in 'Secret Sofa' with Secret Cinema
The Secret Cinema is a London institution, and normally holds interactive film nights at secret locations around the city - bringing each film to life with actors, sets and props.
But given that we won't be able to attend these events for a while, Secret Cinema has rebranded into Secret Sofa for the time being, and will bring a home-screening right into your living room every night.
Some weeks, they'll reveal which will will be for viewing that week - and other weeks, they'll keep it a secret, in typical Secret Cinema style.
All you need to do is join their mailing list, and wait for 7.30pm on Friday night, where thousands of households will tune in for the unique experience.
Find out all you need to know here.
Saturday morning
Hit the gym
Missing your Saturday morning at the gym? For a more hardcore workout, popular gym Barry's are offering live exercise sessions every morning of the week at both 9am and 12pm, including on Saturdays. They'll be living-streaming the workouts on their Instagram, from instructors all over the world, so you'll be part of a global exercise session all before lunch-time.
Find out more here.
Saturday afternoon
Catch a hit theatre show - from the sofa
To satisfy your creative itch, indulge in a truly special performance on a lazy Saturday afternoon on the sofa. Shakespeare's Globe are currently giving us the chance to stream some of their most popular productions for free on their Youtube channel!
At the moment, you can watch the live 2018 production of A Winter's Tale, or Macbeth from earlier this year.
https://www.youtube.com/watch?v=nscB0yEWSgY
Find out more here.
Or, you can also pay just £4 to watch Phoebe Waller-Bridge's live production of Fleabag, from Soho Theatre on Demand, a theatre streaming site. Buy your ticket here.
Get crafty
If you're looking to pick up a new skill during the lockdown, but want something calming and therapeutic to occupy your mind, why not try these easy craft projects for beginners?
If you've got kids, they'll love trying out these craft ideas for kids - they're easy, fun and don't make too much mess, promise! Why not try out making some new festive decorations ahead of Easter Sunday?
Saturday night
Curl up with a movie
Weekend evenings are all about fun and relaxation with friends and family. And while we can't do that in person at the moment, there are plenty of ways to still enjoy time together.
Netflix Party is one way that you can still settle down to enjoy a film with loved ones. It allows you to both watch the same show/movie at the exact same time - also pausing it at the same point, so no pesky spoilers. Snuggle up with a warm drink, some candles and those all-important film snacks.
Sunday morning
(Virtually) stroll around a museum or gallery
For some, one of the nicest ways to spend a laid back Sunday is with a visit to a museum or art gallery. Obviously, that's off the cards right now, but you can still see some of the most impressive institutions in the world via live-stream at the moment - and that's pretty special.
The British Museum in central London offers a fantastic, live, virtual tour of their facility - complete with audio descriptions, pictures, and a timeline that you can follow. See it here.
You can also take a virtual tour of the Guggenheim Museum in New York, exploring their gallery room. Or, take a virtual tour of some of the rooms in the Louvre Museum in Paris, here. A moment of calm before starting on the Sunday dinner.
Or, bake some treats with these live lessons
It's the lockdown trend that almost everyone is getting in on - baking bread, cakes, and loafs fresh at home.
But if you're feeling a little daunted about the prospect of taking on the task on your own, you can join in with some live lessons on London bakery Bread Ahead's Instagram.
MORE:Do you have 'isolation skin'? This is why your skin might not be looking so great during lockdown
Sunday afternoon
Have a huge clear out
With everyone at home 24/7, your fridge may be bearing the brunt of the mess at the moment, with more snacks and meals being needed at home. After a fun and relaxed Saturday, spend part of your Sundayorganisingyour fridge (it'll save you money too), and enter the new week with a clean, fresh, and well-organised kitchen. You'll thank yourself come Monday!
Or, you could tackle the one organisational job that seems to be on everyone's to-do list during lockdown. Take on a wardrobe declutter if you've got some spare time - you'll be glad for it when you do actually head back into the office! If you're short on time though, it's easy to declutter your hallway and shoe storage space in just one hour, using this simple method.
Sunday evening
Find some zen
What better way to wind down the week than with a stretch and a gentle workout?
Birkram Yoga London have a full schedule of classes, including ones at regular intervals throughout the day on Sunday. You can sign up now for unlimited classes for £40, or, pay £12 for each livestream class you take.
Find out more here.
Monday
Enjoy some music on your extra day off this weekend with Google's 'Nest Sessions', which will see artists including Celeste, Jessie Ware, Olly Alexander of Years & Years, Mae Muller and Sam Tompkins take part in live performances from their homes.
The sessions will take place over the course of the long weekend, from Friday 22nd May - Monday 25th May, at 10am on Google Nest devices, as well as on YouTube, here.
So sit back, relax, and revel in the live concert that'll take place in your living room!
Which activities will you take part in this weekend?
Sign up to our free daily email for the latest royal and entertainment news, interesting opinion, expert advice on styling and beauty trends, and no-nonsense guides to the health and wellness questions you want answered.
Amy Hunt is an experienced digital journalist specialising in homes, interiors and hobbies. She began her career working as the features assistant at woman&home magazine, before moving over to the digital side of the brand where she eventually became the Lifestyle Editor up until January 2022. Amy won the Digital Journalist of the Year award at the AOP Awards in 2019 for her work on womanandhome.com.