Best books 2020: The woman&home Book Club Award winners
From candid memoir and romantic reads to inspiring non-fiction, Books Editor Zoe West rounds up our favourite books of the year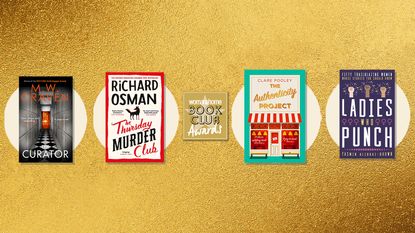 (Image credit: Future)
2020 was a year we found ourselves reading more than ever – and thankfully there was plenty to choose from. From fast-paced thrillers to heart-warming romances and literary gems, we've seen a stellar line-up on our shelves.
Our favourite books of 2020 are the ideal place to start building your reading list before moving onto the best books for 2021. Whether you're looking to lose yourself in a novel that will transport you to another place or explore the multilayered story 
of Hamnet, there's something here for you.
Without further ado, 
here's woman&home's standout books of 2020 chosen by our Books Editor, Zoe West.
MORE: Want to write some good books yourself? We consulted top authors for their writing tips
woman&home Book Club 2020 Award winners
Best feel-good fiction
The Authenticity Project by Clare Pooley
In a year that was challenging to say the least, this is the book we all needed – one that questions what would happen if we all actually told the truth about our lives. The first novel from Clare Pooley, author of The Sober Diaries, in her effortless writing style, we meet a collection of very different and intriguing characters. Take Julian Jessop – a flamboyant artist who is actually a lonely widower. Wanting to share his truth, he writes it in a green notebook and leaves it for someone to find. Little does he know the impact it will have on the people it reaches. In a joyous read, we learn what it means to be real, to put aside the facade and reveal who we really are. A worthy winner.
Best memoir (medical)
Dear Life by Rachel Clarke
There are many wonderful memoirs we have been honoured to read in 2020, but this one was certainly a standout. As a specialist in palliative care, Dr Rachel Clarke presents a touching, honest memoir that demystifies what is such a difficult subject for many of us to face. Doctors try to cure people's illnesses, but when they can't, many of them struggle to help patients with the approach of death. That's why kind, compassionate, palliative care is so vital, and this astonishing book by Dr Clarke will make you re-evaluate your own life and priorities. This is a deeply moving read.
Best heart-warming read
Saving Missy by Beth Morrey
'Coming-of-old' stories were popular this year – and rightly so. There were some great contenders for this category, but the award has to go to prickly Millicent (Missy), who, at 79, is quite lost. Grieving for her husband, a son living in Australia and a daughter she hasn't spoken to for a year, she is lonely. That is until she meets two very different women – along with Bobby the adoring dog – who help her realise it doesn't have to be that way. This is a story of friendship and the importance of not giving up on a second chance. You will savour every moment of it, so if you haven't already had the privilege, put it on your Christmas list, quick!
Best literary saga
A Long Petal of the Sea by Isabel Allende
Another classic from a consummate storyteller, Allende's latest novel is a gripping and moving read. Starting at the end of the Spanish Civil War in 1939 and ending in 1994, we follow the lives of two remarkable characters – Roser and Victor – as they flee Franco's dictatorship and board a ship commissioned by the poet Pablo Neruda to Chile. Weaving fact and fiction throughout complex family dramas, it's a brilliant portrayal of the plight of refugees and testament to what they can achieve. Allende writes from the heart as much as the head in this stunning tribute to human courage, compassion and hope.
Best psychological drama
Blurred Lines by Hannah Begbie
A timely story of moral dilemmas. When Becky catches her boss, Matthew, with a woman who isn't his wife, she says nothing. She owes him so much. But when the woman accuses Matthew of rape, Becky questions what she saw. The lines become very blurred and no one is quite who they seem to be. Essentially about a woman taking back power, it's perfectly executed and we loved it.
Best classic whodunnit
The Thursday Murder Club by Richard Osman
With his debut novel, Richard Osman not only kicks off a new mystery series with a bang, but places Christie-style sleuthing centre stage. In the peaceful retirement village of Coopers Chase, four friends meet every Thursday to investigate unsolved murders. Though things start quietly, the danger soon ramps up a notch when they find themselves in the middle of a live murder case. This intriguing tale has a brilliant blend of classic mystery elements with a distinctly original premise that won't fail to charm you.
Best picture book
Owl or Pussycat? by Michael Morpurgo, illustrated by Polly Dunbar
Based on a true story from his childhood, Michael Morpurgo remembers a wonderful time when he landed the starring role of Owl in the school Christmas play. One of the sweetest stories we've read in a long time, we see a young Michael cope with first-night nerves. Adults will love this too.
Best adventure story
The Highland Falcon Thief by MG Leonard and Sam Sedgman
Kids love adventure stories, and what an adventure this is! As a young boy is caught up in an investigation on a train to Scotland, will the thief be caught before they reach the end of the line?
Best teen drama
Eight Pieces of Silva by Patrice Lawrence
Patrice Lawrence is an award-winning author, whose book Orangeboy won the Bookseller YA Prize and the Waterstones Prize for Older Children's Fiction. It's no surprise her new novel caused much excitement. Becks is looking for her stepsister, Silva, who has gone missing. Venturing into her sister's bedroom, she finds the first of eight clues that will help her discover her sister's secret life. Enough mystery to keep any teen engaged
Best romantic fiction
If I Never Met You by Mhairi McFarlane
Fast becoming one of our favourite romcom writers, Mhairi works her magic again with this smart and witty novel. Lawyer Laurie is heartbroken when her partner of 18 years dumps her. Worse still, she has to work with him. So, when she finds herself stuck in a lift with handsome colleague Jamie, who suggests they 'fake-date' as a revenge plan, she agrees. Such likeable characters with all their flaws and insecurities, this is one funny, poignant and delicious page-turner.
Best domestic noir
The Last Wife by Karen Hamilton
This chilling, memorable story is our sinister standout for this category. Marie has always envied her best friend Nina's perfect life – a life that could have been hers. Now, following Nina's death, Marie might just have her chance again, and she'll do anything to get what she wants. But as Marie becomes entangled with Nina's family, it becomes apparent her friend was keeping plenty of her own secrets. This intense psychological read expertly negotiates jumps in time, and explores the concealed rivalries in a close female friendship to great effect.
Best feminist inspiration
Ladies Who Punch by Yasmin Alibhai-Brown
This impressive compendium of 36 inspirational women is wonderfully diverse and thought-provoking. Spanning from Mary Wollstonecraft in the 1700s, through to contemporary heroines like Baroness Helena Kennedy QC and actor Meera Syal, Alibhai-Brown looks at the obstacles they faced and their great strides forward for womankind. Some names will be unfamiliar – trailblazing female abolitionists Elizabeth Heyrick and Lucy Townsend – while others such as Princess Diana and Joan Collins you will know. Alibhai-Brown pays tribute beautifully, recalling their grit, determination and legacy in a world that, to this day, calls for more ladies who punch.
Best comedy
Dear Joan & Jericha: Why He Turns Away by Joan Damry and Jericha Domain
In this outrageous spoof – a filth-strewn look at sex, relationships and why women are always in the wrong when marriages crumble – brilliant comedians Vicki Pepperdine and Julia Davis have excelled themselves in their roles as the chillingly convincing agony aunts Joan and Jericha. Their award-winning podcast now runs to two series, and if you're already a fan, the advice offered in this book, from dating to death, will come as no surprise. Brace yourself for a bumpy ride. The darkest and dirtiest of humour – not for the faint-hearted!
Best memoir (funny)
I'm Just a Teenage Punchbag by Jackie Clune
This comic novel brought some much-needed laughs – and as it's written by an actress who appeared in BBC's Motherland, we're in safe hands. As Clara navigates life as a mother of three teenage children, you'll find yourself not only laughing out loud, but nodding your head furiously in recognition. But as Clara also comes to terms with her mother's death, there are poignant moments too. When she visits the Empire State Building to scatter her mum's ashes, might she also discover herself? Honest and hilarious.
Best historical drama
Hamnet by Maggie O'Farrell
Maggie O'Farrell deservedly won the Women's Prize for Fiction with this compelling and multilayered story of Hamnet, twin of sister Judith, and the son of William Shakespeare – although the 'S' word is never mentioned throughout. Reimagining the life and almost otherworldly skills of herbalist Agnes, 
who marries William when disgracefully pregnant with their first child, the story jumps across time to cover their love and courtship, along with the tragedy that leads to the loss of their beloved boy to a pandemic. Agnes is usually known to us as Anne Hathaway, but she was called Agnes by her own father, so her name, as well as her status as a remarkable woman of her time, is reclaimed in this riveting novel. Unmissable.
Best feel-good food
The Great British Bake Off: Love to Bake
It was so comforting to return to the iconic white tent this year, and this book was a summary of this series' highlights. From Chai Crackle Cookies to Paul's Rainbow-coloured bagels and a towering croquembouche, it also delivered inside info on the contestants and why they love to bake. A very tasty treat.
Best thought-provoking
The Midnight Library by Matt Haig
It's always an exciting moment when Matt Haig announces a new book because you know you're
in very safe hands. And so it begins – a novel that asks the very big question: 'What if you had the chance to open a book and try another life you might have lived had you just made a few small changes?' In this life-affirming new read, Nora Seed does just that. With so many regrets in life, she gets to see what could have been if she'd taken that job, joined her brother's band or stayed with that man by selecting one of the many books from the Midnight Library – a chance to start again. Posing some of life's biggest questions, few writers get you thinking like Matt Haig, and this one's most definitely a keeper for the bookshelf.
Best self-discovery
Miss Benson's Beetle by Rachel Joyce
As huge fans of Rachel Joyce, we eagerly anticipated this offbeat adventure about a middle-aged woman who thinks herself rather ordinary. We were right to do so. For this wonderful story of an unlikely friendship that forms when Enid Pretty accompanies Margery Benson, in search of a rare golden beetle that may or may not exist, is inspired. Embarking on a journey of self-discovery, we encounter friendship, humour and thrilling adventures, The perfect escape for such times, it's another brilliant novel.
Best topical drama
American Dirt by Jeanine Cummins
There was a huge buzz around this novel at the beginning of the year, the first to explore what it must be like to illegally cross the US-Mexico border. As a mother and her son flee their middle-class home, they instantly become migrants on the run – and their journey is every bit as emotional and harrowing as you would expect. As they ride La Bestia – the trains that head el norte to the US – and come into contact with members of the drug cartels, the heart-stopping moments keep coming. This outstanding book of loss and hope deserves to be read, and was a firm favourite in this year's fantastic line-up of exciting novels.
Best family drama
The Vanishing Half by Brit Bennett
After running away from their small, southern black community, the Vignes twins' paths diverge. Ten years later, one sister lives in the town they left, while the other passes secretly for a white woman. A thought-provoking read that reflects American history and society.
Best words of wisdom
And Now for the Good News: To the Future With Love by Ruby Wax
Ruby Wax couldn't have timed it better to offer us some green shoots of hope. In her funny, super-smart style, she takes her readers on fascinating journeys of discovery. You'll find out about incredible projects to create sustainable businesses and lifestyles, and meet truly impressive people who show the world can be a better place. You'll laugh, you'll learn – and hopefully you'll feel a lot more optimistic about the world.
Best autobiography
Tomorrow Will Be a Good Day by Captain Tom
Captain Tom Moore has penned a charming autobiography that's an inspiration to all of 
us. Charting his humble beginnings in Yorkshire, joining the Army in World War Two and serving in Burma, India and the Far East, we discover the upbeat attitude that made him the nation's hero of 2020. A great personal history of the past century, this would be a very welcome gift.
Best family cookbook
Nadiya Bakes by Nadiya Hussain
It wasn't difficult to fall for the charms of 'girl next door' Bake-Off winner Nadiya Hussain, whose bakes had us all reaching for the mixing bowl. So we rejoiced when she created a wonderful new book of cakes, pastries and bakes. From biscuits with a twist to standout showstoppers plus clever 'no-bake' bakes, there's something for the whole family. It's the cookbook we all needed this year.
Best TV tie-in
60 Years of Coronation Street by Abigail Kemp
A treasure chest of a book, this is a must for Corrie fans. Charting the history of the show, the actors, characters, storylines, behind-the-scenes writers, editors and make-up artists, its scope is encyclopedic. It's packed with wonderful pictures that reveal how the Street has evolved; fascinating facts (they get through 10 lipsticks in one month) and classic lines. Remember this from ditsy Raquel? 'I were always led to believe I were equally good at most things. I were told that when I were at school. They said – "Raquel, you have no particular talents".'
Best gardening
Modern Container Gardening by Isabelle Palmer
Even the smallest outdoor area has been a special blessing this year. Isabelle Palmer's book is packed with advice on how to enjoy beautiful displays of flowers in containers – perfect for balconies, patios or small gardens. It's also great for experienced gardeners looking to lift their space with beautiful plant displays, such as 'suspended spheres' hanging baskets, and one-day projects like spring planters. With stunning photography and a great mix of practical plant knowledge and lush container recipes, Isabelle brings beauty into your garden with this wonderful resource.
Best dark thriller
Fans of the Washington Poe series were thrilled to see it return with a third instalment, and so were we. A truly chilling thriller set against a dramatic Cumbrian backdrop focuses on two National Crime Agency investigators racing to apprehend a serial killer displaying body parts across the county. The only thing linking the victims is the fact that they all took the same two weeks off three years earlier. But why? And how does this affect the case? The sinister storyline and expert pacing instantly draw you in and you'll be aghast at the dark depths to which people can sink. Best of the series so far!
Best magical realism
Orfeia by Joanne M Harris
The award-winning author of the Chocolat series returned this year with a folklore-inspired novella
that's as enchanting as it sounds. When heartbroken mother Fay sets out to save her lost daughter through the realms of the real, of dream and into the underworld, she soon realises that to save something, she must give up something. A retelling of the Orpheus myth, Harris paints a picture you can see unfolding in front of you like a great work of art. Plus with stunning illustrations by Bonnie Helen Hawkins, you'll be hard-pushed not to get swept away by its beauty.
Best travel
This stunning new book celebrates the world's best adventures, from cruising around Alaska and Antarctica to train journeys in Zambia and Zimbabwe. As well as interrailing through Europe, driving Route 66 and walking the Camino de Santiago, there are also some off-the-beaten-path highlights –cycling around the Loire Valley, kayaking through the Finnish Lakelands and trekking through Australia's stunning Blue Mountains. Proving the journey is as important as the destination, this is packed with practical information and DK Eyewitness' trademark stunning imagery. It's all you need to start planning.
---
More great books from the 2020 woman&home Book Club
Where We Belong by Anstey Harris
Anstey Harris doesn't flinch from shining a light on some of the most difficult situations anyone can face, but she does it with warmth and compassion. She's also very good at flipping assumptions. Cate is a mum and a wife, but both roles have brought major challenges. When her life changes beyond recognition, she has to draw on all her reserves to secure a future for herself and her son. With a crumbling museum, a Mrs Danvers-like guardian and simmering romance, it's a beautiful story of love, loss and resilience.
What's Left Of Me Is Yours by Stephanie Scott
Set in Tokyo, Satō hires Kaitarō (a breaker-upper) to seduce his wife in order to gain the advantage in divorce proceedings. He assumes it will be a quick, easy case. Yet his wife, Rina, is not the woman he thought she was. Inspired by a real-life situation, this spellbinding tale about the marriage break-up industry in Japan has devastating consequences.
Miss Austen, Gill Hornby
In this subtle and delicate novel, Gill Hornby has created a clever, warm-hearted character in Cassandra, Jane Austen's sister. Cassandra is on a mission to recover letters sent by Jane to relatives before they can be publicly exposed. We follow her through youth and old age, and emerge closer to the genius of one sister and the loving devotion of the other.
Three Women, Lisa Taddeo
A book centred around the unmet needs of three women - Lina, who wanted to be desired and isn't, Maggie, who wanted to be understood but is instead hated, and Sloane, who wanted to be admired, but is seen as a sexual object. A fascinating look into the worlds of three different women.
The Tenth Muse, Catherine Chung
December's Book of the Month is The Tenth Muse. Katherine has always felt like an outsider in her community, both as the child of an interracial relationship and as a gifted mathematician. Guiding the reader deftly through her family history, Katherine's own life becomes the ultimate puzzle as discoveries lead her to examine who she really is. A truly spellbinding read.
The Vanished Bride, Bella Ellis
If you're a fan of theBrontë sisters, you're sure to love this imaginative novel featuring Charlotte, Emily and Anne as super-sleuths. When Elizabeth Chester goes missing from Chester Grange leaving behind two children and a pool of blood, the sister set about becoming 'lady detectors', which isn't easy as women in the 19th century. A classic murder mystery that brings theBrontës to life.
Postscript by Cecelia Ahern
Seventeen years after PS, I Love You comes the long-awaited sequel, set seven years after the death of Holly Kennedy's husband Gerry. She is stronger than ever, until she's approached by the PS, I Love You club. She soon becomes so involved that her fresh start seems precarious. If only she could find a way to honour his memory without compromising all she has rebuilt. Poignant, warm and hopefully, this is a delightful read.
Platform Seven by Louise Doughty
Watching a stranger approach the edge of the platform, ghost Lisa Evans is powerless to prevent what is about to happen. She is also unsettled by the feeling there must be a connection between this coming death and her own. Determined to seek out the truth, she guesses it can't be worse than not knowing – or can it? Doughty's eerie and atmospheric writing combines a calm assurance with sinister darkness.
The School Run by Helen Whitaker
Imogen and Lily are old friends who shared everything, but when they both move to the same area and the local 'outstanding' school only has one place, what lengths will they go to for their children? From fake marriage break-ups to moving house and 'getting in' with the vicar, it's a frank and funny account that'll resonate with many parents. Prepare to laugh and cringe in equal measure.
The Perfect Wife by JP Delaney
After his wife Abbie's tragic accident, tech genius Tim Scott becomes obsessed with recreating her in AI form. With her memories completely intact and her appearance identical, the new 'Abbie' begins to assume her namesake's place as dutiful wife and mother. But meeting Tim's expectations takes a heavy toll and other memories start creeping back. The narrative complexity, characterisation and gradual unravelling of the truth is a triumph of pacing and suspense.
Ask Again, Yes by Mary Beth Keane
Francis Gleeson and his wife Lena welcome a new couple, the Stanhopes, to their neighbourhood in upstate New York. But while the men have common ground, Anne Stanhope makes her distaste for Lena plain from the start. As the years wear on, the combination of love and violence that binds these two families together becomes the ultimate test of human decency. A powerful tale.
Love, Unscripted by Owen Nicholls
The perfect read for film enthusiasts, Nicholls's debut novel follows projectionist Nick, whose idealised view of love is challenged when his girlfriend suddenly moves out. Nick must now confront his new reality, but will he ever understand where it all went wrong? In this refreshing take on the typical boy-meets-girl romance, Nicholls celebrates the genre, while never missing an opportunity to make it his own. An unmissable, multi-layered read.
The Girl in the Letter by Emily Gunnis
In 1956, Ivy falls pregnant and is sent in shame to the dark and foreboding St Margaret's home for unmarried mothers. Her baby arrives and is given away for adoption without her consent, while Ivy herself is doomed to remain. Sixty years later, journalist Samantha is hungry to make her mark, so when she finds a letter from a young mother begging for help, she's determined to unravel the girl's story. As moving as it is disturbing - a real triumph.
The Flatshare by Beth O'Leary
Dumped and homeless, Tiffy can't believe her luck when a reasonably priced flat is offered to her. There's just one catch - she will have to share a bed with the other occupant. Leon works nights at a nursing home and spends weekends with his girlfriend, so in theory, their paths never need cross - but where would the fun be in that? Uproariously funny with characters you fall for from the first page.
The Garden of Lost and Found by Harriet Evans
When Ned and Liddy's great-granddaughter Juliet is sent the key to Nightingale House, she opens the door onto a forgotten world. The house holds its mysteries close but she is in search of answers. For who would choose to destroy what they love most? Whether Ned's masterpiece - or, in Juliet's case, her own children's happiness. Something shattered this corner of paradise. But what? A heart-stopping novel from the author of The Wildflowers.
If Only I Could Tell You by Hannah Beckerman
Audrey's family has fallen apart. Her two grown-up daughters, Jess and Lily, are estranged, and her two teenage granddaughters have never been allowed to meet. A secret that echoes back thirty years has splintered the family in two, but is also the one thing keeping them connected. As tensions reach breaking point, the irrevocable choice that one of them made all those years ago is about to surface. A compelling and heart-breaking tale of family love and loss.
MEET HANNAH BECKERMAN AT THE ROOFTOP BOOKCLUB WITH W&H
Between the Lies by Michelle Adams
You wake up in hospital, you can't remember your own name, or anything about your life... So who can you trust? Struggling to regain her memory after an accident, Chloe turns to her family for help, but is she foolish to trust them? A psychological thriller with a shock ending you won't see coming.
Once Upon A River by Diane Setterfield
On a dark winter night, at an inn along the Thames, a group of locals have gathered to share stories when a far more curious tale staggers in right through the doors. The man who appears is dripping wet and bleeding profusely, but most peculiarly of all, he is carrying the body of a young girl – a child all those present agree is dead… until she opens her eyes. Brimming with folklore, intrigue and romance, this is a story to savour.
The Single Ladies of Jacaranda Retirement Village by Joanna Nell
Life has begun to look a little beige for 79-year-old Peggy. Her bladder is weakening, her crush on the suave Brian is not reciprocated and her children assume that dementia is only a matter of time. The fact is, Peggy's life is in dire need of an overhaul. So, when her old friend Angie offers to take our heroine under her very colourful wing, Peggy plays along… with hugely entertaining results. Funny and heart-warming.
BUY IT NOW, £7.99, HODDER & STOUGHTON
Something To Tell You by Lucy Diamond
Discovering an unopened letter from her late mother fills Frankie with joy – until she opens it. Reeling from the contents, she hotfoots it up to Yorkshire to track down the Mortimer family and get some answers. This endlessly enjoyable drama puts even the most dysfunctional families in the shade – brilliant fun.
The Anniversary by Hilary Boyd
Divided by tragedy, Stella and Jack are drawn together once more in this riveting novel. Reunited once more, both have moved on with different partners, so can they resist temptation? If you get a second chance, should you always take?
The Cult on Fog Island by Mariette Lindstein
Written by a former Scientologist, this unsettling drama peers under the lid of life within a sinister cult. Fog Island has been described as Flowers in the Attic meets Girls. A harrowing read.
The Flight of Cornelia Blackwood by Susan Elliot Wright
From the very first page of this mesmerising novel, you know life has gone seriously awry for Cornelia Blackwood – and things get steadily worse from there on in. Why are her friends unable to look her in the eye, and why did her husband lie about where he was going? The truth, as it emerges, is as heartbreaking as it is captivating, and you're left with no choice but to put life on hold while you race to the end.
BUY IT NOW, £12.99, SIMON & SCHUSTER
Which will you read?
Books Editor - Woman&Home
It's safe to say, woman&home's Books Editor, Zoe West has read a LOT of books.
As an avid young bookworm obsessed with the adventures of The Magic Faraway Tree and the misadventures of red-haired orphan, Anne Shirley, Zoe never lost her love of reading - and the fact she now gets to do it as her job is a constant source of wonderment for her.
When Zoe isn't reading she is interviewing authors, hosting live events where she gets all the gossip, and seeking out exciting new writers she can't wait to tell her readers about.