12 famous authors share their best advice for writers
Marian Keyes, Jodi Picoult and more famous authors share their advice for writers so you can take inspiration from the best of the best...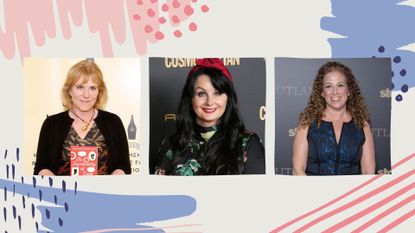 (Image credit: Future)
There is no one better placed to share their advice for writers than best-selling authors themselves. From Marian Keyes to Jodi Picoult, award-winning authors have shared their creative writing advice below for anyone in need of a little motivation, inspiration and encouragement.
From authors who wrote their debut novels whilst juggling other jobs and responsibilities, to writers who take their work to bed with them, here's how some of the industry's best novelists find inspiration and turn their ideas into books everyone should read...
Advice for writers from best-selling authors
1. Expect plenty of rewrites
Hannah Rothschild, author of best fiction books including House of Trelawny (opens in new tab) and The Improbability of Love (opens in new tab) - which won the Bollinger Everyman Wodehouse Prize for best comic novel - says that writing is all about steady progress and improvements: "I race to the end of a first draft and then the hard work begins. I start from page one, picking the manuscript to pieces. My first book took 12 drafts; the second 14; and the last went through 11 versions. In my case, writing should be called rewriting."
2. Read, read, and then read some more
"You would be surprised how many aspiring writers don't read contemporary fiction," says Erin Kelly, author of thriller novel Stone Mothers (opens in new tab).
"The one piece of advice for writers I would give is to read, read, read. If a good writer wants to become great, it takes a mixture of talent, luck and graft."
3. Don't be afraid to embrace home comforts
Fiona Barton, British author of popular crime novels including The Suspect (opens in new tab), reveals: "My guilty secret is that I stay in bed to write. I have an office in the tower of my home in France, with a writing desk, lumbar-friendly chair, whiteboard, mood board, pictures and notes-to-self on the walls, but the writing desk, lumbar-friendly chair, whiteboard, mood board, pictures and notes-to-self on the walls, but the writing happens in a large double bed opposite a window looking out at a lake.
"My husband brings me cups of tea and I am so immersed in the story, I often don't notice he's been. I know this all sounds a bit Barbara Cartland, but there is no frou-frou bed jacket."
4. When writing about mystery, always look around for mystery
"I think most mystery writers are always looking for the potential mystery in everything," muses Tana French, author of some of the best mystery books including The Wych Elm (opens in new tab) and The Trespasser (opens in new tab).
"I have ideas for books from an old suitcase in a skip, or the time we had mice. The Wych Elm was different. I was thinking a lot about luck, and how too much luck can stunt our capacity for empathy – and around the same time, I read an article about a skeleton found in a wych elm in 1943. The two things clicked together in my mind."
5. Set a routine when you're writing
Best-selling author Jodi Picoult, author of globally successful novels including My Sister's Keeper (opens in new tab)- which is now a popular book to movie adaptation and has sold millions of copies worldwide - revealed that her advice for writers is to stick to a routine when possible:
"On a normal day, I go for a five-mile walk or a run. Then I shower and head downstairs where my husband has a cup of coffee waiting for me. After breakfast I head up to my office. But my routine does vary. If I'm researching, I may be anywhere in the world shadowing someone – an abortion provider, a lawyer, an Amish farmer. When I'm writing, I am in my office from about 8.30am until 4pm.
"What inspires me are questions to which I do not have the answers. Writing is my way of figuring those out."
6. Look to the people around you for inspiration
"Wherever you are where there are other people about, there's plenty of inspiration for the characters in your novel," said famous author Marian Keyes, who has been writing internationally best-selling fiction for two decades.
"Look at those people, wonder about their lives. Have fun with it. Pay attention to lines of dialogue – what do they tell you about them?
"Look without judgement at their appearance. Do they have a fabulous pedicure? Do they light up when their children come near them? People give us clues all the time and all you have to do is be alert. All you need is one characteristic to begin to build a life around them."
7. Get outside of your comfort zone
Kit De Waal, whose debut novel My Name Is Leon (opens in new tab) became an instant bestseller, says, "Being in an unfamiliar location is gold for a writer – your senses are working overtime. Take a notebook and scribble down your first impression as you enter the wide concourses. Press record on your smartphone – capture the noises in real time."
8. Always jot your ideas down
"Sometimes I wake up in the middle of the night and have an idea or think of a line of dialogue," Gavin and Stacey star and author of romance novel Never Greener (opens in new tab), Ruth Jones says. "I've learned to my cost that if I don't write it down there and then, no matter what I tell myself, I will not remember it in the morning."
9. Try listening to music
Thriller writer Clare Mackintosh, author bestseller Let Me Lie (opens in new tab), says that setting up your environment for focus is essential: "I listen to the sort of music you might hear in a spa. I find a track and put in on over and over again for the same novel. I have it on very quietly and it instantly gets me into the right zone."
10. Use pressure to your advantage
Author Joanna Cannon wrote her debut novel, The Trouble with Goats and Sheep (opens in new tab), when she was a junior doctor working in A&E. The book went on to be shortlisted for the British Book Industry Awards and her advice for writers is to use any feeling of pressure as a motivational tool: "The pressure of only having a half-hour break to write worked well for me. A lot of writing is thinking so I'd do that when walking the dog or on the way to work. So when it came to my break, I knew exactly what I wanted to write."
11. Immerse yourself in your characters
Erica James, author of Coming Home to Island House (opens in new tab), says: "If, at the end of the day, I know the character whose viewpoint is coming next, I make that the last thing I think of before I go to sleep and the first thing when I wake up."
12. Get a strong sense of place before you start writing
Author Stacey Halls, one of the best historical fiction book writers and most exciting new novelists to emerge in recent years, told woman&home: "I can't start writing until I have a very strong idea of where that is. All my books have been inspired by places themselves. I'll go somewhere and feel a connection, a creative response, to a place. I can't imagine the character or plot ever coming first."
Digital Editor - Woman & Home
An internationally published digital journalist and editor who specialises in SEO strategy and content production, Rachael has worked as a writer and editor for both news and lifestyle websites in the UK and abroad.
Rachael's published work covers a broad spectrum of topics and she has written about everything from the future of sustainable travel, to the impact of the coronavirus pandemic on the world we live in, to the psychology of colour.
With contributions from