In conversation with Stacey Halls
A fascination with the lives of ordinary women lies at the heart of Stacey Halls' historical novels. Here, she talks about her latest book and dealing with success...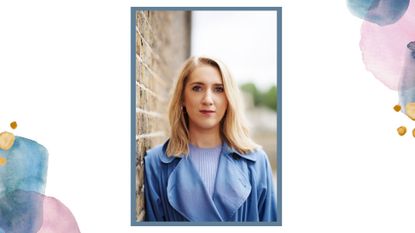 (Image credit: Future)
In conversation with woman&home, author Stacey Halls talks about finding success with her debut novel, the fortuity of her second book's deadline and why her latest novel is set in Edwardian England.
Hailed as one of the best historical fiction book writers and most exciting new novelists to emerge in recent years, Stacey Halls' lyrical writing style is simply mesmerising—with her debut novel The Familiars the biggest-selling hardback debut novel of 2019. Her new novel, Mrs England, follows Ruby, a Norland nanny, into the home of a wealthy Edwardian couple where nothing is quite as it seems.
Stacey lives in Oxfordshire with her husband and their Staffordshire bull terrier, Joanie.
In conversation with...Stacey Halls
The success that came with my debut, The Familiars, was surreal.
I knew I had a good feeling about it because I was excited to write it. The idea came to me instantly, as I had a connection with the area, and although I knew the Pendle witch trials had been written about, that didn't put me off. I felt I hadn't read anything like it before. A friend said, "You're only a debut once, so ride it until the wheels come off." I did!
I am so glad the deadline for my second book, The Foundling, was before my debut came out.
I had no idea how The Familiars was going to be received, and now I think, thank goodness it happened like that, otherwise I think I would have felt completely paralysed and self-conscious. I also kept my day job as a journalist the whole time. I only quit to write Mrs England, which felt quite daunting.
Place is the most important thing to me.
I can't start writing until I have a very strong idea of where that is. All my books have been inspired by places themselves. So, The Familiars was inspired by Gawthorpe Hall, The Foundling was The Foundling Museum in Bloomsbury and Mrs England is set in Hardcastle Crags, just outside Hebden Bridge. I'll go somewhere and feel a connection, a creative response, to a place. I can't imagine the character or plot ever coming first. And there wasn't a natural story attached to Mrs England, I had to go away and think about it. Hardcastle Crags is one of my favourite settings—it was the perfect place to have a house with lots of secrets.
Ruby is a Norland nanny and would have attended what I like to think of as a nanny bootcamp.
This brood of women took lots of exams in order to bring up the children of very wealthy people. I visited Norland College and they were so helpful. They sent me The Norland Quarterly from the time at which my story is set. It gives updates on where the nannies are and what they're up to. They write in with recipes, games to play and diary entries. It brought a lot of personality to this institution.
The Edwardian time is sometimes seen as the golden era of childhood.
Think Mary Poppins and Peter Pan. It's all very much nannies in pinafores—idealised and cosy. But I wanted to look at the darker side and why a woman would be drawn to this job, as it was 24/7. They only had a half day off a week if they were lucky. I wondered why a woman would do that, rather than be a domestic servant or work in a shop.
At the turn of the twentieth century, there was a move away from children being seen and not heard.
Children became very much a part of the family, and at the heart of the family—no longer confined to the nursery. But this was still a time when children would be seen for an hour a day in the drawing room. Parenthood wasn't even a word then. These mothers were middle class women who weren't working either. Today women are expected to do it all. In Edwardian days you would have had a servant for everything.
Women's lives in history have always been very confined to domesticity, and motherhood was their most important role in life.
I never set out to write about motherhood, but children have been a big part of my novels. I'm more drawn to writing about the limitations and confinements around women rather than their opportunities and breaking out of the box. I would call myself a feminist novelist but I examine how women occupy the more limited spaces and how they navigate these, rather than about them being pioneers.
Love historical fiction? Stacey recommends these novels:
My Cousin Rachel by Daphne du Maurier
I love the ambiguity in this book. Is the protagonist a victim of circumstance or a manipulative woman? It has all the ingredients I'm drawn to—a stately home, with the house almost a character itself. And there's such a strong sense of place. I think once you have that, it's golden. The film that came out with Rachel Weisz as Rachel is great too!
A Tree Grows in Brooklyn by Betty Smith
This is a gorgeous coming-of-age autobiographical novel based on Betty's experiences of growing up in a working-class Irish community in Brooklyn. It's set at the turn of the twentieth century and there's so much glorious detail about where people live, the tenement buildings—and it's full of life and character. Every single character, no matter how small, feels so real.
The Ruby in the Smoke by Phillip Pullman
This is the first book in the Sally Lockhart mysteries. I read it when I was about 15 and would say this is my favourite book and series ever. I read them every year or listen to them on Audible. It's about a 16-year-old girl whose father dies and she investigates his murder. That makes it sound very twee, but it isn't. It's set in the dark underbelly of London and features a stolen ruby, murder and intrigue. A brilliant historical thriller.
Books Editor - Woman&Home
It's safe to say, woman&home's Books Editor, Zoe West has read a LOT of books.
As an avid young bookworm obsessed with the adventures of The Magic Faraway Tree and the misadventures of red-haired orphan, Anne Shirley, Zoe never lost her love of reading - and the fact she now gets to do it as her job is a constant source of wonderment for her.
When Zoe isn't reading she is interviewing authors, hosting live events where she gets all the gossip, and seeking out exciting new writers she can't wait to tell her readers about.