Mental Health First Aid: everything you need to know about this life-changing course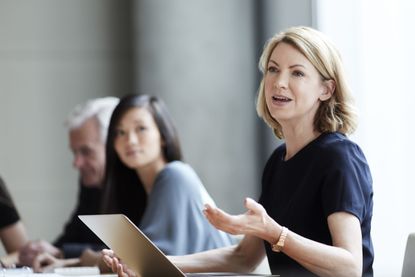 woman&home newsletter
Sign up to our free daily email for the latest royal and entertainment news, interesting opinion, expert advice on styling and beauty trends, and no-nonsense guides to the health and wellness questions you want answered.
Thank you for signing up to Woman & Home. You will receive a verification email shortly.
There was a problem. Please refresh the page and try again.
Looking at the stats, Mental Health First Aid has never been more necessary.
According to figures cited by mental health charity Mind, approximately 1 in 4 people in the UK will experience a mental health problem each year.
And in any given week in England, 1 in 6 people will report experiencing a common mental health problem (such as anxiety and depression).
As part of a raft of measures to support people with mental health problems, in 2017, the government announced a further £15 million which is now funding Every Mind Matters campaign, led by Public Health England (PHE). The campaign, which aims to provide the public with techniques to deal with mental health issues like stress and anxiety, as well as expert advice, was informed in development by MHFA England training, and is expected to be rolled out nationally in Spring 2019 after a trial in the Midlands in 2018.
Speaking at the time, Prime Minister Theresa May said, "I want to use the power of government as a force for good to transform the way we deal with mental health problems right across society, and at every stage of life."
And despite formally stepping down from her role on July 23rd, the Prime Minister recently re-emphasised her commitment to putting mental illness at the forefront of the political agenda, saying that mental illness should be given the, "urgent attention it deserves" and promising the publication of a White Paper outlining the government's response to Sir Simon Wessely's review of the Mental Health Act – which outlined several recommendations designed to modernise mental health provision – as part of her legacy.
Mental health first aid and the workplace: what do the statistics say?
Figures from St John's Ambulance — one provider of Mental Health First Aid Courses — reveal that 43 per cent of people have considered leaving a job due to stress or mental health issues, while 65 per cent would feel uncomfortable asking for a mental health sick day.
The recent 360 Well-Being Survey from global health service company Cigna also revealed almost half (46 per cent) of those surveyed reported spotting signs of stress amongst their fellow colleagues including those below:
Moodiness (40 per cent)
Fatigue (23 per cent)
Crying (21 per cent)
Reduced work performance (20 per cent)
Just 11 per cent of British workers suffering from stress revealed that they had sought help, though this figure was a higher 1 in 5 for those aged 50+.
Further figures showed that 11 per cent of those questioned would describe their stress as unmanageable. For those aged 34-49 this figure stood at 15 per cent, while this was a lower 11 per cent for those aged 50+.
Mental health first aid courses — what does it involve and what are the benefits?
While MHFA training will vary from provider to provider, at its core it equips trainees with a package of skills that will enable them to recognise early signs of mental health problems in colleagues and even in the wider community, and guide them in the best way to offer to initial support.
The key provider of Mental Health First Courses is social enterprise Mental Health First Aid England (MHFA) — the only licensed provider of Mental Health First Aid Instructor Training in England.
Several studies have shown that MHFA courses have had a positive impact on both individuals and organisations, outlined in the Summary of evaluations of Mental Health First Aid (last updated in 2018).
One study conducted by the University of Nottingham questioned 139 participants from 81 organisations across England about the impact of MHFA courses revealed the following:
91 per cent said there had been an increased understanding of mental health issues in their workplace
87 per cent said more mental health conversations were happening at work
83 per cent had noticed an improvement in procedures for signposting to further support
The network of MHFA England Instructor Members is now training over 10,000 people per month, compared to just 5,000 per year back in 2009 showing the growing demand for this specialist course.
On the importance of MHFA England's courses Simon Blake OBE it's Chief Executive, said,"Mental Health First Aid England training gives people confidence through knowledge to recognise the signs and symptoms of mental ill health, intervene, and effectively guide someone towards the right support – whether that's self-help information, an Employee Assistance Programme, or professional services."
"Intervening early like this is so important because it can support someone to get on a path to recovery or manage symptoms as early as possible. This can help prevent someone's mental health deteriorating if left unchecked and unmanaged."
MORE:The one simple change you can make to your retirement routine to boost your mental health
Emma Mamo, Head of Workplace Wellbeing at Mind also had this to say on the advent of Mental Health First Aid training. She added, "It's good to see forward-thinking businesses increasingly prioritising staff wellbeing. Organisations should do what they can to equip employees with the skills and knowledge needed to identify and support colleagues when they are experiencing a mental health problem, while also looking after their own wellbeing.
"It's important that staff do not feel it is their responsibility to act as a medical professional but rather to listen non-judgmentally, be supportive and signpost to support both internally and externally – something Mental Health First Aid or other mental health awareness training courses can help with."
Mental health first aid course — who are the key providers?
As well as Mental Health First Aid England – who have trained a staggering 427,000 people in Mental Health First Aid skills since 2009 – Mental Health First Aid courses are also provided by St John's Ambulance, independent providers such as Acacia Training (see case study below), and mental health charity Rethink Mental Illness.
Most courses come with a charge, which can be as little as £125 for a half day, and are aimed at in-house training for a number of workplaces and organisations. Rethink Mental Illness does, however, offer free Mental Health First Aid courses to anyone who lives, works, studies or volunteers in Islington or Camden.
Mental health first aid training — a case study
As director of Acacia Training, Victoria Sylvester, 40, is one of the women leading on mental health first aid training in the UK. She is also a registered nurse and mum to four children.
The Staffordshire-based, family-run firm provides Mental Health First Aid courses to a wide range of organisations, from private sector to youth groups, charities, the armed forces, schools and colleges. Its first aiders have already trained more than 600 people across the UK.
The two-day course gives participants a deeper understanding of the issues that affect people's mental health and teaches them practical skills that can be used every day, including how to spot symptoms, assessing the risk of self-harm, starting a supportive conversation, confidentiality and the best way to offer support.
Victoria says, "We're passionate about improving mental health in the workplace and it's fantastic to see employee wellbeing so high on the agenda. Mental health is so important – a healthy, happy workforce helps employers to retain staff, reduce sickness and increase productivity.
"We want all employers to consider having trained mental health first aiders."
Sign up to our free daily email for the latest royal and entertainment news, interesting opinion, expert advice on styling and beauty trends, and no-nonsense guides to the health and wellness questions you want answered.
Miriam worked for woman&home for over five years and previously worked on the women's lifestyle magazines Woman and Woman's Own.