Best walking socks: Comfortable, breathable and sweat-wicking socks for all-day walks
Keep feet dry and comfortable with our pick of the best walking socks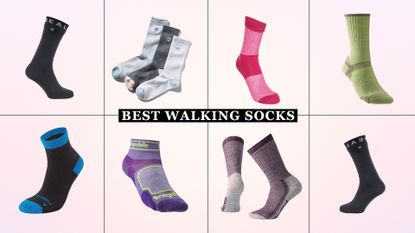 (Image credit: Future)
Having the right socks can make all the difference, whether hiking or just walking the dog.
Paired with the best walking shoes, the best walking socks will ensure that you're kept comfortable, supported and blister-free on any outdoor walk. And while they might not be the most exciting item to tick off your activewear shopping list (because let's face it, it's much more fun to browse the best leggings or best sports bras), they are essential in making sure you can get the most out of your exercise.
Bridgedale's Women's Merino Hiker Sock is a great all-round walking sock that will keep feet dry and blister-free, while also adding an extra touch of comfort with the added layer of cushioning. We also love the brand's ultra-light sports socks, which feature Coolmax technology for a reliable summer option, while Decathlon's waterproof socks are perfect for rainy days or swampy hikes.
How to choose the best walking socks for you
Why you can trust Woman & Home Our expert reviewers spend hours testing and comparing products and services so you can choose the best for you. Find out more about how we test.
When it comes to choosing the best walking socks for you, there are few factors to take into consideration. The first thing to think about is the height, as if you are planning to wear them with lower rise walking or running shoes, then you can get away with shorter trainer socks, whereas if your footwear is higher rise then you'll need a crew sock design that reaches your calf.
The next thing to think about is what type of walking you are planning to do. For shorter walks or summer exercise, the best walking socks will be thinner or more lightweight and you could even benefit from a product that boasts cooling technology, while longer stints will require socks to feature more cushioning and extra support to keep prevent blisters and keep feet comfortable.
Look out for sweat-wicking and breathable features, as these help to prevent blisters, which is vital. Cooling or odour-control technology can also be an added bonus to keep your feet fresh.
Best walking socks as chosen by our experts
1. Bridgedale Womens Merino Hiker Sock
Best overall walking socks
Specifications
RRP: $14/£19
Material: 30% Merino wool, 32% nylon, 30% polypropylene, 8% elastane
Height: Mid-calf
Wicking: Yes
Breathable: Yes
Lining/cushioning: Cushioned sole
If you want a pair of walking socks that will keep your feet comfortable, cushioned and chafe-free all day, then these socks should do the trick. With a Merino wool blend these quality wicking socks will manage any moisture and excess sweat to stop chafing and avoid you developing painful blisters while out on a long walk. The thick fabric also means that feet will be kept warm when out in cold conditions and the addition of elastane gives them a nice stretch for a more accommodating fit. We also love the extra feature of the cushioned sole that gives an added level of comfort—perfect for long days Nordic walking with your walking poles in tow.
2. The North Face Women's Hike Medium Crew Socks
Best socks for hiking
Specifications
RRP: $18.95/£19.99
Material: Merino wool
Height: Mid-calf
Wicking: Yes
Breathable: Not specified
Lining/cushioning: Medium cushioning
Grabbing a reliable pair of walking socks is all well and good for a casual saunter or a long stroll, but when it comes to hiking, it's helpful to use a product that has been specifically designed for the exercise—so outdoors brand The North Face is a great place to go. We already love the brand's fitness and outerwear, so we knew these socks would tick all the boxes. The medium length is ideal for sitting under hiking shoes and that paired with a medium cushioning makes these a great fit to add a bit of extra comfort to your hike. Even if you're hiking boots aren't the most high-end, a good pair of socks can make all the difference under more affordable footwear. The Merino fabric also helps to wick moisture away and regulate your temperature, while the arch support and flat-knit toe seams add an extra touch of comfort. And we have to say, we love the cassis color.
3. Runderwear Anti-Blister Running Socks - Mid
Best walking socks to prevent blisters
Specifications
RRP: $27/£15
Material: 30% Coolplus™, 29% Cotton, 21% Polymide, 14% Tactel™, 3% Polyester, 3% Lycra™
Height: Mid-calf and low-calf
Wicking: Yes
Breathable: Yes
Lining/cushioning: Double-layered
Anti-blister socks are essential if you're someone who goes on long walks or hikes regularly—and these walking socks definitely live up to the name. These multi-award-winning running socks have been designed specifically to prevent blisters, with a carefully constructed fabric composition that features two layers for extra support. Another really handy feature of these socks is the reinforced heel and toe that provide extra protection against blisters in two of the most blister-prone areas of your foot. And the breathable and moisture-wicking design is an extra bonus to help prevent chafing so that blisters really are kept at bay.
4. Timberland Cushion Socks For Women
Best warm walking socks
Specifications
RRP: $20/£20
Material: 27% cotton, 70% polyester and 3% elastane
Height: Mid-calf
Wicking: Not specified
Breathable: Not specified
Lining/cushioning: Half cushion sole
If you're not one to let the cold keep you inside, then it's always helpful to have a pair of warmer socks for days when the chill and frost hit. We love these cozy Timberland walking socks that come up to the mid-calf so that your ankles and kept fully toasty while you're out on your walk or hike. The arch support keeps your feet sturdy, while the half cushion sole gives you a little extra padding for a more comfortable fit. We also love the pretty but muted colors available.
5. Bridgedale Women's Ultra Light T2 Coolmax Sport Low Sock
Best socks for summer hiking
Specifications
RRP: $15.50/£12.50
Material: 42% Coolmax, 56% Nylon, 2% Lycra
Height: Low-calf
Wicking: Yes
Breathable: Yes
Lining/cushioning: Microcushioning
With a clever lightweight micro cushioning and intelligent Coolmax fabric, these are some of the best socks for summer hiking or walking in hot weather. The micro cushioning provides extra ventilation to keep feet cool and dry and a tight cuff stops debris from seeking in while you're on long walks and helps keep the sock from rolling down. While the low-rise fit does make these more comfortable to wear with your pair of best running shoes, rather than full-on hiking boots, it does mean that you're getting a little bit of extra air to your ankles for those days when it's really hot outside.
6. Trespass Cool women's walking socks
Best lightweight walking socks
Specifications
RRP: $12.08/£10.31
Material: 80% Coolmax 17% Nylon 3% Elastane
Height: Mid-calf
Wicking: Not specified
Breathable: Yes
Lining/cushioning: Lightweight cushioning
If you want something lightweight and cooling but that will still help prevent ankle rubbing then this is the pair of best walking socks for you. They're thin enough to stop your feet from getting overheated and to fit into any more lightweight shoes you might opt for in the hotter months, but thick enough to provide you a sufficient amount of lining so that your feet don't become sweaty or uncomfortable or start to experience excess chafing. The mid-length makes sure that your ankles are also protected from rubbing from your shoes and the socks come in two lovely bright colors too so that they can make a quirky little addition to your outfit.
7. Sealskinz Super Thin Mid Waterproof Socks
Best waterproof socks
Specifications
RRP: $34.73/£24.99
Material: Outer - 94% Nylon, 6% Elastane / Membrane - Hydrophilic Membrane / Inner - 75% Bamboo Rayon, 22% Nylon, 2% Elastane, 1% TPU
Height: Mid-calf
Wicking: Yes
Breathable: Yes
Lining/cushioning: Natural eco-friendly bamboo lining
It's always clever to keep a pair of waterproof walking socks to hand—just in case the rain starts or you find yourself walking in unexpectedly muddy terrain. Sealskinz's waterproof socks feature a Hydrophilic Membrane to ensure no outer moisture reaches your skin and are moisture-wicking so that any sweat is also wicked away to prevent chafing. Teamed with the best waterproof hiking boots—you're golden! They also boast a natural bamboo lining to add a touch of comfort to the inner layer that actually makes contact with your skin, which adds a cooling aspect to prevent excess sweat. The elasticated ankle also makes for a nice bit of additional ankle support to keep you comfortable and reduce injury.