How to blag a free upgrade to business class on your next flight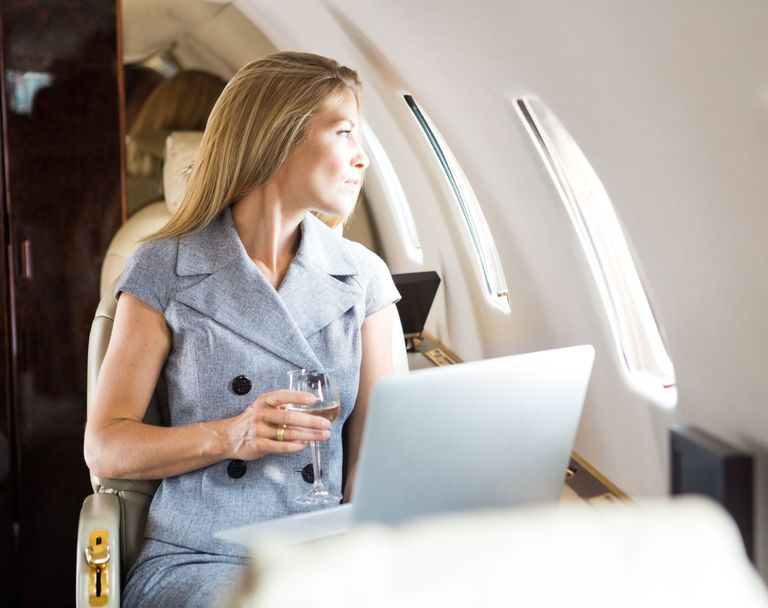 Free flight upgrades are the stuff of travel legend, but it's always worth trying to get bumped up - you might strike lucky! Here's how to maximise your chances of being upgraded to business class without spending a penny - you never know, it could happen on your next holiday...
1. Befriend the check-in staff
When you're checking in to your flight, be nice to the airline staff - it's not rocket science, but can stack the odds high in your favour. If you're friendly and genuine, they'll probably appreciate it after the hundreds of moody, stressed passengers they usually have to deal with every day.
This tactic has worked for Woman & Home readerJo Powell: "A smile and a chat will work wonders. I've been fast-tracked through security and given lounge access, too. It doesn't work every time, but a little friendliness can go a long way."
2. Is the flight full?
Enquire whether the flight is full: if economy is jam-packed, you stand a better chance of being bumped up to business class – especially if they're struggling to squeeze everybody into economy. Ask the check-in staff whether any free upgrades are available - it can't hurt to enquire, so long as you keep it light. Never just demand an upgrade, or swoop in without laying the groundwork first.
If you're travelling to celebrate an occasion, such as an anniversary or honeymoon, mention that you'd love to experience an upgrade to make the trip extra special. Make sure you act appropriately, though: airline staff would never put a canoodling couple or loud hen party in business class.
More like this:8 fabulous summer mini breaks & hotel offers from £99pp
3. Travel solo
If you're travelling on your own, you're more likely to be upgraded because you're more 'portable' - ie, airline staff don't have to find two seats next to each other, like they would for a couple. In economy, seats are often grouped in twos or fours, so moving you to business class may mean it's easier for check-in staff to accommodate other passengers who want to sit together.
Airlines often over-book flights if they can, then upgrade people from economy to account for the extra seats they've sold - so if the flight is busy, you could be in luck. "I've been upgraded this way a few times," says Woman & Home reader Sarah Edwards. "I often travel solo, and airlines love it. Once, I was even bumped up to first class, just because I was easier to accommodate there than in economy. Amazing!"
No travel buddy? No problem! We've created the ultimate Woman & Home holiday for solos
4. Join the airline's members' club
Airlines want you to keep flying with them, so pledge your allegiance by signing up to their frequent fliers' club - then cross your fingers that they're feeling generous.
It makes sense for an airline to reward customers who have already travelled with them in the past (and are therefore more likely to in the future), rather than a random customer who may never use their services again. So, be loyal to one particular airline if you can - and make sure you start collecting those air miles.
5. Dress to impress
Sloppy dressers (especially those who think it's acceptable to travel in their pyjamas) will never EVER be upgraded. Dress like you're already flying in business class, and you're more likely to look like you'll fit in - so your chances will improve greatly.
More like this: 8 incredible cruise holidays with Woman & Home
6. Negotiate if you're not happy
If an airline has inconvenienced you by messing up your extra baggage booking or seating you separately from the people you're travelling with, politely make your dissatisfaction clear. It's in their interest to keep you as happy as possible, as it clearly improves the likelihood of you spending money with them again - so use this to your advantage.
That said, there's nothing worse than a customer who complains incessantly about a problem that can't be fixed, or blows minor niggles out of proportion. Don't be that person - you definitely won't be upgraded!