How to get free upgrades on flights, according to frequent flyers
Discover how to get free upgrades on flights with these frequent flyer approved tips...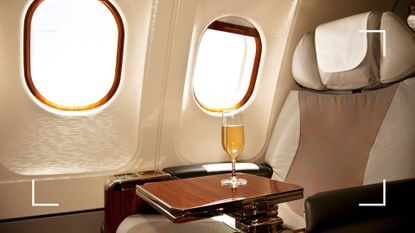 (Image credit: Getty Images)
Savvy travelers know how to get free upgrades on flights so they can fly in comfort without shelling out an exorbitant amount of money. With these strategies, a considerable amount of luck, and the right circumstances on your next flight, you could be sipping on your welcome drink in business class.
Traveling in business class isn't just about the spacious seats and extra legroom, but the entire experience that encompasses it as well as the perks. Business class ticket holders enjoy priority boarding, additional baggage allowance, and access to the lounge.
Many frequent fliers note that it's becoming increasingly difficult to score free upgrades these days with even the best holiday deals hard to come by if you wait until the last minute, so while these hacks aren't guarantees, they can still greatly improve your chances of being bumped up.
How to get free upgrades on flights according to frequent flyers
1. Pay for it with your loyalty
Demonstrate your loyalty to an airline by flying exclusively with them or their alliance, and collecting points by joining their frequent flier program. Depending on their hub and routes, you may choose to stick with American Airlines, a part of the Oneworld Alliance which includes British Airways, Cathay Pacific, and Japan Airlines.
"These points can later be used to purchase upgrades at the gate if seats are available at no actual additional cost. In addition, members of loyalty programs are more likely to be upgraded by the staff if they need to reseat passengers," explains Josephine Remo (opens in new tab), a flight attendant with Scandinavian Airlines for seven years.
2. Redeem your miles
By booking flights and hotel stays, and spending money with travel rewards credit cards, you can redeem the accumulated miles for a business or first-class upgrade. A good tip for long flights if you want a surefire way to secure a seat near the front of the aircraft.
3. Offer to be bumped on full flights
Though completely free upgrades to business class on flights are rare, they do occasionally happen if a flight is overbooked, says travel blogger Remo (opens in new tab). "In this situation, the best advice is to approach the gate staff in a friendly and respectful manner and let them know how many people you're traveling with, your name, and that you're happy to assist if they need to reseat passengers. This way, the staff already know someone's willing to move." Though this increases your odds, it doesn't always result in an upgrade, says Remo.
4. Check in early
Checking in early can boost your chances of scoring an upgrade, suggests Jennifer Prince (opens in new tab), who travels frequently to scout out wedding-appropriate hotels, resorts and destinations for her clients. "Making your request known quickly increases your chances for an upgrade to business class should a seat become available. Many flights are oversold, so you just may get bumped from the main cabin into a roomier, more luxurious section simply because you asked kindly and early on."
5. Travel solo
If you're travelling on your own, you're more likely to be upgraded because you're more 'portable' - ie, airline staff don't have to find two seats next to each other, like they would for a couple. In economy, seats are often grouped in twos or fours, so moving you to business class may mean it's easier for check-in staff to accommodate other passengers who want to sit together.
Airlines often over-book flights if they can, then upgrade people from economy to account for the extra seats they've sold - so if the flight is busy, you could be in luck. "I've been upgraded this way a few times," says Woman & Home reader and frequent traveller Sarah Edwards. "I often travel solo, and airlines love it. Once, I was even bumped up to first class, just because I was easier to accommodate there than in economy. Amazing!"
6. Fly at off-peak times
Avoid flying at peak times to increase your chances of getting upgraded to business class. It may seem inconvenient, but taking off before dawn mid-week, during the middle of the day, or in the middle of the night when business travelers are less likely to fly makes it more likely that there will be an available seat.
7. Speak up if you've had an unpleasant experience
If your luggage gets lost, you were denied boarding, or the onboard entertainment system isn't working, kindly let an airline representative know. When an unpleasant flight experience is clearly the responsibility of an airline, that could be a reason for compensation. Bring forward your concern either at the airport, onboard, or after your flight, and you could be compensated with a voucher which you can use for an upgrade on a future flight.
8. Ask your travel agent
Because travel agents have established relationships with certain airlines, they have the ability to reserve preferred seats for their customers and can add comments to your reservation that enhance your chances of receiving an upgrade. Travel agents can also let the airline know of any VIP status you hold, or if you're traveling as a review writer or on your honeymoon. This goes for both flights or if you're booking onto one of the best cruises, too.
9. Tap into your network
Tap into your network of friends, family, and co-workers who are frequent fliers and ask about any vouchers for airline upgrades they might have accumulated. "These are often much more available at the end of the year when they'd otherwise go unused," explains Alex Miller, a founder and CEO of a leading travel site (opens in new tab) that provides analysis, data, reviews and in-depth guides to travelers, as well as personal finance advice.
Vivian is a Vancouver-based freelance writer who has worked for Culture Trip and Fodor's Travel as well as Woman&Home. She covers a wide range of topics, ranging from travel and outdoor adventure, to food and mental health and wellness. She's a curious wanderer with a thirst for adventure, and when she's not writing, can likely be found lazing by a lake, hiking the forested trails of beautiful British Columbia, or on a mission for the next best donut.