I tried a scalp facial – here's why you need to know about this hair health treatment
Scalp facials are just as important as skincare, say the experts, so our beauty writer had to find out more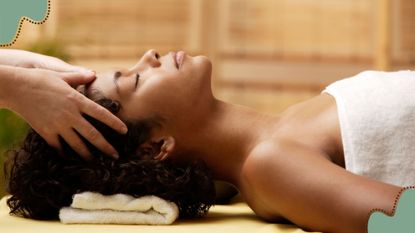 (Image credit: Future/Getty images)
The concept of a scalp facial may sound like an unusual one, considering your scalp is covered in hair. But what if I told you that said hair's health is dependent on a well-maintained scalp? This is where the idea of a scalp facial, in salons and at home, steps in.
We are becoming increasingly aware of the importance of scalp care when it comes to maintaining a healthy barnet. It's not as if trichologists, specialists in hair and scalp care, have been keeping it secret all this time – it's just that our focus is often on haircare.
Even if you're already using the best shampoo and conditioner for your hair type, you can improve your routine even further by implementing a scalp facial into your regular routine. And before we get into the ins and outs of what a scalp facial actually is, it's important to mention that, having had one myself, I cannot recommend the experience enough.
Scalp facials: your complete guide
What is a scalp facial?
Just like the treatment on your face, the experience of having a scalp facial is tailored to your needs and seeks to improve your scalp health. "The ritual of a scalp facial is very much in line with what you would expect from a facial," explains world-famous trichologist Ricardo Vila Nova (opens in new tab), who adds that you can expect, "deep cleansing, exfoliating, rebalancing, and hydrating."
Although the best hair masks often provide nourishment for your scalp as well as your hair, a scalp facial offers a more intensive level of care that's usually much-needed. "Your scalp should be cared for in a similar way to facial skin," agrees Anabel Kingsley (opens in new tab), brand president and trichologist at Philip Kingsley. "After all, the scalp is simply an extension of the skin on your forehead."
Why is it good to do a scalp treatment?
As Kingsley points out, we take our hair and scalp to the same places as our faces, so they get just as dirty and are exposed to the same environmental pollution. Said skin is just as prone to having clogged pores, greasy residue, and old dried-up skin. In fact, the build-up of the above along with pollution and products can be seriously harmful to your scalp and the hair that grows from it.
"If you think of each hair as a flower, and your scalp as the soil supporting it, it makes complete sense to nourish and care for your scalp," says Kingsley. "Build-up on the scalp not only congests the pores, but it can also congest the follicles - obstructing the hair formations," agrees Vila Nova. "This can lead to premature shedding and even loss of density and can even lead to permanent hair loss. Scalp build-up can also promote inflammation, itchiness and flakiness, and dandruff."
What happened when I tried a scalp facial
Anybody who's serious about haircare is likely to have heard of Phillip Kingsley (opens in new tab), whose products are regarded among the best on the market. The brand also has two clinics, one in London and one in New York. I visited their London location to experience the signature Hair Spa treatment.
Following an assessment, a trichotherapist applied a stimulating scalp mask. It felt super cleansing and fresh, and as it was massaged in I enjoyed that recognizable feeling of having a good scrub. This was followed by an intensively moisturizing Elasticizer treatment, which was massaged onto the ends of my hair then I was given a rather lovely head massage. As if this couldn't get any more delicious, I also had the joy of a steam, which I was told helps the products infuse more deeply.
After twenty minutes of steaming, drinking herbal tea and eating a biscuit, the expert taught me how to wash my hair – spoiler alert, I wasn't doing that correctly. The focus of shampoo is actually to clarify your scalp, with a nice massage to cleanse it properly. After rinsing in warm water that's not too hot, you should comb conditioner through your ends and rinse. That's right, you don't need to leave conditioner in for a long time. Just think of the precious minutes you'll save in the shower.
After my treatment, my hair looked both sleek and volumized and my scalp felt immaculate. All in all, it really felt like a spa experience (which makes sense, given that it's called Hair Spa) The thing that sets this experience apart from a regular salon treatment for me is that the trichotherapist didn't just administer the products, she explained to me the processes, and how to do them correctly so I could repeat them at home.
Is a scalp facial worth it?
With prices starting at $160/£100 this is by no means cheap, but it is genuinely luxurious from start to finish. As my visit was related to hair thinning, I also had a consultation with one of the clinic's trichologists, for an in-depth analysis of my personal scalp and hair concerns. This was an even pricier option, starting at $450/£345. It's also important to remember that this is a clinic, not a hair salon, so you won't leave with a big bouncy blow dry. Instead, you'll be advised how to blow dry your hair gently, the right brushes to use, and how to maximize glam while minimizing damage.
If you love the idea of a scalp facial but can't spring to the full Phillip Kingsley experience, some of the best scalp treatments will help you replicate that exfoliation and deep nourishment at home.
The best products for a DIY scalp facial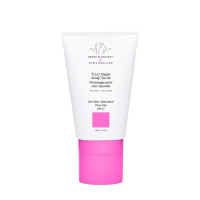 (opens in new tab)
Drunk Elephant T.L.C. Happi Scalp | RRP: $36/£30
This yummy product is designed to break down and dissolve dead skin cells using biodegradable exfoliating cellulose beads. These clever beads are combined with a blend of six antioxidant plant oils, including baobab and maracuja, alongside a quick-absorbing multi-amino acid blend. Altogether these serve to rejuvenate your scalp and protect it too.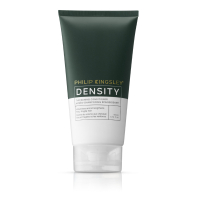 (opens in new tab)
Philip Kingsley Density Stimulating Scalp Mask | $34/£22.50
I loved this during my scalp facial. The Density range from Philip Kingsley is one of the brand's newer lines and is getting a lot of hype - with good reason. It contains a combination of three botanical actives, which work to help reduce hair shedding.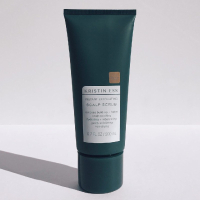 (opens in new tab)
Kristin Ess Instant Exfoliating Scalp Scrub | RRP: $15/£12
Affordable and effective, this product has proven popular with those of us looking to banish build-up and nail how to get rid of dandruff. It also rids you of excess sebum and hard water deposits too. What's not to love?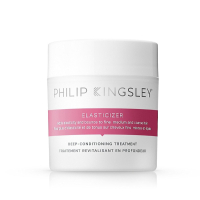 (opens in new tab)
Philip Kingsley Elasticizer | RRP: $30/£19.50
Many think of this as the jewel in the Philip Kingsley crown, and they're not wrong. This nourishing mask breathes life into damaged locks. True story: it was designed for film star icon Audrey Hepburn to give her hair that 'movie star bounce.' Well, if it's good enough for Audrey, it's good enough for us.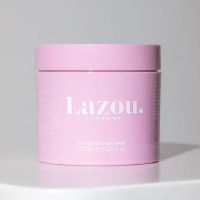 (opens in new tab)
Lazou Nutrition Hair Mask | RRP: $40/£38
Formulated with a blend of active ingredients, including argan and shea nut oil to moisturize and pro-vitamin B5 to strengthen the hair fibers, this truly is nourishment in a pot. It's suited to all hair types and will turn even the most damaged tresses into silky soft locks in no time.

---
How often should you wash your scalp and hair?
In between intensive treatments, experts agree keeping your scalp cleansed is an absolute must. "Your scalp is skin, a living tissue that produces oil, sweats, and sheds skin cells," says Kingsley. She explains further that bacteria begins to break down oils and sweat when they're left on your skin. "This produces a distinctive musky smell. What's more, your scalp contains apocrine sweat glands, which produce a protein-rich sweat that is prone to developing a particularly pungent odor."
In Kingsley's opinion, for scalp health, daily cleansing is best. "Try to shampoo frequently, at least every other day if possible," she says. "A healthy scalp is vital to hair growth – and a healthy scalp is a clean scalp."
Vila Nova advises that there are mitigating factors to consider. For example, what's your scalp type? "Oily hair should be washed more frequently, daily or every other day," he suggests, "same rule if you work out and perspire from the scalp. It's better to wash it more, to stop toxins from building up." He warns that those of us with a dry scalp may not need to wash our hair as frequently, as it may damage the natural protective layer of the scalp and increase the level of dryness. "So, if the dry hair is free of styling products," he says, "you may not need to wash as often as someone with oily hair"
If you are inseparable from your best styling products and use them a lot, Vila Nova and his team recommend a deep cleansing scalp facial at least once a week, to remove all the build-up, preventing the products to over seal the cuticle causing breakage or damage.
Aoife is Junior News Editor at woman&home.
She's an Irish journalist and writer with a background in creative writing, comedy, and TV production.
Formerly Aoife was a contributing writer at Bustle and her words can be found in the Metro, Huffpost, Delicious, Imperica, EVOKE and her poetry features in the Queer Life, Queer Love anthology.
Outside of work you might bump into her at a garden center, charity shop, yoga studio, lifting heavy weights, or (most likely) supping/eating some sort of delicious drink/meal.