How to choose the perfect hairstyle for your face shape
Finding the right hairstyle for your face shape is a bit like slipping into perfectly fitting jeans – once you find it, you won't go back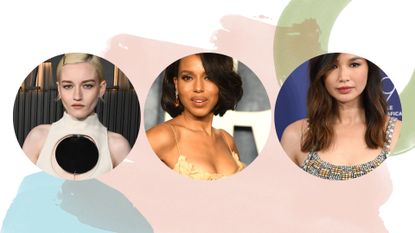 (Image credit: Getty Images)
woman&home newsletter
Sign up to our free daily email for the latest royal and entertainment news, interesting opinion, expert advice on styling and beauty trends, and no-nonsense guides to the health and wellness questions you want answered.
Thank you for signing up to Woman & Home. You will receive a verification email shortly.
There was a problem. Please refresh the page and try again.
Choosing the right hairstyle for your face shape is a smart way to make sure you leave the salon happy – but does require a little research first.
Just as everyone isn't the same height or shoe size, the shape and proportions of our faces can vary from person to person. There's no good or bad here, but knowing which face shape you have (and chatting about this with your hairdresser) can help you find the most flattering cut for you. Maybe you're thinking about going for the chop and embracing a bob hairstyle, or you could just be in the market for a refresh and a new, youthful hairstyle over 50.
"If you choose a style that is best suited to a different face shape, then you run the risk of the style not suiting you, covering up your features or drawing attention to the wrong parts of your face," explains Dom Seely, International Creative Director of Color Wow. "But, if you choose a style that corresponds with your face shape then you will accentuate all your best attributes and features. All hair lengths pretty much suit any face shape so it's more about the cut, the layering, the movement and the styling of the hair." That being said, there are still some lengths that will work best for particular face shapes, so we've included those in our guide too.
How to determine your face shape
As with all things, it's not an exact science, but there are broadly considered to be six different face shapes – oval, round, square, rectangle, heart and diamond. If you're not already sure which category you fit into, it's quite easy to work out. The best way to do this is by looking at your face in the mirror, but you could always ask your partner, friend or family member as a sounding board for a second opinion if you're not sure.
An oval face will be longer than it is wide, with broad cheekbones and a slightly narrower forehead and chin.
A round face will be even in proportions on both sides with a soft jaw and curved forehead.
A square face is similar to a round face except your jawline will be sharper and your cheekbones potentially slightly wider.
A rectangular face is proportioned like an oval face but similarly to a square face shape your jaw will be more angular.
A heart-shaped face is characterised by a wider forehead and cheeks that draw down into a slightly pointed chin.
A diamond-shaped face will be narrow at the eye line but broaden across the jaw and cheekbones.
Still stumped? "Remember that we live in a world now where our smartphones have apps to download which make it easy to determine your face shape and take the guesswork out for you," adds Seeley.
How to choose the best hairstyle for your face shape
We asked two experts to share with us their top tips for choosing the best hairstyle for your face shape. Consider it homework before your next appointment.
Best hairstyles for oval face shapes
Image 1 of 3
Got an oval face shape? Lucky you. According to Seely, you'll suit "pretty much all hairstyles and cuts. Everyone is different but as hairdressers, we normally try to work towards making everyone's faces appear oval." If you're stuck in a rut and looking for a bit more of a steer on style, consider opting for a short hairstyle for women. There are options for all hair types, from inspiring short hairstyles for thick hair to chic, volume-boosting hairstyles for fine hair. "Shorter styles are great for an oval face shape," advises Diego Miranda, pro hairstylist and brand ambassador at Maria Nila. "Whether it's a short bob, a wavy bob or a pixie they will all enhance your face shape. The wavy bob is of course softer whereas the pixie cut will appear stronger."
Our Beauty Editor recommends…
Best hairstyles for round face shapes
Image 1 of 3
"Round face shapes are smaller and more petite, so can be swallowed up by haircuts and lengths real quick if you don't style or cut to flatter them," says Seeley. In short, maybe pop your best hair dryer brush down for a moment, as a big, bouncy blow-dry might not be the best style for you. That doesn't mean you need to shy away from length though. "It's all about choosing the best angle for mid-length layers when you have a rounder face to avoid boxing the face in," says Miranda. "Medium or longer-length hair is great for round faces as it makes them appear longer. By keeping your hair below the chin you also draw attention away from the jawline." As for styling, don't go too straight and sleek. "It's always better to style in soft waves," adds Seeley. "Adding body and volume by bringing the waves close to your face will make your forehead appear slimmer and add width and angles to take away from the roundness of your cheekbones and jawline."
Our Beauty Editor recommends…
Best hairstyles for square face shapes
Image 1 of 3
"Square face shapes have strength in the jawline, so you should always try to soften this shape by layering around the face to trick the eye into seeing a heart or oval face shape," advises Seeley. "Longer bobs look great and longer length hair but only if it's layered. You don't want your cut to hit the chin or jawline and you don't want one-length hair as this will drag everything down." So what do we want then? "Use the haircut to create shapes and angles," Seeley continues. "Side-swept fringes will conceal a square shape and off-centre partings and textured cuts will add interest and dimension to the face. Keep things wispy and soft rather than blunt and harsh." If you're feeling brave, "a shaggy pixie cut will compliment a square face," adds Miranda. The 70s shag haircut has been popular for a while now, so maybe now's your time to give it a whirl.
Our Beauty Editor recommends…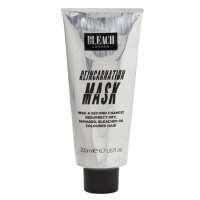 Bleach London Reincarnation Mask | RRP: £15 / $20
Shaggy hair is meant to look undone, but you still want it to look healthy. Regularly using one of the best hair masks like this will keep it in tip-top condition.
Best hairstyles for rectangular face shapes
Image 1 of 3
Rectangle is another face shape that really suits a bob. Just make sure you avoid making some of the most common bob mistakes (not considering your hair texture or taking your regular daily styling routine into account) before taking the plunge. "Shoulder length or shorter really compliments a rectangular face shape," explains Miranda. "A lob (also known as a long bob) or even a shorter French bob with blunt bangs will balance and enhance the shape of your face." The bob category goes way beyond these two cuts though, and there are also shaggy bobs, bubble bobs, side-parted bobs and chopped bobs to choose from. As for styling, Seeley's top tip is to "minimise volume on the top of your head and focus on creating volume on the sides of your face."
Our Beauty Editor recommends…
Best hairstyles for heart-shaped faces
Image 1 of 3
Another face shape, another one that the pros would point towards a bob. Except this time, they're putting the focus on a fringe too as a way to balance the proportions of the face. "With heart shapes, I tend to lean towards a longer bob as the length elongates the face slightly and takes that strength and focus away from the jawline," says Seeley. Miranda recommends the addition of a "long, side-swept fringe or a blunt fringe to really suit a heart-shaped face." If you're fringe-adverse, don't panic, you would consider a more textured cut or styling with a soft wave or bend instead. "A wavy long bob is also a great option if you like more movement," adds Miranda.
Our Beauty Editor recommends…
Best hairstyles for diamond-shaped faces
Image 1 of 3
"The diamond face is probably one of my favourite shapes to work with as the almost perfect proportions allow a lot of flexibility on style," says Miranda. "There are lots of different shapes, lengths and styles that can enhance the diamond face. One of my favourites is the pixie but a French bob or wavy, long, layered hair also looks great. Last season's biggest trend was the wolf haircut which is very adaptable on a diamond face shape." For Seeley, finding the right hairstyle for a diamond face shape is all about softening those sharper points of the face. "You want to avoid middle partings, heavy fringes and any volume in shorter styles as these will make the chin appear sharper and more point-like. Keep it soft style-wise with side-swept fringes, waves and texture."
Our Beauty Editor recommends…
More tips to choose the best hairstyle for your face shape
Okay, so you've chosen your haircut, but there's still a little more to finding the perfect hairstyle for your face shape. "There are a number of other factors to consider such as the natural texture of your hair, your personal style and how you like to manage your hair," says Miranda. For best results, keep the following in mind before making any drastic changes to your style:
1. Colour clever
Most of us colour our hair to some extent, even if it's just a root touch-up to keep greys at bay. If you're really clever though (and in the hands of a good colourist) you can use techniques like balayage and highlights to further create the perfect hairstyle for your face shape. " Always get your hair cut before adding colour as you want the colour to live in the right places," advises Seeley. "Otherwise, you can find dark spots in the hair where you cut the colour out and it doesn't blend together. Colour is like makeup, and you're essentially highlighting and contouring with balayage and highlights to suit your face shape. Ask your hairdresser to focus around the face with some brightness and pops of colour, and they can also add depth to create a contrast."
2. Consider the texture
Hair texture can range from fine and straight all the way through to coarse and curly, and your hair will sit differently depending on where on the spectrum you sit. For example, two people could get exactly the same haircut, but if their texture is different, won't look the same. "Hair texture will determine the length, layering and weight," says Seeley. "You want to work with your stylist to get a cut that works with your texture. If you have curly hair, then it's often best to cut dry as this will allow your stylist to insert the shape into your hair and create balance." If your hair is straight, it's fine to cut the hair when it's wet as it won't ping up or take on a dramatically different shape once it's dry.
3. Think about your styling routine
Do you take a low-maintenance, wash-and-go approach to your hair or set your alarm extra early so you've got time to use your best hair dryer or best hair straighteners before you leave the house? It's really important to consider this, as the hairstyle you've got pinned on your Pinterest board and claims to suit your face shape might not be quite so easy to maintain at home. Your hairdresser will be able to help you find a style that works with your face shape, hair type and preferred routine so that you're working with what you've naturally got rather than battling against it.
Sign up to our free daily email for the latest royal and entertainment news, interesting opinion, expert advice on styling and beauty trends, and no-nonsense guides to the health and wellness questions you want answered.
Jess Beech is an experienced fashion and beauty editor, with more than eight years experience in the publishing industry. She has written for woman&home, GoodtoKnow, Now, Woman, Woman's Weekly, Woman's Own and Chat, and is a former Deputy Fashion & Beauty Editor at Future PLC. A beauty obsessive, Jess has tried everything from cryotherapy to chemical peels (minus the Samantha in Sex and The City-worthy redness) and interviewed experts including Jo Malone and Trinny Woodall.